Dubai-based Yemeni specialty coffee exporter Sabcomeed hired British ad agency Jump to create a short promotional film highlighting the passion, quality, challenges and traditions of coffee in Yemen. It also delivers a not-so-subtle rebuke to the anti-immigration stances of the Trump administration. Abiding by the credo "Filter coffee, not people," it's one of the more visually and emotionally arresting commercials you're likely to see this year. Prolific North learned more from the creative team at Jump:
Jump 's Creative Director, Larner Caleb, said: "Our client wanted to shine a light on the far-reaching journey Yemeni coffee has taken so far––one that currently contrasts hugely with the plight of the country's people and the restrictions placed on them.

"So for us, a very strong brand purpose around conscious consumerism made for a truly meaningful story to tell the world."
People driven out of war-torn Syria are also crossing borders and finding refuge within the coffee industry. A moving piece in TRT World earlier this month examined how the ancient coffee culture of Istanbul has been enhanced by an influx of Syrian baristas and entrepreneurs, focusing on the story of Ismail, who arrived there from Damascus in 2013:
With tens of thousands of Syrian refugees flocking to Istanbul in the last seven years of war, Istanbul's coffee scene has diversified. More and more Syrian coffee houses popped up in the following years. Traumatised by the war, Syrians in the city began to find some solace while interacting with their fellow countrymen over coffee. They spoke of what they left behind and what they lost in the gruelling war.

"When the war started, everyone spoke of losing a loved one," Ismail says. "Sometimes, people even spoke of their family members being kidnapped or disappearing. Never heard back from them."

Many Syrians, he says, also try to avoid discussing their past and look forward to new beginnings.
Some coffee farmers and their families in an area of Chiapas, Mexico, have been driven off their land and into temporary camps due to armed violence related to local land disputes. Global Press Journal published some heartbreaking photos with more info in its report:
It was early evening on Jan. 16 when Apolonia Santiz López, 50, stepped onto her patio to shuck corn and bullets began whizzing by, one striking her face. Santiz López lived, but the bullet remained lodged in her face for weeks. Now, farmers are afraid to walk outside, let alone tend to their coffee fields. Like so many other families who live in the area that is under attack, they've abandoned their crops.
Lawmakers in Hawaii are reviewing a pair of bills in a hearing this week that would increase the percent-by-weight of actual Kona coffee included in Kona-labeled products from 10 to 51. Similar proposed legislation has popped up annually since as far back as the 1990s, though efforts have been fruitless. HB 144 for ground and whole bean products, and HB 143 for RTD brewed products, will receive a hearing this week prior to consideration by the Senate. West Hawaii Today followed the story:
Bruce Corker, a board member of the Kona Coffee Farmers Association (KCFA), said his organization and its members have been pushing for the change for a quarter century, citing powerful Oahu blenders as the primary roadblock to the relevant legislation.

Raising the labeling requirements to 51 percent would necessitate higher production costs for blenders, as beans like the Kona Typica demand a higher price, or result in reduced retail prices and profits as blenders couldn't capitalize on various name brands associated with Hawaii.

The measure would also require sellers document percentage by weight of all ingredients and their geographic origins on the packaging.
Disingenuous branding also receded a bit in Seattle, where Capital Hill Seattle Blog reported that Starbucks has announced the upcoming closure of its remaining experimental non-Starbucks-branded store, Roy Street Coffee & Tea:
The experiment behind Roy Street could have created a very different Starbucks than we know today. The project debuted in 2009 as part of a pair of new Capitol Hill cafes that looked, felt, and in some ways operated like the independent cafes the new joints were designed to mimic. The 15th Ave Coffee and Tea part of the experiment didn't last as long it was converted back to a standard Starbucks in 2011 and is today a Full Tilt ice cream shop.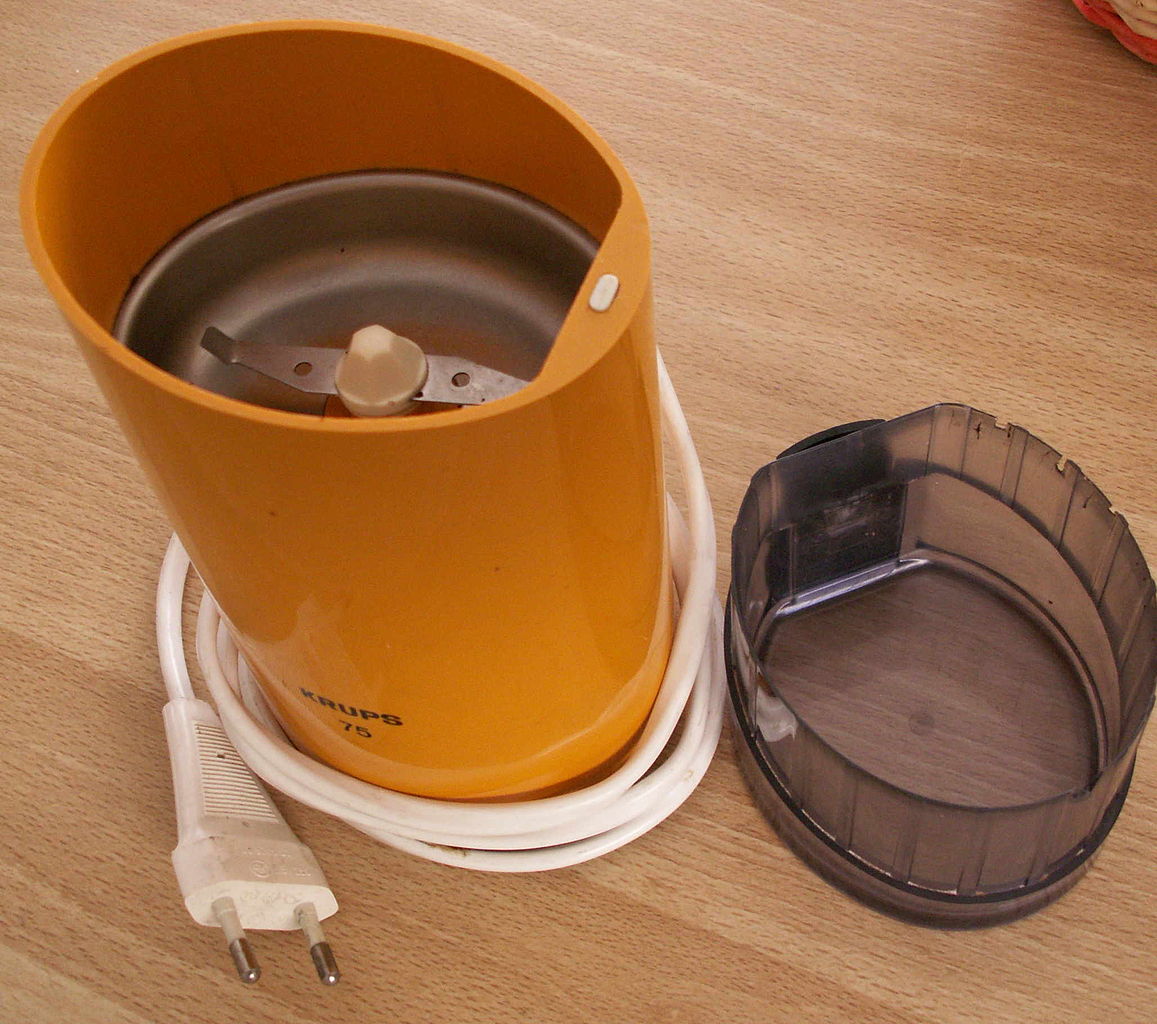 What will yield a better cup? Coffee ground in advance, but on an excellent grinder? Or coffee ground freshly, but on a bean-obliterating whirly-bird grinder? This common dilemma among consumers that either can't or prefer not to invest in a quality home coffee grinder was addressed by a piece in Quartzy this week with input from Blue Bottle's Michael Phillips, Colectivo Coffee Founder Lincoln Fowler, and Go Get Em Tiger's Charles Babinski. Here's what Babinski had to say:
While freshness is important, he says, measuring it in seconds isn't actually useful. "Certainly the idea that the important moment for freshness is the 30 seconds after you grind is fundamentally absurd," he says. "If you have good beans, those still taste good under non-ideal circumstances. If it's a really delicious coffee that's ground ahead of time versus a not very good coffee that's ground fresh, the really good coffee might have lost some quality, but it had a lot of quality to lose."
The grossness of unclean reusable cups is concern shared among consumers who are open to eschewing single-use paper products but are too busy or lazy to clean things. The good news, according to Medical Xpress, is that science may have found a way. Researchers at Aston University and Public Health England compared bacterial growth in regular coffee cups to that inside equivalent cups treated with built-in Biomaster antimicrobial technology, in various states of unwash. Results were encouraging:
Anthony Hilton, Professor of Applied Microbiology, Aston University said: "Bacteria can easily grow on the inner surfaces of a reusable coffee cup unless it is washed after use. Antimicrobial technology built into the drinking vessel significantly reduces the opportunity for bacteria to grow.

"Our study shows that reusable coffee cups treated with antimicrobial technology are much less likely to become heavily contaminated with bacteria."
Forbes shined a light on an inspiring if relatively small-scale "cause" marketing arrangement that brings together Michigan-based LGBT-owned Uncommon Coffee Roasters, showbiz producer Michael J. La Rue, and homeless queer youth support agency Ali Forney Center that was founded by Carl Siciliano, an executive producer of bygone TV hit Golden Girls:
Uncommon Coffee Roasters guarantees a percentage of Cultivo sales in Fairway Market stores will provide a minimum of 60 meals per month, or 720 per year. While that's a fraction of the 177,000 meals served yearly by the Ali Forney Center, Darienzo hopes his company's effort will grow with time, as well as spur other firms to step up.

Bea Arthur and Rue McClanahan may be gone, but their spirits of generosity live on. Arthur's estate is providing housing for queer teens. The estate of Rue McClanahan is connecting a coffee roasting company to the Ali Forney Center, which provides meals for the over 1,400 clients which show up each year.
Howard Bryman
Howard Bryman is the associate editor of Daily Coffee News by Roast Magazine. He is based in Portland, Oregon.