Espresso tool and accessory manufacturer Cafelat has brought thoughtful design twists to its extensive line of products, such as its precision-made all-stainless XT Tamper that offers a unique approach to the adjustable height mechanism, and its XT Portafilter that's bottomless by design yet with threads for the optional attachment of a dual-spouted bottom.
The company also designs and sells silicon gaskets, tamping mats, tamping stands, milk pitchers and more, although the one thing it has yet to sell is any actual means of brewing coffee. By the end of this year that will change, as the company prepares to introduce the Cafelat Robot.
The Robot is a small, fully manual espresso maker based on 1950s vintage technology with a 1960s vintage look. With its C-shaped handles and of course its name, Robot, one can only wonder if it would start flailing and hollering "Danger! Danger, Will Robinson!" were one to insert a battery or "power pack" somewhere. The Cafelat design is electronics-free, however, and is inspired quite directly by the 50s-era Faema Faemina Baby machine.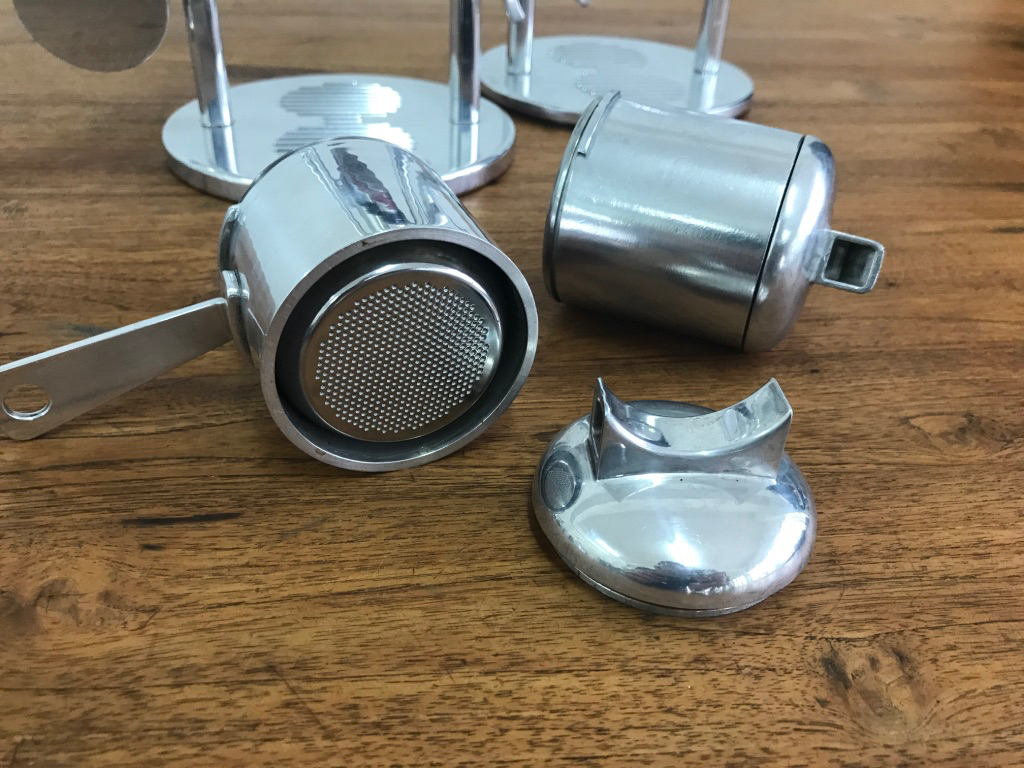 "The general principle is the same as the numerous machines of that era," Cafelat founder and managing director Paul Pratt told Daily Coffee News, adding that a piston controlled by the side handles pushes water through coffee inside an extra-deep filter basket that contains both the coffee and the water.
All of Cafelat's designs are products of the keen coffee engineering mind of Pratt, who has ascended over the past several decades in the industry from barista to cafe owner to equipment dealer and trainer to wholesale roaster and now equipment manufacturer, forging a close connection to the La Marzocco company along the way. Also a renown machinist and restorer of vintage espresso machines, Pratt's personal collection has included more than 50 dazzling machines over the years, including a couple dozen Faemas.
"A 'eureka' moment for me came when I was using a Faema Baby many years ago. I made myself a bottomless portafilter and it completely transformed the shot quality from just 'ok' into something very good," Pratt said. "I then realized that temperature management was the key to getting these small devices to really shine and make great coffee."
Cafelat subsequently set itself to the task of revamping the bygone design for better temperature management, and incorporating its patented all-in-one portafilter system.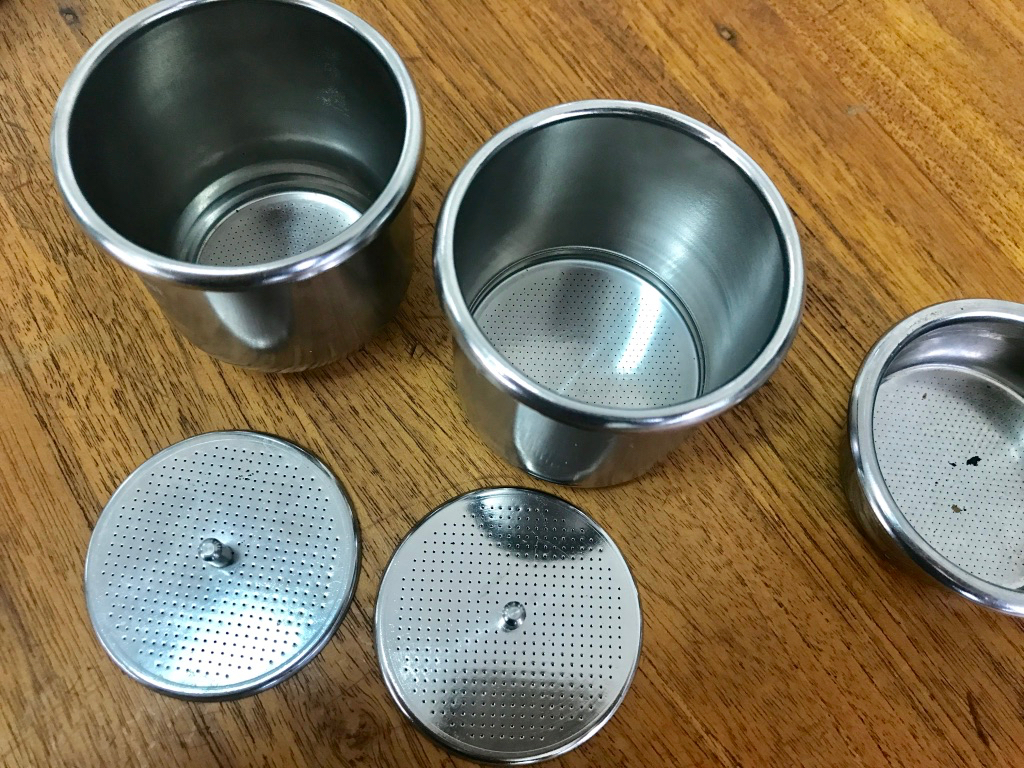 Development on the machine started in January 2015, and by the time it got its Lost-In-Space hands a few months later, it was more or less finished, save for a few tiny tweaks. The biggest challenge, according to Pratt, was the manufacturing process of a filter basket that's a full 58 millimeters in diameter but also 60 millimeters deep in order to double as the entire brewing chamber.
"Modern mass-production manufacturing equipment only allows them to make approximately 30-millimeter deep baskets. Essentially you only have two main basket companies in the world, and they make all the filter baskets for everyone," he said. "It was vital for the project that we had a modern professional basket, not one made by a kitchenware factory, if you know what I mean. I did look at using off-the-shelf baskets and adding a brew chamber, but it got complicated very quickly and defeated the simplistic genius of the design. In the end our patience paid off, and the company we wanted to make it had a quiet time in their schedule and agreed to do it. After paying the tooling fees we had amazing samples on hand in 10 days' time — well worth the 18 months we spent twiddling our thumbs!"
A second design for the filter basket will also be available featuring a pressurization mechanism for use by fans of Italian and other styles of pre-ground, vacuum-sealed coffee, or, as Pratt called them, "those supermarket 'bricks.'"
"Of course we want to emphasize that fresh ground coffee is the key, but the Robot does a great job of making a decent drink from those types of coffees," Pratt said. "If we can steer people away from plastic capsule machines that end up in landfills, that can only be a good thing."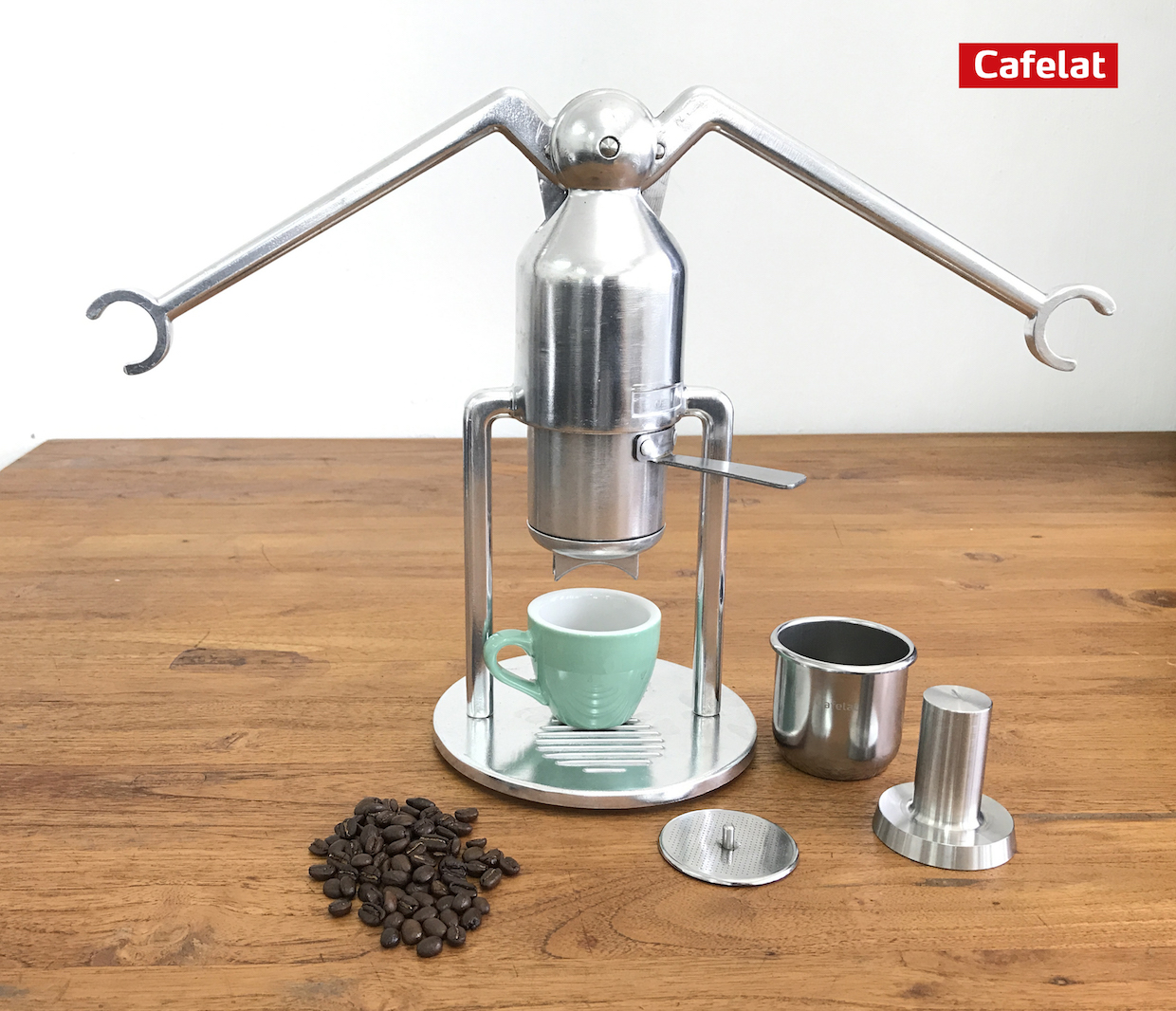 An additional "Barista" version of the Robot will also be available, featuring a built-in pressure gauge that allows users to monitor and profile the pressure they apply, in real time. Said Pratt, "You can get up to 10-11 bars of pressure if you are so inclined, however I've found a more gentle 6-7 bars works much better and mimics what traditional lever machines do."
The main body components of the Robot are die-cast aluminum. The filter baskets are stainless steel, and the sole gasket inside the machine is silicone.
"It was important to make the machine plastic-free, not only for any perceived health benefits, but also from a temperature management point of view," said Pratt, noting that the avoidance of plastic parts not only sets the Robot apart from other existing side-armed lever espresso-makers currently on the market, but is hoped also to extend the longevity of the Robot, which weighs in at just shy of 4.5 pounds.
Pratt reported that the Robot will not be exclusive to Cafelat. The company will seek support by select resellers, and may or may not also pursue a Kickstarter campaign as a means of generating excitement and taking pre-orders. Either way, the company expects market-ready products to roll out by the end of the year.
While costs associated with packaging and certain small bits and pieces are still being finalized, Pratt estimated that a standard Robot with non-pressurized basket will be priced around $240, while the Barista model with regular basket and additional pressure gauge will run roughly $300.
Howard Bryman
Howard Bryman is the associate editor of Daily Coffee News by Roast Magazine. He is based in Portland, Oregon.