California-based commercial foodservice beverage system manufacturer Wilbur Curtis has taken a deep step into the cold coffee arena with the Essence, a new machine that marks a significant expansion to the company's existing line of otherwise passive cold brew systems.
The Curtis Essence Cold Brew System, revealed last month at the SCA Expo in Boston, is an automated, electronic brewer that incorporates a hot water bloom phase, coffee bed agitation and vacuum pressurized steeping to generate a finished 5-gallon batch of cold brew in 20 minutes or less, according to the company.
Upon its release later this year, the Essence will join the company's cold brew equipment catalog alongside a selection of spouted stainless steel immersion-brew steeping tank systems and the Nitro Infuser Box system it launched last year. From the company's booth at the Expo last month, Wilbur Curtis Mechanical Engineer Paul Foster told Daily Coffee News that the problems Curtis aimed to solve with the Essence included cutting down on the time it takes to make larger batches of cold brew, increasing batch-to-batch consistency and upping the quality of the finished beverage overall.
"A lot of thinking behind the design of the unit is to reduce how long it takes to make cold brew," said Foster. "With this process, we've not only solved the time issue, but we've completely automated it, so that's reduced labor."
Savings also come by way of the amount of coffee consumed per batch. Each batch in the Essence requires three pounds of ground coffee, which the company said is about 40% less than what a typical passive immersion system uses to create a 5-gallon batch of finished cold brew.
"The problem with [a passive immersion cold brew method] is you get an extraction yield of about 12%," Foster said. "With this, your extraction yield shoots up to about 20. You could hit 21 or 22 if you push it, but we were comfortable with 20% extraction yield."
What the Essence machine actually creates is a 1.5-gallon batch of cold brew concentrate ranging from about 4-6 TDS. Said Foster, "You can go a bit higher, but then you'll see a drop-off in your extraction yield."
Dilution of the concentrate occurs automatically after the brewing phase, and is controllable by the user. Cafes can dilute their concentrate as they see fit, although Curtis recommends adding 3.5 gallons of fresh water to the keg for a total of five gallons of finished beverage with a TDS in the range of 1.3 to 1.5, according to Foster.
Water enters the Essence through one of two intake nozzles: one for hot water, the other for ambient/fresh water. A typical Essence brew cycle starts with the introduction of hot water followed by a 30-second agitation phase, then a pause for blooming the coffee. After that comes the remaining cold/ambient water, followed by a vacuum pressurization phase that speeds up extraction and finally forces the column of concentrated brew down through a filter and directly into a keg.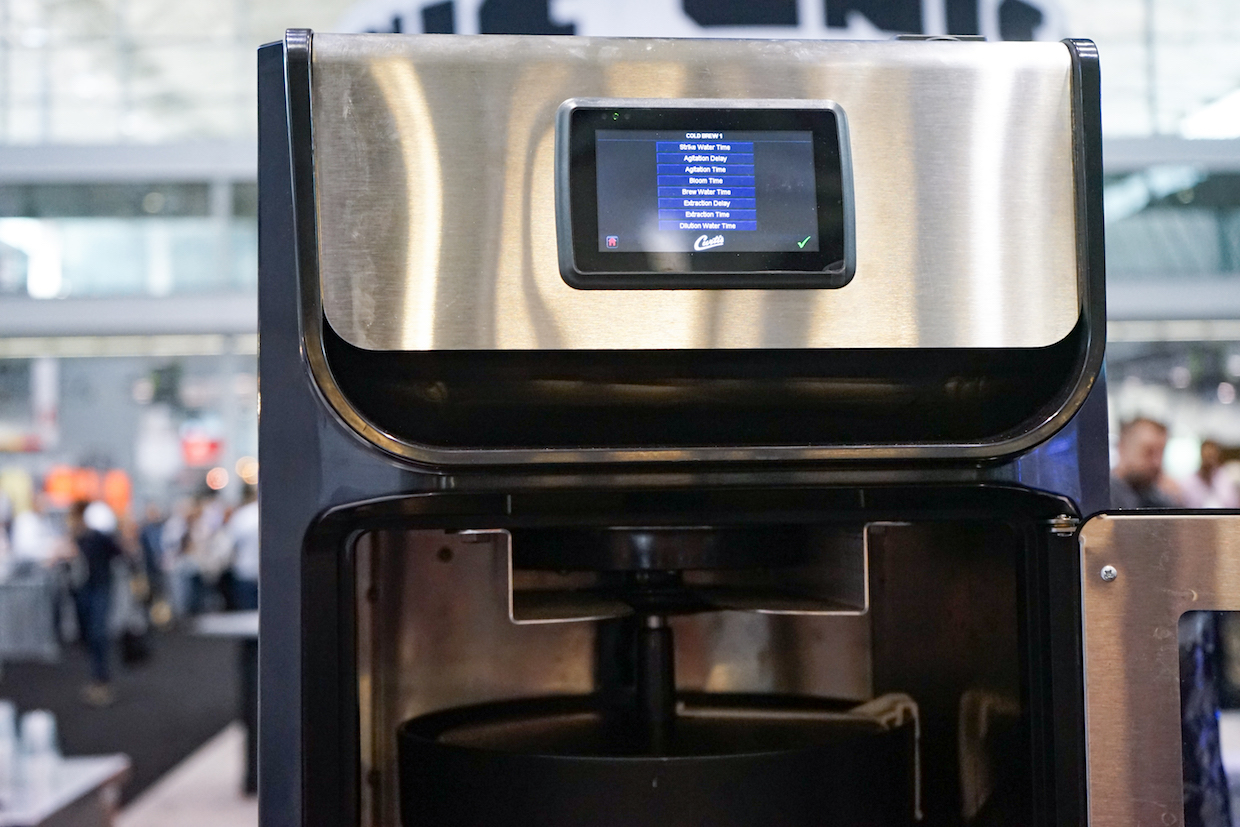 The line into the keg is split to allow for an automated dilution cycle. As coffee exits the Essence and heads to the keg, another valve opens to allow fresh water in.
Though still subject to change, Foster told DCN the projected list price for the Essence will be roughly $12,000, and that Wilbur Curtis account holders "will probably pay half that." He added that anyone can sign up for an account at any time.
The company is sending out beta units to testers at the end of this month, with an aim to begin shipping Essence machines in the third quarter of this year.
Howard Bryman
Howard Bryman is the associate editor of Daily Coffee News by Roast Magazine. He is based in Portland, Oregon.