If the generification of "Starbucks" into an eponym for all coffee (think Band-Aid, Jell-O, etc.) wasn't already a frustrating proposition, imagine how Paper Cup coffee shop owner John McKinney must feel. In the earth-shattering webgasm that followed the accidental half-second appearance of a coffee cup in the most recent episode of HBO series Game of Thrones, it was almost universally referred to as "a Starbucks cup." In fact, the drink came from the indie shop in Belfast, Ireland, where cast and crew often hung out before filming. McKinney offered the UK's Metro his thoughts on Starbucks raking in the dragon's share of free press:
But John told us that he's not happy with the huge chain getting the credit, and said: 'I think it's bloody disgusting.

'It takes the promotion away from smaller businesses that need it, such as ours, or someone else's whose cup it could've been.

'It's clearly not even from Starbucks! The nearest Starbucks is miles away.'
New research indicates that coffee might also help slay the dragon of breast cancer risk after menopause. Healio reported on findings suggesting that food and drink containing certain phenolic acids, including coffee, may lower risk by as much as 65%:
"Polyphenol research is considered a promising field in breast cancer prevention. Particularly, phenolic acids contribute to a large proportion of the total polyphenol intake consumption," Andrea Romanos-Nanclares, MSc, BSc, a PhD student of nutritional epidemiology in the department of preventive medicine and public health at the University of Navarra in Pamplona, Spain, told Endocrine Today. "This research may be important because [it] presents some of the potential underlying biological reasons as to why plant-based foods, such as coffee, fruit, vegetables or nuts, may be protective against breast cancer."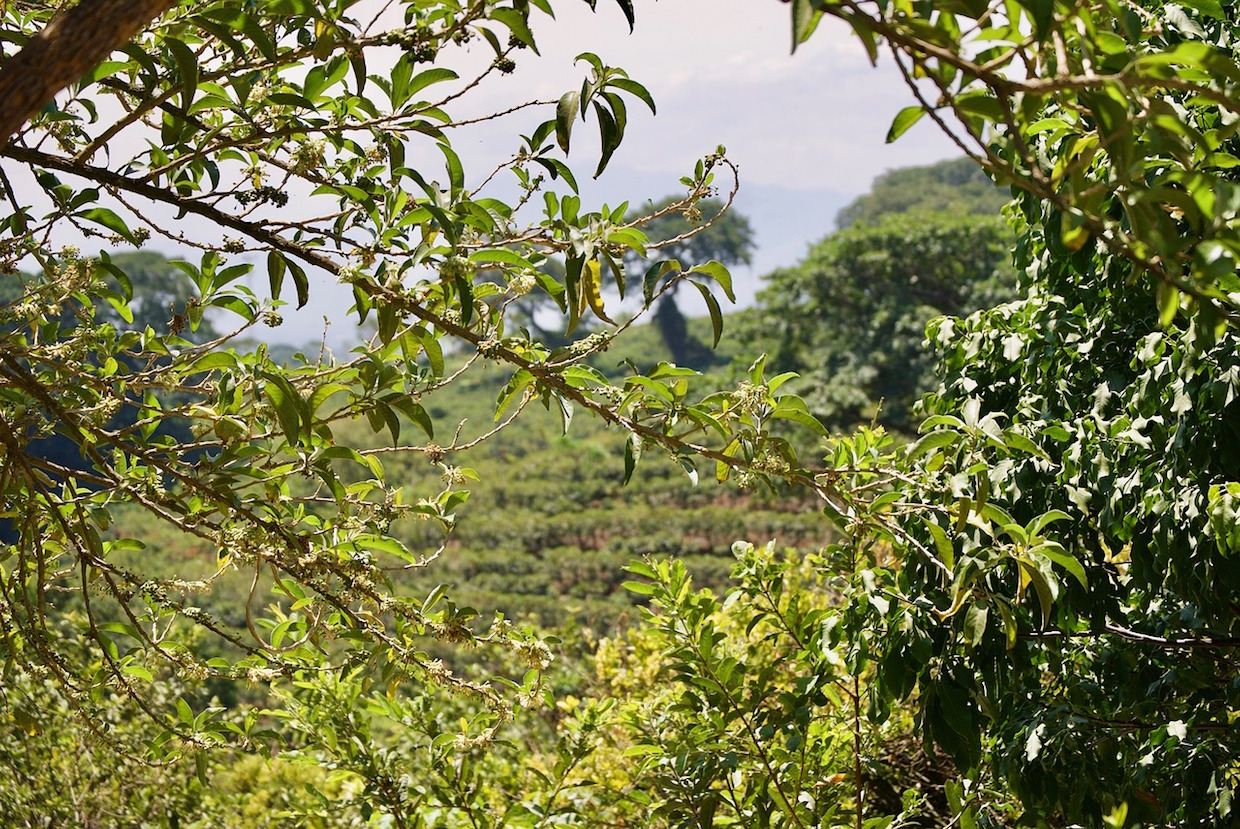 In an interview with the Thomas Reuters Foundation, National Coffee Association President Bill Murray sounded the alarm for how the ongoing price crisis will contribute to climate change in the short term as desperate farmers are liable to destroy more rainforest to plant more coffee in order to survive:
Increasing cultivation of the plant whose bean is used to brew the popular drink may drive deforestation by more than 100,000 hectares (247,105 acres) a year, found a paper presented at a 2014 International Coffee Science Association conference.

Murray warned that planting more coffee, potentially on freshly deforested land, could not only damage the environment but also feed a vicious cycle of poverty for small producers by pushing prices down in an already over-supplied market.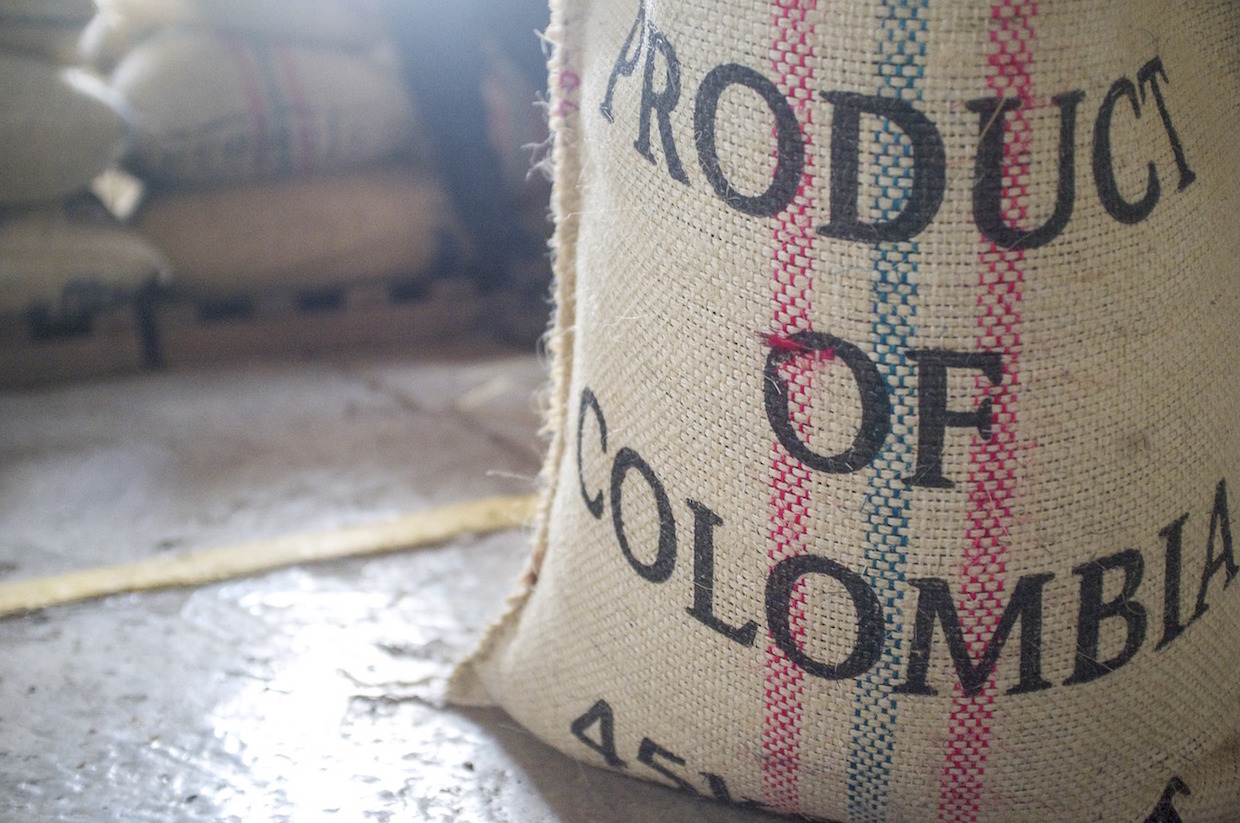 Conversely, in time, many farmers will simply abandon their farms, as Reuters reported has been occurring in Colombia. Roughly 99,000 acres of coffee planting land has been lost over the past one-and-a-half years amid the price crash:
The domestic price received by Colombian farmers for every 125 kg (275 lb) shipment was 688,000 pesos ($209), which does not cover production costs estimated at 780,000 pesos ($237), Roberto Velez, head of the National Federation of Coffee Growers, said in an interview.

"This has already transcended an economic crisis and is becoming a humanitarian crisis," Velez said. "You see coffee growers starting to make decisions to get out of coffee and move on to other crops."

"In the last year, Colombia lost 40,000 hectares out of 920,000, and now we have 880,000 hectares," he said.
There's still plenty of scenic coffee land in Colombia for pro cyclists to enjoy. Cycling Tips took some cameras along with German pro cyclist Janosch Wintermantel and Colombian competitive road cyclist Esteban Chaves to document not only the beauty of the coffee country Chaves calls home, but also the connection between coffee and cycling:
I don't really know where the connection between coffee and road cycling comes from, but it is clearly visible everywhere you go. More professional cyclists probably have a Rocket espresso coffee machine at home than an MTB and stopping during a ride for a coffee break is just as normal as the shower afterwards. The fact that the riding in Colombia matches the level of coffee, and vice-a-versa, makes it a "no brainer-location" for cyclists worldwide.
Coffee is also beloved by people in cars, of course. Motorists loved a certain new Dutch Bros. drive-through in Phoenix, Arizona, so much in fact that the city had to shut it down due to too much traffic. The Takeout picked up that story:
According to Trisha Gomes, the special projects administrator for the city, the decision to revoke Dutch Bros.' permits stemmed from complaints from the community and neighboring businesses.

The grievances included that Dutch Bros.' drive-thru line impeded traffic on Camelback Avenue and blocks an alley that provides access to nearby businesses. Surrounding business owners and their customers also accused Dutch Bros. employees and customers of parking in spaces that did not belong to the coffee kiosk.
The Sydney Morning Herald raised some concerns about Aussie "coffee king" Phil Di Bella having his cake and eating it, too. Or, more specifically, selling his greens and buying them, too. The potential conflict of interest stems from how Di Bella was recently appointed to run coffee roasting operations for big-time franchisor Retail Food Group — which owns Gloria Jean's and numerous other coffee brands, yet he's also co-owner and co-director of International Coffee Traders (ICT), which now supplies RFG with green coffee:
"If he is making the purchasing decision at Di Bella, what kind of commercial terms is he getting for ICT?" said one company source, pointing out the RFG's franchisees are contractually bound to buy the product.

"My concerns are that an individual in a position of influence is benefiting personally from supplying products to people who are already doing it really, really tough."
Di Bella wholeheartedly denied the conflict of interest accusations raised by the SMH sources, telling the paper, in part, "There is no conflict as long as everything's transparent. It doesn't matter who owns the business, you follow procedures and systems."
Texas-based national coffee roaster, wholesaler and distributor Farmer Brothers (NASDAQ: FARM), which recently acquired longtime Portland, Oregon-based company Boyd's Coffee, is looking for a new CEO. The company announced this week that CEO and Board Director Michael Keown has stepped down. Christopher P. Mottern, another director on the board since 2013, has been appointed Interim CEO for the duration of its search for a permanent replacement:
"As we position Farmer Brothers for its next phase of growth and development, we have determined that now is the right time for a leadership transition," said Randy Clark, Chairman of the Board. "Chris brings more than 40 years of experience in the food and beverage industry, having served as CEO of Peet's Coffee & Tea, President of The Heublein Wines Group, and CEO of Capri Sun, Inc. With his deep understanding of our business from his six years on the Board, extensive leadership and industry experience, and background in finance and accounting, Chris is a natural fit to lead Farmer Brothers in an interim capacity while we conduct a thorough and comprehensive search for a new permanent CEO. The Board is focused on identifying the right leader to guide the Company forward during this important time in its history and driving sustainable growth and value creation for our shareholders."
Forbes this week explored Nespresso's efforts to revive the Zimbabwe coffee sector after the capsule giant purchased roughly 95% of the country's output last year. Nespresso CEO Jean-Marc Duvoisin told the magazine that the strategy is in line with other efforts to revive production in coffeelands where the industry is under threat:
Duvoisin has high hopes for this Zimbabwean coffee, whose acidity and fruity tones, he says make it quite the ideal coffee for a Latte Macchiato. "The terroir of Zimbabwe's coffee is quite different from other East African coffees because of its high altitude and lakes."

"In 2011, we introduced a limited edition of a forgotten coffee from South Sudan, which had a huge effect on the country's economy and became one of our most successful limited editions," he recalls.
Howard Bryman
Howard Bryman is the associate editor of Daily Coffee News by Roast Magazine. He is based in Portland, Oregon.