Since lifting off its launchpad roastery in the Back of the Yards neighborhood of Chicago in 2017, startup Sputnik Coffee Roasters has rapidly carved out a niche for itself with a concise product line and personable service.
In response to rocketing demand, Sputnik has now tripled its capacity with a new 15-kilo, IMF roaster and upgraded its packaging from hand-stamped craft bags to printed bags.
Starting with smaller and lower-priced retail bags of its one core blend, Sputnik's growth also depends on the sales work of co-founder Vova Kagan. And with the recent shift from hand-stamped craft bags to printed bags, the company also adjusted its labeling to provide info in multiple different languages, reaching directly out to more people in the communities it serves.
Bags now include complete information about the product and company in both English and Spanish, plus the company motto in all of the eight most commonly spoken languages in the United States: English, Spanish, Arabic, Mandarin, Japanese, Korean, French and Russian.
"Our coffee sells in the big independent chains in Chicago, that maybe predominantly have a more inner-city, let's say, yuppie demographic," Kagan told Daily Coffee News. "It also sells really well in stores that are almost fully Hispanic and Spanish-speaking. Our coffee sells in a Japanese grocery store located just outside the city. People love it. People send it to Tokyo, to their relatives, which is cool. I think most of the people who buy our bag and can read the Japanese on it can also read the English, but it helps makes people comfortable with what's going to be in the bag. If you understand something, and you see your language on it, it makes you feel more comfortable with the product."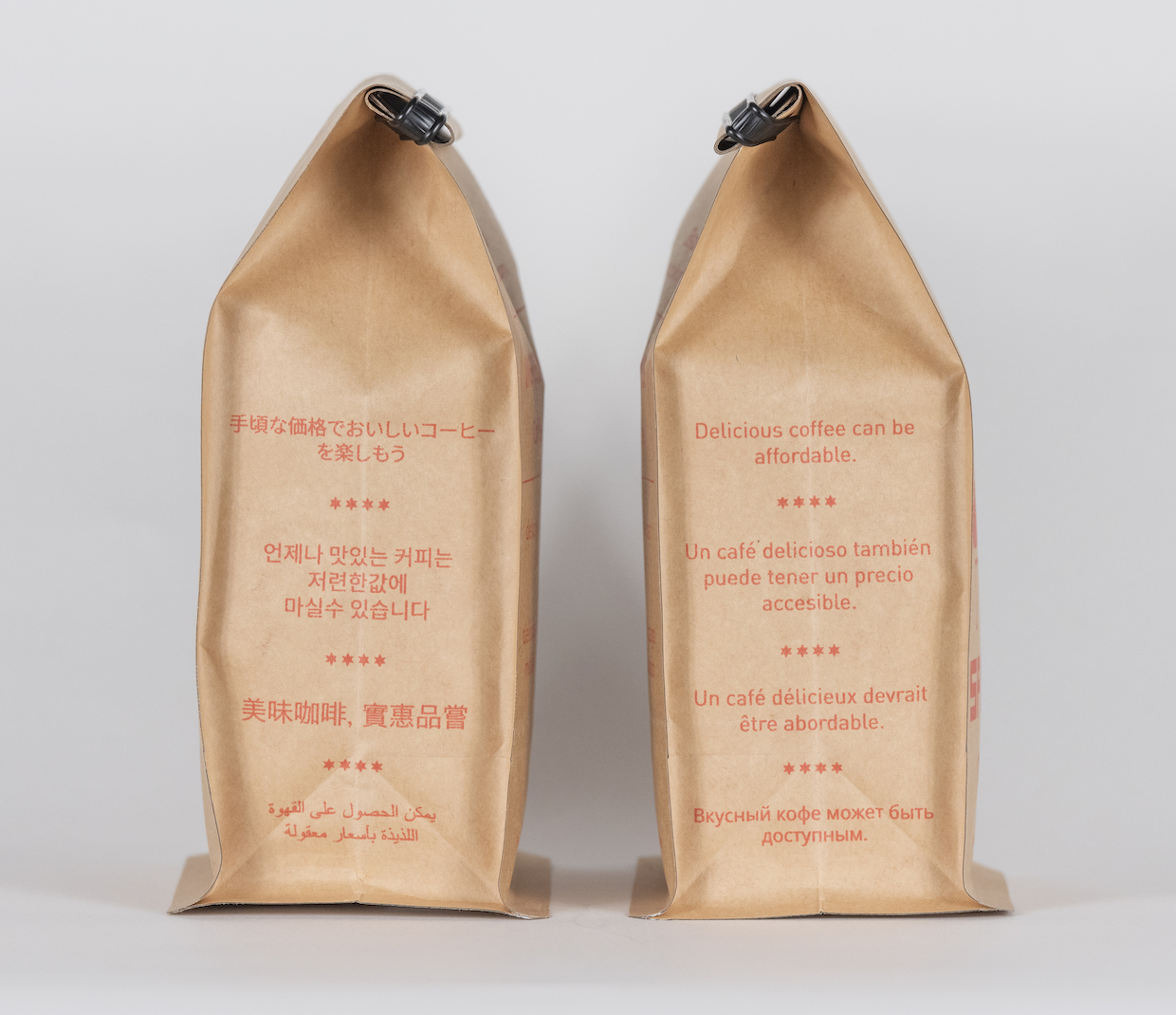 Sputnik's one and only retail blend is comprised of multiple varieties from the Cerrado region of Minas Gerais, Brazil, and from small and medium-sized family farms near the city of Pereira, Colombia. Brazilian beans include the varieties Mundo Novo, Yellow Catuai, Red Catuai and Acaia — all natural-process. The Colombians include Caturra, Colombia, Typica and Castillo — all washed-process. Kagan said the different processes, different moisture contents and bean sizes require separate roasts and profiles, and they are blended after roasting.
"The Colombia we usually roast to a medium and the Brazil we push a little more to give the blend some more body," said Kagan. "We taste everything we roast, and don't stop at just daily cupping. We taste our blend on home drip machines, French press, pour over, even moka pot. We have a soft spot for old moka pots; it's how we used to make coffee back in college. Our goal is for anyone to be able to make a delicious cup of coffee at home, regardless of how they brew their coffee in the morning."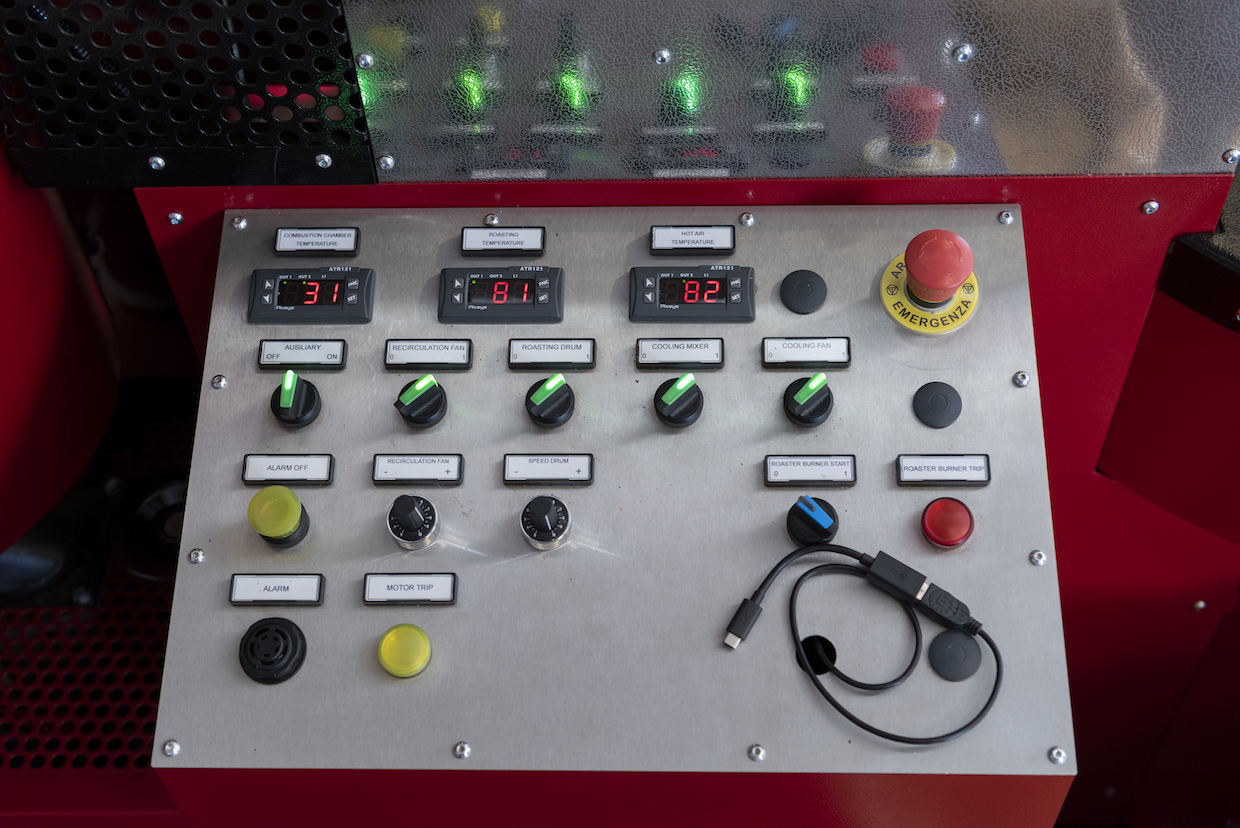 With their retail cafe at the roastery, a growing wholesale business, their $6 8-ounce bags of whole beans flying off shelves in nearly 100 independent grocery stores, plus a new partnership offering whole beans alongside the lumpy fruits and veggies delivered by Imperfect Produce, Sputnik Co-Founder and Vova's brother Greesha Kagan was roasting seven days a week, prior to upgrading away from the company's 5-kilo US Roaster Corp machine.
"We found ourselves in a pickle," said Kagan. "We oversold ourselves a little bit, and had to catch up."
The equipment Sputnik now uses to meet its blossoming demand is also as hard-earned as it is innovative. The company now lays claim to being only the second in the U.S. to use an Italian-made heat-recirculating IMF machine. In addition, Sputnik's 15-kilo IMF machine is manually operated, free from the automation available on larger models.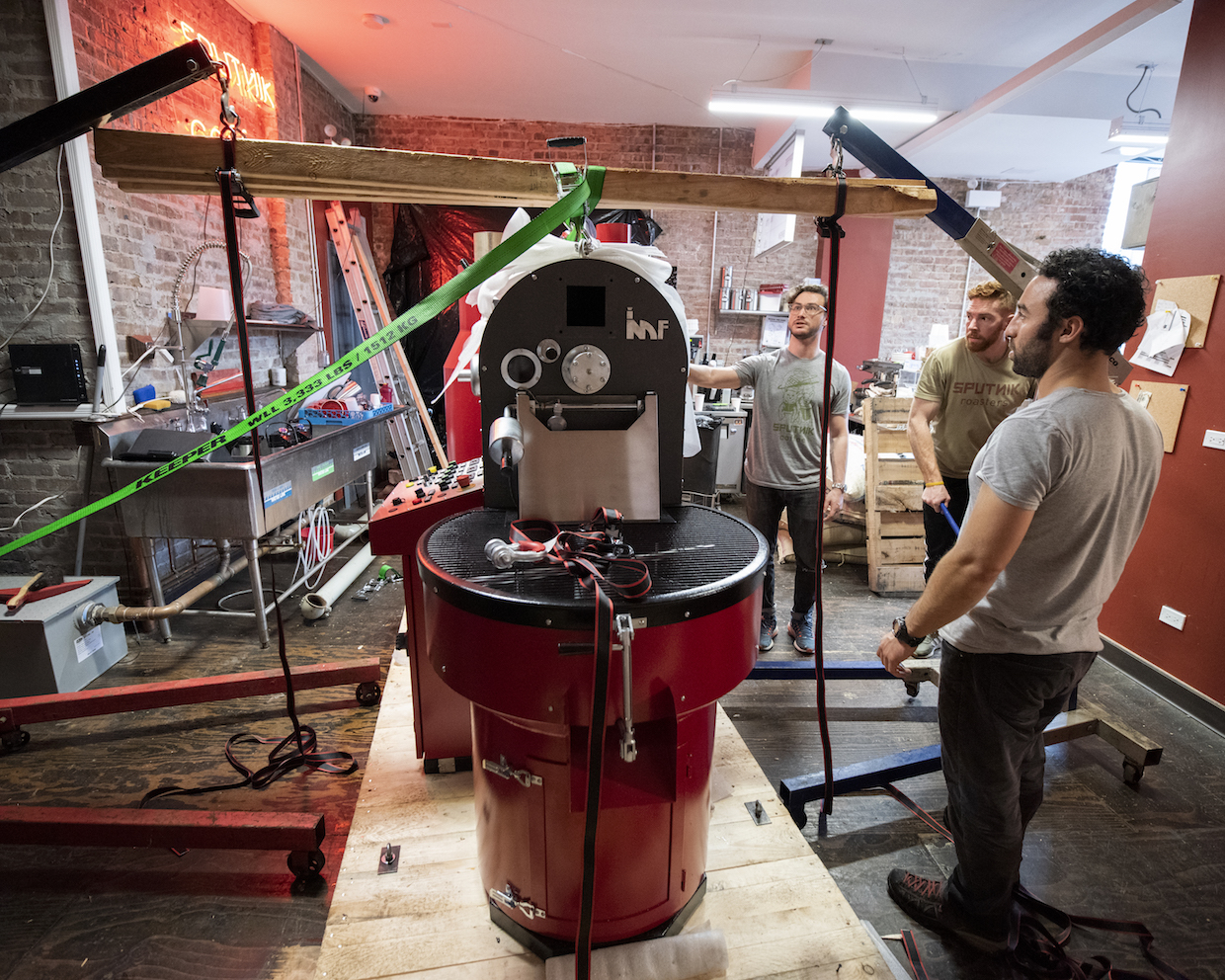 "It's Italy's response to a Loring," said Kagan. "I believe there is only one more IMF in the country at the moment and it's much larger, a 120-kilo. The [IMF] company was founded about 20 years ago. [It's] a small company but their roaster is quite a machine. We were a little worried about a recirculating roaster but our 15-kilo has proven itself running 12 hours straight some days. I think they are going to become a common sight stateside."
One word of advice Kagan also wished to convey to buyers of new roasting equipment: Measure your doors and windows. Just getting the roaster off the truck with a hastily borrowed forklift was one ordeal, followed immediately by another of lifting it in through the wall using a second borrowed forklift, prying apart the crate while it was still on the lift in order to fit the machine through the opening.
A borrowed pair of engine lifts from the auto mechanic down the street then came in handy to re-position the roaster inside the space before a 24-hour race to install the proper venting then promptly ensued. After several more days of tests and re-profiling, they were ready to tackle a several-thousand-pound order, right on time.
"We learned a lot in that first week," said Kagan. "It was a little crazy."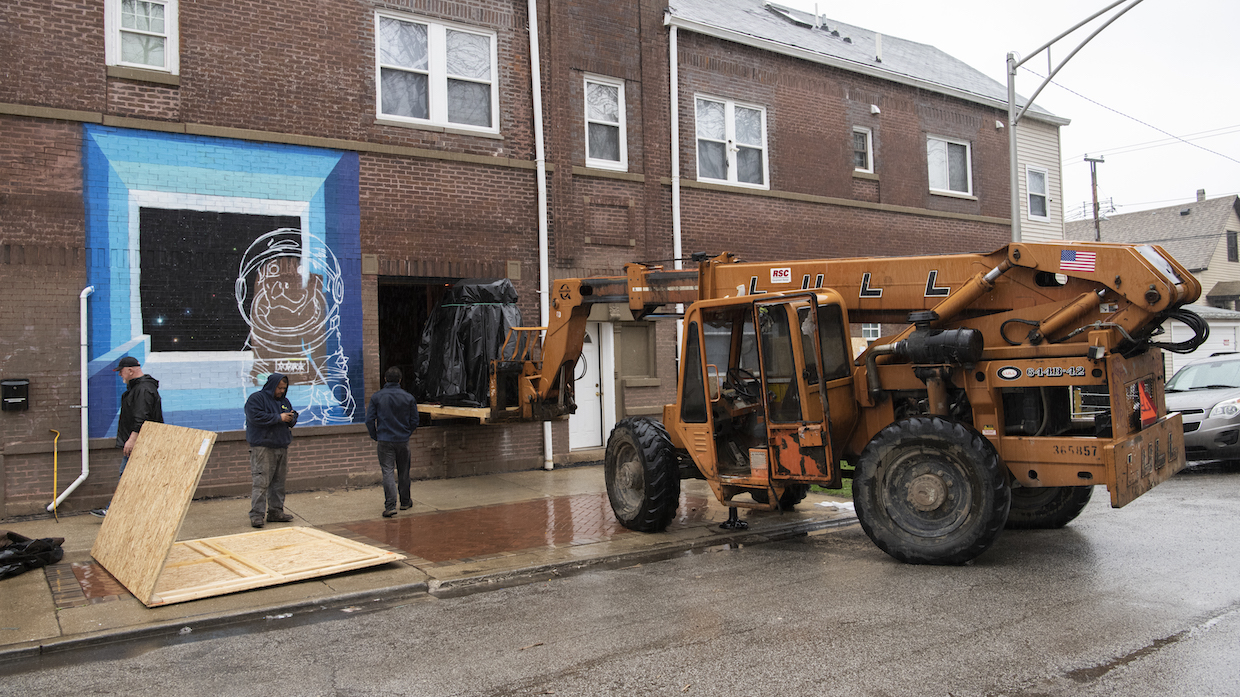 Hoping to avoid similar shenanigans in the future, Kagan said Sputnik is already pricing out options for building a new production warehouse around a 120-kilo IMF roaster, which it anticipates might be necessary within two years. The company is now hiring, and is looking at restaurant supply stores as targets for off-the-shelf 5-pound bags of Sputnik's exclusively commercial espresso blend.
"There are a lot of diners and mom-and-pop restaurants out there that don't have very good coffee," said Kagan. "They can't afford to buy a Linea, they can't afford a brand new Fetco brewer. But they can improve it a little bit by getting something fresh and a little more carefully roasted. If that means buying a 5-pound bag of our coffee and grinding it up at their local Costco let's say, and using it at their restaurant for a week, it's a win-win. We get really excited by the idea of how we can get the restaurants who think that the jump is too big to just try that jump."
Howard Bryman
Howard Bryman is the associate editor of Daily Coffee News by Roast Magazine. He is based in Portland, Oregon.