The July/August issue of Roast takes a look at the lasting impact of the coffee leaf rust epidemics that have swept through coffee growing regions over the past century, the current battle against the disease, and the efforts to mitigate its effects on coffee plants.
The issue also brings coffee freshness back into the spotlight with a new research report released by the Specialty Coffee Association (SCA) that is helping the industry to define coffee freshness, both objectively and subjectively.
Along with a feature exploring what it takes to be named Roaster of the Year by Roast, this issue is packed with insights on topics such as social media as a tool for coffee producers and understanding total dissolved solids (TDS) in coffee brewing.
Roast subscribers receive free digital access. Subscribe to Roast, or purchase the print version of the issue here.
Inside This Issue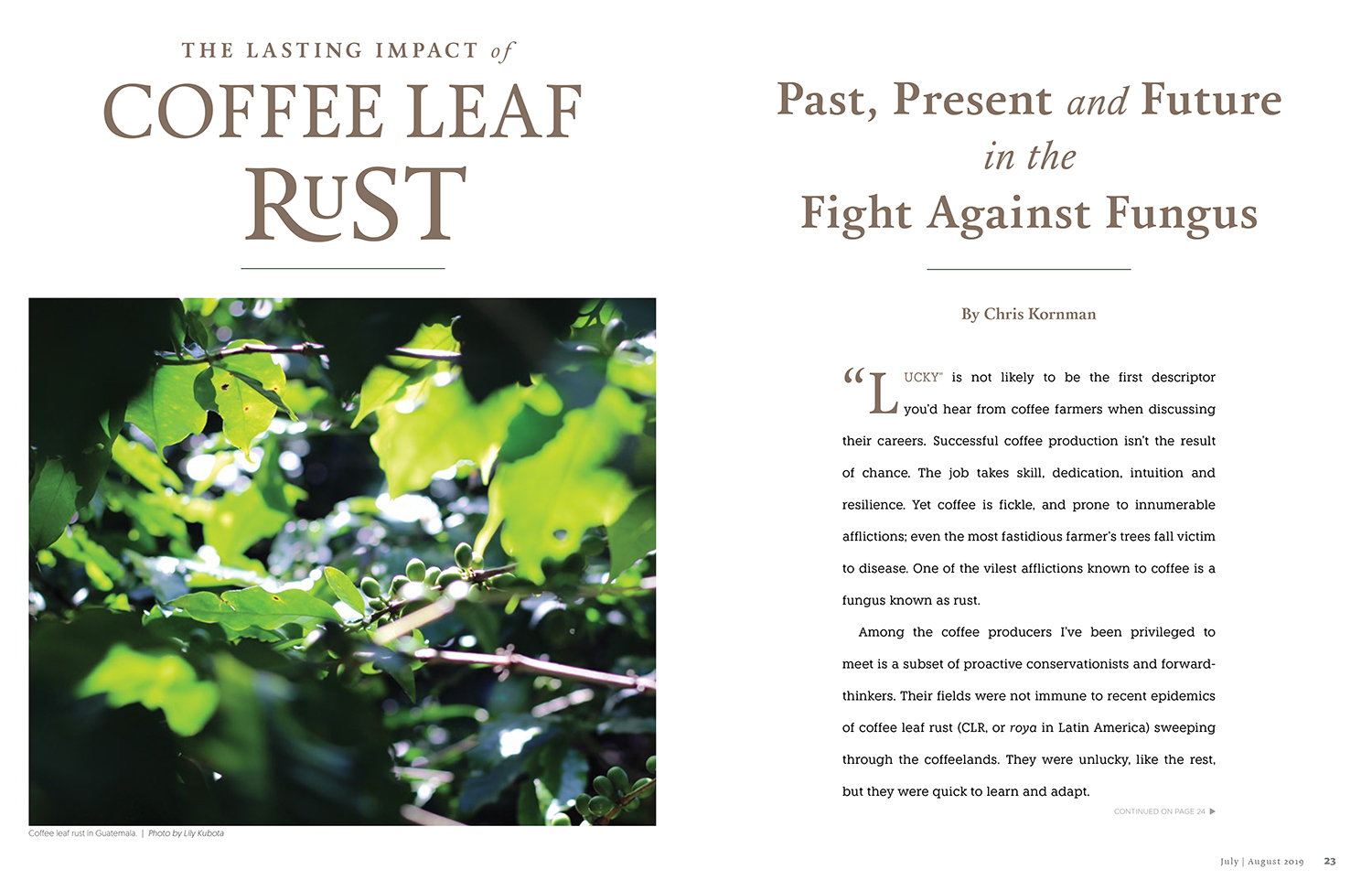 In "The Lasting Impact of Coffee Leaf Rust: Past, Present and Future in the Fight Against Fungus," Chris Kornman of Royal Coffee, Inc. explores the battle against this harmful disease and its effect on the quality and productiveness of coffee plants. The article discusses the complex history of leaf rust, its recent resurgence, and the resistant varieties and other solutions that are being explored to eradicate this threat to coffee production. Here is an excerpt that uncovers the stark future for specialty coffee if key issues, including leaf rust, are not addressed:
Ultimately, if we can't fix systems that stoke the flames of a fungal epidemic, resistance might be futile. So much stands blocking the gate beyond changing climate conditions and evolving fungi. Outdated colonial norms like monoculture plantations … persist, as do supply chains that distance farmers from their consumer market and a general lack of infrastructure for information and dissemination to farmers. Roasters continue to demand susceptible varieties because of their perceived sensory superiority, and a broken price discovery 'C' Market that uses futures trading to set the price of our physical commodity remains the baseline figure for what a farmer is paid. These practices will doom our industry.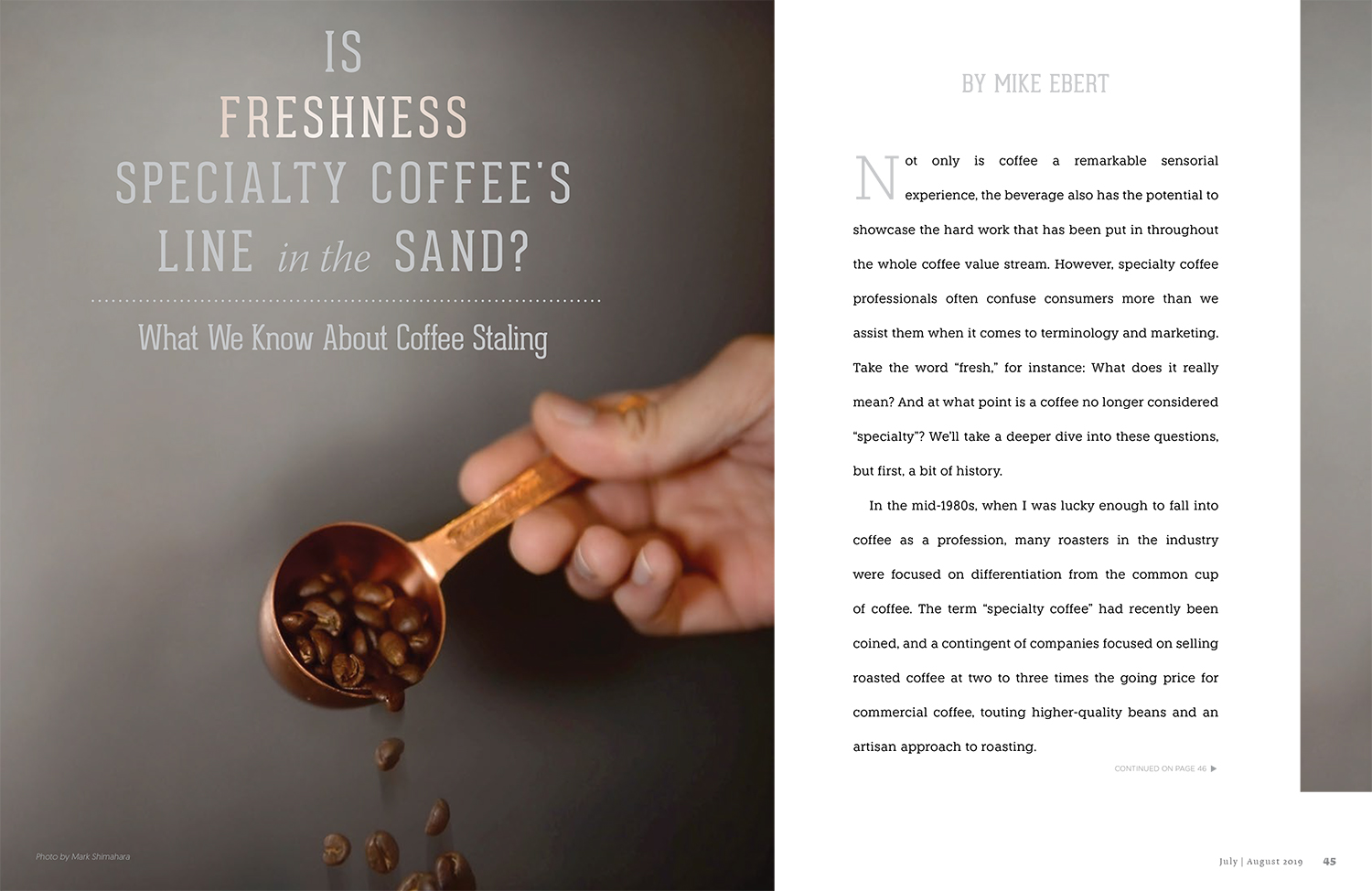 Mike Ebert of Firedancer Coffee Consultants provides insights on quantifying and qualifying loss of freshness and the science behind coffee staling in "Is Freshness Specialty Coffee's Line in the Sand? What We Know About Coffee Staling." Ebert discusses the results of a recent report released by the SCA, "The Coffee Freshness Handbook," based on a series of research experiments by the Coffee Roasters Guild (CRG) conducted between 2012-2014.
Freshness has not been measured in an objective way until recently. Scientific papers on freshness and staling have brought us some of what we know on the subject, but most of these studies were carried out by larger companies looking to objectively quantify maximum shelf life. For smaller companies, it came down to the subjective observations and experiences of individual roasters: Coffee simply tasted better within a few weeks of roasting. This also gave the specialty coffee industry a competitive advantage that it still enjoys today. For large, commercial companies — between their volume, distribution chain, and demands of coffee being a 'grocery' item as opposed to being handled as a perishable product — it is tough to compete with craft roasters on freshness.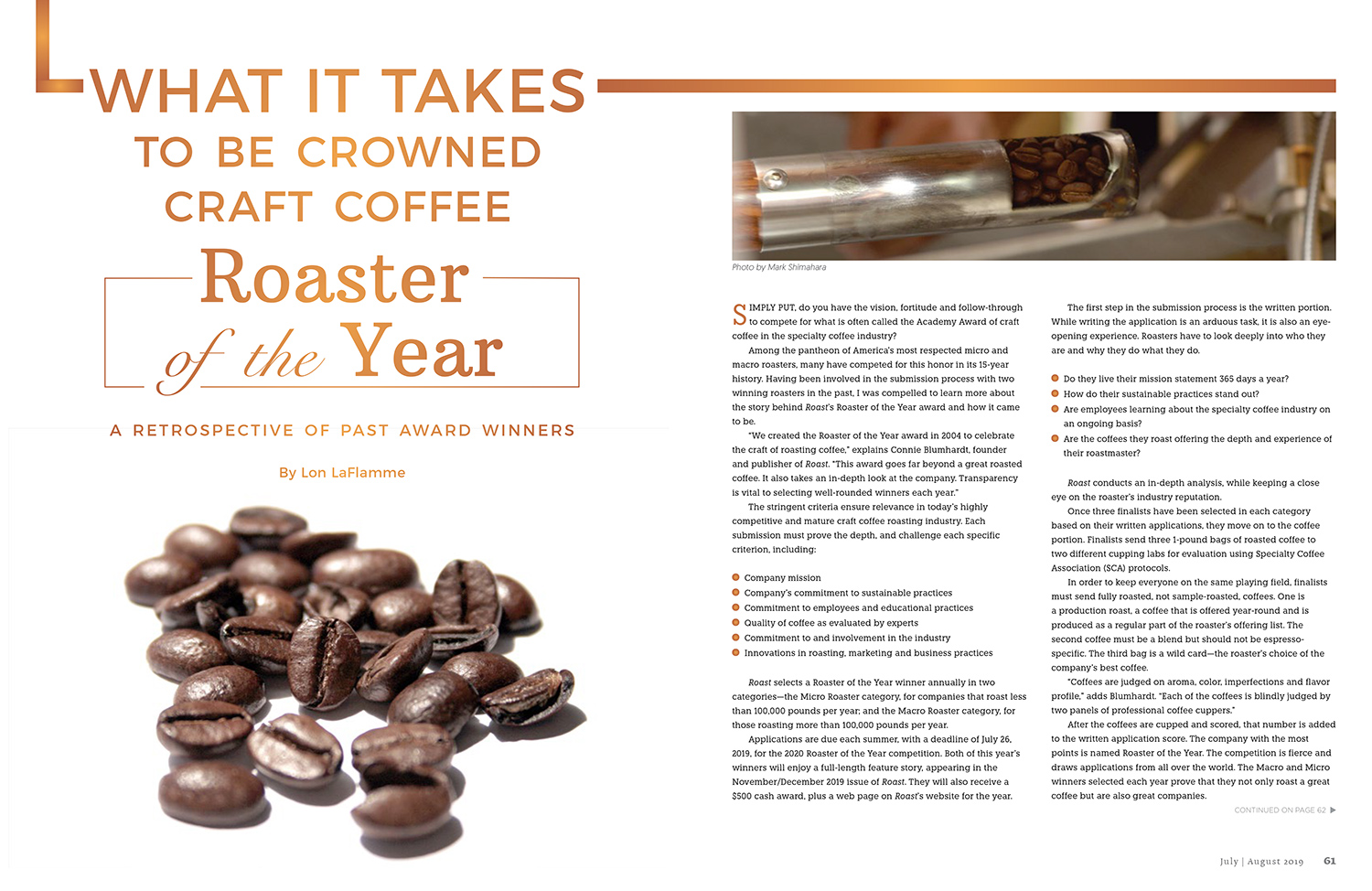 Since 2004, an exclusive list of coffee companies have been recognized for their company's business practices, transparency and sustainability efforts, and quality coffee. In "What it Takes to Be Crowned Craft Coffee Roaster of the Year: A Retrospective of Past Award Winners," Lon LaFlamme, a consultant for the 2019 Macro Roaster of the Year Peerless Coffee, takes a look at the submission process for the award and highlights four past winners to provide a glimpse into the company culture they have cultivated and other factors that have led to their success, such as that of San Diego, California-based Bird Rock Coffee Roasters:
Cultivating friendly relationships with importers and exporters made it possible for small quantities to be set aside for him. Since then, Bird Rock has developed sustainable direct-trade relationships with farmers in Guatemala, Nicaragua, Panama, Colombia, Ecuador and Bolivia. Bird Rock was one of the pioneers in developing farm-direct relationships, outside the Fair Trade USA system, while giving farmers additional capital for infrastructure improvements. The farmer and co-op receive a higher rate to separate the lots, then Bird Rock pays a per-pound bonus to the farmer based on how well the coffee scores once it arrives at the roaster.
Features
The Lasting Impact of Coffee Leaf Rust
Past, Present and Future in the Fight Against Fungus
Is Freshness Specialty Coffee's Line in the Sand?
What We Know About Coffee Staling

What it Takes to be Crowned Craft Coffee Roaster of the Year
A Retrospective of Past Award Winners
Columns