In a vast, booming city with no shortage of coffee options, Toronto newcomer Morning Parade Coffee Bar is leading a hyper-local coffee procession, proudly bearing the flags of quality and community. 
The cozy coffee shop, which recently opened in the Beach Hill neighborhood serving fresh roasts from Sam James Coffee represents the latest venture for native Torontonian Elektra Simms.
After years of working in the nonprofit and startup sectors supporting communities around the world — all the while appreciating the importance of cafes of all shapes and sizes as gathering spaces — Simms grew determined to create a locally focused cafe space of her own.
"The neighborhood is one of the last accessible areas in the city because of the demanding housing market," Simms told Daily Coffee News. "There are a lot of young couples and young families in the neighborhood looking to support new local businesses."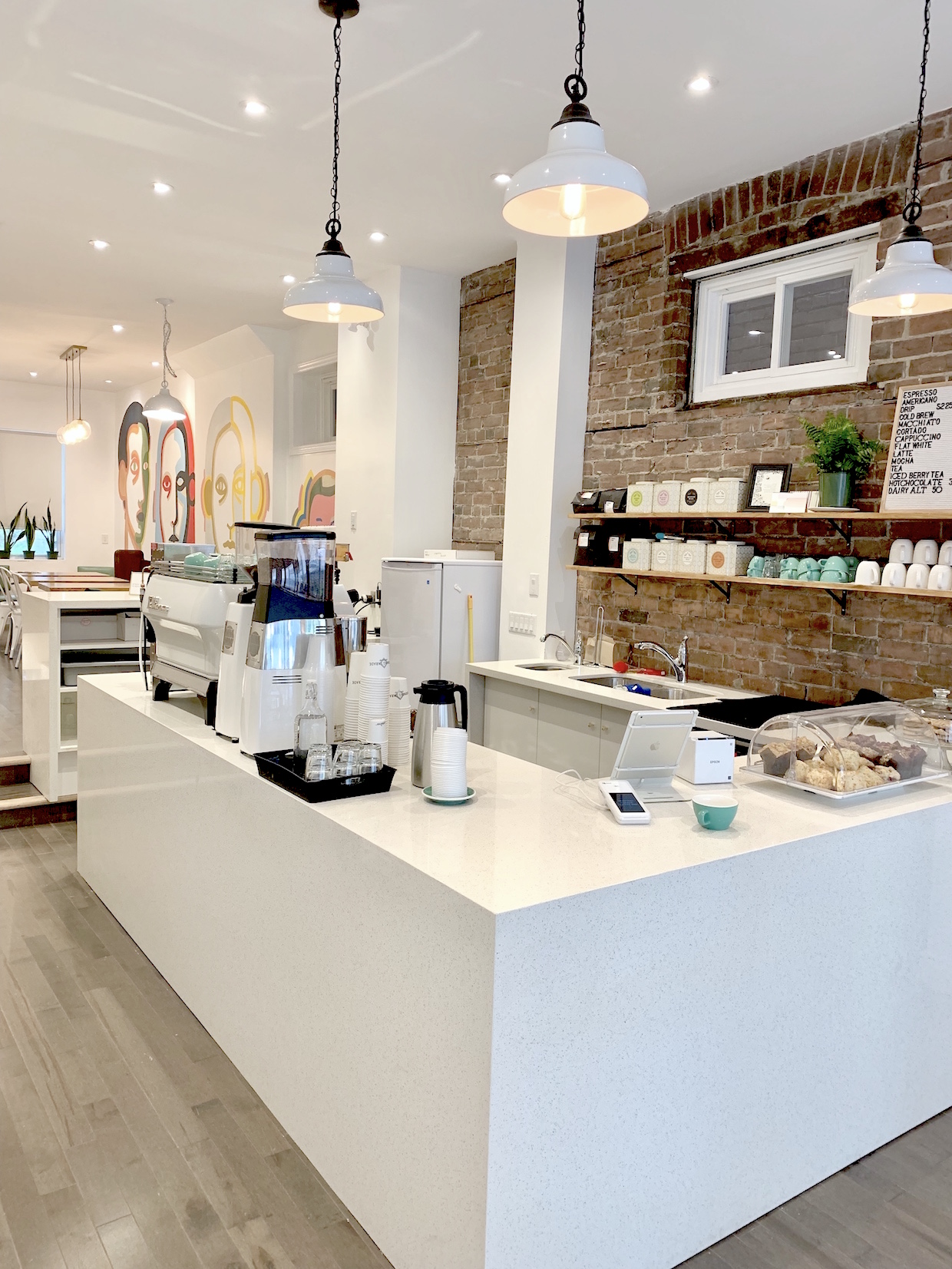 Before opening, Simms started working as a barista at another cafe in Toronto to learn the ins and outs of the bar, serving customers, brewing coffee, pulling espresso, properly steaming milk and pouring latte art. After six months, Simms found a space inside a former billiards bar that was a mere 15-minute walk from her home. 
Extensive renovation was required since the pool hall had been vacant for several years. In addition to updated electrical and plumbing, Simms and contractors restored and/or replaced structural elements, including raising the dropped ceiling and altering the facade to include floor-to-ceiling glass doors that provide a welcome breeze in the summer while also giving potential customers a clear view inside.
Large, vibrant portraits throughout the space were painted by Toronto-based artist and Simms' cousin, Justin Rousseau. Murals are meant to reflect the shop's name in various ways. 
"The name Morning Parade is meant to represent the daily journey we all take to work, to school, to carry out our lives," said Simms, "and it's about the connections we make along the way."
Atop the small, all-white bar is a two-group La Marzocco FB/80 next to a Mazzer Kold for the main espresso offering and a Mazzer Robur for decaf. A Newco S-Profiler for batch brew is flanked by a Mahlkönig Guatemala grinder.
Aside from serving guests from the surrounding neighborhoods, Morning Parade also seeks to serve local businesses by sourcing their products.
Roasted coffee is coming exclusively from the progressive Toronto coffee roasting company Sam James Coffee. Sam James the person also played a role in helping Simms select brewing equipment, dial in brewing methods and construct the menu. Sam James' Butterknife Blend serves as the house espresso, while the shop also offers a rotating list of single-origin coffees for batch brew.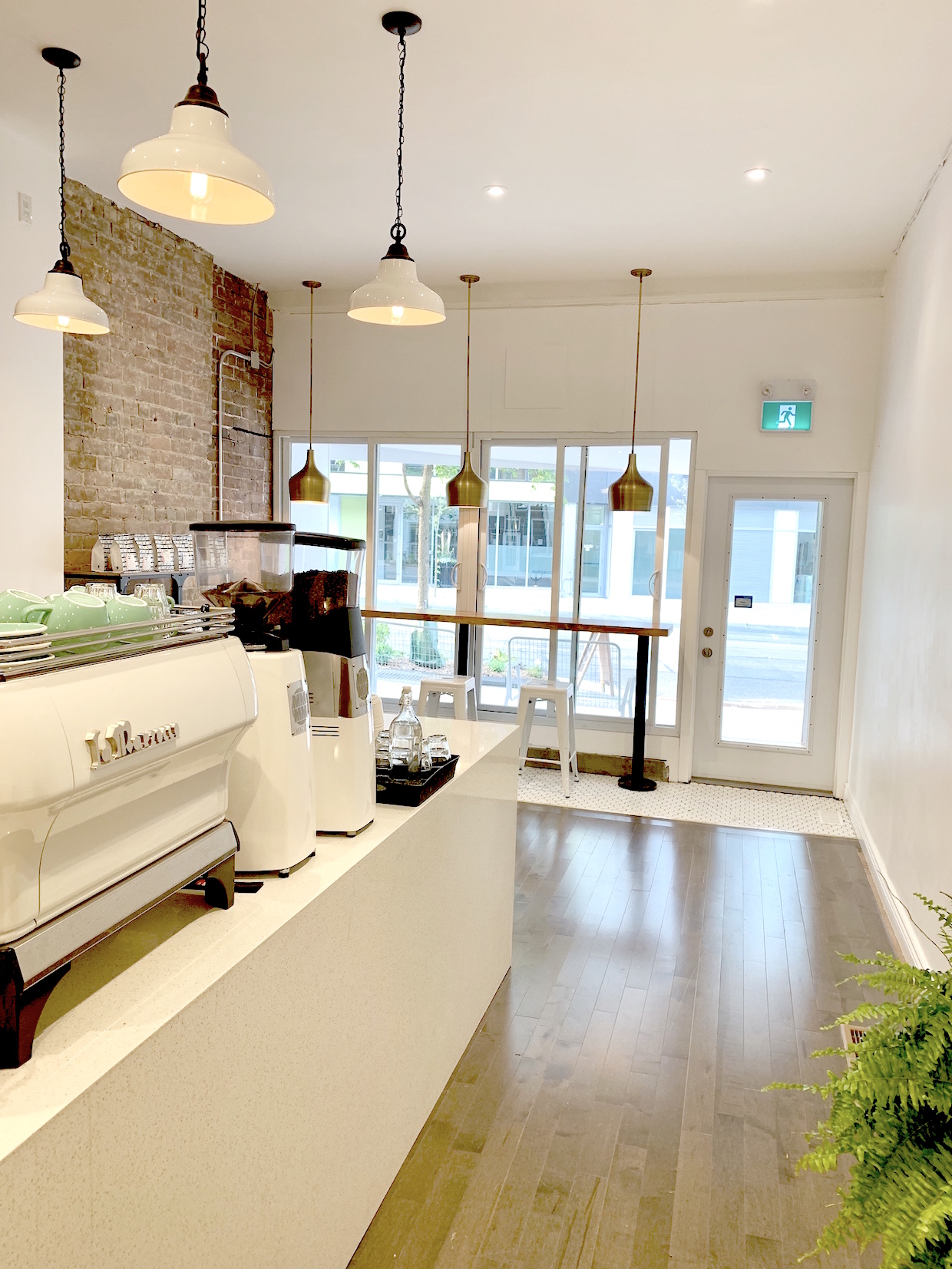 Simms settled on a fairly straightforward drinks menu, letting the expertly brewed coffees speak for themselves. Tea comes from Sloane Tea and hot chocolate is provided by Soul Chocolate, both based out of Toronto. A rotating menu of pastries comes by way of daily deliveries from local bake shops Front Door Bakery and Mother Dough. 
"Our customers, by and large, are people who live and work in the neighborhood," said Simms. "Fast forward three years from now and I think there will be a lot more businesses open and thriving because the neighborhood is really looking to local businesses."
Morning Parade Coffee Bar is now open at 1952 Gerrard St E in Toronto.
Craig Batory
Craig Batory is a writer, marketer and coffee professional working and living in Detroit.