Hurricanes Irma and Maria devastated Puerto Rico in 2017, dramatically placing an indefinite hold on Jaime and Natalie Arraya's plans to open a coffee shop on the island. With a young son, the Arrayas decided to relocate to Columbus, Georgia, where they had friends and could start their lives anew. 
This past June, the Arrayas' plans finally realized their dream, opening Cafe Motif, a specialty coffee shop on the north edge of the west Georgia city that creatively combines Jaime Arraya's twin passions of coffee and art. 
"I really like the fact that specialty coffee can be almost a form of art, something that you can craft on the spot and serve to people, and you have that immediate satisfaction and reaction to it," said Arraya, who studied painting before shifting his career focus to coffee. "I really like that about coffee, how it involves people in a very direct way." 
Moving thousands of miles originally dashed the family's dreams of coffee entrepreneurship, but that changed as the Arrayas adapted to their new surroundings.
"I frankly didn't have any intention of continuing the coffee shop, especially in a new area that I didn't know," Arraya told DCN, "but being in this area, and the more I visited coffee shops locally, the more I felt like there was room for a coffee shop like the one I wanted to do."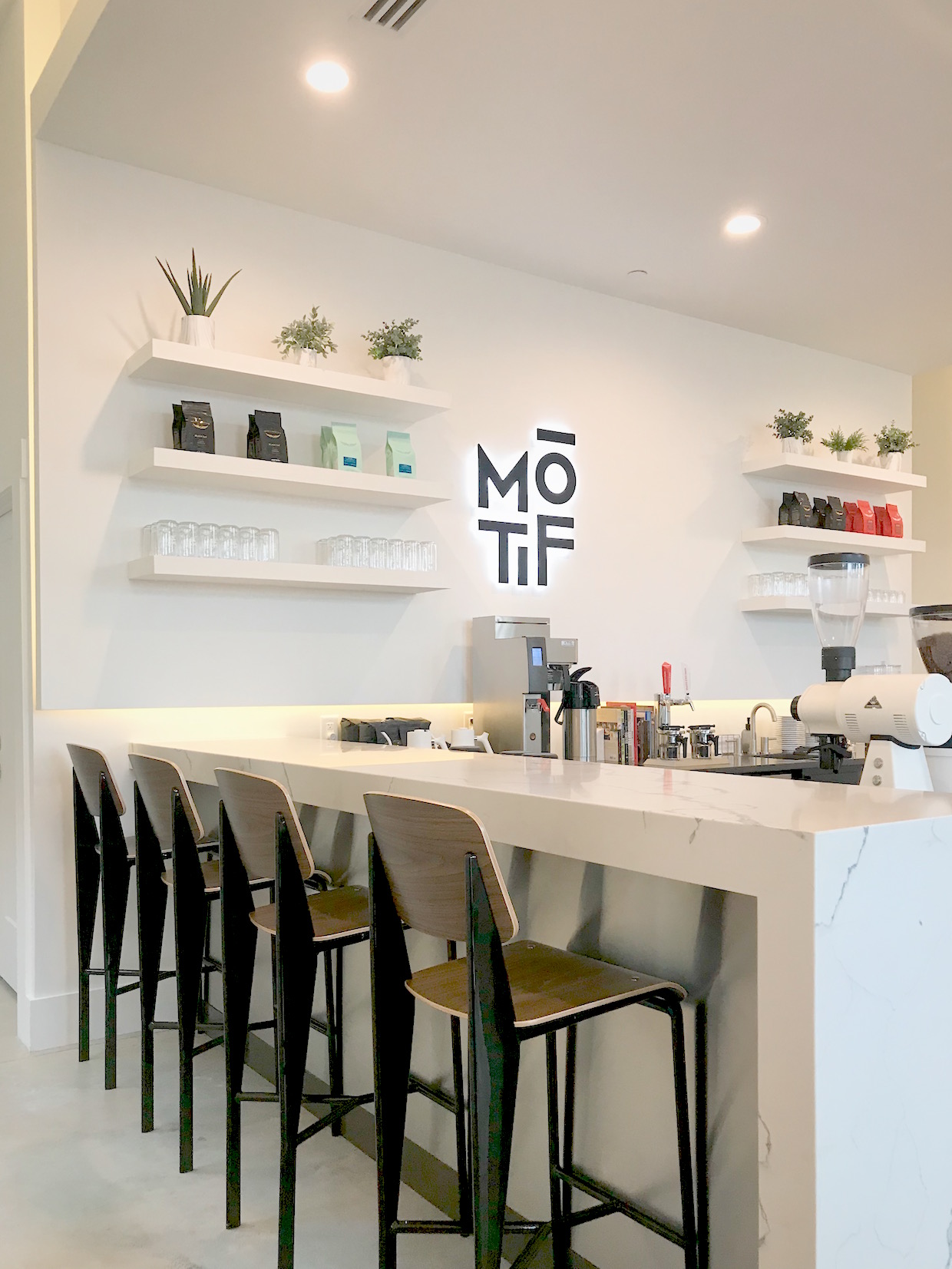 After speaking with a number of different potential coffee suppliers, Arraya was convinced by the warmth and collaborative spirit he felt from his contacts at the Chicago-based roasting stalwart Intelligentsia Coffee. Cafe Motif now serves Intelligentsia's Black Cat Classic Espresso blend through a two-group La Marzocco Linea PB with Mahlkönig K30 Air grinders, and a rotating line of Intelligentsia single-origin coffees as batch brews and pourovers via Kalita Wave.
The espresso machine acts as a focal point for the cafe, with a lowered bar allowing the barista to comfortably engage with customers. That concept of simple human-to-human connection is reinforced throughout the interior design of the bright, uncluttered shop. Said Arraya, "The way it's designed, you kind of have the barista as a main character more or less in the center of the space." 
A high-top seating area along one side of the white marble bar gives patrons another clear view of the drinks being prepared beyond the point of sale.
"I didn't want people to interact just with the cash register," Arraya said. "I wanted them to interact with the barista, and if they had questions I wanted them to be able to have someone guide them through the possible options."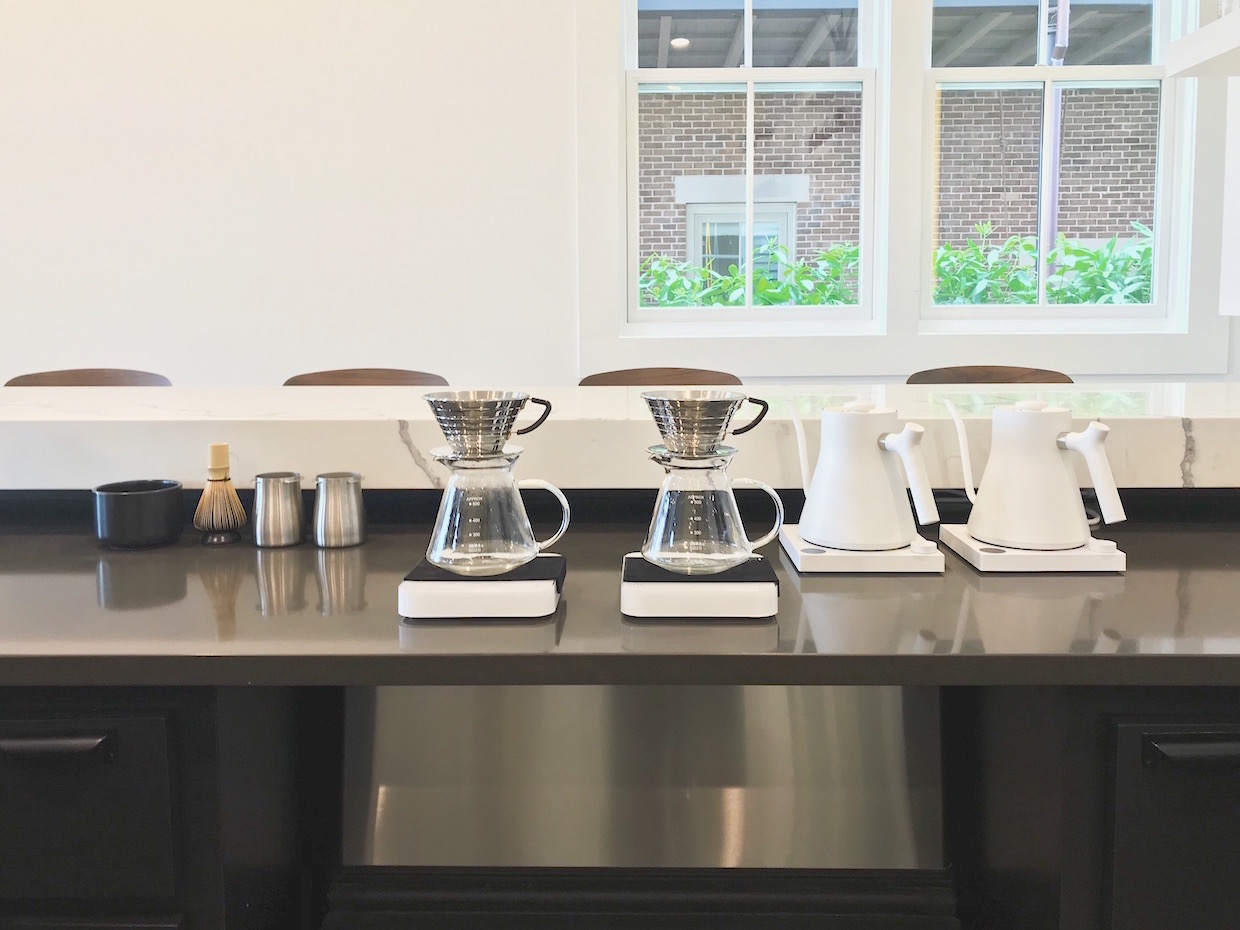 A focused food menu overseen by Jeshua Perez, the friend who originally encouraged the Arrayas to move to Columbus, is supported by a cozy kitchen. Arraya said the food menu will evolve with the seasons, reflecting the spirit of creativity he envisions for the space. 
"I think moving here has allowed me to evolve the concept a little bit, because I couldn't have gotten away with opening a shop like this on a small island," Arraya said. "Or maybe I could have, but it [would have been] a bit more of a gamble."
Cafe Motif is located at 3540 Massee Lane in Columbus, Georgia.
Fionn Pooler
Fionn Pooler is a freelance writer and former coffee professional based in Ann Arbor, Michigan.