Native Michiganders Rosie Quasarano and Alex Burbo built upon more than a decade of coffee industry experience when founding their own wholesale coffee company, Littlefoot Coffee Roasters, in Chicago in 2017. Now having come home to their beloved Great Lakes State, they've taken Littlefoot along with them, relocating the enterprise into a brand new roasting facility and warehouse in the Grand Rapids suburb of Grandville.
The new facility features a 2,000-square-foot main floor with two mezzanine areas that rise above it, allowing for plenty of room for production to spread out around the company's mid-90's Probat L5 roaster that the company said might soon be joined by a four barrel Joper sample roaster.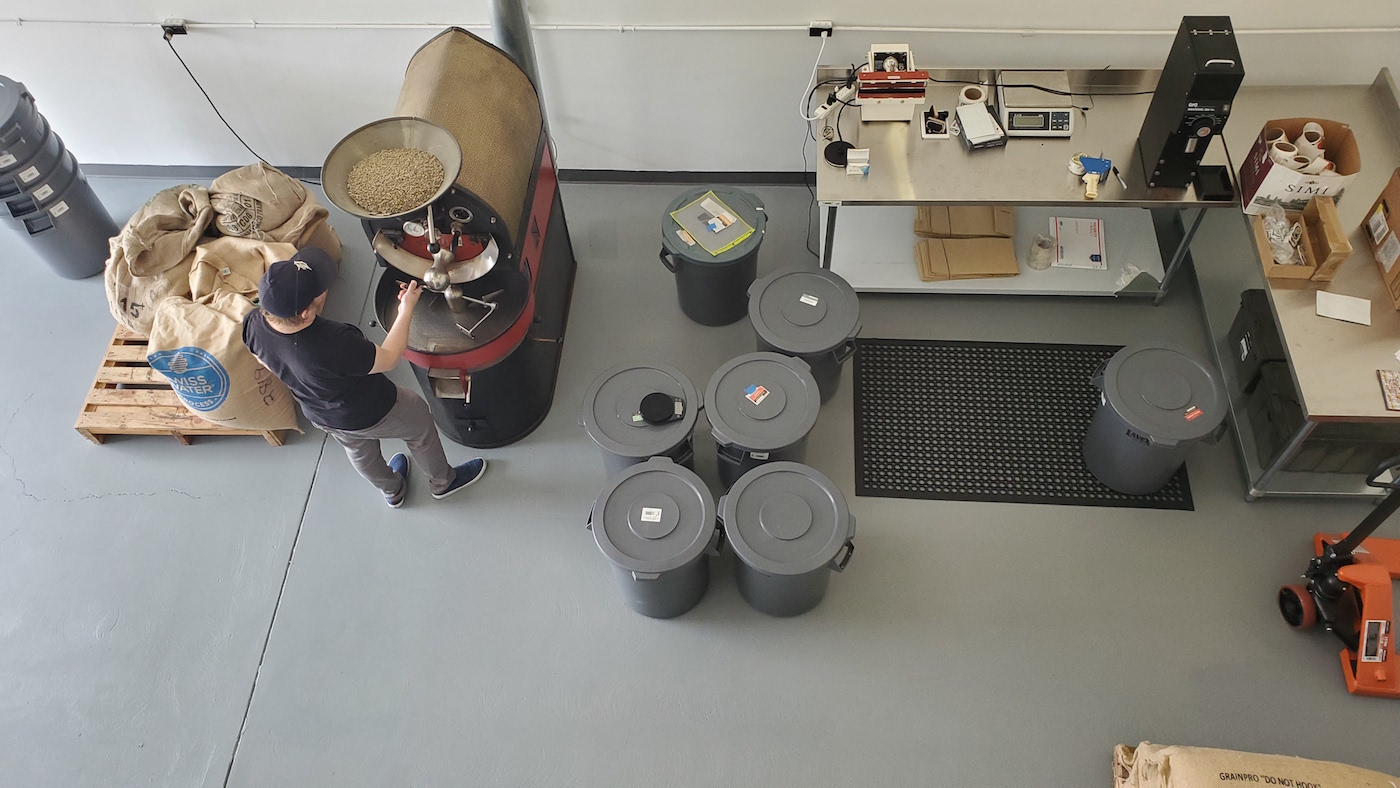 Quasarano told Daily Coffee News that while the wholesale-focused company will not offer brewed coffee service to the public on-site, though visitors are welcome to buy whole beans at the roastery, where there will also be tours, tastings and educational events.
"Education is a major focus for us," said Quasarano. "We want to create a welcoming space where anyone can come in and learn something new about coffee, from industry people to the daily drinker. There's a whole other side to coffee, and we'd love people to come along on the adventure."
Littlefoot's greens so far have been sourced through a mixture of import companies large and small, such as Olam and Cafe Imports on the larger side, and Peru-focused Origin Coffee Lab and Costa Rica-focused Cafe Con Amor on the smaller side. On the Probat, Burbo tends to keep profiles on the medium and lighter end of the spectrum, aiming to balance sweetness with body and the natural flavors indicative of each coffee's origin.
Burbo began his roasting career at Intelligentsia Coffee, working under Xavier Alexander, who went on to become co-owner of Metric Coffee. When Burbo also moved on to serve as Metric's head roaster, he was able to use Metric equipment and leverage the relationships he'd forged under that brand to get Littlefoot started on the side, according to Quasarano.
Today Burbo remains careful never to assume that any handful of coffee beans, each with its own unique makeup of acids, sugars, fats, density and water, will ever exhibit exactly the same flavors, no matter how precisely each profile is replicated on the roaster.
"I approach each roast with an open mind even if pulled from the same batch of coffee," said Burbo. "You can trace a line on a profiler, but I don't believe the flavor outcome will always be the same, even if the numbers line up. I was taught by Kurtis Kearby early in my career. His old-school approach and free-flowing hippy vibe of 'You've got to listen to the beans, man; what do they want?' has stuck with me. I believe that mentality has served me well over the years."
The new Littlefoot Coffee Roasters production facility is located at 3047 Broadway Ave. SW in Grandville.
Howard Bryman
Howard Bryman is the associate editor of Daily Coffee News by Roast Magazine. He is based in Portland, Oregon.