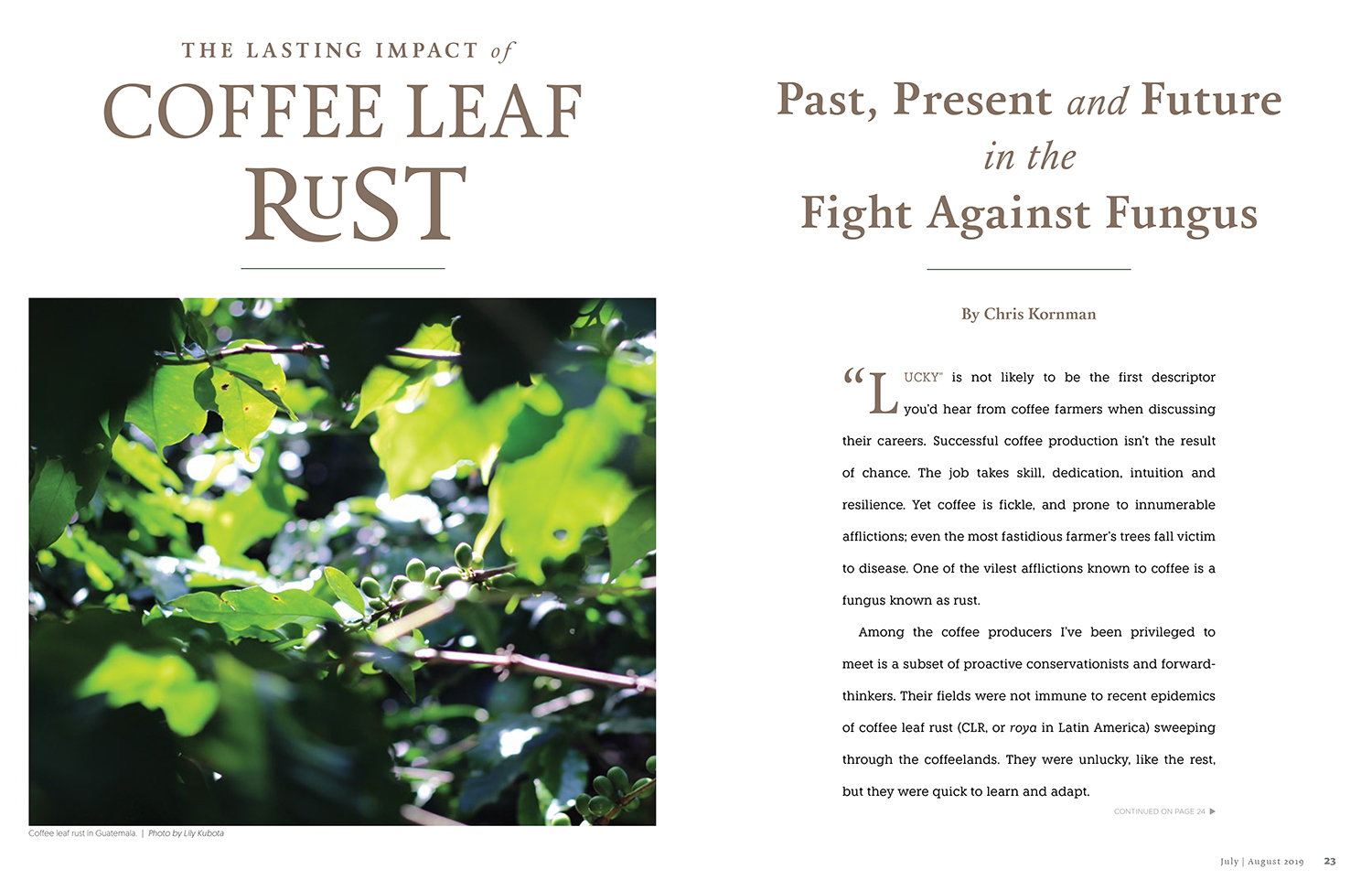 (Editor's note: The following comes from an article by Chris Kornman that appeared in the July/August 2019 issue of Roast Magazine. Click here to read the full article.)
"Lucky" is not likely to be the first descriptor you'd hear from coffee farmers when discussing their careers. Successful coffee production isn't the result of chance. The job takes skill, dedication, intuition and resilience. Yet coffee is fickle, and prone to innumerable afflictions; even the most fastidious farmer's trees fall victim to disease. One of the vilest afflictions known to coffee is a fungus known as rust.
Among the coffee producers I've been privileged to meet is a subset of proactive conservationists and forward-thinkers. Their fields were not immune to recent epidemics of coffee leaf rust (CLR, or roya in Latin America) sweeping through the coffeelands. They were unlucky, like the rest, but they were quick to learn and adapt.
One such producer is Alejandro Solis, who manages his family's farms, Finca Injertal and Finca Huixoc, near the cities of San Pedro Necta and La Democracia in Huehuetenango, Guatemala. A third-generation farmer, Solis has the privilege of running large and successful operations blessed with abundant spring water. Even so, he has also observed climatic changes over the years. He is a conscientious coffee caretaker, and it became apparent to him that investment in climate technology throughout his farms would provide his family, his farm and his employees with security to continue growing coffee into the future.
His gathered climate data has been used to help predict temperature and rainfall, and contributed toward an impressive scientific report led by Dr. Peter Baker at Climate Edge, a U.K.-based firm that aims to empower farmers with predictive weather and temperature models.
Not long ago, Solis confided in me that roasters "need to know what coffee farmers are facing these days. With unpredictable and unstable weather, the risks of producing coffee have increased. Flowering, planting, fertilizing, harvesting and all other labors are greatly influenced by weather—as is, of course, quality. So, I think this topic is always important for everybody to learn."
On Huixoc, at 130 hectares, farm management is no small undertaking. The farm crosses a wide range of elevations, from 1,150 meters to nearly 1,700 meters, and in recent years it has experienced rather dramatic average high temperature increases. "During our rainy season, which lasts between five and six months," Solis explains, "there are ample conditions for outbreaks, especially when temperatures rise and there is enough humidity." On Huixoc, rains begin as early as February, usually peak in April, May and June, and can extend through August. These wet summertime conditions—warm and damp weather—are ripe for roya.
Solis's approach to containment must be clinical to be successful on a farm at his scale.
"We have implemented an integrated management system to manage [rust] and keep it below levels which would not affect our productivity too much," he says. "We do careful monitoring every month. We regulate our shade trees in very moist areas. We try to provide the best nutrition possible, and we have replanted some specific areas where rust is more prevalent with rust-resistant varieties. We have also opened our row spacing in some areas. We also use fungicides to keep inoculum at low levels. If you let the rust level get too high, there is nothing you can do to stop it."
He elaborates, "After the rust outbreak in 2012–2013, we have seen how the rust fungus adapts to higher altitude and moist climates, where we have most of our coffee planted. We know we are never going to eradicate it."
That word "never" hangs in the air, thick like smoke. Coffee's most recent rust crisis was an alarm bell for a fire that's been smoldering for more than a century. Without a deep knowledge of rust's history and behavior, and the preventive measures in which roasters can participate, I fear we're just fanning the flames. Let's take a deep look at the interaction between rust, coffee and ourselves as we prepare for the next steps into an uncertain future.
[Click here to read the full article]
______
Chris Kornman is a seasoned coffee quality specialist, writer and researcher, and the lab and education manager at The Crown: Royal Coffee Lab & Tasting Room in Oakland, California.