Terry and Peggy Miller, the owners new roasting company Cherry Blend Coffee Roasters in Canton, Ohio, bring to their start-up coffee venture a depth of entrepreneurial experience to which few new microroasters can lay claim.
For more than 23 years, the pair has owned and operated a painting and coatings company called Tegrey Family of Coatings, in Stark County. This year they decided to follow their longtime passion into a new business, roasting coffee.
Five months ago, the Millers devised a plan to split their 1,350-square-foot workshop — on Cherry Ave., conveniently enough — in half, making room on one side for a production roastery. Terry is heading up the roasting and sourcing, but is also relying on advice and feedback from Peggy and the MIllers' daughter, Allison, who will continue to run the day to day operations of the painting business.
"I'm 68, and at this point I want to spend less time climbing ladders and more time roasting coffee," said Terry. "I'm hoping that eventually Peggy and I can just focus on the coffee business, but for now we're doing both."
The business follows decades of devoted coffee consumption by the Millers, who have, according to Terry's count, eight methods for coffee preparation at their home. Said Terry, "Everywhere we travel, for work or pleasure, we always try and visit as many specialty roasters as we can."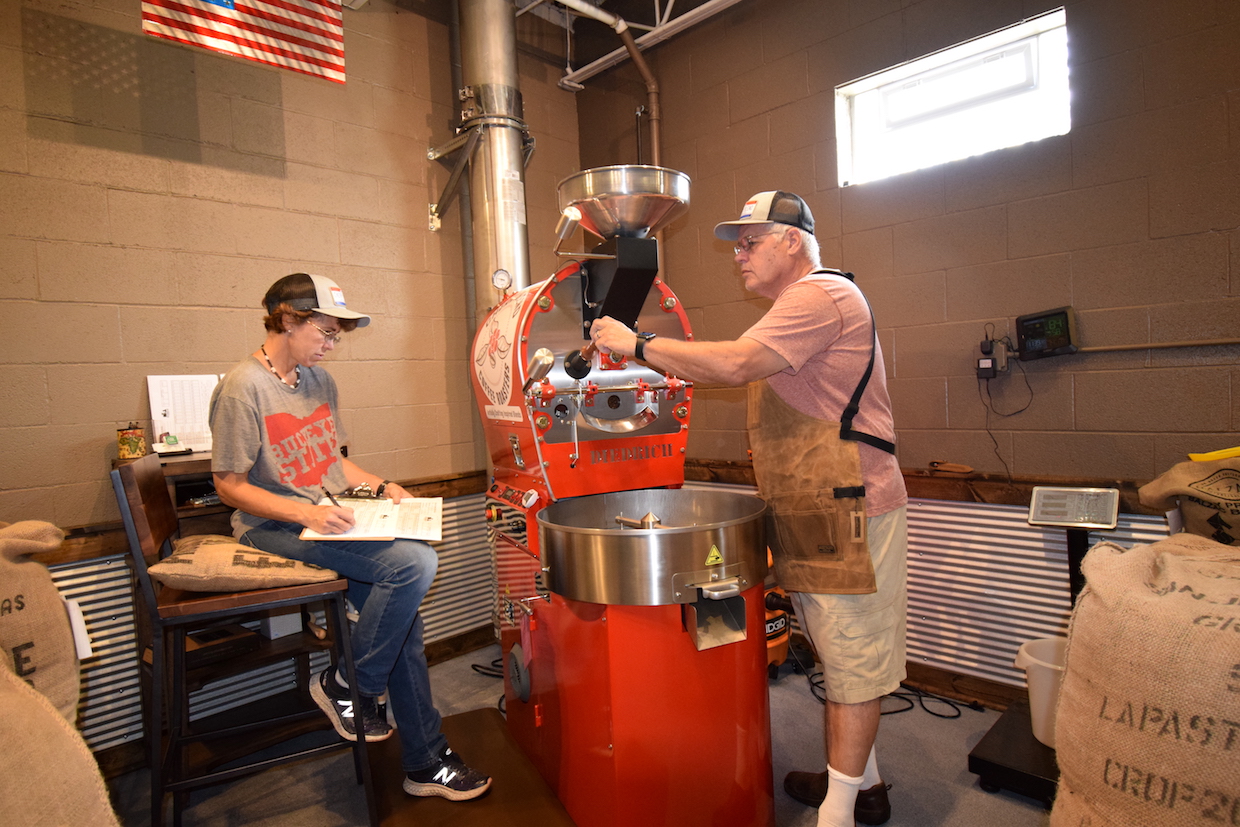 Wherever possible, the Millers have taken a "made in the U.S.A." approach to outfitting their dream roastery. Ventilation and shelving are U.S.-made, as is the cherry-red Diedrich IR5, manufactured from scratch in Idaho.
"In our painting business, we use the best paint, the best ladders and the best equipment we can," Terry said. "So we wanted to do the same with the coffee roasting equipment."
Materials from Keim Lumber in Millersburg, Ohio, were used for a custom-built sliding door between the painting studio and the roastery. Towards the front of the roastery are two antique chairs that belonged to Peggy's grandmother that have been sandblasted and painted to match Diedrich. The Millers hand-painted the mural of coffee cherries on one side of the production building.
"We had a lot of help from family and friends, to help set up the roastery," Terry said. "I think we created and nourished several personal and business relationships during our lifetime in Canton [that] have come back to help us tremendously."
To learn their new craft, the Millers traveled to Williamsburg, Virginia, to attend a seminar featuring Diedrich and the Specialty Coffee Association, as well as to attend an event hosted by roasting software provider Cropster in partnership with green coffee importer Balzac Brothers on their joint Staying Ahead of the Curve educational tour.
"We've been so impressed with Balzac's patience and working with us as we get the roastery started," Terry said. "They have some amazing coffee and continue to help us with all of our offerings."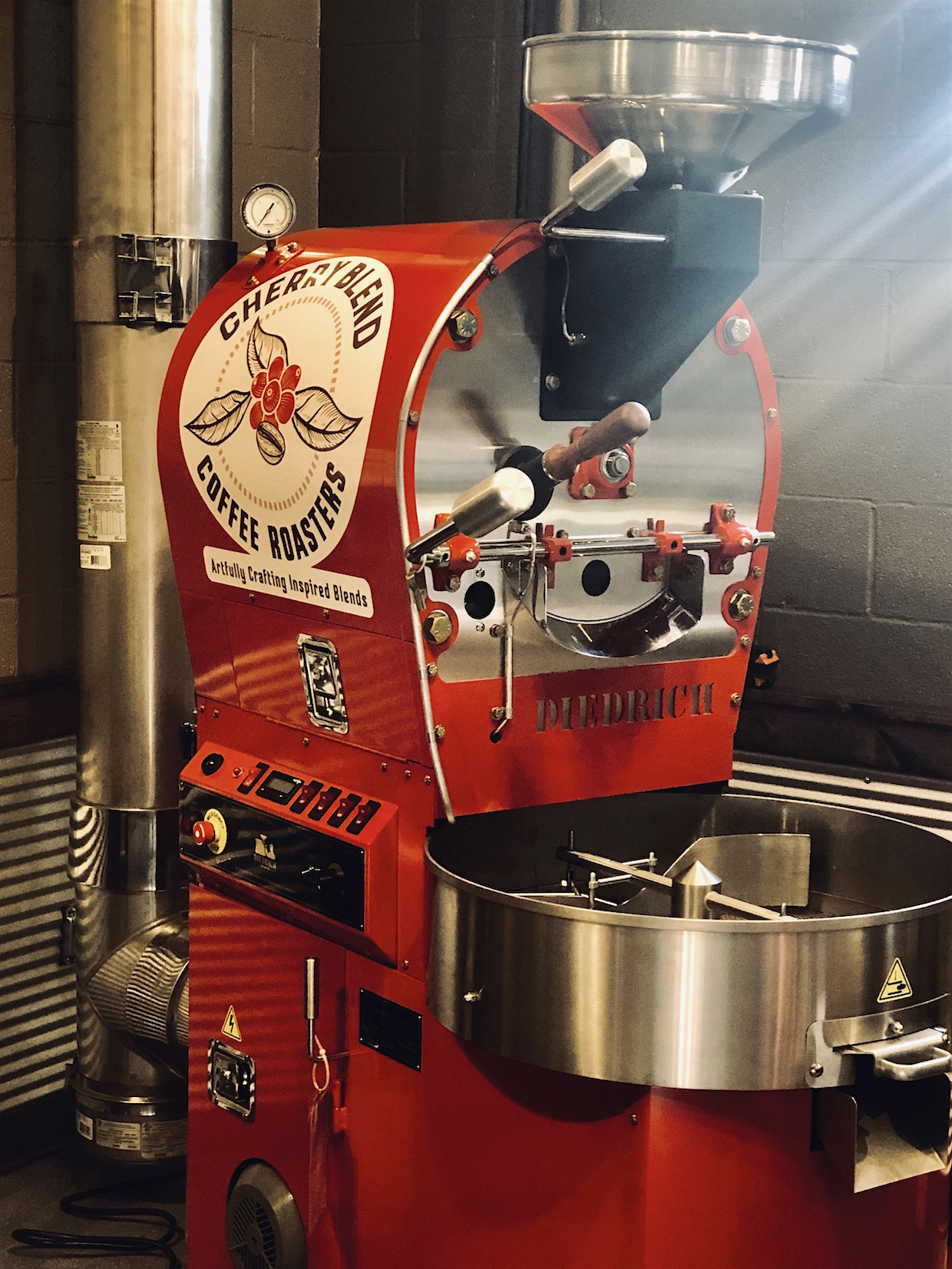 One of the Millers' biggest concerns in starting the roasting business was to ensure they'd be able to deliver the kind of quality that they had come to appreciate as consumers. Achieving this goal, according to Terry, is a journey that begins with the greens.
"It starts with farmers and their efforts; they're our number one priority," he said. "The roasters just do the farmers a service and make it so people can drink it."
The roastery is currently open two Saturdays each month for public tastings and roasted coffee sales.
Cherry Blend Coffee Roasters is located at 1003 Cherry Ave. NE in Canton, Ohio. 
Craig Batory
Craig Batory is a writer, marketer, and coffee professional working and living in Detroit.