To the untrained eye, a spring-assisted lever espresso machine might seem fully manual, but it's not. It requires human power on the downstroke, then the machine takes over for the actual extraction. That relaxing of the spring, while a purely analog, mechanical action, is also essentially "automation," which is a concept many nowadays associate with computers.
A similar set of opposing charms is hidden within LeverCraft's new retail coffee trailer in far East Austin, Texas. While a trailer may sound like a compact space, the 1955 Spartan Imperial Mansion travel trailer LeverCraft calls home is relatively colossal. The 43-foot-long trailer provides about 300 square feet on the inside for the coffee bar to spread out.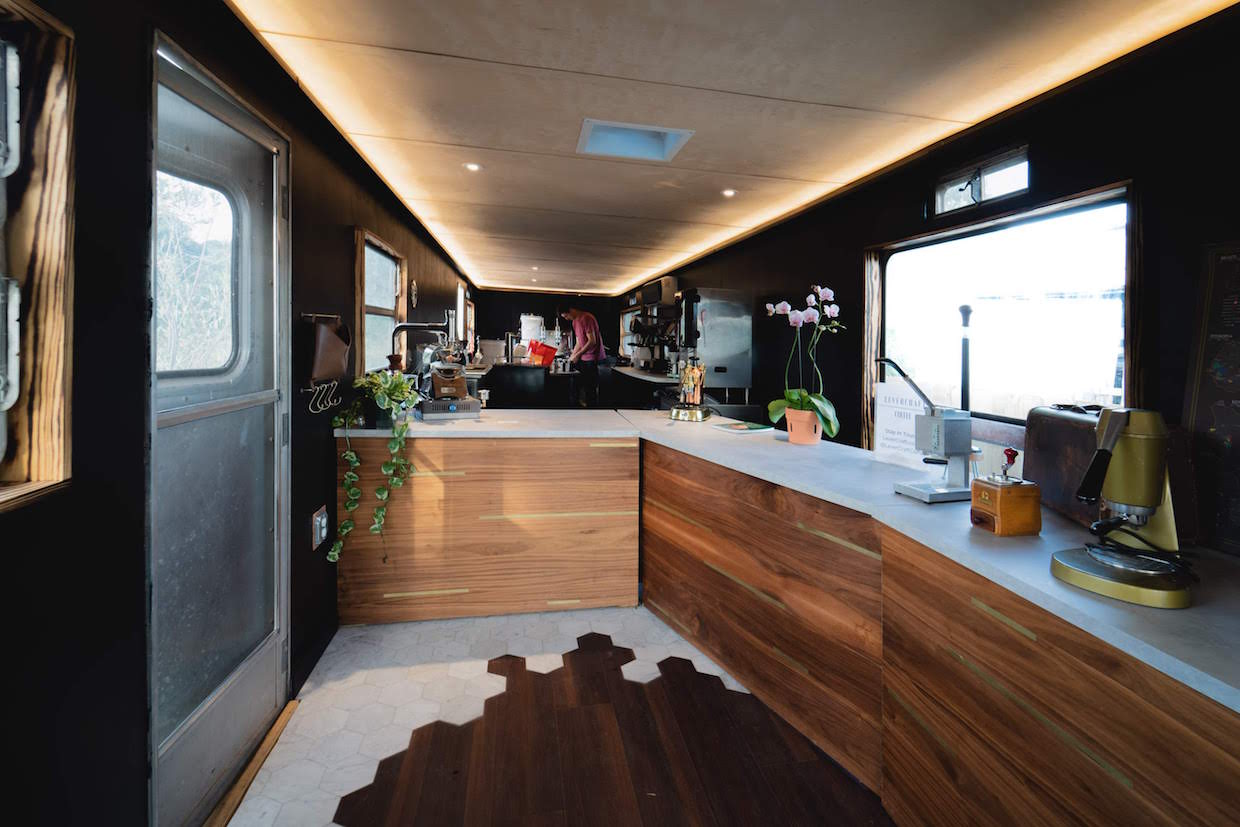 "The trailer is massive," owner Eric Mann told Daily Coffee News of the facility that was not long ago stuck several feet deep in the mud of Comanche, Oklahoma, prior to being purchased, towed and refurbished. But fixing up old treasures is what LeverCraft is all about.
Mann started LeverCraft as a vintage espresso machine repair business in 2013, having discovered an old and lovely but nonfunctional Swiss espresso machine at a rock-bottom price. He scooped it up, took it completely apart, cleaned every piece, reassembled it, and promptly thereafter, "fell in love with espresso."
Another on-board juxtaposition is that while vintage machines are indeed displayed and occasionally used on the LeverCraft coffee bar, the shop's standard espresso is extracted on a pair of brand new, high-tech single-group Decent Espresso machines.
"They are by far the superior machine on the market and can brew shots that no other machine can," said Mann. "One of my favorites is the 'blooming shot,' that actually makes a really lightly roasted coffee taste incredible as an espresso."
The go-to grinder in this gear-geek's paradise is the Victoria Arduino Mythos 2 Gravametric, which Mann appreciates for its reliability even inside a trailer whose ambient temperature fluctuates by as much as 30 degrees over the course of a day. For decaf espresso and for all the shop's manual pourover needs, Mann turns to another newfangled design, the more consumer-oriented Niche Zero grinder. Said Mann, "It is quiet, easy to change from drip to espresso and the footprint is tiny."
Ultimately the small grinder suffices because Mann said the shop does a very low volume of drip coffee. Additional brewing options available in the trailer include a siphon brewer, an Espressoforge, some vintage home espresso machines and a Turkish-style coffeemaker Mann invented himself out of lab equipment.
LeverCraft also kegs and sells its own nitro cold brew coffee, all made from beans Mann roasts himself in a commissary kitchen on a 2-kilo-capacity Mill City roaster.
Patrons can enjoy these drinks either on a spacious 450-square-foot patio outside, or in the clean, warm-colored trailer interior that Mann designed to be as personable and cafe-like as possible.
"When you step inside, you are greeted with marble hexagonal tile that blends into the wood-look flooring and it really makes you feel like you stepped inside a coffee shop, and not a 65-year-old trailer," said Mann. "We have plants, chairs and nice coffee tables that are warm and welcoming. Our counter tops are built very low in order to encourage conversation between myself or other baristas and our customers."
Conversation also occurs at a semi-private two-person-capacity bar towards the back of the space. There LeverCraft offers a "date night" experience of 30- or 60-minute sessions with Mann to learn more about espresso and coffee in general, enjoy coffee prepared on a fascinating vintage machine paired with a fresh dessert, and learn a bit about roasting, with a small roasting machine on hand for demonstrations that yield fresh roasts the customers can take home.
Among the machines that Mann uses for "date night" demos is the Arrarex Caravel, a classic mid-century charmer of a machine that's also something of an engineering marvel.
"It was invented in the 50's and can be taken apart and cleaned without a single tool — very impressive," Mann said of the machine that inspired him to pursue a full-on career in coffee. "Not only that, but the espresso it is capable of producing is excellent. The Caravel has a cult following and for a good reason."
LeverCraft is located at 3307 Oak Springs Dr. in Austin, just east of Airport Blvd. 
Howard Bryman
Howard Bryman is the associate editor of Daily Coffee News by Roast Magazine. He is based in Portland, Oregon.