Speed and portability have always been central to the appeal of the Aeropress coffee brewer beyond its basic premise of an enjoyable hot brew made easily. Now an aftermarket accessory called the PuckPuck has achieved international distribution with the aim of upping the plastic gadget's game in the slow and cold senses as well. 
PuckPuck turns the Aeropress into a slow-drip cold brew coffee maker. The add-on rests at the open top of an upright brewer and contains a valve through which users set the drip rate of ice water situated on top of it. 
That water and ice can be contained either in PuckPuck's own optional 500-milliliter reservoir, or in any plastic retail beverage bottle with the bottom cut off and with compatible screw-cap threading for attachment to the device. For users in the U.S., the company recommends Evian Still bottles.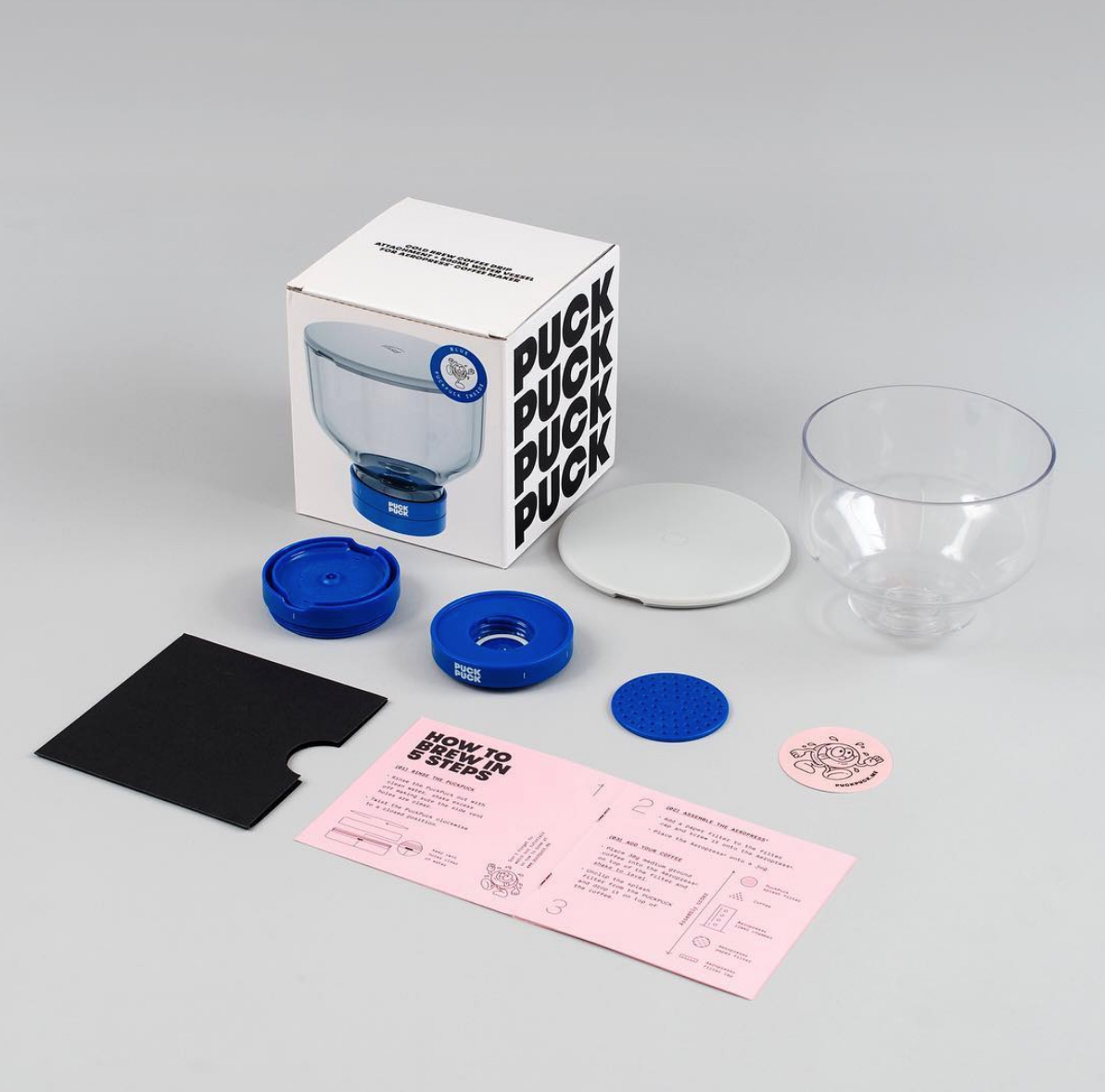 Funding for initial production of the device, which was designed and engineered by London, England-based industrial and product design studio Two at Six, was boosted through a Kickstarter campaign launched in October 2017. The campaign wrapped a month later after raising £23,703 (more than $28,000 USD) from nearly 1,200 backers. Backers started receiving their shipped devices in the summer of 2018, marking fruition of what was essentially an extracurricular activity for Two at Six.
"PuckPuck was an exercise in investing our own finances and time into endeavors that weren't driven by clients," Two at Six Co-Founder James White told Daily Coffee News of the venture that took inspiration from a policy at Google, whereby employees were encouraged to spend 20% of their time pursuing any project they wanted. "The output from this was some really remarkable products. We liked the sound of this and gave it a go." 
White said that while the alignment of finances and flexibility can be a slim and moving target for smaller companies aspiring toward this kind of freewheeling experimentation, the reward for Two at Six has been an invaluable learning process and a greater intimacy with the experiences of its consumer product-making clients, as well as a chance to pursue its genuine love of coffee and coffee people.  
"It has brought us closer to an industry which we have always admired from afar," said White. "We have met and worked with some remarkable people, which has been a huge pleasure and still continues to be."
Today, PuckPuck is carried by 11 stockists throughout Australia, and one apiece in Asia, Canada, Russia, the UAE and the United States. The sole U.S. retail and wholesale distributor is Espresso Parts, which added the product to its catalog in October of last year. White said Two at Six will be pursuing additional coffee-related products in the PuckPuck line while also continuing work for its clients. 
"We like the mix and are currently not looking to jump fully into one camp at the moment," said White. "It still feels like there is more to be done from a product perspective to help more people make better coffee, whether that's through getting people to try new brewing methods without breaking the bank, like PuckPuck, or helping to design more approachable brewing systems."
Howard Bryman
Howard Bryman is the associate editor of Daily Coffee News by Roast Magazine. He is based in Portland, Oregon.