Aeropress inventor Alan Adler has confirmed to Daily Coffee News that, contrary to statements made a year ago, he is retaining the coffee-focused division of his company. Additionally, Adler's company intends to add products to the Aeropress line in 2018.
Having sold the Aerobie, Inc. sport toy division — maker of the long-running Flying Ring — this past summer, the name of the business has been changed to simply AeroPress, Inc. Adler said the company is now fully committed to coffee, with plans to expand sales of the original Aeropress manual brewing device and to add new products that are currently in development.
Adler personally holds more than 40 patents, including designs for instrumentation systems for military aircraft and nuclear reactors, as well as for boats, flutes, toys, and of course the coffeemaker. The Stanford University mechanical engineering professor — who has also given guest lectures at NASA, Google, and The Royal Aeronautical Society in London, to name a few — said that he made the clear decision to stick with the coffee brewer business about a month ago. While statements made last year by the 79-year-old innovator implied that retirement was close at hand, Adler now considers his working life to be a healthier option than an idle one.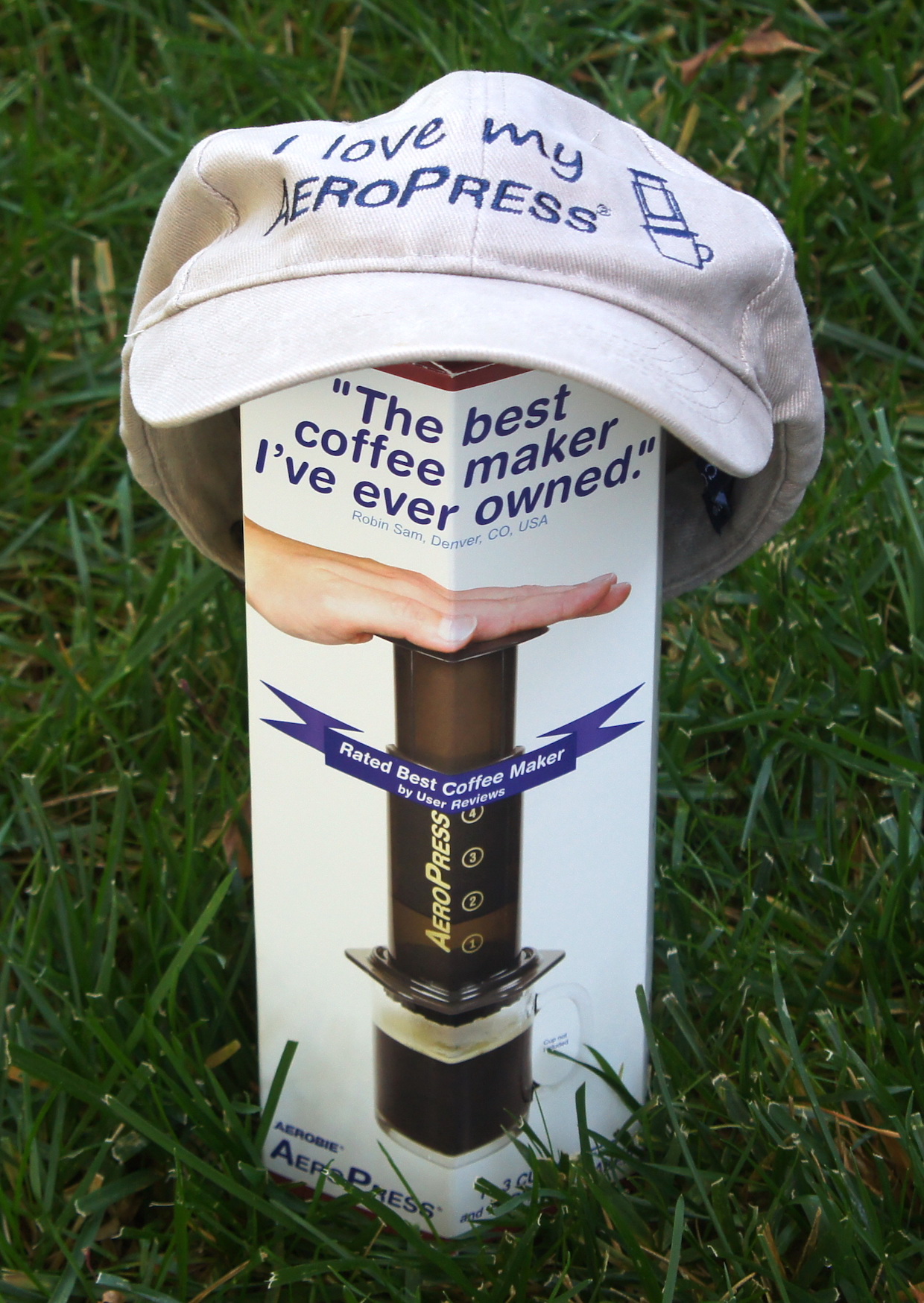 "I've read and known of a lot of people who did not fare well, health-wise, in retirement," Adler recently told Daily Coffee News. "I was motivated to keep working because I think it's healthier for me, and I enjoy my work so much, I think the best thing is to keep at it."
Regarding the upcoming new products slated to expand the Aeropress line, Adler said, "It'll be a combination of design and accessories."
Keeping specific details and timelines secret at this stage, the company stated only that new Aeropress products would likely launch for sale sometime late next year. Adler did confirm that the new products would include accessories for and multiple variations of the existing Aeropress brewer design, as opposed to any entirely different brewer or category.
Since its introduction in 2005, the Aeropress has maintained a remarkable run. The annual fan-run World Aeropress Championship, now in its 10th year, has grown to include competitors from almost 60 countries around the globe. Meanwhile, aftermarket accessories are also on the rise, stoking fresh and further interest in the device's potential and versatility. These include numerous filter types; the pressure-compounding Prismo accessory by Fellow Products, slated to begin shipping this month; and now also the PuckPuck attachment that introduces slow-drip cold brew-making capabilities to the device. The latter has so far earned double its crowdfunding goal with one week remaining on its Kickstarter campaign.
Adler said he is familiar with all of the ideas, techniques and methods presented by these products and others. While he appreciates the enthusiasm and creativity with which the world has embraced his invention, he said he does not consider aftermarket accessories to be in competition with anything the Aeropress company has planned.
On cold brew, Adler said, "When I first tried cold brew my sole criteria for coffee was, how smooth is it? I ignored everything else. If it was smooth, it was good, and I liked cold brew for a while. But then I began to realize that oatmeal is pretty smooth, too. I realized that there's more to coffee than smoothness. There's flavor, and cold brew is terribly lacking in flavor. So I no longer like it."
He has also explored higher-pressure designs for the Aeropress. "My study is that pressure is irrelevant," said the inventor, who maintains that an Aeropress brew made according to the device's original instructions is already the same strength as traditional espresso in terms of the TDS percentage, therefore additional pressure makes no positive contribution.
Adler has felt similarly towards various aftermarket products and practices essentially since the beginning, as far back as the advent of the inverted brewing method and the earliest reusable metal filters.
Brewing upside down to prevent drip-through is unnecessary, according to Adler, as the liquid can be suspended inside the chamber simply by inserting the plunger at the top of the column, thereby prolonging immersion. Moreover, the practice actually runs counter to Adler's original concept for the brewer, as he said it serves only to impart more bitterness to the brew.
"I've interviewed a lot of people and asked them why they do it inverted, and they say, well, they were taught to do it that way," Adler said. "When I tell them that it makes the coffee more bitter, they try it the regular way and they report back to me that they like the regular way better."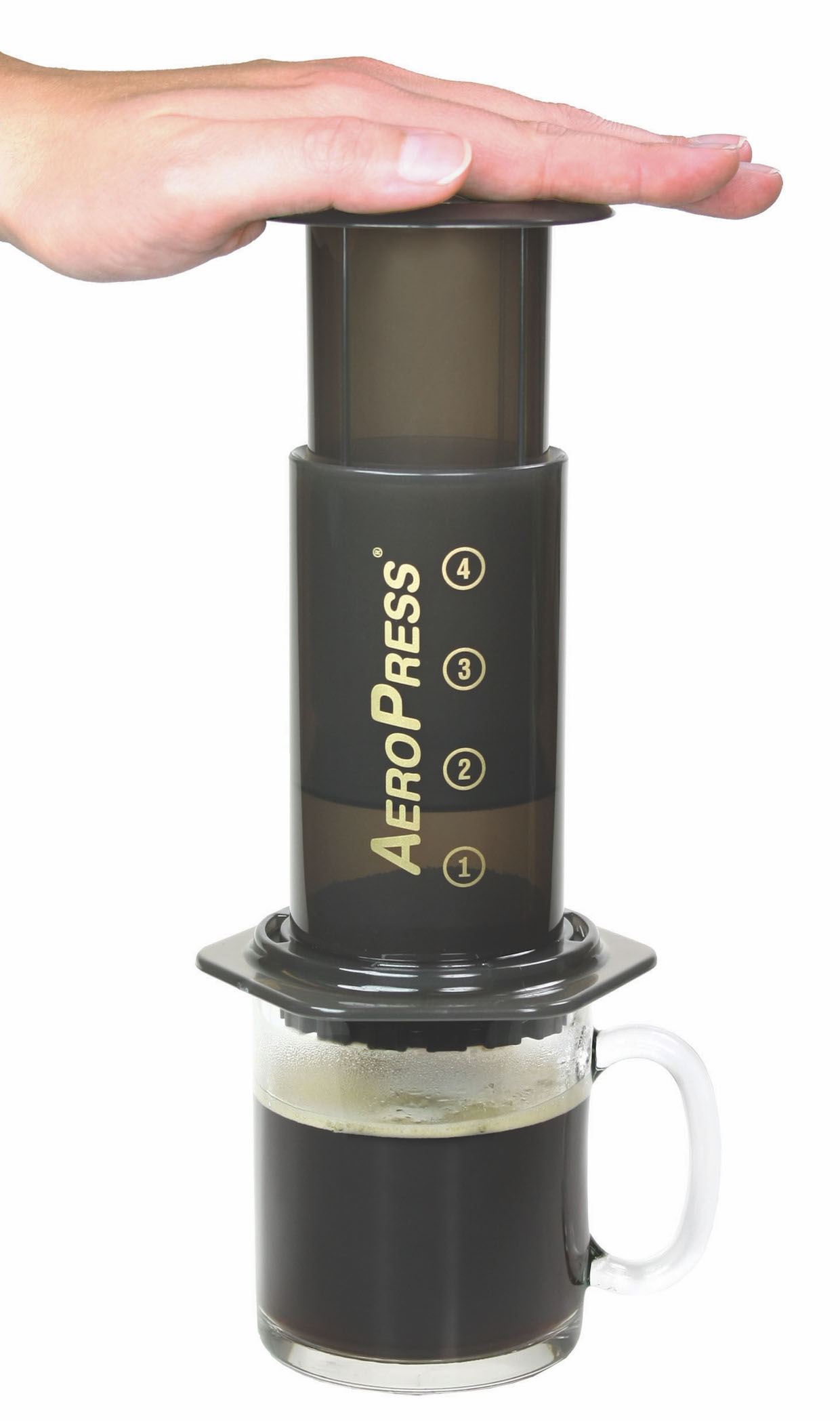 Adler considers the short water-to-coffee contact time to be one of the core strengths of the Aeropress, which hasn't changed much since its debut 12 years ago. "The whole idea of the design was to shorten the wet time," said Adler, who had originally set out to make a pourover-type coffeemaker that worked faster, which he thought would result in a sweeter cup of coffee. Finding no improvement in various methods of pressing on the slurry in a pourover cone, he came upon the idea of a sealed, cylindrical brewing environment in which he could pressurize the air, and so the Aeropress was born.
Metal filters, meanwhile, were also something he initially explored himself but then moved away from, for reasons both flavor- and health-related.
"I was a little disappointed in the fact that whenever we did a taste test, the paper filter always won," said Adler, who nevertheless intended to release a metal filter anyway until his research led him to studies on the presence of cafestol and kahweol in metal-filtered coffee, two compounds Adler said had been shown to potentially increase LDL cholesterol in people who drink an average of 2.5 cups of coffee per day.
"I didn't want to increase anybody's LDL cholesterol, and I said I wasn't going to do [the metal filter]. Other people came forward and they saw a business opportunity. It's not really a big deal," said Adler, whose company's informal market research has indicated that most Aeropress users prefer paper filters regardless, and that at least as of about five years ago, no metal-filtered Aeropress brew had won in competition, either.
All this and more is likely to be covered in an upcoming documentary film about the device, its inventor and its remarkable popularity. Led by the folks behind the blog European Coffee Trip, the financial path to fruition for the film has been cleared after successfully raising over $17,000 on Kickstarter last month. Adler said he's scheduled to be interviewed by the filmmakers in December.
In the meantime, and for the foreseeable future thereafter, Adler will continue working mostly in his home laboratory in Los Altos, California, and occasionally at the Aeropress HQ in Palo Alto. He won't be making it to Seoul for the World Aeropress Championship next week, but he has attended a few World and a few national events in the past.
"People have always been very warm towards me [at events]. I feel the same way towards them," Adler said. "I usually give about a 30-second speech where I thank them for their participation and wish them good luck, tell them how lucky I am to have people like them go to all the trouble to travel sometimes great distances in order to compete. I really do feel gratitude to those people."
Adler is also acutely aware of the irony in that his previously most popular invention, the Aerobie Flying Ring — which flew over 400 meters in 2003 to achieve the Guinness World Record for farthest thrown object and is fundamentally similar to an Olympic sport activity — failed to inspire a similarly devoted spirit of competition.
"It's an amazing thing, when you think about it, to create an international competition out of pressing coffee," Adler said. "It's especially amazing when I think about how hard we tried to foster competitions like that with my flying ring. I invented a flying ring that flew farther than any human-thrown object in the world, and I tried to create world championships around that, but they never really got off the ground."
Meanwhile, Aeropress is soaring.
Howard Bryman
Howard Bryman is the associate editor of Daily Coffee News by Roast Magazine. He is based in Portland, Oregon.