San Diego's Bird Rock Coffee Roasters unveiled what it's touting as the "first ever San Diego-grown Geisha" coffee made available to consumers. Adding to the prestige of the coffee variety (Gesha, according to DCN's style guide) and the nontraditional place it was grown (Southern California) is the grower himself, famed musician Jason Mraz. All this prestige naturally comes at a pretty penny, as Bird Rock is selling 4-ounce canisters of the Mraz Family Farms coffee for $199. Here's more straight from Bird Rock:
The unique availability of intercontinental-grown coffee is made available due to Frinj Coffee's proprietary coffee plants that have proven viability in partnering with avocado farms in Southern California. Mraz Family Farms is one of the early Frinj Coffee growers, is a certified organic operation, and located in northern San Diego. Partnering with Frinj Coffee in 2015, they planted their first coffee plants, integrating them into their existing avocado farm. As co-partners, they worked together to grow high quality, single-origin varietals for coffee enthusiasts. Frinj Coffee is credited with managing the post-harvest process for Mraz's production and the preparation of the highest quality lots for sale to Bird Rock Coffee Roasters. This year marked the largest harvest to date and is the first time Mraz Family Farm coffee will be available to San Diego, and only through Bird Rock Coffee Roasters.
Following public allegations that surfaced on social media, the Minneapolis alternative weekly City Pages followed up with at least six former employees of the independent coffee shop Urban Bean Coffee who painted a scathing portrait of the shop's owner, Greg Martin. Former staffers outlined allegations of predatory and abusive behavior that led to a toxic environment for baristas and customers alike. As of this writing, all of Urban Bean's social media accounts have been shut down. City Pages has much more:
"There wasn't one shift that I worked with him that he didn't yell and become genuinely angry with me," Scamp adds. "For example, forgetting which alternative milk was ordered or whether a drink was iced or hot. Minor mistakes. I would be called a 'dumb hoe' or 'you are so fucking stupid' or 'I'm going to kill you.' It was terrifying and humiliating. He screamed at me in front of customers and in private."
In profiles of another kind, the Los Angeles Times last week published an extended piece on contemporary coffee pioneer Trish Rothgeb, the co-owner of Wrecking Ball Coffee Roasters, the first American woman to become a Q Grader and the person widely credited with coining the term "third wave" in coffee. While a review of the "waves" is inevitable, what's more interesting is the Times' focus on Rothgeb's ever-expanding focus on what coffee could and should be:
"Third wave isn't dead," Rothgeb says. "It's just run its course, like the second wave and the first wave. Moving things forward for coffee is about looking around at other people, beyond yourself."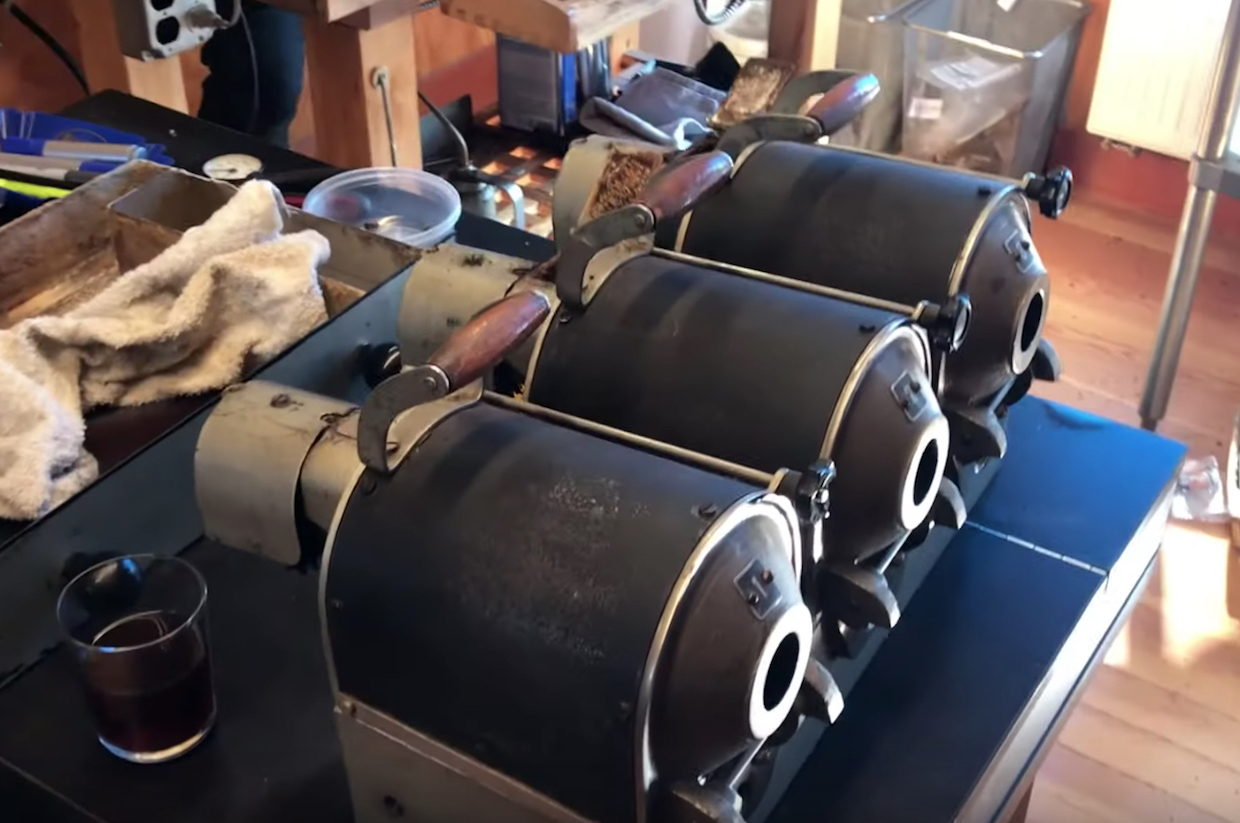 The team at green coffee seller and home roasting equipment company Sweet Maria's gave some big love to a little roaster this week, offering an instructional video detailing their maintenance regimen for the enduring Probat B3 sample roaster. Watch and learn:
Apparently "fake news" — the phrase designed to manipulate vulnerable minds and stir paranoia — isn't a uniquely American designation. According to a report from the U.S. news agency Newsflare, officials in Thailand are attempting to crack down on "fake news" purveyors — who may or may not simply be citizens exercising their Thailand constitutional right to free speech — by ordering coffee shops to turn over browsing data from their WiFi networks. From the Newsflare report:
The Digital Economy and Society (DES) Ministry has now angered cafe owners by demanding they store browsing data from the last 90 days which could then be matched with CCTV images.

Those who can't afford to implement use a new PC server to handle the data should "make customers write their names and ID cards on paper" alongside the time they logged on.
The loss of any independent specialty coffee shop is reason enough for condolences, but it's especially sad when said shop had a knack for trolling celebrities for their patronage. Toronto's Grinder Coffee shared news of its closing on Twitter. Owner Joelle Murray — who miraculously attracted Ryan Gosling and Tom Hanks and subsequent years during social media campaigns timed with the Toronto International Film Festival — told the Canadian news service Global News that all the celebrity cameos in the world don't pay the rent:
Murray said her landlord tripled the lease from $2,000 a month to over $6,000.

"We hear in the news all the time about the increase in rents for residential and it's the same for commercial space," said Murray.
The nonprofit Food 4 Farmers, which works to improve food security for people living and working in the Latin American coffeelands, has announced the receipt of a $50,000 grant from Rick Steve's Europe. The nonprofit is one of 11 organizations that has been selected in 2019 to receive grants as part of Steves' $1 million Climate Smart Commitment, designed as a way to offset carbon emissions generated by the travel company's clients while promoting climate-smart agriculture and forestry techniques among farming communities in the developing world. F4F had more:
"We're happy to receive this generous support for our work with coffee-farming families," said Janice Nadworny, co-director of Food 4 Farmers. "The increasing impacts of climate change, coupled with rising food costs and devastatingly low coffee prices, make food security a more critical need than ever."

Food 4 Farmers partners with coffee cooperatives representing 8,000 coffee-farming families to reimagine how they interact with food and secure their futures. On average, families in Food 4 Farmers' partner communities in Colombia, Guatemala, Mexico, and Nicaragua experience 3 to 5 months of food insecurity, year after year. The organization's goal is to help families throughout Latin America disrupt the global food system and create thriving local food hubs, using climate-smart agriculture.
Italian espresso machine manufacturer Elektra announced that Alessio Pezzoni has taken over the position of CEO. The move comes about four months after the Treviso-based company was acquired by fellow Italian espresso equipment manufacturer Carimali. From Elektra:
Elektra's President, Andrea Doglioni Majer commented : "Alessio Pezzoni combines a deep knowledge of the coffee world with the ability to create and manage teams motivated by a common vision. He is the ideal talent to drive what we consider a Start-Up with 72 years of history. I would like to thank Federico Fregnan for the dedication and the professionalism shown during his time as the company CEO and want to welcome him in his new role as Brand Ambassador."