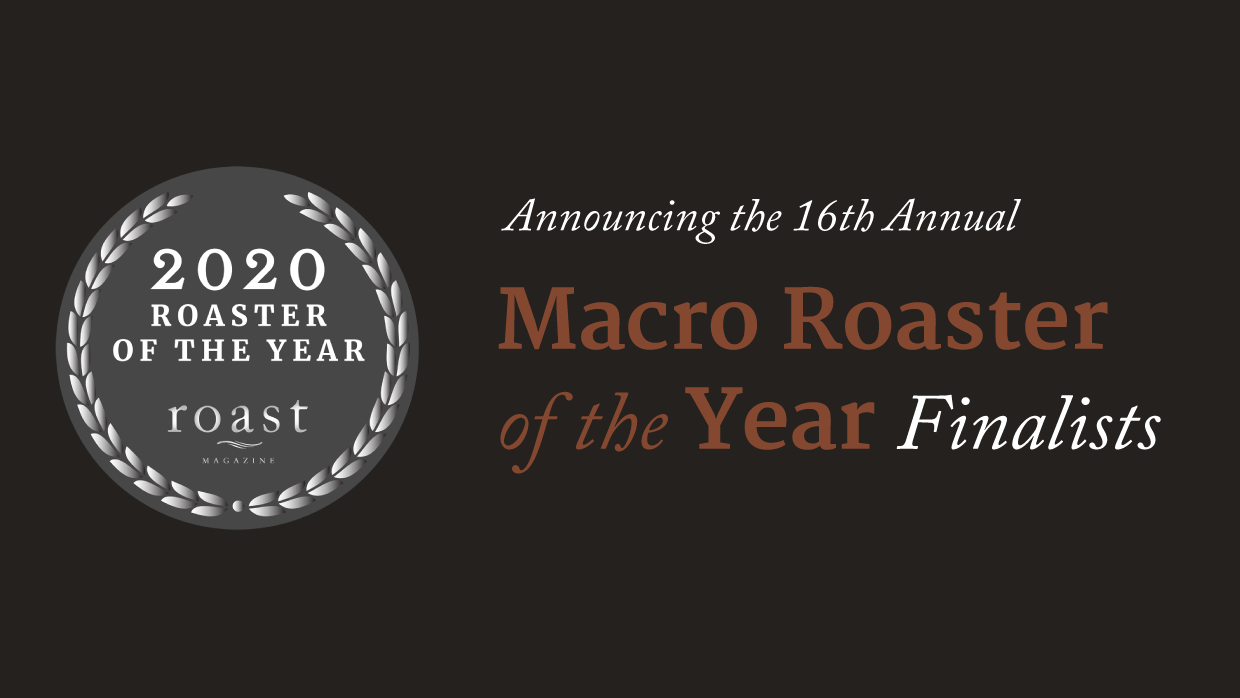 The top three finalists for Roast magazine's 16th Annual Roaster of the Year awards have been announced in the Macro Roaster category. Winners for each category will be announced this Thursday, Oct. 17.
Roast recognizes winners from two categories: Macro Roaster of the Year, for companies roasting more than 100,000 pounds annually; and Micro Roaster of the Year, for companies roasting fewer than 100,000 pounds of coffee each year. The three finalists in the Macro Roaster category are listed below in no particular order, with information obtained from the company's award application. (Click here to view finalists for the Micro Roaster of the Year award.)
The Roaster of the Year awards recognize companies that roast coffees of superior quality, exemplify a dedication to sustainability, promote employee and community education, and demonstrate a strong commitment to the coffee industry, among other criteria. To view or complete the application for next year's competition, click here.
Coffee By Design
Portland, Maine-based Coffee By Design (CBD) opened on July 1, 1994, and is celebrating 25 years in business this year. The company owns and operates four coffee houses (three in Portland and one in Freeport, at retailer L.L. Bean's flagship store) and a 20,000 sq. ft. state-of-the-art coffee roastery, in addition to operating an in-house coffee shop for a major corporation, IDEXX. CBD roasted 540,000 pounds of coffee in 2018 and is well on its way to a 20% increase in 2019, with nearly 700 wholesale accounts in Maine and beyond.
The company says its focus is on the long term, with quality and sustainable practices always in mind — not fast growth at any cost. Out of its 64 employees, 36 are full-time and are 28 part-time. CBD continues to update its infrastructure, including the hiring of a Director of Coffee, as well as a full time tech and facilities manager, and expansion of offerings available with the Director of Training.
CBD's mission is to provide the best quality coffee, educate its community about specialty coffee, and use its power as a small business to move forward initiatives that support people and the planet, improving how we all live well together — locally and worldwide.
Dean's Beans
Dean's Beans Organic Coffee Company, based in Orange, Massachusetts, was founded in 1993 and operates out of a 13,500 square foot warehouse dubbed The Beanery. Now in its 26th year of business, the long-time roaster has 16 employees, including founder and CEO Dean Cycon. In 2018, it roasted 560,000 pounds of coffee, and this year is on track to exceed that. Also in 2018, Dean's Beans obtained its B Corporation certification, solidifying the company's place in the world as a "business for good."
Dean's Beans' is focused on using high-quality, specialty coffee as a vehicle for progressive change throughout the coffeelands of Asia, Africa and the Americas. With an approach to international development referred to as "People-Centered Development," where the real needs of local communities for the necessities of life are put front and center — focusing on such elements as clean water, health care, and income generation, which are often disrupted by conventional development assistance.
The company has designed and funded grassroots development projects in the communities where it buys its beans, in partnership with the farmers who know better than anybody else how to help their own communities. This social justice philosophy fuels the business model and is at the core of Dean's Beans' operations.
Nossa Familia
Founded in 2004, Nossa Familia Coffee out of Portland, Oregon was founded by Brazilian native Augusto Carneiro. The company owns and operates a roastery and three cafés in Portland, and one espresso bar in Los Angeles. With a total of 45 employees, the B Certified company roasted 407,436 pounds in 2018.
With a deep sense of pride for the work his family has done growing coffee in the highlands of Brazil since the 1890s, Carneiro formed Nossa Familia to bring his family's coffee to Portland. Early on, all of Nossa Familia's coffee was imported directly from his family's farms, and today these Brazilian fazendas remain at the core of the company's direct trade coffee model. Over time, Nossa Familia has developed deeply-rooted relationships with coffee growers around the world, sourcing specialty coffees from Guatemala, Nicaragua, Peru, and Kenya.
Nossa Familia's mission is to deliver exceptional farm-direct coffee and create positive relationships locally and globally. At every step, the company's goal is to foster community, ensure social responsibility and minimize environmental impact. By sourcing high-quality coffee in an ethical manner from smallholder and family farmers, or working directly and through responsible importers, Nossa Familia hopes to create a coffee company that makes the world a better place.