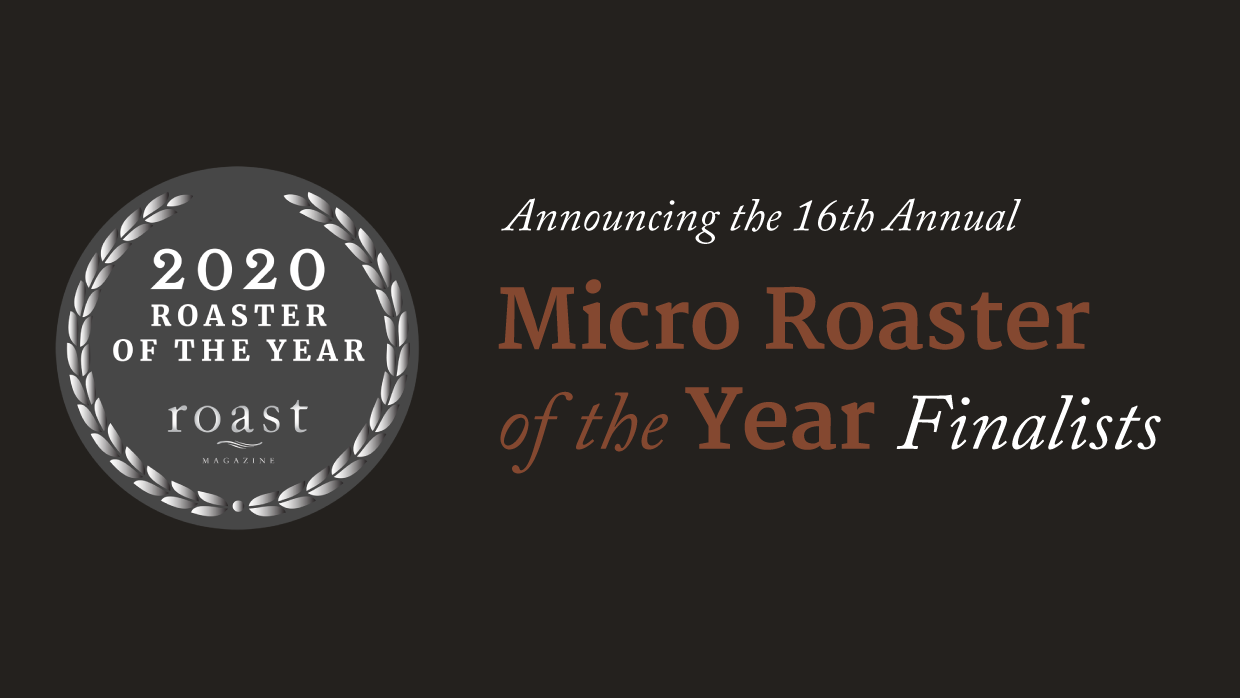 The top three finalists for Roast magazine's 16th Annual Roaster of the Year awards have been announced in the Micro Roaster category. Winners for each category will be announced on Thursday, Oct. 17.
Roast recognizes winners from two categories: Micro Roaster of the Year, for companies roasting fewer than 100,000 pounds of coffee each year; and Macro Roaster of the Year, for companies roasting more than 100,000 pounds annually. The three finalists in the Micro Roaster category are listed below in no particular order, with information obtained from the company's award application. [Click here to view finalists for the Macro Roaster of the Year award.]
The Roaster of the Year awards recognize companies that roast coffees of superior quality, exemplify a dedication to sustainability, promote employee and community education, and demonstrate a strong commitment to the coffee industry, among other criteria. To view or complete the application for next year's competition, click here.
Greater Goods Coffee Roasters
Founded in 2015, Austin, Texas-based Greater Goods Coffee Roasters currently operates three locations — a production roastery with Tasting Room in Dripping Springs, a cafe in Bee Cave, and a flagship cafe and Specialty Coffee Association (SCA) Premier Training Campus in East Austin.
With 24 employees between the cafes and roastery, Greater Goods' staff is majority female including the owner, head roaster, production manager, and education manager. The company produced 66,000 pounds of roasted coffee in the past 12 months. The company's mission is to spread joy and enrich lives by sourcing, roasting and serving amazing coffee; sharing coffee knowledge; and giving back to the community by supporting local businesses.
Since its inception, Greater Goods has donated to local charities through retail coffee sales, and currently partners with four Austin charities: Central Texas Food Bank, Austin Pets Alive!, Boys and Girls Clubs of Austin and the Autism Society of Texas.
Mostra Coffee
Mostra Coffee was established in 2013 in San Diego, California, by founders and co-owners Beverly Magtanong, Jelynn Malone, Mike Arquines, and Sam Magtanong. With 19 full-time and part-time employees, the company operates a roasting facility and two cafes in San Diego. In 2018, Mostra roasted a total of 55,000 pounds and is estimating 65,000 pounds in 2019.
The Mostra Coffee story begins with childhood friends Beverly Magtanong and Jelynn Rodriguez. After traveling for charity work in the Philippines building homes for families living in poverty, they were inspired to start a business that would make a difference in their local community in San Diego, but that would also be able to connect back to coffee growing countries and make a difference there as well.
It is Mostra's goal to bring the local and global community together to inspire one another, to create opportunities that improve lives and families, and to elevate performance to the highest level. The company hopes to connect, build, and inspire these communities through quality, sustainability, and innovation. Mostra strives to be the reason people see the goodness in humanity.
Spyhouse Coffee Roasters
Minneapolis' Spyhouse Coffee Roasters started roasting in 2013 as a natural outgrowth of its cafe business, which began in 2000. The company now has six retail locations in the Twin Cities, as well as wholesale operations. Five people work full-time in Spyhouse's roasting operation, with just under 50 employees in retail, management, and support roles. In the past year, the roastery produced 94,000 pounds of coffee.
Passionate people make great coffee. By cultivating relationships with those that share the company's passion and vision, Spyhouse says it is able to source, roast, and serve exceptional coffees. Sustainability is also incredibly important to the Spyhouse team, and the company's focus on sustainable practices is evident in both its roasting operations and cafe practices.
Spyhouse has shown its commitment to the coffee industry primarily through its involvement in the SCA, with staff members having participated in the Barista Guild Executive Council and Coffee Roasters Guild membership and communication committee, as well as competing in multiple events through the US Coffee Championship. Spyhouse staff regularly attends, and has served as sponsors and volunteers, at many SCA events.