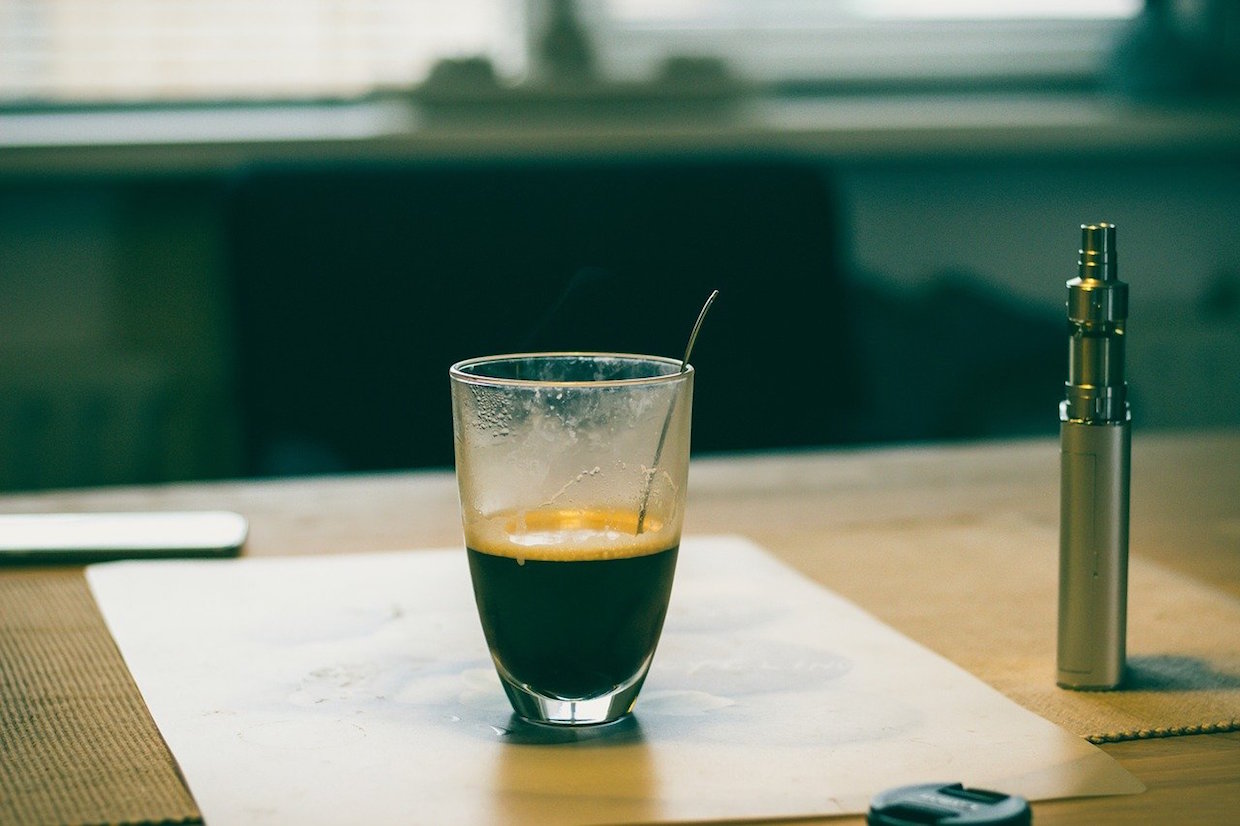 Tired of fussing around with all those grinders and kettles and filters and coffee beans whatnot? A new piece of investigative journalism from Business insider tracks down the companies behind a couple "coffee vapes" that have been appearing in ads on social media platforms. The people behind the products are pitching the vapes as an alternative to the morning brew, although BI reports that the vapes may not deliver comparable caffeine levels; they may not be right for people who actually like to drink coffee; and, oh yes, they might also kill you, according to the Centers for Disease Control:
A new vaporizer billed as delivering "coffee you can breathe" is showing up on Facebook ads, and coffee-lovers are curious about how it might feel to vape their daily caffeine.

"It allows me to have coffee when I'm on the go," Canadian model and influencer Adrianne Ho, a self-proclaimed latte lover, said in an October ad for the coffee vaping device. "It can keep you energized without actually having to drink coffee, it's a coffee alternative."
Ireland has become the latest government to propose a charge on consumers for the use of single-use coffee cups in retail establishments. The so called "latte levy," which will take effect sometime before 2021, will require that shops charge customers an fee for single-use cups that will either be 0.10 0.15 or 0.25 euros, depending on market research. Ireland's Minister for Communications, Climate Action and Environment Richard Bruton (not that Richard Burton) shared more on Wednesday:
"The introduction of a coffee cup levy has clear benefits for the environment, when you consider that 22,000 disposable coffee and tea cups are used every hour. Our first response must be to reduce the amount of waste created in the first place.

"The coffee cup levy should also lead to savings for consumers who make the switch, as well as savings for retailers who have to carry less disposable stock. In introducing a coffee cup levy, clear pricing information will be vital. Clear information regarding price will be important in driving change.
Green coffee importer Royal Coffee shared a fascinating review of some of the latest thinking regarding coffee's relationship to bees, as penned by environmentally focused coffee farmer Alfred Klein of Finca San Carlos in Chiapas, Mexico. Here's more from the Royal blog:
Different studies show that coffee can produce up to 20% more beans when they are visited by pollinating insects. It is hard to believe that a single colony of honey bees (apis mellifera) containing around 25,000 foraging or working bees can visit and potentially pollinate 250 million flowers per day at the least. What's the math here? Sounds unreal — but it is not.
Tokyo-based English-language news site The Diplomat this week explored a comprehensive new study on the burgeoning coffee market in South Korea, where the competition for market share and brand loyalty — particularly among foreign businesses — has grown ever more fierce:
Currently, Starbucks is leading the market. Last year alone, the sales of the foreign brand stood at 1.52 trillion South Korean won, accounting for more than 10 percent of the market share.

Starbucks is followed by domestic brands such as CJ Group's Twosome Place with 274.25 billion South Korean won in sales. Next were Ediya Coffee and Coffee Bean Korea, which posted sales of 204 billion and 166.6 billion, respectively.
In coffee-loving Japan, Tokyo-based beverage giant AGF has big plans to bring domestically grown, specialty-grade coffee to market, according to a brief report this week from Japan's Nippon News Network:
In June 2017, AGF kicked off a production support project jointly with major trading house Marubeni Corp., the town of Isen in the island and the coffee producers association of Tokunoshima.

The project encourages people to join the coffee-growing business and promotes the expansion of the growing area. It helps producers select coffee seedlings that suit the natural features of Tokunoshima and take measures to prevent damage from typhoons.
Editors over at Eater have been sharing their dining tips as part of a series called The Move, where curious food people can weigh all kinds of overly zealous opinions on frivolous things like, "When in doubt, order the quesadilla" or, "Sake is the best way to secretly drink alcohol in public." One of The Move's latest answers to questions rarely asked comes from Sonia Chopra, who says, "Never order coffee at brunch."
Before you @ me, I'm not talking about cafes with mile-long espresso-drink menus and a tight list of avocado toast, overnight oats, and bacon, egg, and cheese — if you want to while your morning away at a glorified coffee shop, that's great. But if you're going out for brunch at literally any other kind of breakfast-y establishment, save yourself the disappointment of bad coffee at a long meal. The rest of your weekend day will thank you.
The California-based nonprofit Coffee Quality Institute (CQI), which oversees the Q Grader program among other coffee-quality-related initiatives, has promoted Lisa Conway to the senior director of operations position. Conway has been with CQI since 2009, overseeing various operations while also overseeing numerous projects. Here's more from a CQI announcement this week:
Coffee has become more than a professional calling, says Conway. "I think every day about how our work at CQI connects to people, and the most meaningful time I have spent in this industry has been when I have been invited into a coffee producer's home, someone who has been cultivating coffee for generations. You learn about their family, and it's great to know that you are able to offer education that can impact even the smallest producer. That's why we do what we do."

Prior to joining CQI, Conway's management experience included work in both for-profit and non-profit organizations, with a background in organic farming, sales and marketing, and youth and community development.