All that glitters in Arizona is not necessarily gold. It may be copper, one of the historical "Five Cs" of the Grand Canyon State's founding economy, alongside citrus, cotton, cattle and a tourist-friendly climate.
At Lux Max Annex, the third location of Arizona-based Lux Coffee that opened in Scottsdale last month, the coffee shines just as brightly as the blingy adornments throughout the shop.
Reflective metallic lounge tables and spherical pendant lights sparkle in front of the gem-like geometry of the coffee bar's tiled front. Arizona landscape artwork reinforces the significance on the walls around the cafe. The bar's La Marzocco Strada is playfully powder-coated in a custom pink, complementing an array of colorful pastries that are baked in-house.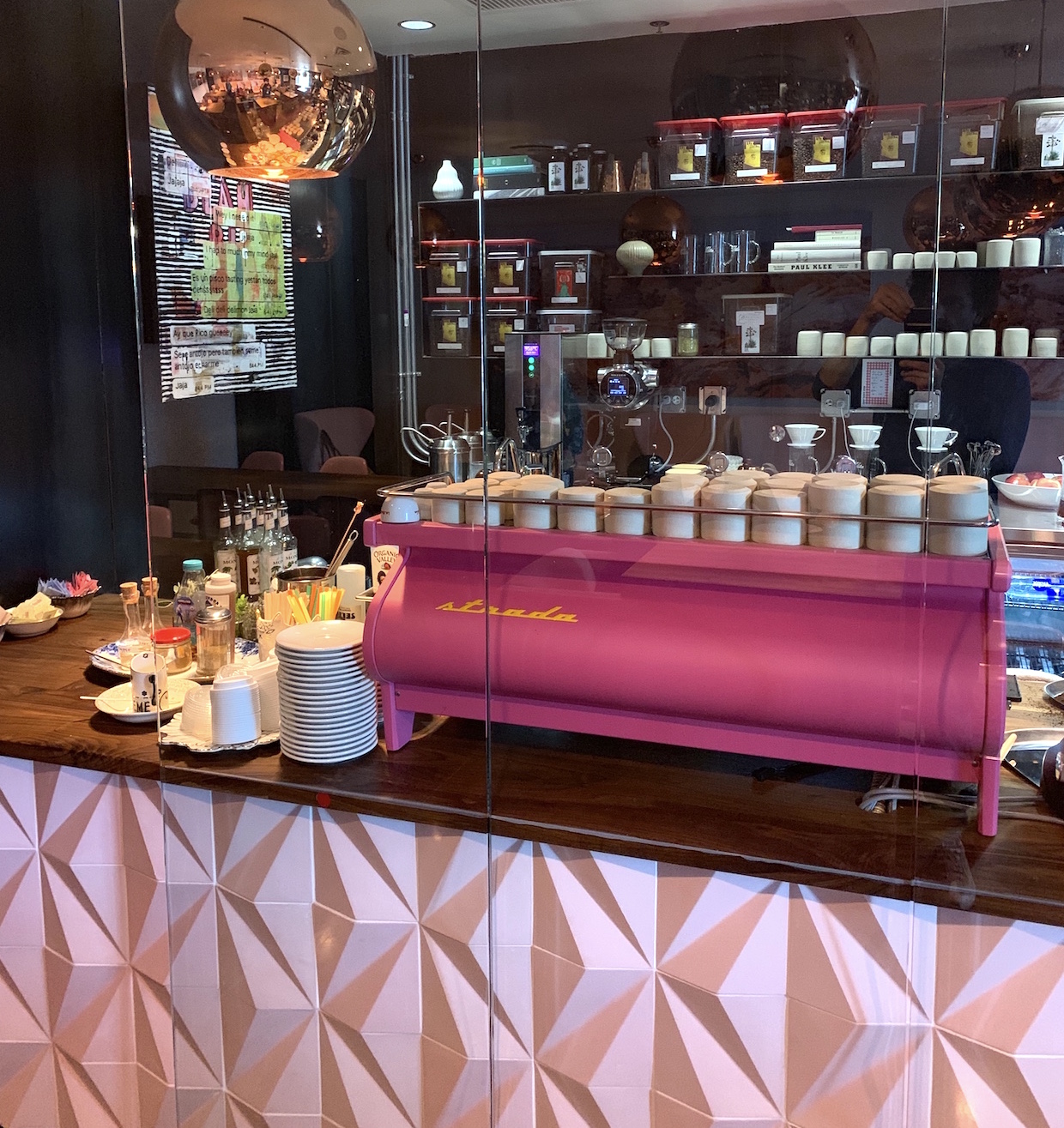 Ceramics by local ceramicist Miro Chun strike a similarly evocative style, with a textured, sand-like stoneware exterior and pink glaze on the inside.
Unlike the preceding two Lux locations, the 1,500-square-foot Lux Max Annex will not offer cocktails, although it continues the company's goal of creating a stimulating and inspiring coffee experience.
"It's very design heavy," Lux Coffee Co-Owner Jeff Fischer told Daily Coffee News. "It's in our mission that art, music and design are parts of what we try to cultivate, to create culture."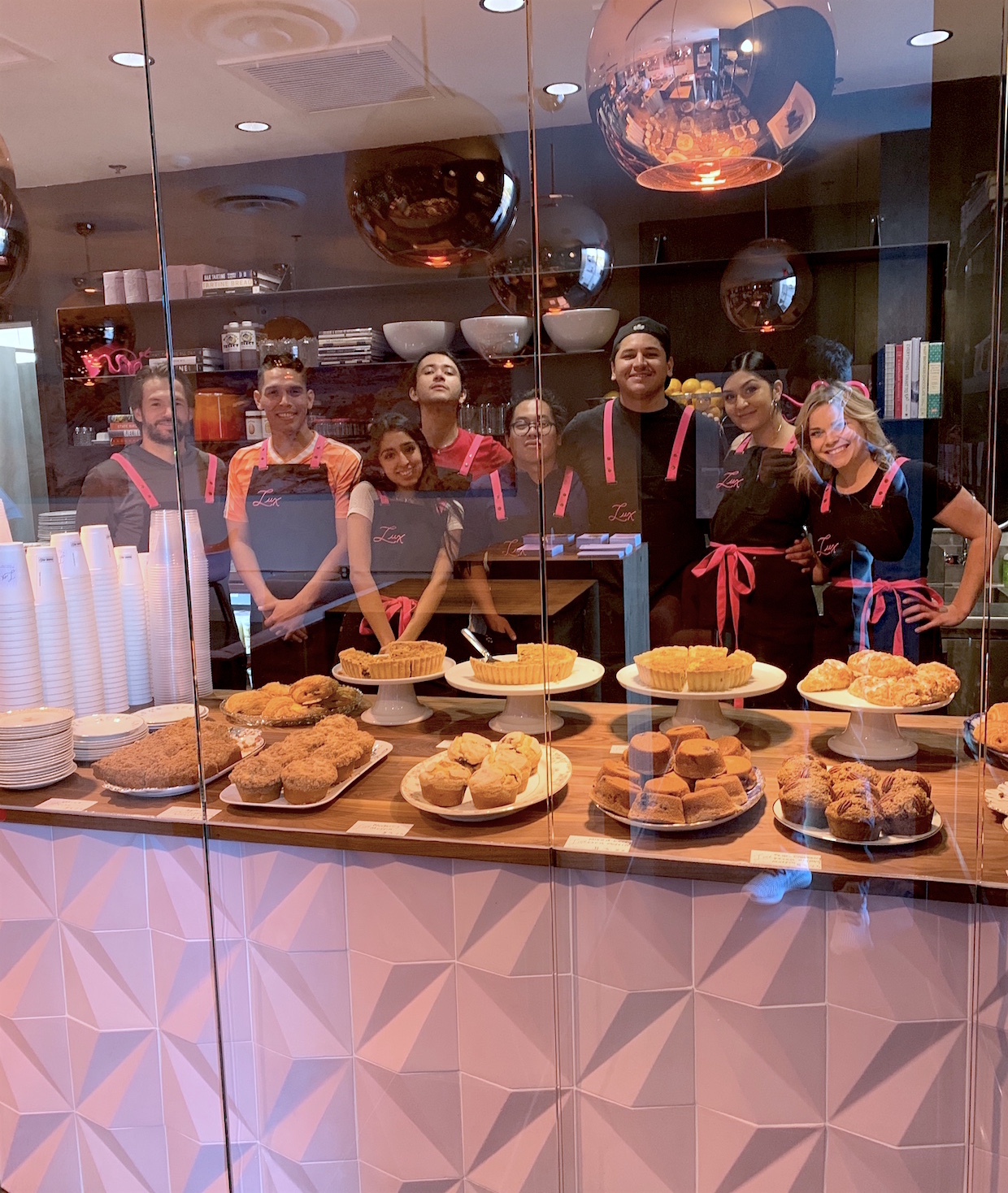 The new location comes just five months after the opening of the second location, a 550-square-foot bar called Lux North in Flagstaff with Mazzer ZM grinders supporting an eye-catching La Marzocco Leva X machine on its bar. Roasting for all three Lux bars occurs on a 25-pound San Franciscan machine at the original location in Phoenix, called Lux Central, where for 12 years the company has also had a DJ spinning records in the morning to keep the rush of patrons upbeat and in the groove.
Both Lux North and Lux Max Annex eschew batch brew, focusing instead on manual methods for drip coffees.
"In a world where convenience [and] drive-throughs are taking over, we went the opposite way," said Fischer. "We're really trying to personalize each cup of coffee."
The Lux approach to roasting is similar, favoring the sensory and the heart over the ones and the zeroes. Fischer said that beyond some foundational pointers from the company's previous owner, he's largely self-taught. While occasionally referring to outside materials for roaster training, Fischer maintains a back-to-basics approach for training the Lux roasting team.
"When we came to my current roaster, I said 'You know, man, that's just not us,'" Fischer said of the industry's fixation on data and analysis. "'You're an artist; I need you to throw out all that shit. I don't care if you burn every bean in the house, I need you to roast from your soul. I need you to roast as an artist.' He's doing that now, and he's roasting coffee in a way that I could never roast it.
"We lack a certain adherence to a lot of things that are going on in the coffee world… When you put your love and your soul into it, it's different. It's not always easy, but that's what we stick to."
Lux Max Annex is open now at 16220 N. Scottsdale Road in Scottsdale.
Howard Bryman
Howard Bryman is the associate editor of Daily Coffee News by Roast Magazine. He is based in Portland, Oregon.