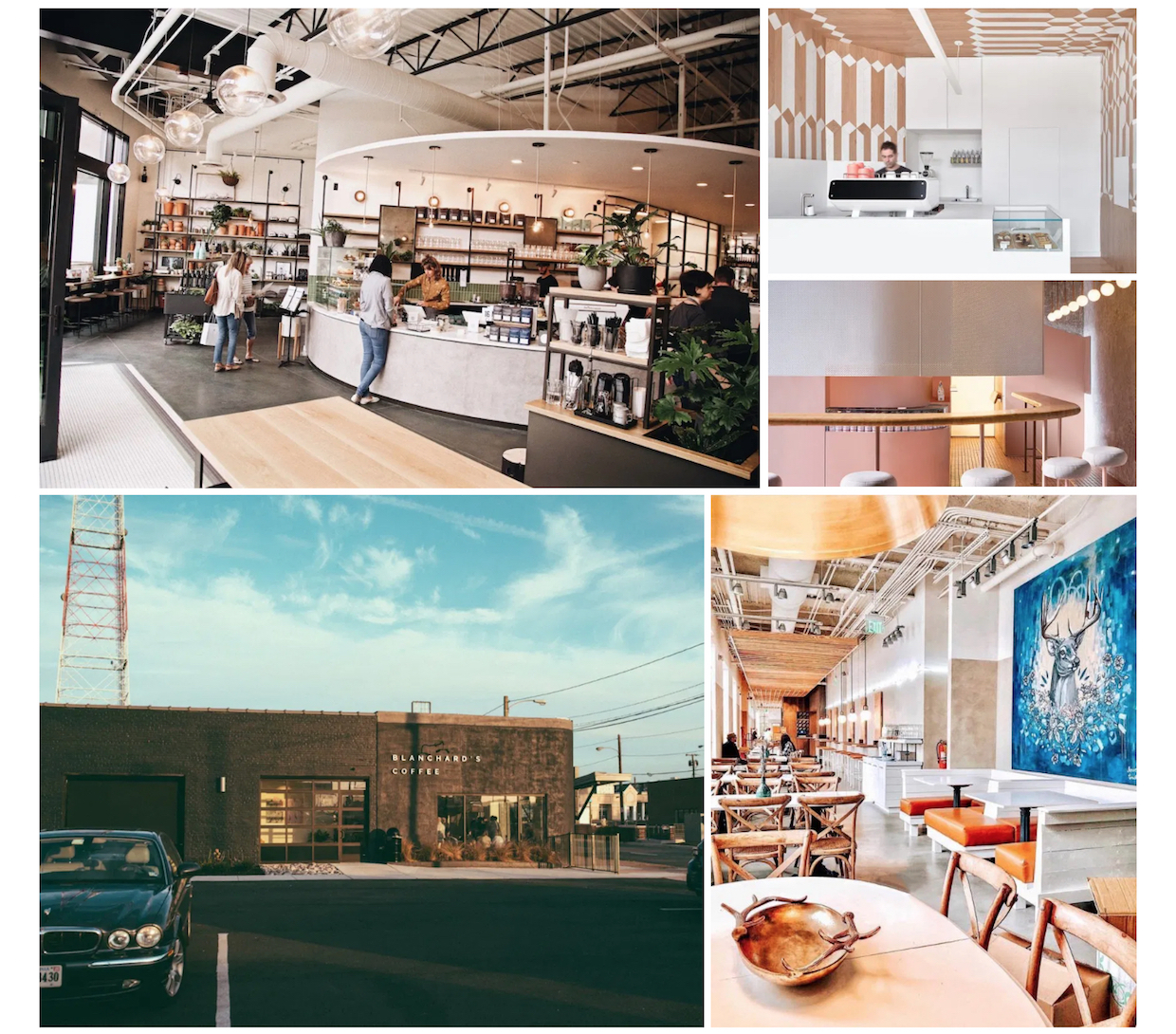 Retail coffee shop interior design throughout the past decade can reasonably be divided into three primary aesthetic realms.
There are those shops that essentially starve the senses in anticipation of a rainbow to be delivered to the palate through specialty coffee and carefully crafted foods. These tend to recall the white-walled, uncluttered, Scandinavian houses.
There are those that overwhelm and excite the senses in order to ratchet up the willingness to try new and exiting things. And then there are those that go for comfort, nostalgia, and "authenticity" in order to minimize customers' apprehension of specialty coffee by practically saying, "No pretense here. It's already yours. Enjoy."
In each of these realms and at points in between, the retail coffee shop designs and operations continued to refine themselves in 2019. The immaculate, the zany and the casually sophisticated all made appearances this year, with many companies offering tranquility within airy atmospheres comprising clean lines, tidy tiles and lightly stained wood, while others smashed open Pandora's boxes of color, shape and texture, or treasure chests of glittering, ornate luxuriousness.
In-house roasting operations are increasingly present, as are well-wrought beer, wine and food programs and partnerships that spread the spirit of design onto more menus and plates while also bridging more locations' offerings from day into night.
As we head into 2020 with 20/20 hindsight, here are 20 of the finest new coffee shops highlighted by DCN this year:
Olympia Coffee Roasting Goes Bigger in Seattle with Columbia City Cafe
Inside a 1920s building that was most recently home to a well-known local brand called Starbucks, the Olympia location provides all kinds of new coffee gifts to the Emerald City through a Seattle-made Slayer LP espresso machine, Kalita Wave pourovers, drip brew via a Fetco setup and a Poursteady automated pourover machine.
Design Details: Coffee in Frames at Basic Coffee in Beijing
The young Beijing, China-based studio Office AIO describes the overall sensation for consumers at the new Basic Coffee shop in Beijing's XianYuKou district as like being in a "live ad."
After Years of Refining Roasts, Blanchard's Coffee Opens First Cafe in Richmond
On Broad Street along the edge of the Scott's Addition district, the first Blanchard's brick-and-mortar location adds a fine coffee destination to a local and regional quality-forward coffee landscape that the company has helped to create and nurture over the years.
Backed by Convene, For Five Opens New Concept Coffee Bar in Chicago
Queens, New York-based For Five Coffee Roasters has expanded its reach in Chicago with an impressive second bar in the downtown Loop that emphasizes cocktails in a more sophisticated, art deco setting.
Stauf's Coffee Opens in 1880s Church Building in Columbus, Ohio
Stauf's Coffee Roasters is giving its own meaning to the term sacred grounds, opening in a former church building in Columbus, Ohio.
The Invigatorium: A Maximalist Coffee House from San Diego's Modern Times
San Diego beer brewing and coffee roasting company Modern Times has always had a flair for fun and immersive interior design. One of the newest examples of this is a life-size velociraptor glaring down over the row of Modern Times tap handles at the company's latest collaborative venture, The Invigatorium coffee house and beer bar.
Newport Coffee House Offers Authentic Scandi Style in Evanston
Plenty of specialty coffee brands take cues from Scandinavian design for their coffee shop interiors. In Evanston, Illinois, the newest location of Newport Coffee House isn't just inspired by Scandinavian design; it's the genuine article.
Back to School with Mr. West and Campos Coffee in Seattle's University Village
After formally introducing its Australian brand of cafe style and service to the coffee-loving public in Utah, Campos Coffee has further entrenched itself in the United States, partnering with local cafe Mr. West in the coffee mecca of Seattle.
Undercurrent Coffee Rides Wave of Support into Charlotte's Optimist Hall
It's been just more than a year since Undercurrent Coffee opened its doors for the first time in the Plaza Midwood neighborhood of Charlotte, North Carolina, but already demand has crested over.
In response, owners Todd and Erin Huber today unveiled Undercurrent Coffee's second location, inside the newly renovated Optimist Hall, a former textiles mill that dates back to the 1890s.
The Devoci​ó​n Cascara and Coffee Bar is Focused on the Fruit
Bogotá-by-way-of-Brookyn-based Devoción Coffee has made a name for itself through its fixation on freshness, promising patrons a cup of joe brewed from beans that rest no more than a month between the dry mill and the roaster. Opened last week, the Devoci​ó​n Cascara + Coffee Bar in New York City expands that fixation to include the cherry fruit itself.
Joe Coffee Unveils 'The Counter by Joe' with Todd Snyder Collaboration
The cozy, quick-service cafe with bar and table seating for 16 guests plus standing room represents a collaborative effort between Joe and the Todd Snyder New York flagship store for menswear at Madison Square Park in Manhattan.
Cultivate Food & Coffee Grows a Following in Atlanta
The ability to identify and appreciate the markers of quality and freshness on one's palate isn't innate — it has to be cultivated. A new cafe at the Howell Mills Shops in Atlanta's Buckhead district called Cultivate Food & Coffee gives patrons a bright, inviting place to do just that.
Anthology Coffee Turns the Page with New Location in Detroit's Eastern Market
With help along the way from Anthology co-owner Annie Longsdorf and operating partner Hernan Juarez-Martinez, Anthology Coffee Co-Owner Josh Longsdorf spent nearly two years on the design, buildout and city permitting for the new 2,900-square-foot Eastern Market location.
Inside Go Get Em Tiger's Sixth Location at Row DTLA
Looking beyond their stomachs, patrons might notice a wall-size portrait of vintage Los Angeles. Sourced from the Library of Congress, the black-and-white photo was taken in July of 1965 on 35-millimeter film by photojournalist Thomas O'Halloran. The image includes a playful overlay of cats and mice designed by GGET, which extends the shop's overall bright and lively aesthetic established by the colorful pendant lighting and white oak tables, seating and retail racks.
Design Details: All Flooring and No Furniture at Milky's Coffee in Toronto
A small coffee joint between Alexandra Park and Little Italy in central Toronto features a design element that flips traditional coffee retail design upside down — and on its side.
At Milky's Coffee, the ceiling, walls and flooring are wrapped with a modular flooring system that recalls patterns derived from traditional inlay decoration, according to the Toronto-based firm Batay-Csorba Architects, which led the design on behalf of Milky's Founder Fraser Greenberg.
Vietnamese Coffee Redefined in New York with Nguyen Coffee Supply's Cafe Phin
In recent decades, Vietnam has often been unfairly written off by many buyers in specialty coffee as a high-volume producer of robusta coffee. Yet for first-generation Vietnamese-American entrepreneur Sahra Nguyen, such a narrow view of Vietnamese coffee overlooks a rich coffee culinary coffee history, as well as a promising future in the quality-focused specialty market.
A First Look at Stumptown Coffee's New Downtown Los Angeles Cafe
The cafe's most prominent design feature is a large, color-filled mural from Indiana-based artist Nathaniel Russell, who describes the scene as a kind of "peacable kingdom" and as a "scene from a time or place of balance and peacefulness on Earth."
Old World Meets New at Mad Priest's Coffee & Cocktails in Chattanooga
While initially taking shape in a small roastery tasting bar, this approach has been greatly expanded with Coffee & Cocktails. The new downtown bar ambitiously fuses day and night offerings and aesthetics from various cultures to draw local communities together in both comfort and creativity.
Falcon Coffee Bar Soaring in a Former Nashville Church
A two-directional buzz has been building inside a former church in Nashville's Wedgewood-Houston neighborhood. Falcon Coffee Bar occupies the Houston street side, while sister brand Flamingo Cocktail Club can be found around back.
Locally Born Fourth Dimension Opens First Cafe in Pontiac, Michigan
Fourth Dimension Coffee Company, a specialty coffee roasting outfit started by Bryan Weaver and Brad Petrinec in Pontiac, Michigan, has opened its first cafe, bringing new life to the suburban Detroit city.