Probat has launched two new additions to its roasting equipment line-up: The mid-size industrial production drum roaster Px 120, and a new electric sample roaster.
Both machines demonstrate the iconic German roaster brand's embrace of new technology, and while the new sample roaster would look at home in a scientific laboratory, the 120-kilo-capacity Px 120 maintains a classic Probat appearance.
Probat Electric Sample Roaster
The new electric sample roaster, initially revealed at the HOST event in Milan last year, is essentially a convection roaster that roasts up to 200 grams per batch by directing a stream of electrically heated air through the drum. Shovel blades keep beans tumbling in the drum for even exposure to the hot air flow. It includes a trier, a detachable cooling tray and an LCD screen that displays time and temperature readings gathered from multiple probes throughout the process.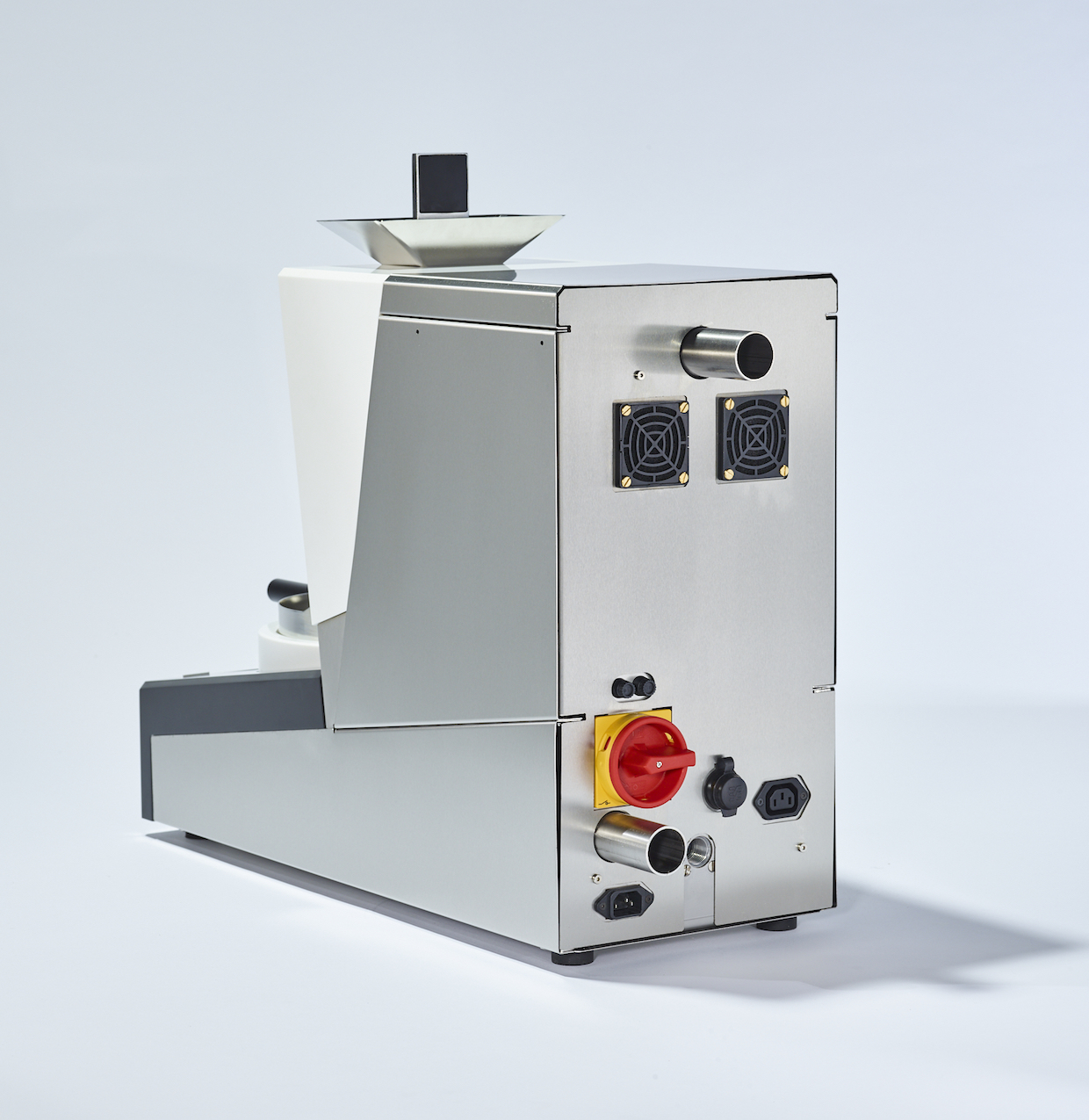 Multiple machines can be connected to a single cyclone, according to Probat, and data from multiple machines can be observed through a single external mobile device, such a tablet or laptop. Buyers can order the new sample roaster from Probat USA now, although the first shipment of machines has yet to arrive from Germany. The company told DCN it expects to begin delivering machines to United States buyers in the Spring.
Probat Px 120
Probat said that despite the machine's classic Probat design, nearly 80% of the Px 120's components have been developed new. Meanwhile, 3D data files are available for all parts, allowing potential clients to better envision and design physical solutions in their roasteries.
"We have used 3D design software to speed the design process, reduce manufacturing tolerances and permit 3D modeling in our customers' factories," Scott Stouffer, vice president of sales for Probat USA, told Daily Coffee News of the new machine now in production at the company's Vernon Hills, Illinois, facility.
Probat utilized Computational Fluid Dynamics (CFD) analytics to design a new partial recirculation system for heat and air inside the Px 120, resulting in 30% less energy consumption, according to the company.
Batch sizes ranging between 60 and 120 kilos are finished from 6 to 20 minutes for a maximum potential output of 480 kilograms per hour. For small and mid-size roasting companies, the machine is likely at the larger end of what remains possible in a space where retail customers can still get a glimpse of the production process.
"The Px 120 is a unique fusion between sophisticated technology and classic design," Dirk Brinker, executive vice president of sales at Probat, said in a recent press release. "It is the perfect choice for roasteries who want a flexible and consistent drum roaster while at the same time showing their customers what they do and how they do it."
Coming to Market
Stouffer said the electric sample roaster is priced at $9,500 USD, and the Px 120 will range in price from $400,000 to $600,000, depending on options and configurations, with installation services also available.
Standard on the Px 120 is another recent Probat advancement, the Pilot Roaster Excellence 2020 control system. The new digital control board features a touch-based interface and internet connectivity that grants users access to profiles and statistics from a variety of devices and operating systems.
The company will display the Px 120 and the new electric sample roaster at its booth at the SCA Expo in Portland this April. Later this year, Probat will also be introducing a North American version of its P 60 drum roaster, as well as natural gas and propane-fueled versions of the new sample roaster. Revisions of other existing models are slated for launch both this year and next.
"These revisions will feature new controls, enhanced features, improved maintenance access and many other benefits," said Stouffer. "We have many developments in the works that will be exciting for our roasting customers."
Howard Bryman
Howard Bryman is the associate editor of Daily Coffee News by Roast Magazine. He is based in Portland, Oregon.