Two coffee professionals have followed the prevailing winds back home to the upper Midwest, launching a roasted coffee brand called Snowdrift Coffee in Roscoe, Illinois.
The compact operation was co-founded by seasoned industry vets Ant Walach and Rita Kaminsky way back in 2017, although fresh roasts didn't accumulate for consumer sales, wholesale distribution and private-label relationships until late last summer.
Though the duo considers Snowdrift essentially a "mom and pop" operation, there's some serious specialty coffee acumen behind the brand.
Walach and Kaminsky initially met while assisting Andrew Barnett with the opening of Linea Caffe in San Francisco. Following a stretch as a barista instructor at American Barista and Coffee School in Portland, Oregon, where she was also the general manager of two Albina Press locations, Kaminsky moved to San Francisco to become Linea's director of operations, with a sabbatical in between that included two months in Santa Ana, El Salvador, where she coached a woman to 3rd place in the El Salvador Barista Championships, and then spent time in Melbourne, Australia, interning at multiple cafes.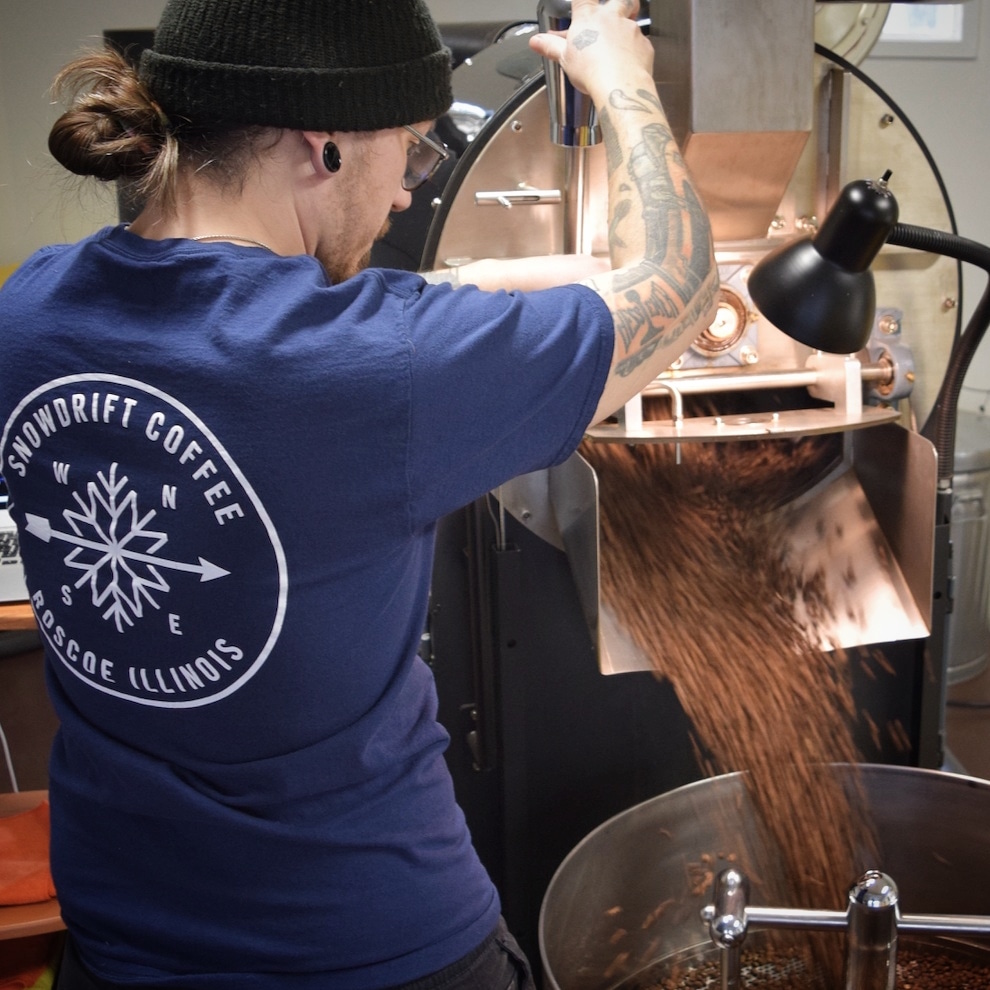 Walach left his role as director of education at Sightglass Coffee for the opportunity to learn to roast with Barnett. After Linea, Walach and Kaminsky both moved on to positions at Equator Coffees, where Walach rose quickly to the role of head roaster and quality control specialist, and Kaminsky came on as sales and operations coordinator.
Both are also deeply involved in Specialty Coffee Association competitions. Kaminsky, who started judging competitions in 2007, is currently the chair and presiding head judge of the United States Coffee in Good Spirits Competition committee. Walach, who served as the head judge of the 2018 US Brewers Cup, most recently volunteered as committee chair of the US Roaster Championship for the 2019 season.
"Coffee competitions and judging protocol have always been interesting to me," Walach recently told Daily Coffee News. "I've been motivated to hone my own palate skills and expand sensory experiences for reference and recall."
All this coffee experience and more is now applied to coffees rolling around in the drum of a 10-kilo Mill City Roasters machine located in a 425-square-foot roastery a snowball's throw from the Wisconsin and Illinois border.
"We are treating our coffees with an extreme level of respect," said Walach. "For us, this means focusing on quality, consistency and paying attention to every detail from receiving green to roasting and production. Every batch is hand-sorted for defects by both of us prior to packaging."
Roscoe was chosen primarily for its equidistance between Kaminsky's family in Milwaukee and Walach's family spread throughout Northern Illinois, but also for the mellower pace of life. The regional market was attractive, as well, and the company started off with a focus on private-label sales as it prepares to now venture into more wholesale.
Snowdrift is also banking on education, with Walach and Kaminsky applying their experiences as instructors to help aspiring coffee professionals of all kinds, and especially women, people of color and/or members of the LGBTQ+ community. Walach said education programs will cover subjects such as roast theory, barista skills and brewing skills.
While neither founder sees a full-on cafe as the best use of time for what's still a two-person team, something small and mobile could make sense in the short term.
"The next phase of expansion for us will be a food truck," said Walach, "so we're able to travel and bring delicious coffees to areas that are still underserved and lacking in quality coffee options."
Howard Bryman
Howard Bryman is the associate editor of Daily Coffee News by Roast Magazine. He is based in Portland, Oregon.