Dean's Beans Organic Coffee Company is hoping to add some brightness to what is likely a dark period in the lives of many of its customers as it launches a generous coffee giveaway campaign called "A Thousand Pounds of Light."
Dean Cycon, owner of the Orange, Massachusetts-based roasting company, told Daily Coffee News that the company is giving away 1,000 one-pound bags of freshly roasted coffee to people in need.
The campaign opens first to residents of Massachusetts, who can submit the names and addresses of anyone they know who is affected by the COVID-19 coronavirus outbreak directly or who has lost their job due to shutdowns.
Shipments can then include a personal note from the recommender, or be sent anonymously. If the full 1,000 pounds isn't claimed by customers in Massachusetts, the company will then expand the offer to its web customers from across the United States.
"We like the personal relationship touch of doing it this way," Cycon told DCN. "A pound of coffee will not cure the virus or return your job quickly, but it helps to know someone cares about you as an individual."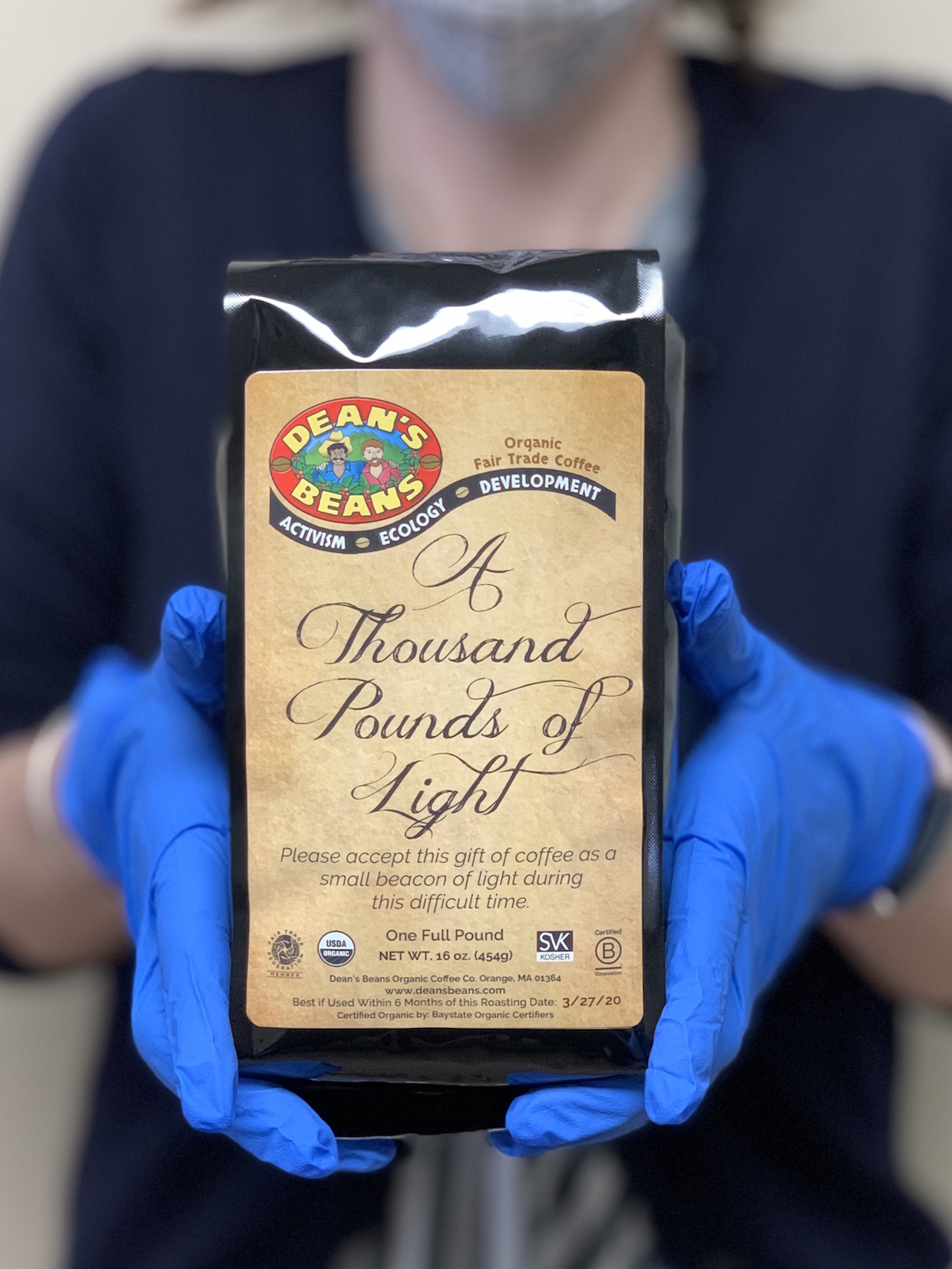 The beans on this mission of positivity are a certified organic, Fair Trade and kosher blend of Peruvian medium and Mexican dark roasts, roasted on the bighearted company's 70-kilo Loring Peregrine and 35-kilo Loring Kestrel roasters. As a certified B Corporation, it's also not Dean's Beans's first wave of generosity in response to a crisis.
The company launched a similar giveaway during the financial crisis of 2008, when many Americans lost their homes and jobs as a result of the subprime mortgage fiasco.
"Even though it was just a pound of coffee, it showed that people were thinking of the victims," said Cycon. "A little compassion goes a long way in a crisis."
Dean's Beans also shipped free coffee to federal workers and offices during the government shutdown of January 2019.
"Since many offices, like Fish and Wildlife, the Coast Guard and the Air Traffic Controllers, stayed open without pay, we sent them coffee to brew in the offices and to take home as well," said Cycon. "I personally delivered the coffee to the Boston Logan Air Traffic Controllers, who let me take it up the control tower, a real treat, and to the Coast Guard station at Castle Hill, where a food pantry was set up for Coast Guard members who had to support their families for three weeks without a paycheck."
As for its own row to hoe, Dean's Beans has seen a drastic drop in its wholesale business. Walk-in retail sales directly from its roastery were at first limited to pick-up only, then cancelled altogether upon a statewide shutdown order. On the upside, the company's web sales quadrupled virtually overnight, Cycon said.
While it's impossible to fully prepare for a crisis of this magnitude, Dean's Beans has weathered numerous other storms over the past 16+ years, while attempting to maintain some flexibility for its employees, according to Cycon.
"We said from the beginning that no employee would suffer financially from this," said Cycon. "Several of our staff have had to stay home with young children and try and work remotely. We have ample paid sick leave and vacation, but if anyone catches the virus or has any symptoms they have to stay home on full salary for as long as required medically. We are not looking for a government bailout. We have enough cash in the bank to cover all payroll for a month, so even if we get closed down we will pay everyone at 100%. We also have 100% health care coverage here. We cover all premiums, deductibles and copays for all employees, single and family. The health and safety of folks at Dean's Beans means more to me than a few extra bucks in my pocket at the end of the year."
The company is also donating and shipping the wire ties normally affixed to coffee bags to anyone making protective face masks for healthcare personnel. Since Wednesday Dean's Beans has sent out almost 2,000 tin ties and the requests keep coming.
"They are great for holding the masks tightly against the nose," said Cycon, who added that, depending on how green bean inventory looks in the weeks to come, a second Thousand Pound round could potentially follow this one, specifically to benefit front line healthcare providers.
Howard Bryman
Howard Bryman is the associate editor of Daily Coffee News by Roast Magazine. He is based in Portland, Oregon.