As the specialty coffee retail industry heads deeper into the long night of COVID-19 shutdowns and restrictions, the virtual tip jars, GoFundMe campaigns and other community-driven fundraisers are lighting up the internet like stars twinkling distantly in the void.
Multiple efforts are now also underway to coordinate these stars into constellations, as it were. For its part, California-based equipment manufacturer Fellow has stepped in with San Francisco-based web development firm Mage to launch ComeTogether.coffee, a clean, quick-reading and searchable website devoted entirely to displaying any coffee company's current status, fundraising efforts and web stores.
Fellow Community and Events Manager Jessica Caisse told Daily Coffee News that the hope is to encourage donations, retail business in the form of to-go orders at cafes and bags of coffee for home brewing. Fellow initially checks all links and information for verification and accuracy, and though they cannot vouch for the distribution equitability of funds collected through various donation campaigns, they hope for the best.
"Our goal was to create a platform that could serve as a 'one-stop shop' website for those in the coffee industry who want to help, need to get help, or simply want to connect with one another in these difficult times," said Caisse. "The hope is that we can make it as easy as possible to connect the people who need help with the people who can give it, and provide helpful resources along the way."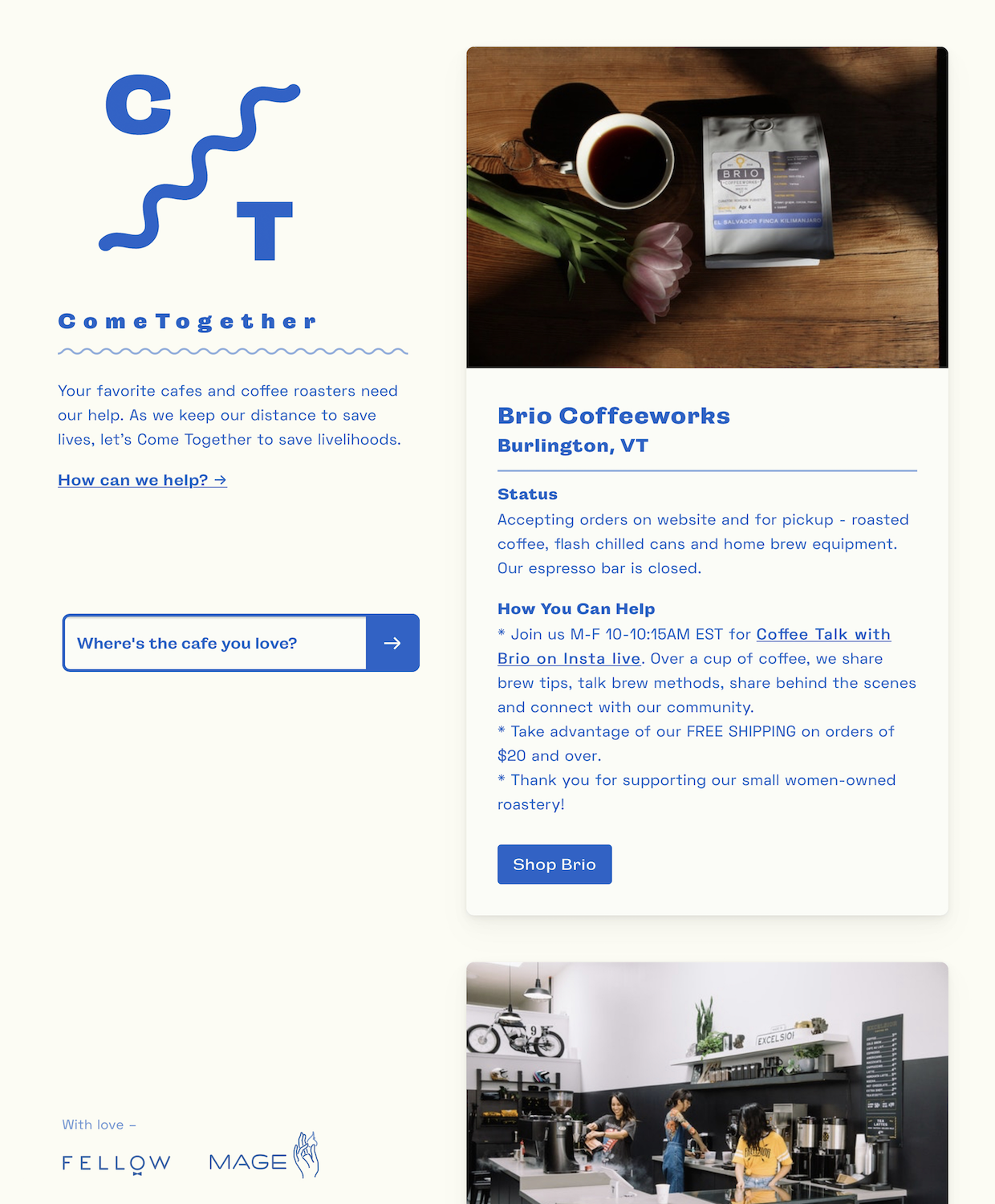 While social distancing and working from home, Fellow's team continues to develop the upcoming Ode Brew Grinder and other projects in addition to maintaining ComeTogether.coffee, while Mage is allocating roughly half its time toward pro-bono and below-rate efforts to assist at-risk specialty coffee companies and cafes shore up their e-commerce efforts.
"In normal times, I work from cafes most afternoons," Andy Eblin, founder and chief creative of Mage, told DCN. "I want to do what I can to make sure they're still there to go back to when this is all over."
Additional features will be added to ComeTogether.coffee over time, including links to other helpful sites and community resources, news bulletins, an FAQ and more, with another longer term goal being to publish stories by and about the people affected and the ways they are coping.
To be listed, cafes and other companies can apply from the sign-up form on the website. There are no fees of any kind, and requests for edits or updates to company profiles can be emailed and the site will be adjusted ASAP.
"We know there are several sites out there trying to corral all these important links and resources to help the community, but the feedback we keep hearing is that often people find these lists and databases overwhelming, and oversaturated," said Caisse. "Our goal was to create an interface that we felt was approachable, visually simplified, and that offered filters to guide potential donors to the businesses they genuinely want to give to."
Howard Bryman
Howard Bryman is the associate editor of Daily Coffee News by Roast Magazine. He is based in Portland, Oregon.