Expanding upon its catalog of premium pourover kettles, manual brewers, drinking vessels, bean containers and more, Fellow has revealed its first machine with moving parts: the Ode Brew Grinder.
Scheduled to arrive this summer and carrying an estimated retail price of about $299, the grinder is being pitched by the San Francisco-based company as the final piece in a comprehensive home coffee equipment ecosystem.
"Up until this point, we've been building a lineup of products that you can use to make great coffee at home," Fellow Brand and Marketing Director Hanna McPhee told Daily Coffee News. "For us, the biggest missing link to our portfolio of products was, obviously, grinding your coffee."
For its inaugural foray into motorized mechanics, Fellow's goal was a lofty one: to offer both grind- and build-quality on par with professional cafe equipment while maintaining a kitchen-friendly friendly footprint and an accessible price. In many cafes, Fellow's Stagg kettles are used to apply water to coffee beds ground by massive, towering Mahlkönig EK43 commercial grinders.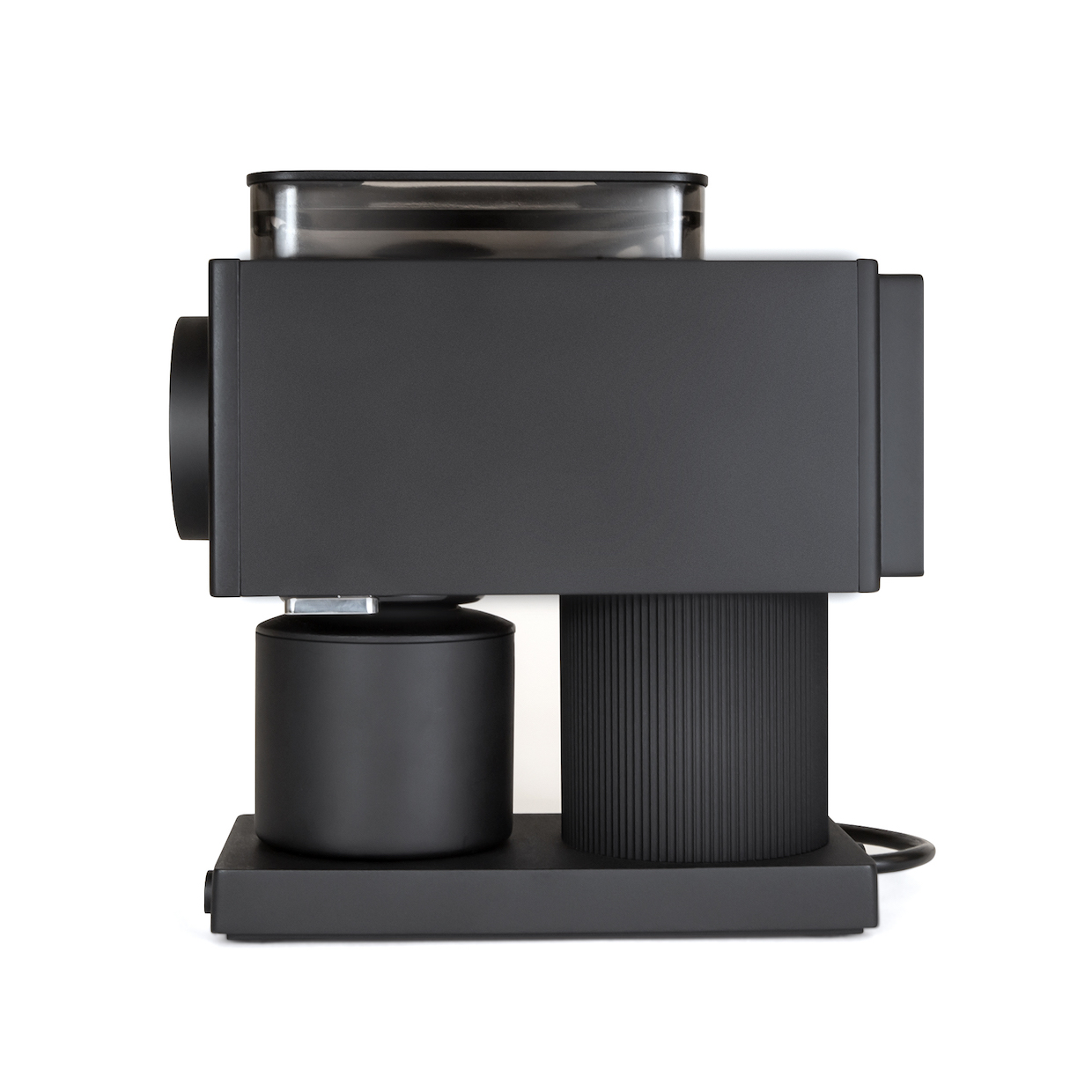 "If you use an EK43, it's such a robust grinder; it's a very satisfying and tactile experience," said McPhee. "We really wanted to bring that into our grinder, which is part of the reason a lot of it is so hefty and metal. We're running a bunch of different particle diameter tests, and running it up against an EK43 and other grinders. Every single prototype we make is getting closer and closer to the EK43. The grind quality is looking really good."
Weighing in at nearly 10 pounds, the Ode Brew Grinder houses professional-grade 64-mm flat steel burrs inside an aluminum body. The burrs are driven by a PID-controlled "smart motor" that modulates its own power to maintain a steady, consistent 1,400 RPM from start to finish. With no bulky hopper, it is specifically designed for single-dose grinding, accepting up to about 80 grams at a time. It also stops automatically upon completion of the grind, so the user need only hit one button once.
The powder-coated steel catch cup is magnetically aligned beneath the outbound grounds chute, has interior volume markings for users who don't bother with scales and a funnel-like interior fin for tidily pouring grinds into filters. An exceptionally large knob, reminiscent of the tuner knob on an old hi-fi audio receiver, provides 31 settings from Prismo-fine to cold-brew-course. Referencing another one of its products, Fellow named the finest setting Prismo in order to reinforce the Ode's status as a brew grinder, not necessarily an espresso grinder.
"We currently don't have a release date for espresso burrs, but are working on it," said McPhee. "We're really excited about giving our users the option to swap out burrs and don't take the espresso option lightly. For that reason, we want to make sure we get it right, which means putting our engineer's focus on it full time. Our first priority is Ode Brew Grinder, and then we'll be all-hands-on-deck on exploring the option of an espresso burr set with new grind settings, as well as a portafilter feature."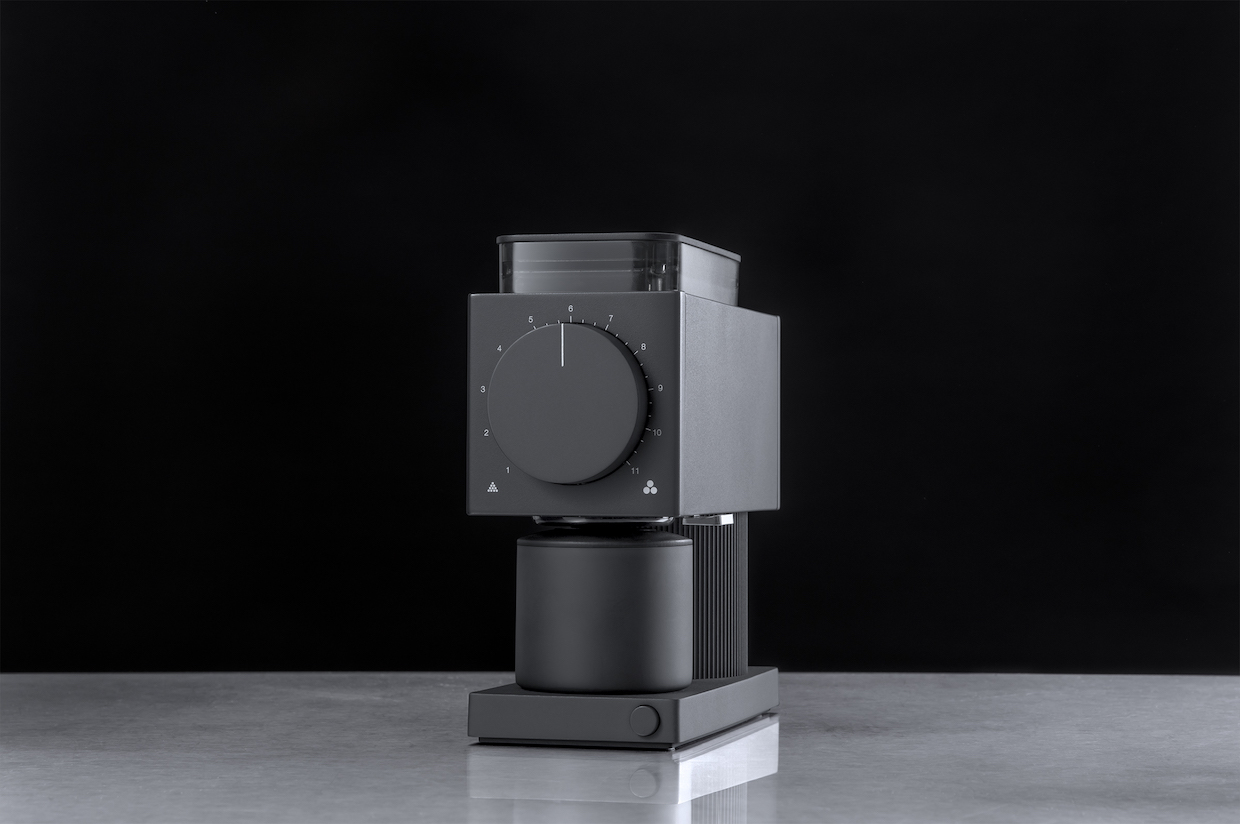 The squat, heavy and hopperless design contributes to a quiet operational hum of about 64 decibels under load, according to the company. The grind chamber and exit chute are both electronically grounded in order to mitigate static electricity, contributing to the Ode's low retention, which is further helped by vertical alignment of the flat burrs and a snappy little knocker on one side that users can flick to knock remaining grinds loose.
To raise awareness as well as funds for the grinder's production, Fellow took to Kickstarter after a conspiracy-themed public relations campaign. Bigfoot, UFOs, a faked moon landing and other tinfoil hat specters were referenced in a dossier "leaked" to the press to pique curiosity in just what the Fellow "Brewminati" had cooked up in their top secret labs.
Said McPhee, "In our usual fashion, we're trying to make it a really fun, approachable, engaging experience, while providing a very serious, robust product."
The Kickstarter campaign launched Dec. 12 and hit its $200,000 goal in just 94 minutes. As of this writing the campaign has sailed past the cool $1 million mark, with more than two weeks remaining. Production will commence next month for an anticipated delivery to begin in July for backers, after which the grinder will sell at a retail price of $299.
Howard Bryman
Howard Bryman is the associate editor of Daily Coffee News by Roast Magazine. He is based in Portland, Oregon.