Hiroia, the joint venture between Japanese manual coffee equipment maker Hario and Taiwanese manufacturer Proch, is soon to debut an automatic pourover brewer called Samantha in the United States.
As Hiroia's first product, the Samantha first hit the market in Taiwan in 2018, offering an advanced, cloud-connected automatic pourover brewer that ostensibly builds upon the platform established by Hario with its Smart 7 brewer.
Like the Smart 7, the Samantha allows users to program and store different water-dispensing routines for single and multi-cup batches of drip coffee. Whereas the Smart 7 originally offered only its built-in screen for programming locally, the Samantha leans more heavily on an app and its IoT capabilities.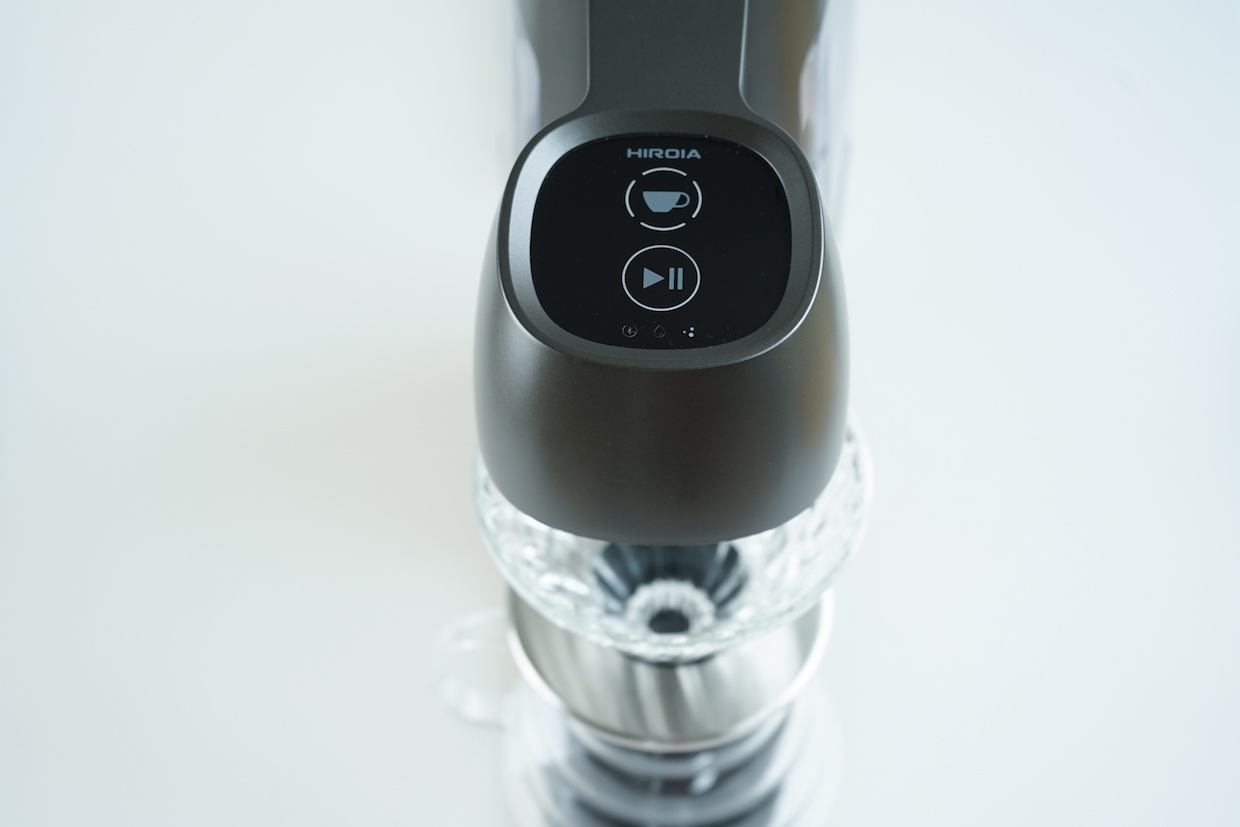 Four brewing profiles come pre-programmed into the machine, though they can be adjusted by users, and more can be stored in the cloud. Using data from a built-in scale and other sensors, brewing variables that can be tweaked by users include brew water temperature, the volume and flow rate of virtually unlimited pours, and the amount of time the machine pauses in between pours.
To the extent that a more vigorous flow rate agitates the coffee bed, users can also consider agitation into their profiles. By setting the pause interval to zero, users can craft continuous pours of increasing or tapering flow. Finished recipes uploaded and shared via the cloud can also include information regarding the coffee, roast, brewing device, grind fineness, and a flavor-wheel-like chart illustrating what character to expect in the cup.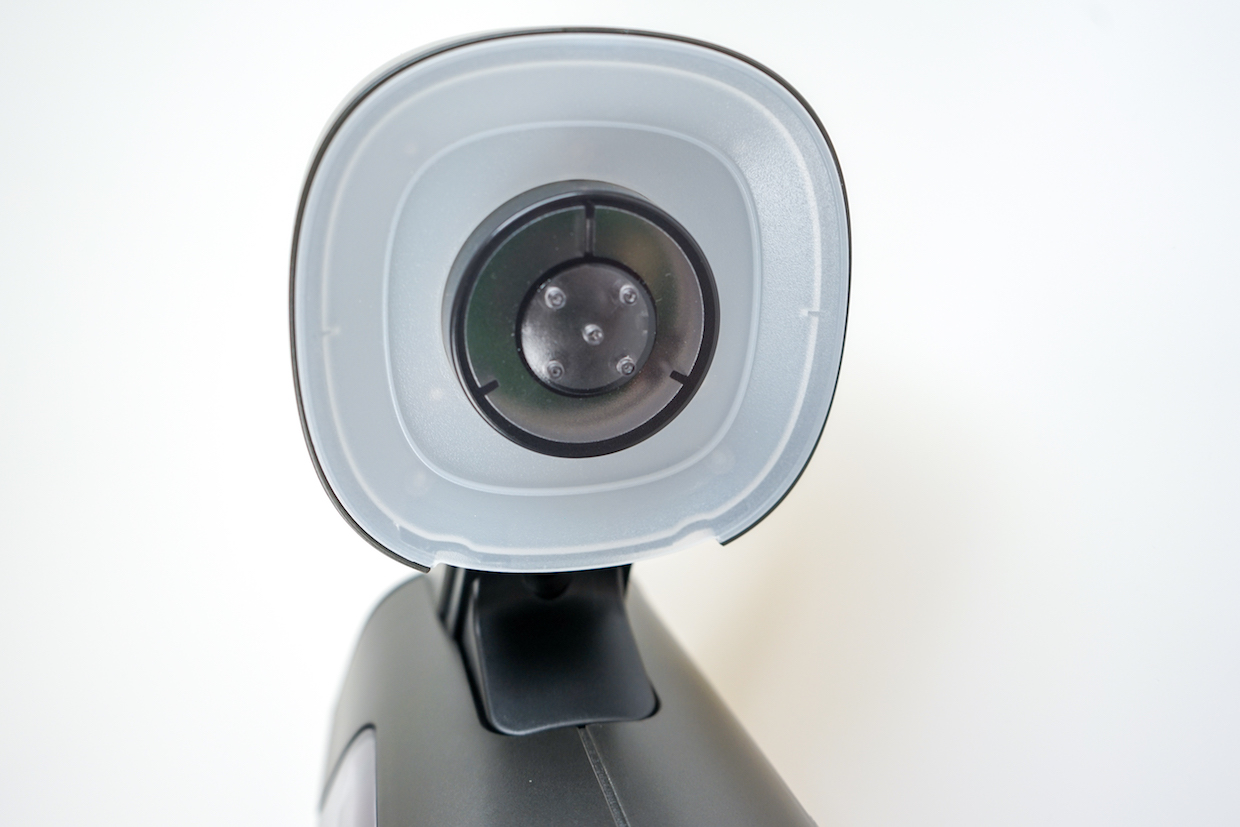 "Samantha is an exceptional coffee device in the world that can accurately reproduce coffee recipes created by professional baristas," Shuzo Matsumura, general manager of both Hario and Hiroia, told Daily Coffee News. "In particular, it is expected to be accepted by coffee shops operating chains. Once a coffee recipe is made, it can reproduce in multiple stores. For example, if a Japanese barista champion uploads a recipe made with his own Samantha to the cloud, the same coffee taste can be reproduced by downloading the method to their Samantha wherever they are in the world."
Lights in the Samantha's showerhead illuminate the brew as water is delivered from its on-board 1.1-liter reservoir. Water is heated only on demand and not kept hot between brews, though the temperature and dispensed water volume are displayed on the user's mobile device screen in real time when the machine is active.
The retail price for the Samantha machine is expected to be about $1,000 USD, although Matsumura told DCN the company is considering steep discounts as an act of support for people stuck at home and under financial duress from the COVID-19 crisis.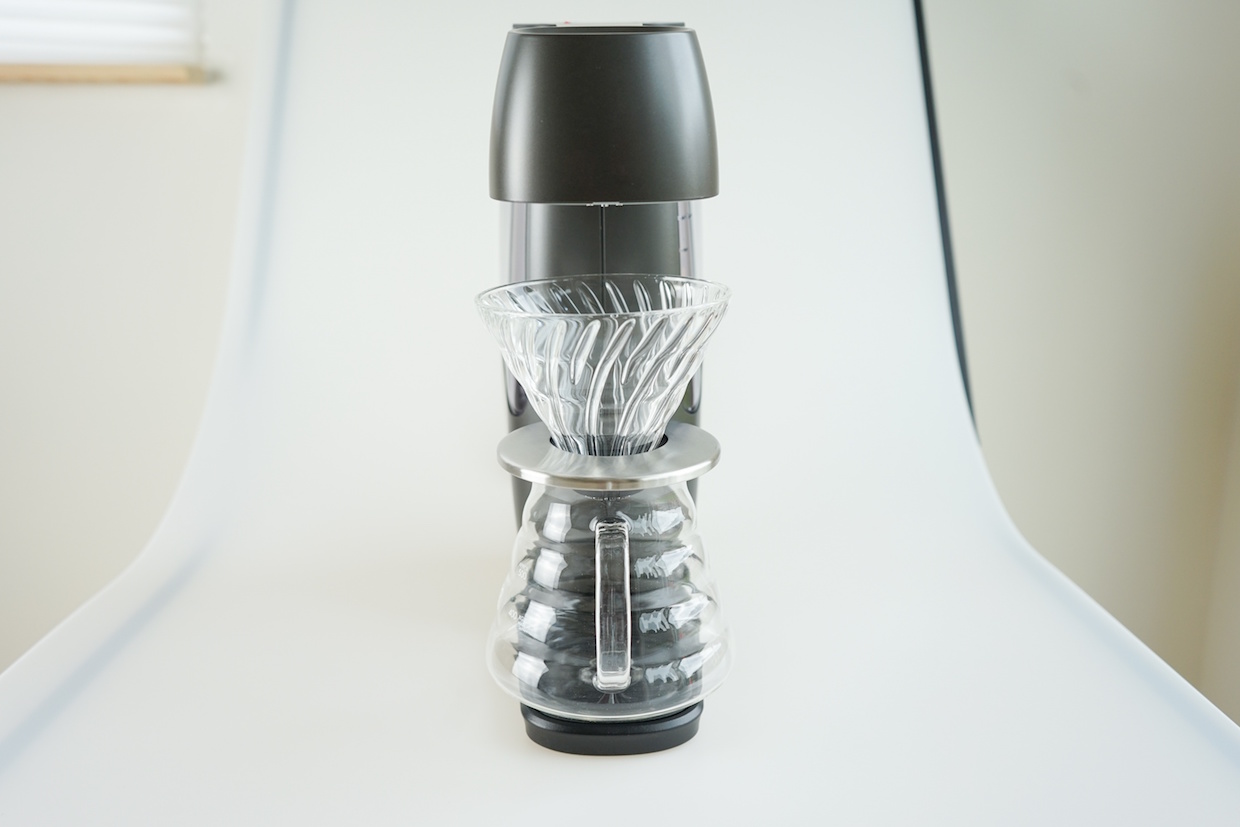 "In the pandemic, people never go to the city or go to work, but having a taste of coffee is very important for people and their families," said Matsumura. "We want them to have the same coffee at home as the barista champion brewed with Samantha. We believe that the age of 'café at home' is coming."
In the U.S. market, the Samantha will follow the Jimmy Scale, which was technically Hiroia's second product released but first to achieve U.S. distribution last year.
A suitable complement to Hario's most recognizable product, the V60 pourover, Jimmy is a Bluetooth-connected brewing and espresso scale with a detachable screen that communicates wirelessly with the base. The independent screen also has built-in magnets, allowing it to cling to an espresso machine closer to eye-level, or potentially to the top of a kettle while pouring a drip brew, all while the base also communicates with iOS and Android-based mobile devices.
As it lines up Samantha distribution, Hiroia is also working on its third product, a cold brew coffeemaker called Ziggy that performs a unique extraction method to yield a finished cold-water brew within 3-5 minutes that faithfully exhibits origin character and nuance, according to Matsumura.
The Ziggy currently scheduled to launch this summer.
Howard Bryman
Howard Bryman is the associate editor of Daily Coffee News by Roast Magazine. He is based in Portland, Oregon.