Canadian specialty coffee glassware and accessory maker Kruve has launched the Frontline Defence Kit, a lightweight cardboard and polyester film solution designed to keep workers and guests protected across coffee shop counters and other public points of interaction.
With many provinces, states and cities now forming plans for the grand reopening of commerce as COVID-19 continues to spread, coffee shops and other public businesses are facing the paradoxical prospect of inviting people to gather while also helping to keep them apart.
Ontario-based Kruve, which also makes the Sifter handheld ground coffee sieving system, knows a thing or two about tidy separations and manufacturing.
"We wanted to help stop the spread, while doing whatever we could to ensure we could 'keep our lights on,'" Kruve CEO Adam Krupa said in a recent press release. "But, there are tooling costs required up front, along with costs for materials, logistics, warehousing, and credit card processing fees, which all add additional challenges — especially for smaller businesses like ours. So, it's definitely not easy, but I'm very proud that we banded together to create a viable and affordable made-in-Canada solution for frontline workers."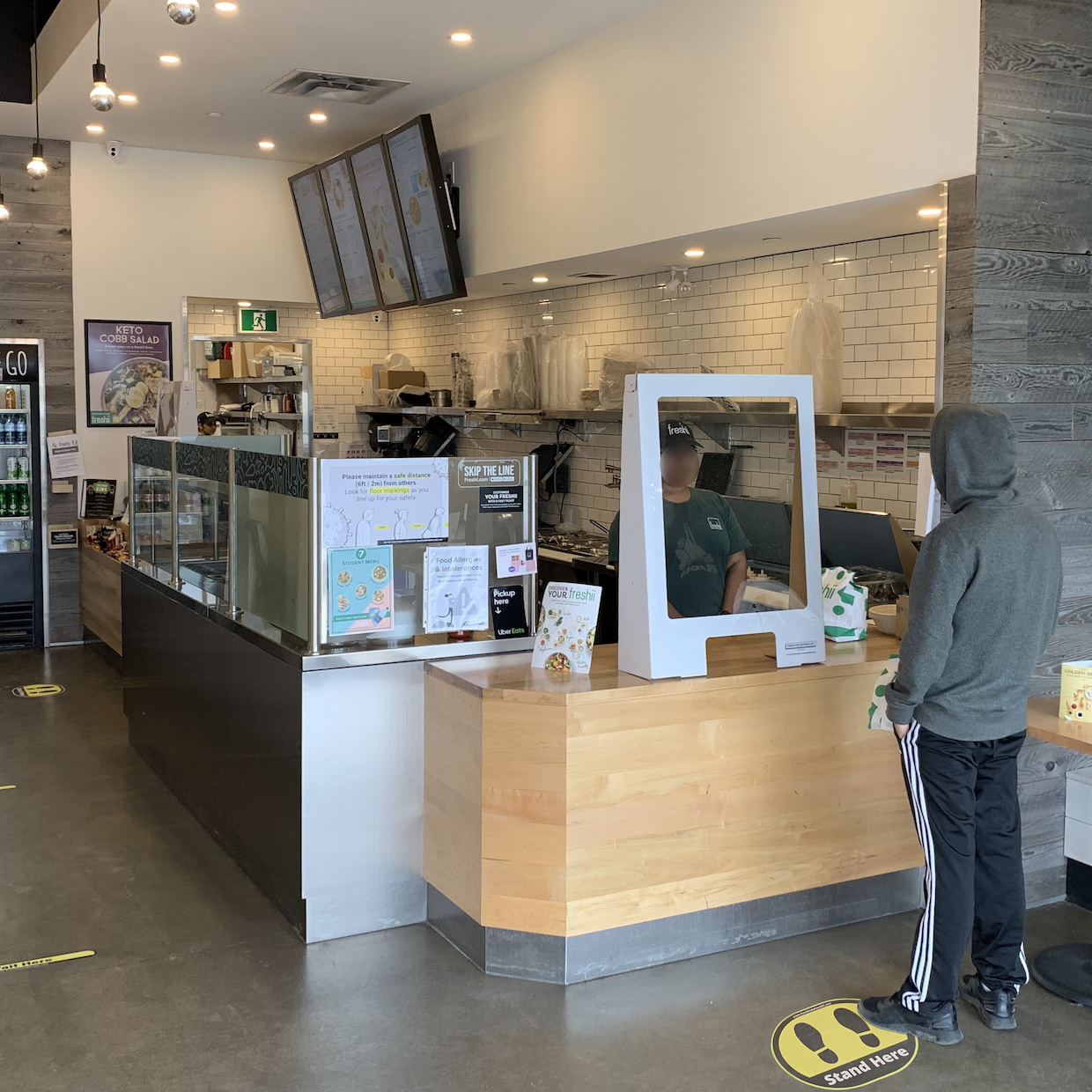 The kit is essentially designed to help coffee companies avoid the expense and structural commitment of permanent plexiglass and metal installations in favor of a hopefully temporary or periodic additional safety measure.
"We have looked at a few scientific studies on the travel of droplets, including things like average sneeze radius, etc." Kruve Chief Marketing Officer Mark Vecchiarelli told DCN. "However, we don't make any claims and are not scientific authorities in this area. We always encourage individuals and organizations to refer to their local government and healthcare officials for the latest and most accurate information."
The Frontline Defence Kit consists of standing windows with slots for payment, high-contrast social distancing floor decals and informative wall posters reminding guests of new routines, etiquette and safety procedures.
The shields, which do not require tools for setup, consist of a cardboard frame and a polyester film window. A Shield Pack includes four shields and one poster for $65 USD, and a Social Distancing Kit includes a poster and a set of three decals for $24. Shields can be cleaned using a soft disinfectant wipe on both sides of the plastic, though Kruve recommends not wetting the cardboard parts.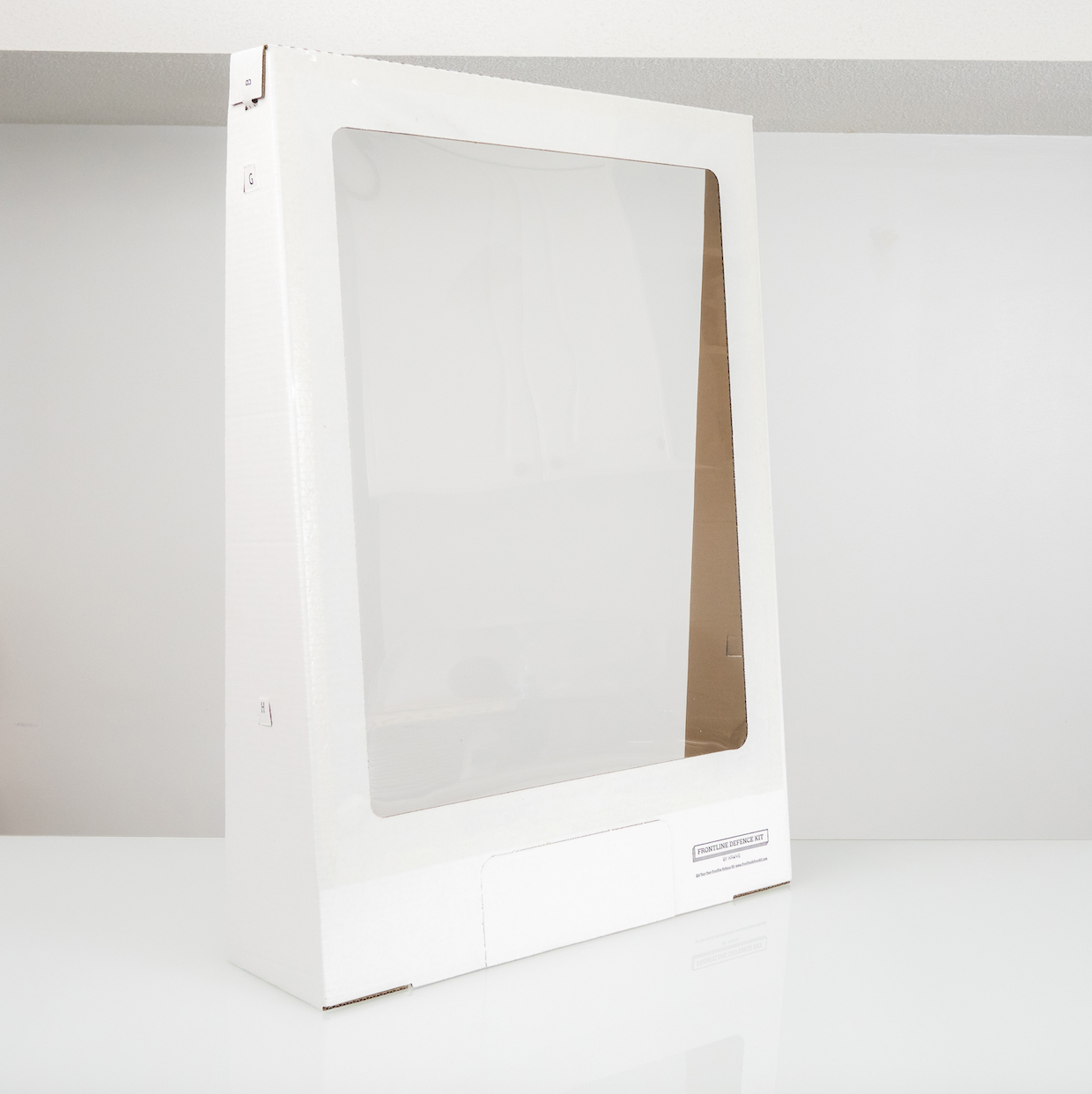 "It obviously depends on wear and tear, but they can last for months or years if they are taken care of," Vecchiarelli said. "If you did need to dispose of them, they are 100% recyclable, unlike many other solutions."
Kruve is also donating $1 per shield ($4 per Shield Pack) to organizations supporting frontline workers and other COVID-19 response and recovery efforts.
Kruve has also made the designs for the shields, signs and decals available to download for free to anyone willing and able to build and print their own kits via Open Source/Creative Commons license.
(Editor's note: This story has been updated in order to convert Canadian dollars to USD.)
Howard Bryman
Howard Bryman is the associate editor of Daily Coffee News by Roast Magazine. He is based in Portland, Oregon.