Cold brew coffee equipment maker Toddy has developed a cupping protocol, score sheet and equipment kit specifically for the evaluation and comparative analysis of long-steep-method cold brew.
The equipment kit and cold brew cupping form are currently available through a new website, ColdBrewCupping.com. The site also includes a summary of the new cold brew cupping protocol, with a final version slated for release and free download on Friday, May 15.
Colorado-based Toddy is hoping that the free form and protocol will be widely adopted by the coffee industry.
The Toddy Cold Brew Cupping Kit streamlines the process of brewing small samples and evaluating them per the protocol developed by Toddy, although Toddy President Julia Leach told Daily Coffee News that specialized equipment is not required for cold brew to be seriously and critically evaluated.
"They can brew with whatever equipment they prefer, including drip towers, French presses, large batch brewers, etc.," Leach told DCN. "We wanted to give the industry a tool that would facilitate sensory analysis for cold water extraction. Since there hasn't been a good method, a lot of people simply haven't been cupping their cold brews or cold brewing their coffees to understand how the brewing method would impact flavors in the cup."
The Toddy Cold Brew Cupping Kit comprises a lab-grade borosilicate glass vessel with a silicone lid, a set of stainless steel tongs, a filter basket and 24 single-use filters — 12 composed of paper and 12 composed of Toddy's biodegradable plant-based filters.
The basket rests on top of the vessel to allow a filter bag full of wet coffee to strain after brewing is complete. The lid then doubles as a filter basket holder, keeping surfaces clean and dry after the filter has finished dripping. Kits are available individually or in a set of three.
"We initially developed the Cupping Kit for internal use to facilitate the work we do in our own lab," said Leach. "We started sharing it with our customers and realized there really was a need in the market for this type of tool, since you really can't use standard cupping tools alone for evaluating cold brew."
While of course the preparation of a cold brew cupping is quite different from a standard hot-water cupping, the procedure after brewing remains in line with what coffee cuppers would expect from a cupping in general. There's still plenty of slurping from a spoon to coat the palate, and charting sensory scores on a score sheet, for example.
"There are more similarities to traditional cupping than differences," said Leach. "We only changed the elements that we felt were really necessary for cold brew evaluation."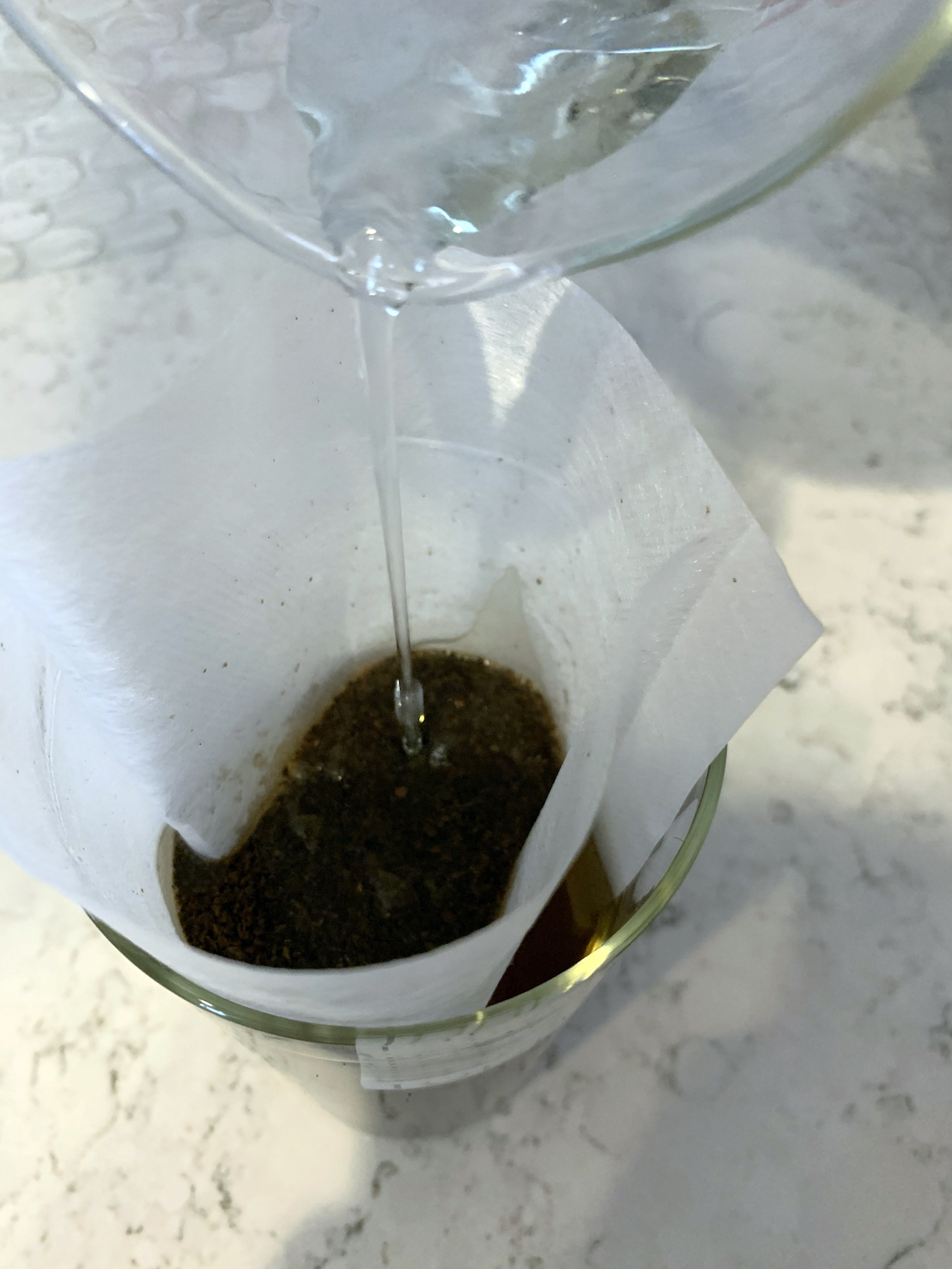 However, the purpose and the context of a cold brew cupping are also fundamentally different from standard cuppings. Cold brew cuppings tend to evaluate recipes, whereas traditional cuppings are for qualitative analysis. It is generally assumed that by the time a coffee winds up in a cold brew, its quality and characteristics have already been evaluated through a more traditional cupping.
Toddy's Cold Brew Cupping Protocol, therefore, does not address attributes such as uniformity or defect, for example. Roast level, grind size and brew time are also not controlled, as these are intended to be modified for comparative analysis of different recipes.
Collaborators from the Toddy team and Tim Sturk of United Kingdom-based Cherry Coffee Training started working on the protocol in April 2019.
"Tim's experience as a Q-Grader, trainer and SCA curriculum developer was the right blend to help us balance the specific needs of the cold brew segment with the general needs of specialty coffee to better understand cold brew," said Leach. "Once we had the first draft of the cupping form and protocol ready, we started presenting it to and getting feedback from a wide variety of industry professionals all over the world. My hunch is that at some point the SCA will adopt this protocol, or a future revision of it, and we will drop the Toddy branding."
Toddy is selling single cupping kits directly from its website for $36, or three for $84 though Leach said professionals can inquire for discounts. A detailed overview of the new cupping protocol is online now, in advance of the complete and finalized protocol to be published Friday, May 15.
Howard Bryman
Howard Bryman is the associate editor of Daily Coffee News by Roast Magazine. He is based in Portland, Oregon.