Even through masks and plexiglass barriers, customers at Stereoscope Coffee Co.'s second retail shop in Newport Beach, California, are treated to a deep sensory excursion.
Not only is there the depth of flavor and nuance in every carefully sourced, roasted and brewed single-origin coffee, but overhead the space is blanketed in a giant stereoscopic print by artist Christy Lee Rogers.
While visually arresting and almost surreal even without special equipment, guests wearing 3D glasses can even more thoroughly absorb Rogers' swirling Baroque-inspired work of underwater nighttime photography, which is also the most substantial splash of color in a space kept otherwise calm in whites, creams and grays.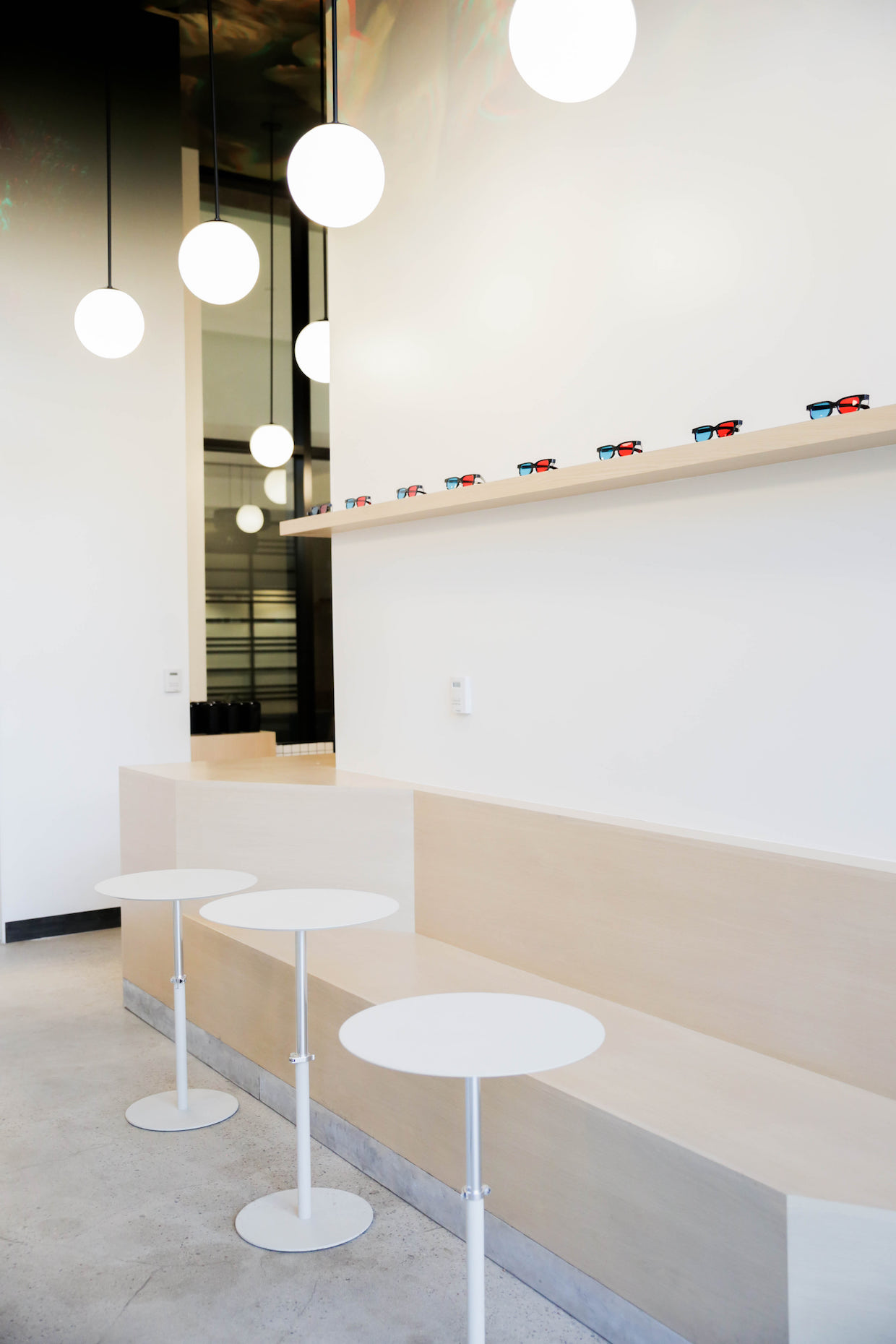 "We made sure that the image isn't going to overwhelm people when they come in," Stereoscope Coffee CEO and Co-Founder Leif An told Daily Coffee News. "We took advantage of the really high ceiling, so people who come in as regulars don't have to see that mural every single day."
Yet many regulars nowadays might happily and continually embrace the dazzling distraction from the more sobering reminders of the COVID-19 era that have been put into place since the shop's February opening.
"To make sure both our employees and customers are safe, we took preventative measures such as installing a plexiglass in between the customer and the employees, wearing masks, switching out gloves after every cash or card transaction," said An. "We also sanitize the bar after every customer, and customers pick up the coffee at a designated pick-up area far from the bar. Six-foot distance in line is strictly enforced, even outside of the shop. We kindly ask customers to not bring their own tumblers."
Aside from these precautions within the 780-square-foot space, guests can also focus on the interior design led by Los Angeles-based Andrew Lindley from Land Design Studio and David Wick from Wick Architecture.
Warm natural light bounces between clean walls of white paint, white tile behind the bar and a fleet of white equipment contrasts with the gray and white undulations of the marble counter.
"We made sure that everything is very neutral, very comfortable to the eye," said An. "The bar blends in with the color, but if you look at the bar, it looks like ocean waves. It's reminiscent of the Newport area, which is near the ocean."
Baristas at the new Stereoscope turn first to a pair of white Nuova Simonelli Mythos grinders that deposit fine grinds to be tamped by a white Puqpress prior to extraction on a white La Marzocco KB90 espresso machine. Next on the counter comes a white Poursteady machine that executes single-cup brews that showcasing the company's lightly-roasted single-origin coffees, ground by a white Mahlkönig EK43S.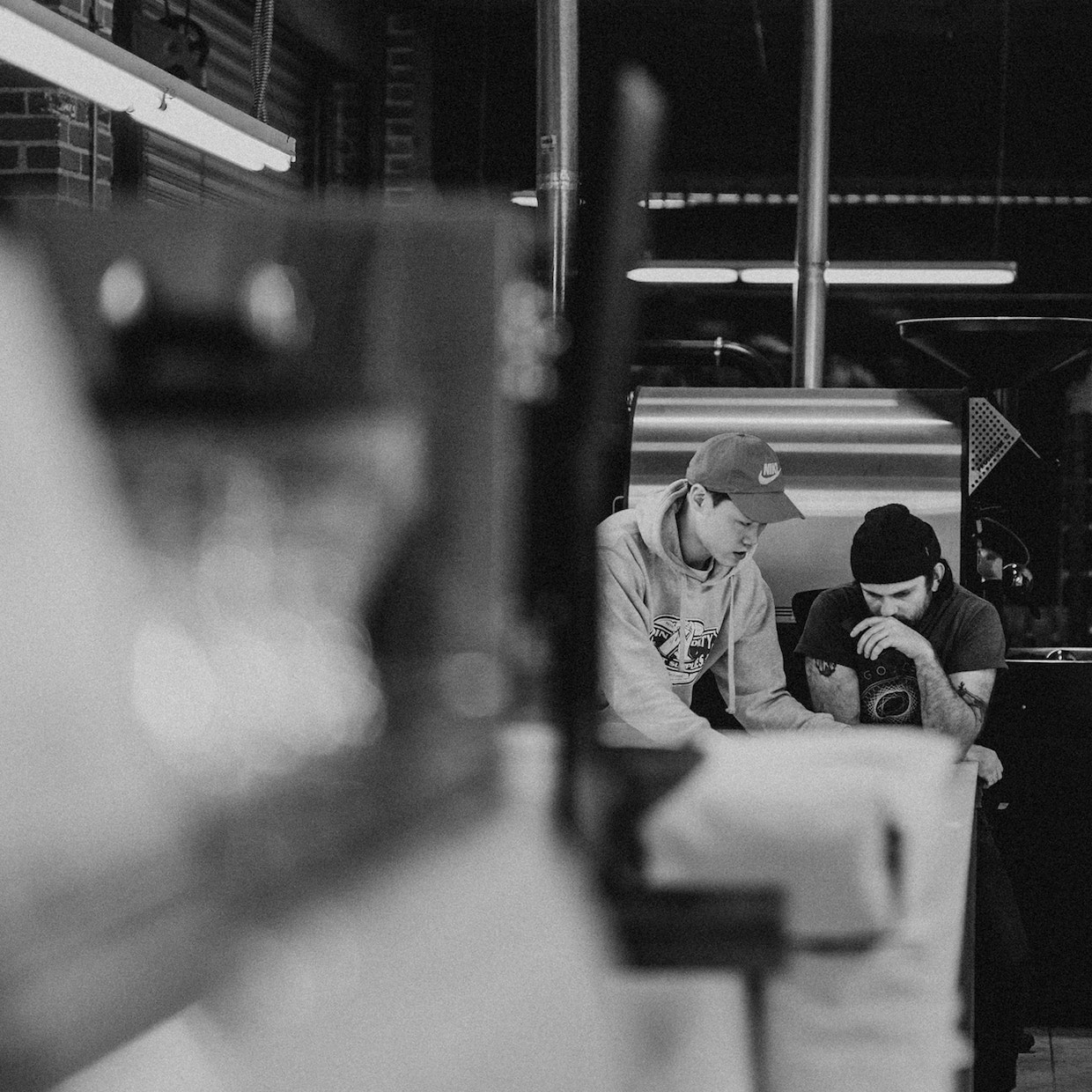 Though business naturally took a hit due to COVID-19 stay-at-home orders and other restrictions, An said bulkier menu options and new delivery services helped soften the blow.
"What has really helped out our sales was the half-gallon drink options," said An. "The bulk option helps people stay at home longer while getting their caffeine fix. Delivery apps definitely helped out a lot. In order to make sure our priority of providing quality service is still implemented through the delivery apps, we write thank you notes on every single order that comes through."
Roasting occurs on a Probat P12 machine located in a 2,500-square-foot warehouse in the Arts District of Los Angeles. As more coronavirus restrictions relax, Stereoscope may also offer more training for wholesale accounts and potential classes for the public at the facility.
"Focusing on education is making sure that all the coffees stand out," said An. "I want to make each coffee really distinctive, so that when people drink it they're like 'Oh, this is very different.'… I find importance in making sure that people appreciate the specialty industry, and making sure that all the flavors come out."
Visitors to the 8-year-old company's first retail shop in Buena Park, which opened in late 2014, gain an educational point of view with a Diedrich IR-5 roasting on-site. A third Stereoscope location also currently in the works for the L.A. Arts District. That one will feature American white oak on the ceiling, walls and floor for another fully engulfing sensory experience.
"We want to make a concept shop where people can come in and feel different," sand An. "You walk into this space and it's a space that's different from reality."
The new Stereoscope Coffee location in Newport Beach is open now at 100 Bayview Circle.
Howard Bryman
Howard Bryman is the associate editor of Daily Coffee News by Roast Magazine. He is based in Portland, Oregon.