From Aeropress competitions, manual brewing challenges or even cold-brew cocktail contests, friendly competition has always been part of the fabric of the barista community.
While such jovial coffee-related scrimmages have deservedly taken a back seat to social distancing and more pressing issues facing the coffee industry, a new tabletop board game called Latte Throwdown promises to offer some lighter fare.
The game, slated for release later this year, was created by Corey Keller, a barista and owner of the small, independent, quality-focused coffee chain Da Vinci's Coffeehouse & Gelateria, based in Enid, Oklahoma.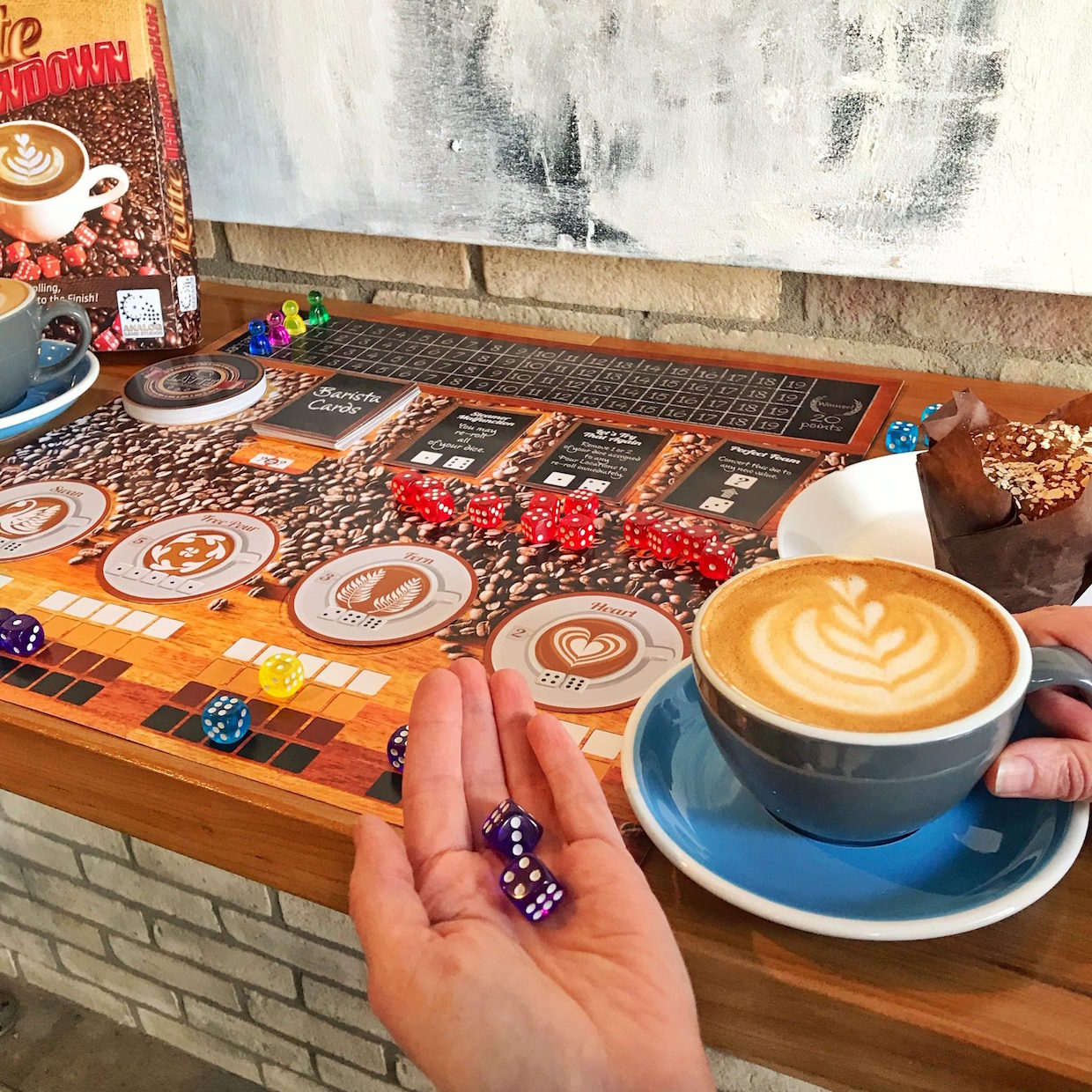 The dice-based board game involves 2-4 players aged 8 and older, and each game lasts about 20 minutes. Players roll dice to match the numbers on a card featuring recognizable professional latte art designs that range in complexity. If the dice match a card, the player wins the number of points indicated on that card, and the first player to 20 points wins. But of course, some additional gameplay complications make it substantially trickier than that.
Toronto, Canada-based tabletop board game publisher Analog Game Studios has picked up the game and launched a Kickstarter campaign to support its manufacture, raising more than $8,000 as of this writing. Keller told Daily Coffee News that the game has been in development for about two years, the first of which was on his own, followed by a year in cahoots with Analog Game Studios.
"I challenged myself to design a fully functional game every three months for a full year," Keller told DCN. "This was the third game out of that challenge to myself, and it became quite popular with play testers. When I was deciding which of the games I designed during this time was the one I wanted to pitch to a publisher, I knew it was this one because of the great feedback it got."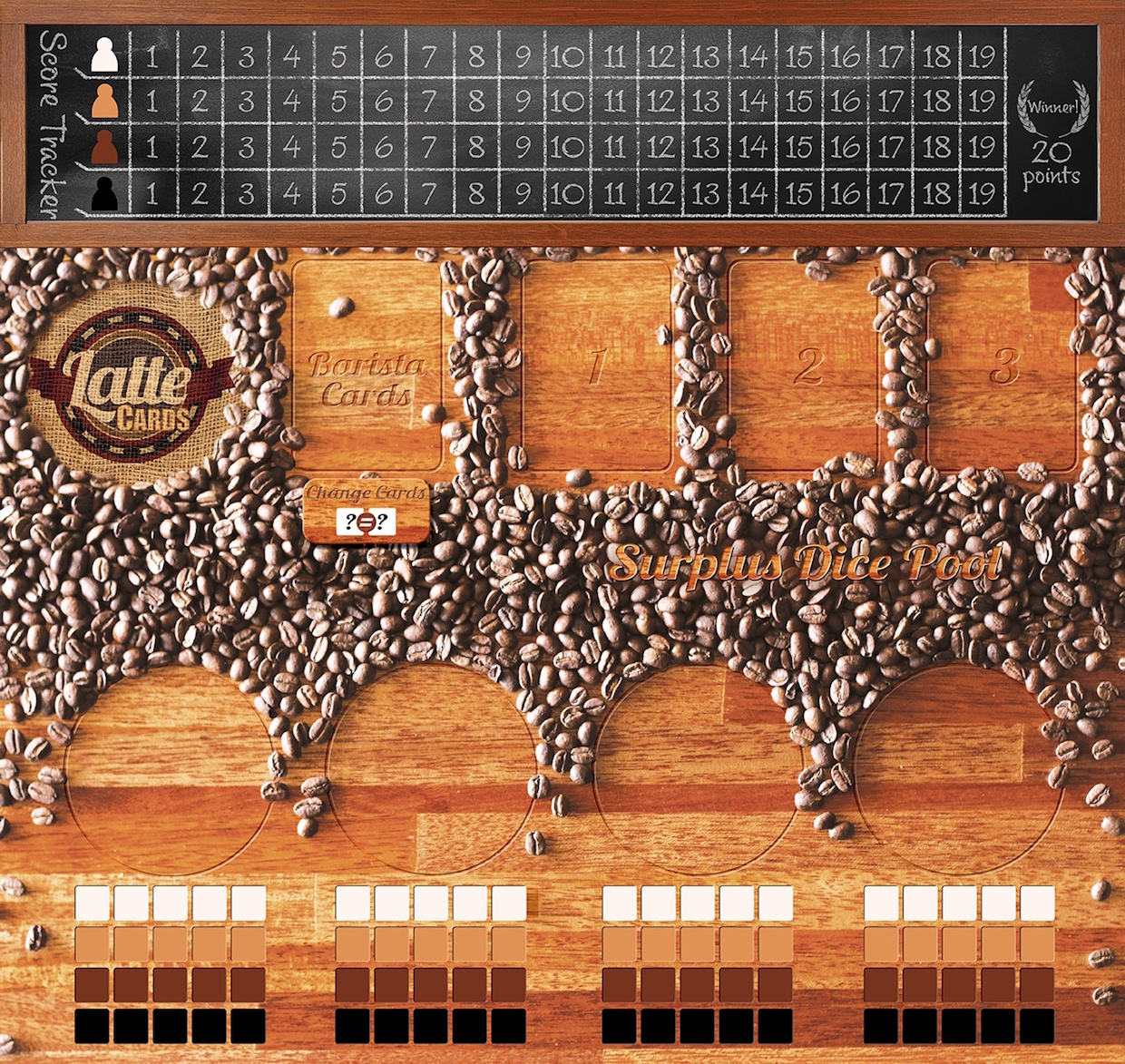 In real life at Da Vinci's — which has three locations around Enid and a fourth on the way, according to Keller — a collection of high-end commercial coffee equipment processes beans roasted by fellow Enid company Vitruvian Coffee Roasters.
"I have competed in throwdowns, as well as attended many of them as a spectator, and I am soon to be a judge at a few coming up," said Keller. "In fact, the last throwdown I competed in was this last December, which I won first place."
After suffering a 40% dip in business with the onset of COVID-19, Keller said Da Vinci's is now back to where it was before, thanks to having been deemed an essential business and then emphasizing mobile ordering and curbside pick-up.
"Within a couple weeks our sales climbed back up, steadied, and we were able to continue business as usual as well as provide jobs for all of our staff," said Keller. "It caused us to respond in creative ways of becoming contactless with our customers and utilize the digital world we all live in. We are still as strong as ever and don't see any long lasting effects that will hinder us from continuing."
Da Vinci's regularly hosts latte throwdowns and other events, and is looking to increase those as soon as the public health situation allows. Roasting classes and other educational offerings in conjunction with Vitruvian are also being planned. Keller, who also hosts two gaming-themed podcasts, also intends to keep right on developing board games in the meantime.
"After this game, it's on to the next one," said Keller. "Designing board games is in my blood."
Latte Throwdown is slated for delivery to backers in December 2020 and is currently projected to launch for direct sales after that with a retail price of roughly $27.50.
Howard Bryman
Howard Bryman is the associate editor of Daily Coffee News by Roast Magazine. He is based in Portland, Oregon.