Making a clear case for transparency in brewing, a new device called the Pure Over is on its way into production, offering filter-free drip coffee from a brewer composed entirely of clear borosilicate glass.
Glass artist Etai Rahmil, who is now CEO and founder of the Pure Over company, invented the brewer in his workshop in Portland, Oregon, in an effort to enjoy the purest possible flavors in the cup, free from any influence of plastic components or metal or paper filters.
Boosted by an immediately successful Kickstarter campaign, the Pure Over brewer has its own built-in filter at the bottom that relies on what the company calls "cake filtration," by which a bed of relatively coarse-ground coffee essentially acts as it own filter.
"Much like a French Press, the process will bring some sediment into the cup," Rahmil told Daily Coffee News. "Preserving the natural oils and fines helps achieve a bold flavor, and a chewy mouthfeel. To achieve a cleaner, brighter cup, grind your beans more coarsely. Your grind size will let you dial in the exact cup of coffee you like."
The process of applying a steady, measured pour without causing too much turbulence to the coffee is made easier by a built-in diffuser lid at the top of the brewer, through which water drips at an even rate down onto the coffee below. Despite this extra stop on the water's way to the coffee, Rahmil said thermal loss is not an issue.
"Since glass is an insulator, not a conductor, I would stick with your preferred brew temp," said Rahmil. "You aren't going to lose significant heat by pouring through the diffuser."
A complete Pure Over set will include a matching glass mug, the brewer and a ceramic base for the brewer, although the brewer is available on its own, with just the base. Rahmil said he's excited to collaborate with other artists on unique, limited-edition bases after the initial production run satisfies pre-orders. Manufacturing will occur in China.
"As a glass artist myself, I really pushed to identify a manufacturing partner in the States that could support our anticipated quantity, but it just wasn't possible," said Rahmil. "In an effort to support the next generation of industrial artists in the U.S., we're excited to partner with The Crucible, which is the largest nonprofit industrial art school in the country."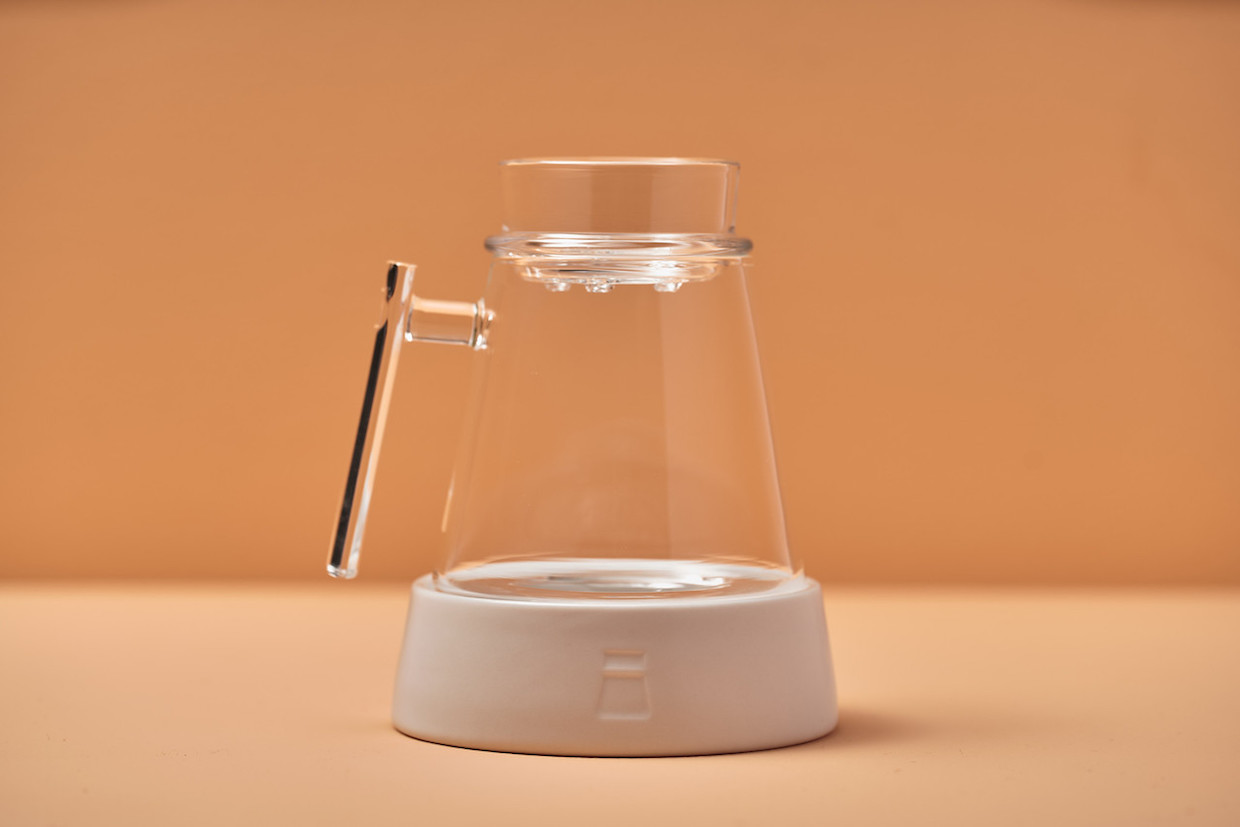 Rahmil is not only an alumnus of The Crucible school in Oakland, California, but he also taught there in 2012-2013. When the COVID-19 pandemic has abated enough to allow for safe travel, Rahmil will start teaching classes there again, once per quarter, and will donate an original piece of glass art to its annual fundraiser auction. Pure Over, too, will be donating a portion of proceeds to The Crucible to support its classes and scholarships.
"It's an amazing place that provides so much value to the people of West Oakland in particular," said Rahmil. "This partnership has been an important priority since we started working on this project, and we are very excited to support them as much as we can. There is so much value in creating your livelihood with your own two hands, and I want to increase access to fine and industrial art opportunities far and wide."
The first run of Pure Over sets is slated to ship in December of this year, after which time the brewer will carry a retail price of $60, with the mug set retailing at $80. As the calendar flips into 2021, Rahmil said the company will shift its focus onto bringing the Pure Over to e-commerce and retail stores. A Kickstarter campaign to support its initial production run launched this week and passed its $10,000 funding goal in four hours. As of this writing, the campaign had passed $55,000 with more than a month remaining.
Howard Bryman
Howard Bryman is the associate editor of Daily Coffee News by Roast Magazine. He is based in Portland, Oregon.