New groundwork has been laid for great coffee in Fairfax City, Virginia, with last month's opening of a roastery and coffee shop called Foundation Coffee.
The coffee shop represents a creative reuse of a location formerly used as a warehouse on the loading dock side of the Fair City Mall. Foundation Coffee Founder Hae Kim maintained the warehouse aesthetic and updated it with elements of modern design that put coffee squarely in the spotlight.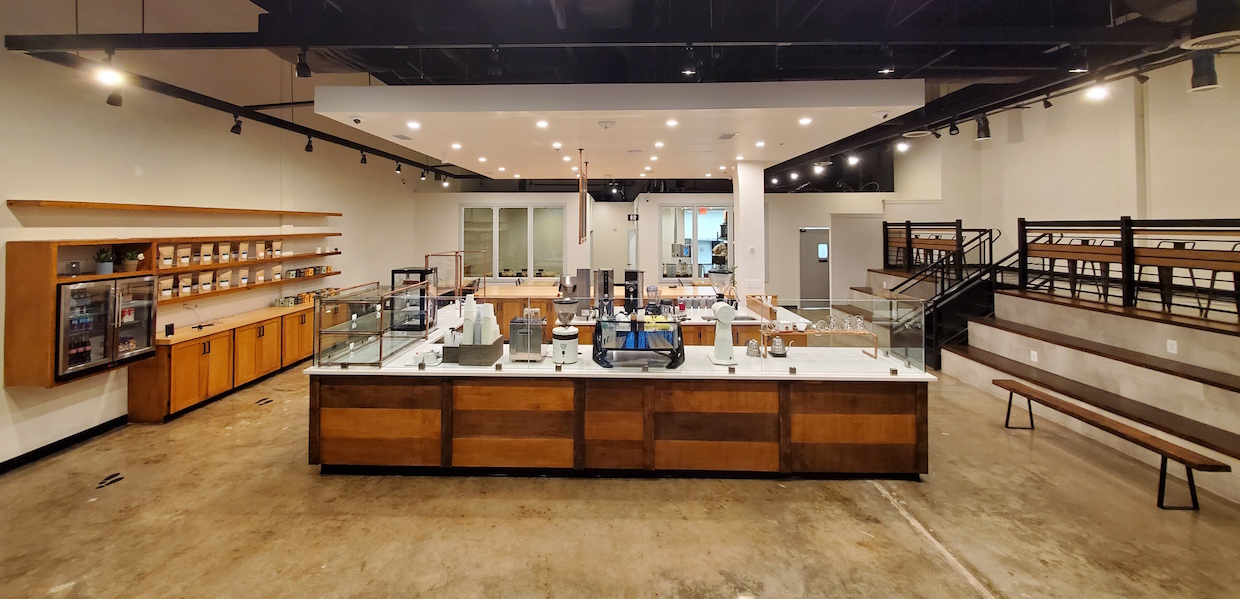 "My main design concept was a theater, with its center stage being the coffee bar," said Kim. "On the side of the shop, we have stadium seating with a bar facing the coffee bar from above. Then there is a big table behind the coffee bar where people can sit together and watch how the coffee is made at the bar. I wanted our customers to drink and enjoy the coffee as they were looking directly at how they are prepared."
In the middle of the 3,200-square-foot space, baristas work with a Slayer Steam espresso machine paired with Mahlkönig grinders. The roastery, featuring a pair of Korean-made Stronghold S7 Pro roasting machines, is visible through glass walls to guests seated at tables built by Kim and his father.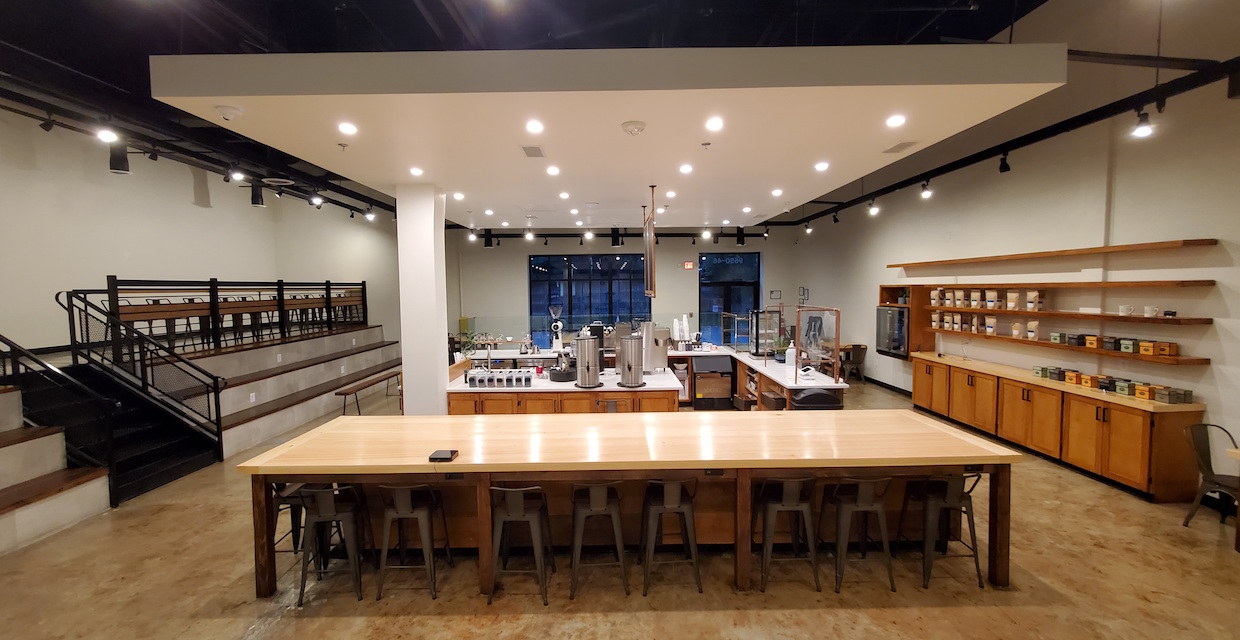 "COVID-19 delayed the opening of the shop for a long period of time," said Kim. "With that I spent much more time with my father to build out the space with custom woodwork. With exception to the chairs in the shop, we have custom made all the tables, cabinets, shelves which gives a sense of unity in the space."
A former government IT contractor with no prior restaurant or retail background, Kim's roasting background started in his home garage alongside friend and now business partner Brad Kim (no relation). Brad eventually pursued work as a barista and a roaster for local companies in Washington D.C., prior to focusing entirely on Foundation. Hae Kim, meanwhile, leans into his infotech background for strategies in the roastery.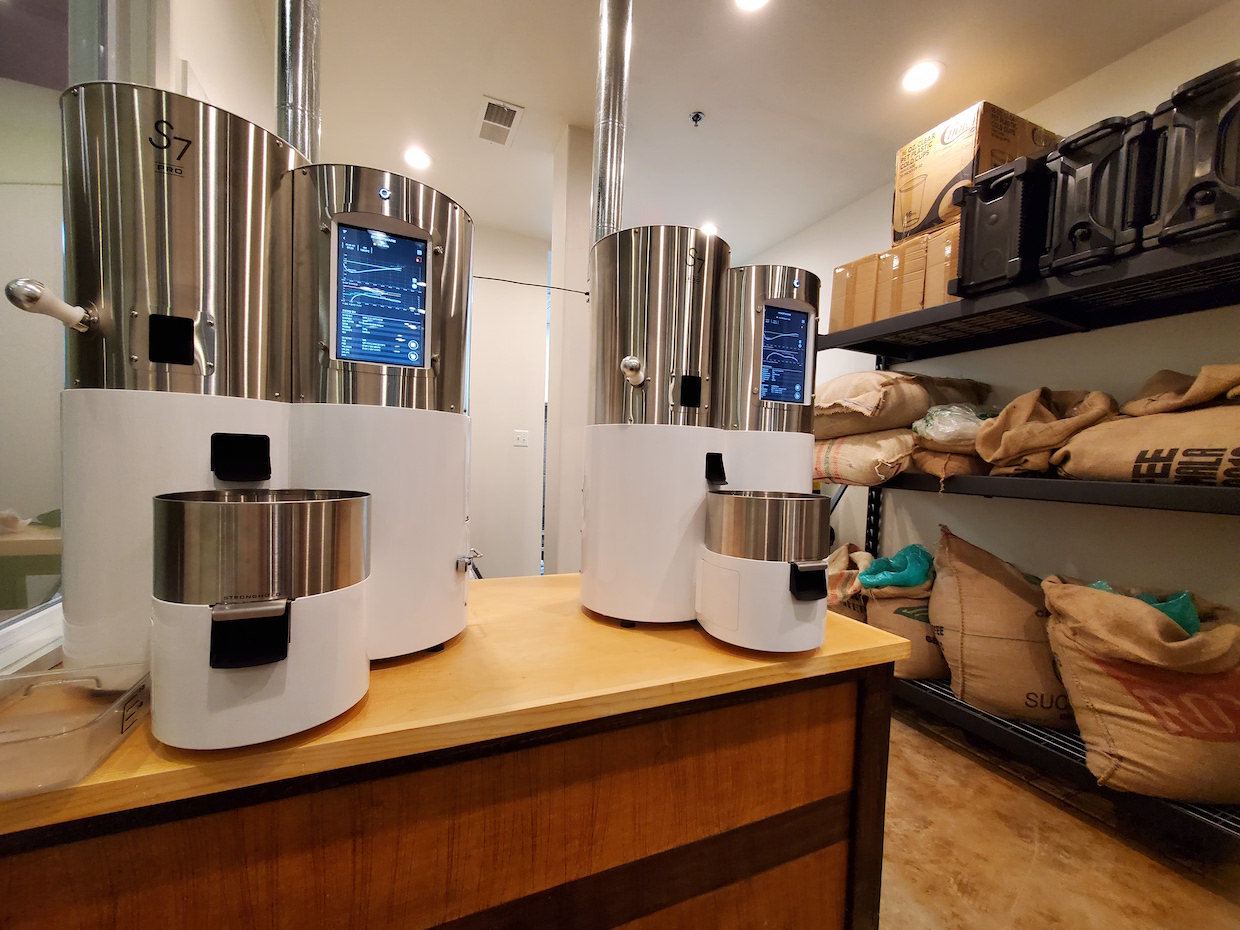 "Our coffee roaster has quantifiable variables such as hot air, halogen and agitation, to develop roasting curves which are displayed via rate of rise and charge temp, etc.," said Kim. "We treat each of the variable values as a separate dimension and analyze different combinations to produce the taste that we are targeting. We try to bring out the best characteristics of beans based on their variety, regions, and processing using our multi-dimensional algorithm."
Technology is also at the center of the company's next move, an online storefront for sales directly to consumers. A wholesale business is also in the works, said Kim.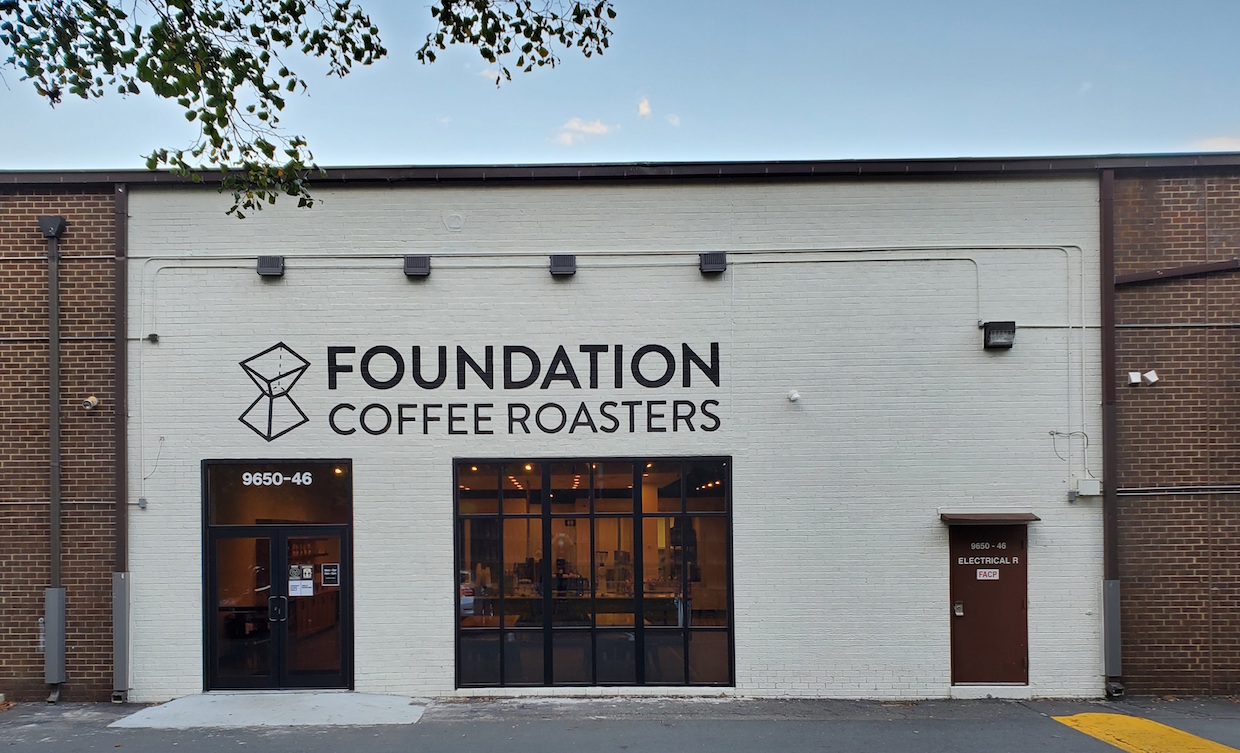 Foundation Coffee is open now at 9650 Main Street in Fairfax City, at the back of the Fair City Mall.
Howard Bryman
Howard Bryman is the associate editor of Daily Coffee News by Roast Magazine. He is based in Portland, Oregon.