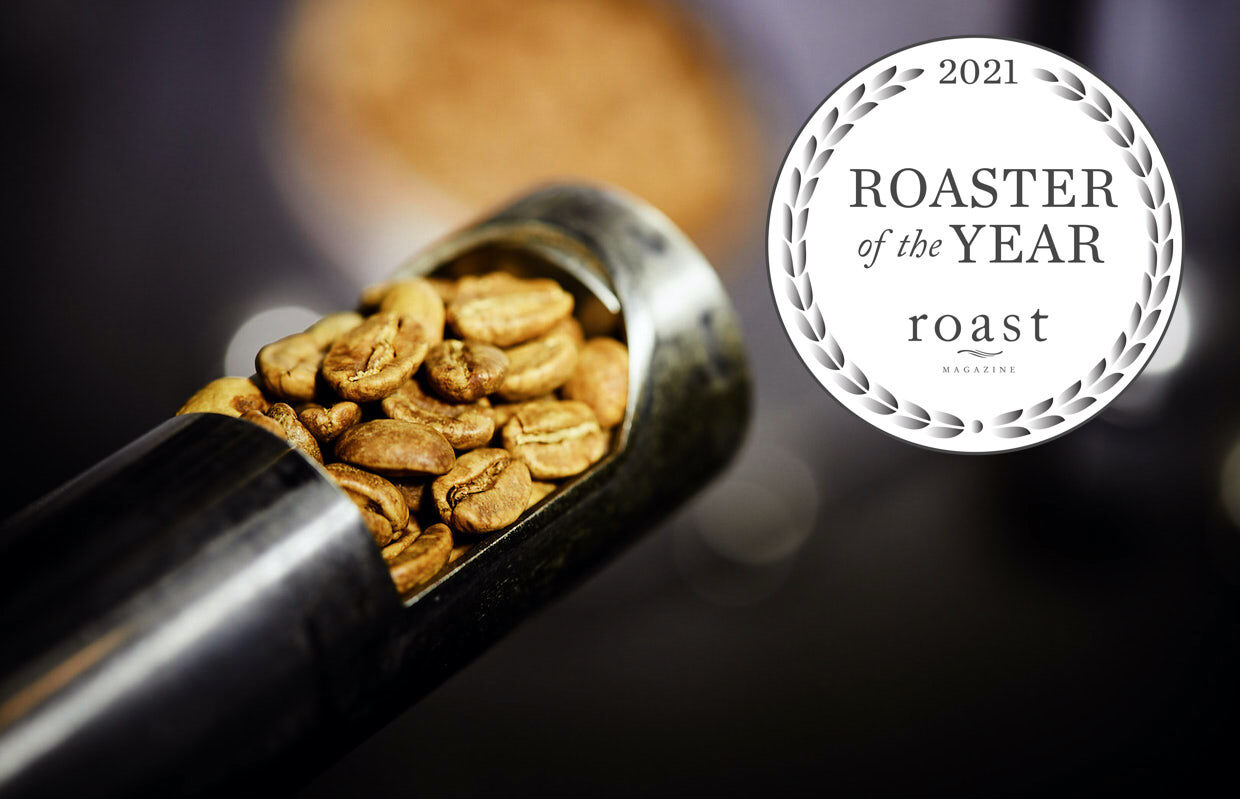 Greater Goods Coffee Company and Tony's Coffee have won Roast magazine's 17th annual Roaster of the Year competition. The two coffee roasting companies will be featured in the trade publication's November/December 2020 issue, available online at roastmagazine.com.
Roast awards top honors in two categories: Micro Roaster of the Year, for companies roasting fewer than 100,000 pounds of coffee each year; and Macro Roaster of the Year, for companies roasting more than 100,000 pounds annually. The award recognizes companies that roast coffees of superior quality, exemplify a dedication to sustainability, promote employee and community education, and demonstrate a strong commitment to diversity, inclusion and equity, among other criteria.
2021 Micro Roaster of the Year: Greater Goods Coffee Company
Greater Goods Coffee Company, with a roasting headquarters and three retail locations in the Austin, Texas area, was selected as Roast's 2021 Micro Roaster of the Year. Founded in 2015, the company has an annual output of 90,900 pounds of roasted coffee and a staff of 24, managed by co-founders Khanh Trang, head of cafe, and Trey Cobb, head of operations. The company earned top honors for its high quality standards, commitment to education, local community engagement and employee development. Here's an excerpt from the feature article that will be included in Roast's November/December issue:
"If they demonstrate to us a desire to learn and they're willing to put in the effort," says Cobb, "we'll give them every resource we have available to us to help them grow in that area. In some cases, it might be a need that we have, an immediate place for them, or it might be something where they're going to continue to grow and move outside our company, but we enjoy being able to be that resource for people to continue to grow. It makes the coffee community better overall."
Learn more at greatergoodsroasting.com.
2021 Macro Roaster of the Year: Tony's Coffee
Tony's Coffee, headquartered in Bellingham, Washington, took the top prize for 2021 Macro Roaster of the Year, with an output of 1.1 million pounds of roasted coffee per year. Founded in 1971, Tony's Coffee has been a family-owned business since the mid-1980s and under the leadership of CEO Todd Elliot since 2000. The company earned top honors for its vibrant company culture, community involvement and commitment to ethical sourcing practices and social responsibility. From the November/December issue of Roast, here is an excerpt about Tony's sustainability goals:
"Tony's has a long history of working toward greater sustainability with our producer partners, and also our own practices and the operation of our roastery," says Director of Sales and Marketing David Yake. While the company had been considering working toward carbon neutrality for some time, Yake adds, the management team was inspired to pursue it in earnest after visiting the world's first carbon neutral coffee cooperative, Coopedota in Costa Rica, earlier this year.
Learn more at tonyscoffee.com.
About Roast
Roast is a bi-monthly technical trade journal dedicated to the success and growth of the specialty coffee industry. Roast addresses the art, science and business of coffee roasters by covering the issues most important to them, with quality editorial content focused on the technical aspects of coffee. For more information, visit roastmagazine.com.