A new Vietnamese specialty coffee company called Fat Miilk has emerged in St. Louis, Missouri, focusing exclusively on high-quality robusta coffees grown in Vietnam.
Co-owners Lan Ho and Tuan Huynh import coffees grown on Huynh's family's farm in Vietnam for roasting in Philadelphia by a Vietnamese-owned roasting company before reaching creative packaging that celebrates the world's second-largest coffee-producing country.
While the farm grows both arabica and robusta, the latter is the dominant crop. The best of that is what roaster Thu Pham of 2-year-old Philly start-up Càphê Roasters puts through her Cropster-linked San Franciscan SF6 machine. The bagged finished product is then packed inside a milk carton-style box with a flap that opens on one side, allowing customers to reseal the box without gnarling the top.
Fat Miilk's first release, Màu Xanh Blue Roast, is soon to be followed by red- and yellow-themed products. Blue represents the coffee culture of Vietnam, red signifies community and yellow signifies identity, the company told Daily Coffee News.
On one side panel of each box, one third of a black-and-white photo appears. When all three packages are lined up side by side, the photo depicting a Vietnamese city street scene will be complete.
Huynh and Ho told DCN that the aim is to emphasize the full experience of Vietnamese coffee, which includes not only brewing it in a phin brewer — which the company sells in its blue, red and yellow colors online — but also the flavor of pure robusta coffee.
"In Vietnam, when you make authentic Vietnamese coffee, it's made with the robusta bean; it's not mixed with flavoring or anything like that," said Huynh. "We want to duplicate that process. Our goal was to provide the most authentic Vietnamese coffee possible."
Huynh, who is the creative director at a major advertising firm in Chicago, and Ho, a pharmacist by trade, approach coffee not from any background in the specialty coffee industry, but with the lived experience of a coffee culture they now seek to share and modernize for a new generation in the United States.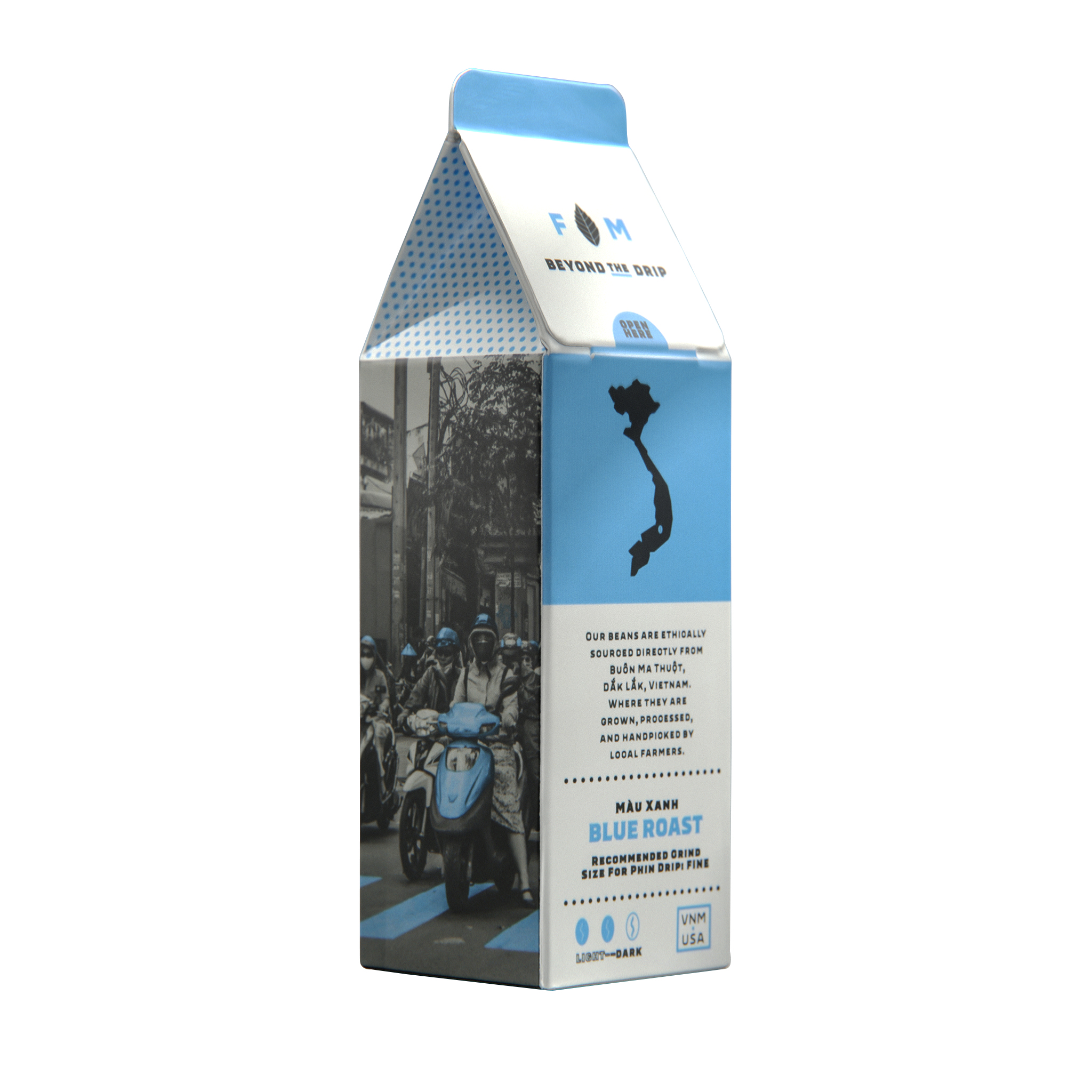 "We're very inexperienced with coffee… The one thing we know is what is in our culture," said Huynh. "However successful you are in life, if you're a doctor or a creative or an engineer or whatever, you're always reminded of where you're from. You're reminded of the things of home, like the land, the earth, the air, the food. Growing up in America, some [new generation Vietnamese Americans) may not be able to speak Vietnamese that well, but they're able to still love their culture and celebrate it."
To that end, Càphê Roasters has proven to be an ideal partner.
"We really had a lot of trust that [Pham] would know the background and help us with developing the flavor profile that we think that we would like, because we both love Vietnamese coffee," said Huynh. "We've drank it a lot since we were kids, but we also have been exposed to American culture and Western culture coffee too, and how we marry the two together."
Another goal of Fat Miilk's is to raise the profile of high-quality robusta in order for their families and other Vietnamese growers to earn higher prices in what has been a historically down period for global coffee prices.
"That's really our heart and true intentions about it," said Huynh, whose family he said has had to tear out coffee over the years to plant more profitable fruits to make a living. "How do we develop and grow our family in Vietnam through this coffee [that] for the longest time hasn't been lucrative for them? How do we make it elevate their situation over there and make it a livelihood that they can actually live on?"
Fat Miilk is part of a growing trend of new Vietnam-focused coffee companies in the United States — including Càphê, Nguyen Coffee Supply in Brooklyn, New York, Coffeeholic House in Seattle, and others — that are run by the grown children and grandchildren of Vietnamese immigrants.
"It's just fitting into this timeline of growth for the Vietnamese population in America," said Huynh. "You know, we're no longer these refugees that live on government assistance, trying to implant ourselves into America. Now this generation has grown up into the early 30s and 40s, now they're able to do these things. Coffee has always been a crop of ours, since the French colonization, that has been in existence within our culture [and] our country. So it's really natural, and I think there'll be more, actually, that will be doing it. I think that there is a trend that hasn't begun yet. This has only been a spark."
Fat Miilk's Red and Yellow roasts will be launched gradually, Ho said, to give each product time to shine via pop-up events and online sales. The company is also currently negotiating a lease for a retail space in Chicago, where the hope to open a coffee shop within the first or second quarter of 2021.
Howard Bryman
Howard Bryman is the associate editor of Daily Coffee News by Roast Magazine. He is based in Portland, Oregon.