Like a moon-age daydream come true for cold brew fans thinking it ain't easy to wait 12-18 hours for a traditional batch, Ziggy has arrived.
A high-speed automatic cold brew coffee maker promised by high-tech home coffee equipment company Hiroia last year, the Ziggy is presently available to customers overseas with plans to reach the United States in early 2021, Hiroia Vice President Aaron Fujiki told Daily Coffee News.
Hiroia is a joint venture between Japanese manual coffee equipment maker Hario and Taiwanese manufacturer Wistron. The company's first product, an automatic brewer called Samantha, first rolled out in Taiwan in 2018.
The aluminum-bodied Ziggy machine, which weighs about 8 kilograms (a bit over 17 pounds), achieves faster cold-water coffee extraction by stirring a slurry of ground coffee and water in its BPA-free plastic upper chamber and allowing it to steep intermittently before drawing the liquid down with vacuum pressure through a paper filter and into a receptacle.
The company told Daily Coffee News its inspiration for the design of the machine comes not from stardust, but rather the rise and fall of coffee in a siphon brewer. Hiroia collaborated with 2016 World Brewers Cup Champion Tetsu Kasuya, whose siphon brewing technique of stirring the mixture of coffee and water as it steeps in the upper chamber motivated Hiroia to engineer Ziggy to do the same.
In the absence of heat, Ziggy keeps coffee suspended in a sealed upper chamber while mechanical pressure is used to draw the brew downward through the filter.
Ziggy also encourages users to adjust the particulars of stirring and steeping just as Kasuya tailors his process for each unique coffee. Though the machine can be operated through physical buttons on the unit itself, an associated Bluetooth-connected smartphone app allows users to program different brew ratios, alter the speed and duration of stirring and steeping periods, and select the strength of draw-down vacuum pressure. Users can also store and share recipes via the cloud.
"We have learned so much from Kasuya Tetsu in Japan," said Fujiki. "We just introduced Hiroia Ziggy at a Taiwan coffee show last month, and feedback from customers was much better than we expected. We made the first sample production of 80 units and sold out at the show."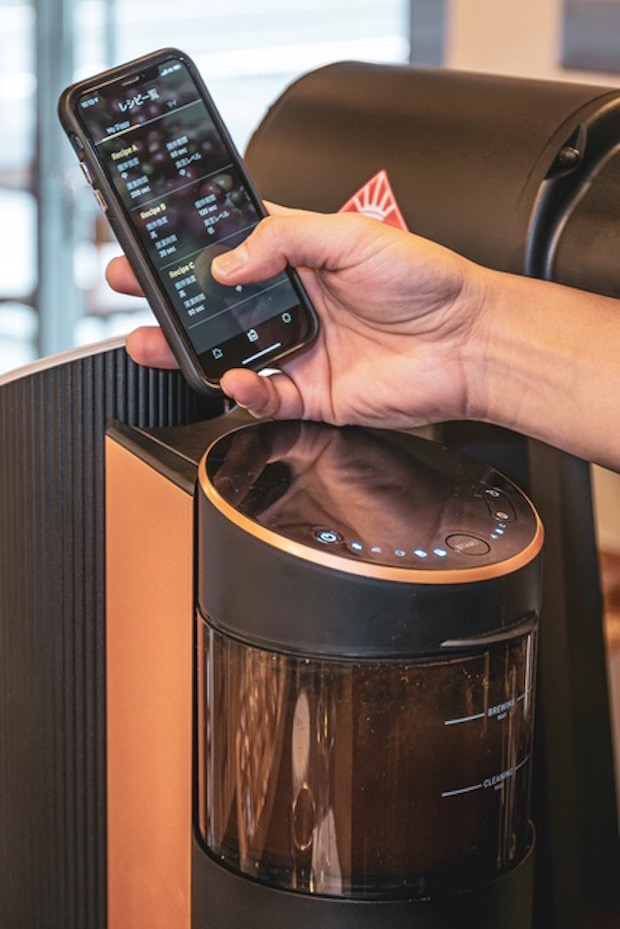 Fujiki said sample units are also on their way to the company's North American distributor this week, with the goal of launching in the U.S. in the first half of the new year. A pack of 100 of the machine's custom paper filters will be included with each machine. The retail price of a Ziggy machine is NT$59,900 (Roughly $2,100 USD as of this writing).
[Editor's note: This story has been updated. A previous version incorrectly named the  Taiwanese manufacturing partner, which is currently Wistron Corporation.]
Howard Bryman
Howard Bryman is the associate editor of Daily Coffee News by Roast Magazine. He is based in Portland, Oregon.