As coffee equipment companies emerge from a year of lost product launches and public marketing events, one company to watch on the specialty coffee equipment scene is the Italian manufacturer XLVI.
Based in the Adriatic beach city of Rimini and offering innovative technology with customizable machine designs, the company is expecting its espresso machines and related equipment to reach North American shores later in 2021 after distribution plans for 2020 were dashed by the COVID-19 pandemic.
XLVI's aesthetically customizable multi-group, multi-boiler espresso machines offer individual group water temperature and volumetric controls, and are available either with classic E61 or saturated group heads, yet they also offer a number of more unusual features.
On the 55 Volante model, steam wands feature timers and integrated temperature probes for monitoring milk temperature. For the company's professional Steamhammer machines and for its prosumer dual-boiler, single-group STH9, an optional filter coffee module involves an internal potentiometer facilitating a fresh and hot water mixture for a precise temperature of water delivered through a hose and nozzle for manual pourover to be performed on a brewing stand attached to the side of the machine.
XLVI's counter-mounted Indipendente and Pompabassa units are espresso and filter coffee brewers, respectively, that do not connect to under-counter boilers. Drawing fresh water either through direct connection to plumbing or through a portable system of pumps and fresh water containers, the counter-mounted saturated groups with integrated water heaters heat and dispense water on demand. Baristas can change pressure, flow and temperatures from one drink to the next, while the Pompabassa's deep conical filter presents a nontraditional approach to brewing in a variety of styles.
"Pompabassa extraction is a powerful, creative option for the operator who can create a perfect filter coffee, a great compromise between espresso and filtered coffee, or an alternative espresso with various aromatic facets," XLVI Export Manager Alberto Lazzari told Daily Coffee News. "The operator can decide to have only a dripped coffee, or set the pressure from 0-12 bars."
One of XLVI's first products was a nitrogen-pressurized whole-bean storage and display silo system called Azomico that, after dispensing a portion of whole beans on demand, can be manually re-flooded with nitrogen to a pressure of 2 bar.
"The nitrogen is put into the silos at a higher pressure than is created by the ejection of coffee gas and aromas," said Lazzari. "The silo's container is made to bear high pressures, so the gas cannot get out of the bean."
Though more tailored to European markets than to the United States, the XLVI Fornello Moka heaters and stations also present a unique offering. The system of heated platforms is designed specifically to support moka pots for traditional Italian "stovetop espresso" coffee-making in a commercial environment.
"We are a young company growing fast in the professional coffee machine field," said Lazzari. "Our mission is to innovate, build and develop professional coffee equipment to let all baristi be free, creative, and serve unique products."
Lazarro said that XLVI had planned to make a big North American launch in 2020, but that plan was derailed by the COVID-19 pandemic.
"We are really interested in the USA market, [although] at the moment we are doing just spot selling," said Lazarro. "At the beginning of the year [2020] we had a coffee fair in Rimini and we got many contacts about potential distributors, but then with COVID situation, we stopped any plan and at the moment we are in standby. The strategy is to first select a solid and strong partnership, [and then] to enter into the market in the second half of 2021, in hopes the situation is better."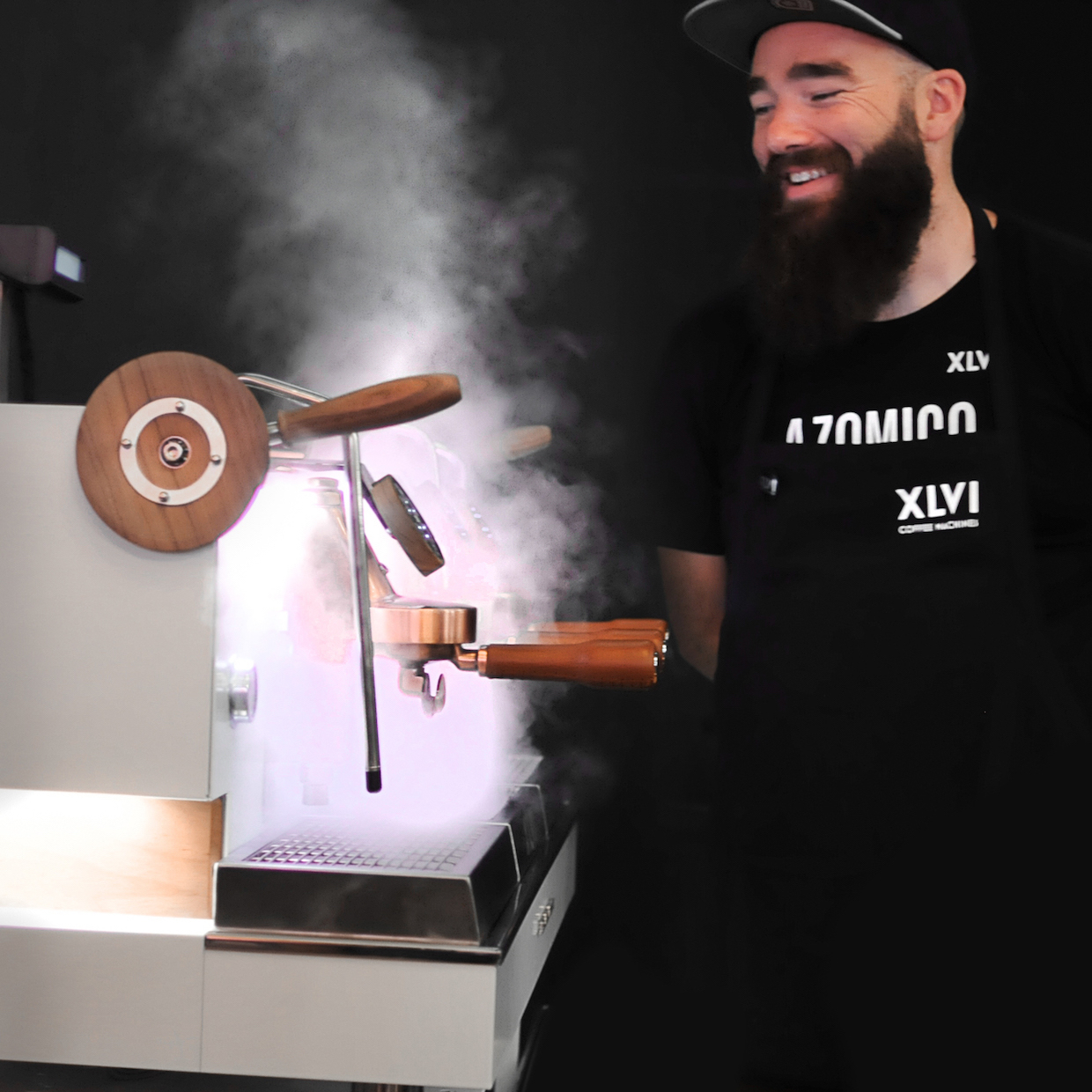 Howard Bryman
Howard Bryman is the associate editor of Daily Coffee News by Roast Magazine. He is based in Portland, Oregon.