Though retail businesses in the COVID-19 era are facing an uphill battle, Steep Brewing & Coffee Company has the benefit of launching near the top. The craft brewery and coffee roaster opened its doors earlier this winter in Keystone, Colorado, among the peaks in one of the highest elevation areas in the United States.
At 9,300 feet above sea level, the 3,000-square-foot facility opened a bit later than initially planned, though to a warm reception. With Keystone's population on the rise, and having now felt the demand, roaster and co-owner Justin Slezak said the Steep team already has its sights set towards expansion of both the roastery and the brewery.
Slezak personally applied the flames for the charred cedar finish for Steep's walls, which radiate warmth in the lodge-like atmosphere designed to appeal to locals as well as other visitors drawn to the area's outdoor sports.
"[It] took a bit of time, but well worth it," Slezak said of the fiery treatment. "We also made the counter bar out of reclaimed semi truck trailer decking. [I would] call it mountain industrial vibe."
Slezak also personally applies the heat to green coffees sourced through Olam and Coffee Bean Corral. These are in 4-pound batches in an electric Buckeye Coffee roaster.
"I learned on an 8-pound BC Roaster, along with roasting at home, [but] I decided to go with a 4-pound roaster so I can craft a bit more per roast," said Slezak. "Additionally, I roast many types of beans from all over the world, so Summit County can taste the many different varieties. The only drawback is I am roasting approximately five days a week."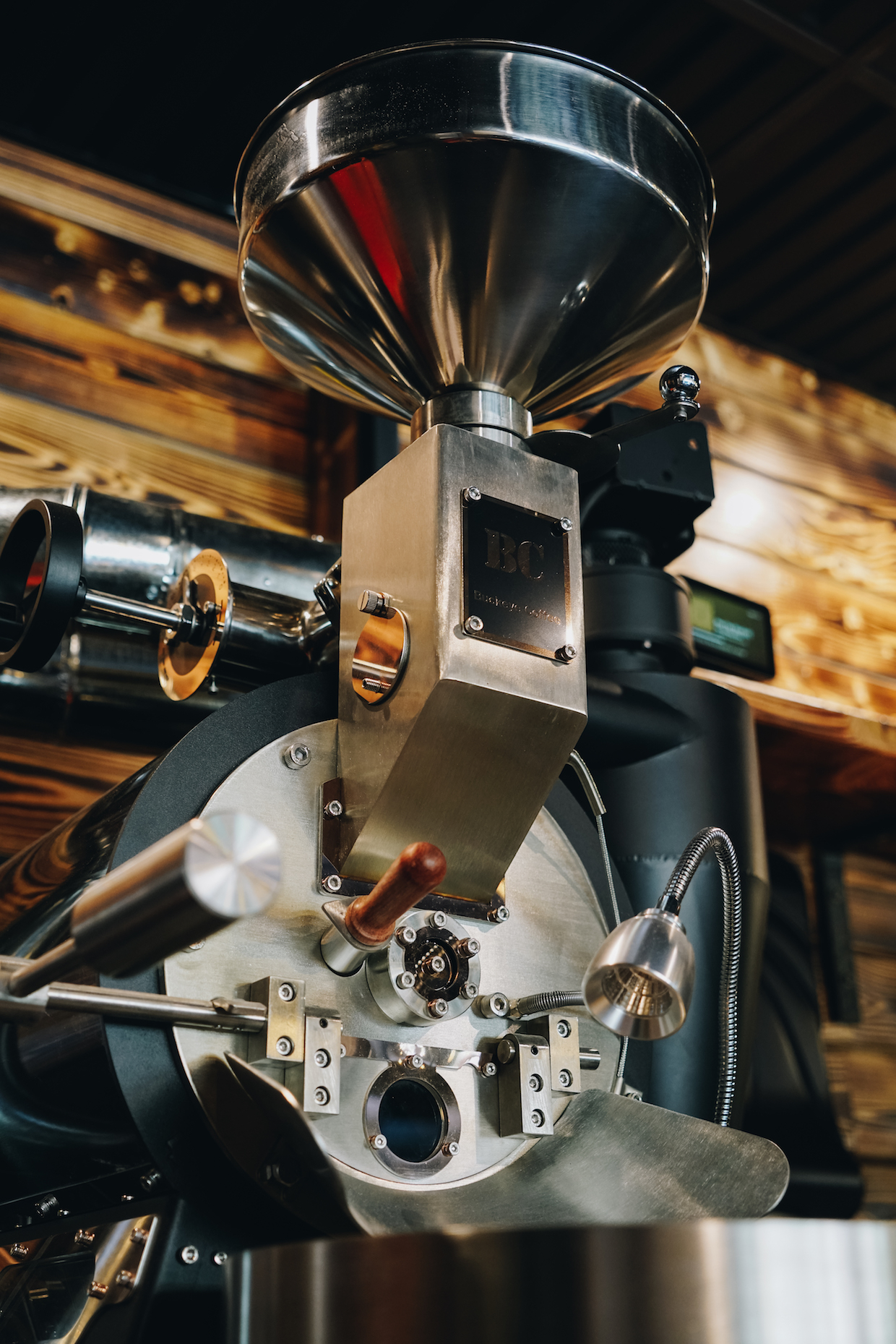 Customers and staff at Steep are all welcome to join in for cuppings and tastings before Slezak settles into a final profile for each coffee. The aim is to provide an enlightening and engaging experience that not only yields more popular products but also exposes folks to the various trails one could take to a bean's peak of flavor.
"Our goal is to go beyond the traditional darker roasts, and create a light roast all the way to a dark roast and anything in between," said Slezak. "Currently we are offering a traditional coffee menu along with hot and cold coffee drinks that have not been done before in Summit County, and trying to create something that the local or visitor has not seen."
The shop has six to eight taps behind the bar devoted to Steep's own beers — including some featuring Steep coffee — and one or two for guest beers, while one tap is also reserved for nitro cold brew. Steep is also experimenting with storing beans and beers in bourbon barrels.
As is appropriate for any uphill climb, Slezak said he and the team are taking things one small step at a time.
"We are doing ok at the 25% capacity, but hopeful to get to 50% capacity or greater soon," said Slezak. "Fingers crossed."
Steep Coffee & Brewing is now open at 23110 US Hwy 6 in Keystone, Colorado. 
Howard Bryman
Howard Bryman is the associate editor of Daily Coffee News by Roast Magazine. He is based in Portland, Oregon.