Joining the expanding category of home coffee brewers designed to pair quality with convenience, a new single-serve pod brewing system called Bruvi has attracted $2.2 million in seed funding as it heads towards a nationwide launch later this year.
Bruvi's proprietary pods, called B-pods, will contain 16 grams of freshly roasted, pre-ground coffee, an amount Bruvi claims is 40% more than what's contained by other pods on the market. The coffees are hermetically sealed with less then 2% oxygen, according to the company, which plans to begin nationwide preorders of the brewing system in June.
The WiFi-connected, touchscreen or app-controlled Bruvi machine is designed to meet SCA Golden Cup standards for TDS and flavor extraction through precise and stable water temperature and a pre-infusion phase. Users can adjust some brew settings, though the Bruvi system comes loaded with pre-programmed recipes.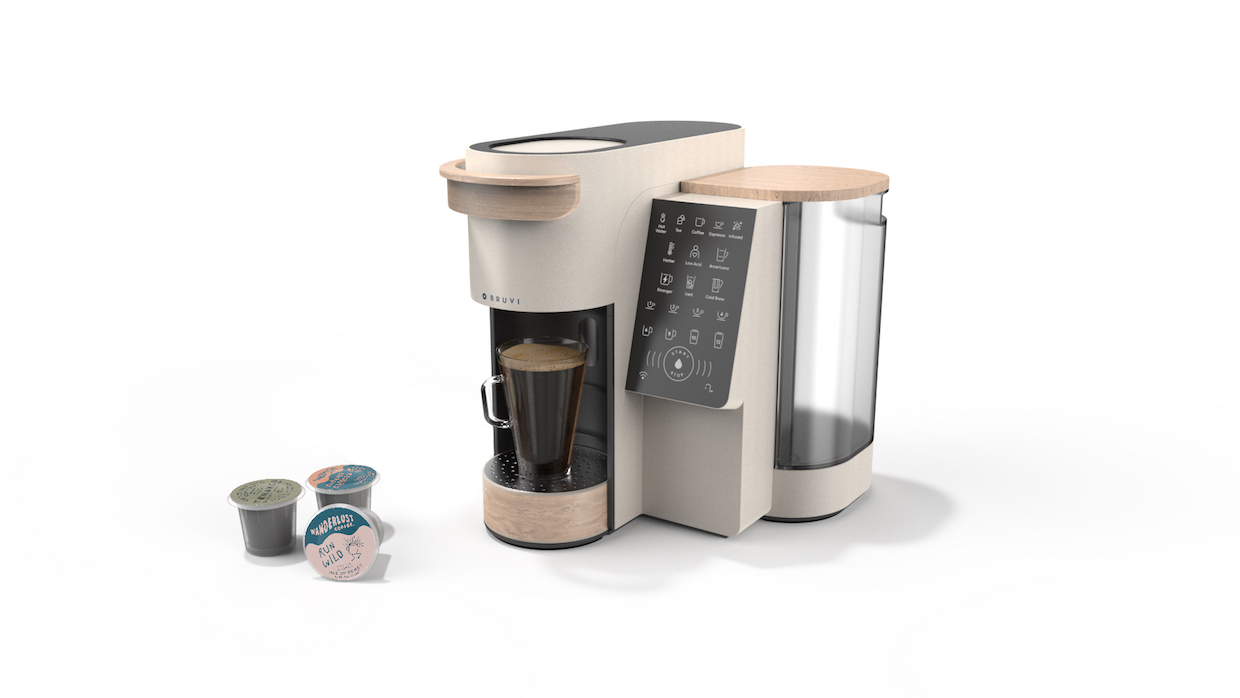 "Using the electronic tongue for sensory evaluation, we are able to measure the specific properties of our coffee to ensure we achieve that goal and support our promise of noticeably tastier coffee," Bruvi Co-Founder and former Coffee Bean & Tea Leaf President and CEO Mel Elias recently told Daily Coffee News. "We would love for our brewer to be certified by the SCA, but they do not yet do so for single-serve brewers. We'd be first in line for that."
A code on the lid of each pod is scanned by the machine once the pod is shut in. Users can opt for one-touch operation, or navigate additional options such as drink size, "strength," acidity, or for drinks to be extra hot.
"Currently, we conduct extensive testing and cupping of each coffee to determine the optimal brew parameters and establish the 'brewing recipe,' which is then translated to the individual pod code," said Elias. "We will do the same with every licensed brand partner, in consultation with their teams."
Unlike in other pod brewers, brewing in the Bruvi occurs entirely within the pod, eliminating contact with the machine's plastic or other mechanical surfaces, which the company said helps keep the machine clean while also avoiding flavor contamination from one coffee to the next.
With more than two decades of coffee industry experience, Elias said that the recyclable and "landfill friendly" B-pods are made of a polypropylene (PP#5) plastic that has been infused with an organic enzyme to cause biodegradability.
Said Elias, "To address the very real issue of plastic waste, we engineered them to be both recyclable and to be organically digested in a landfill so they can be converted into energy, without leaving microplastics behind."
A test website currently features pods from house brands Wanderlust Coffee and Mulholland Roasters, along with the Bruvi itself. The Bruvi system and the house brands are wholly owned by DivergentIP, a California-based product development firm founded by Elias and Bruvi Co-Founder Sung Oh, an engineer and former patent attorney.
Elias said Bruvi may soon be announcing a co-packing agreement for the roasting and packing of its own capsules in a facility in L.A., while conversations with several independent roasters for additional pod products are underway.
"Our plans are to launch with at least three licensed coffee partner brands and expand rapidly and widely from there," said Elias. "The level of interest and excitement we have received from a variety of licensed partners, roasters and brands has been very exciting."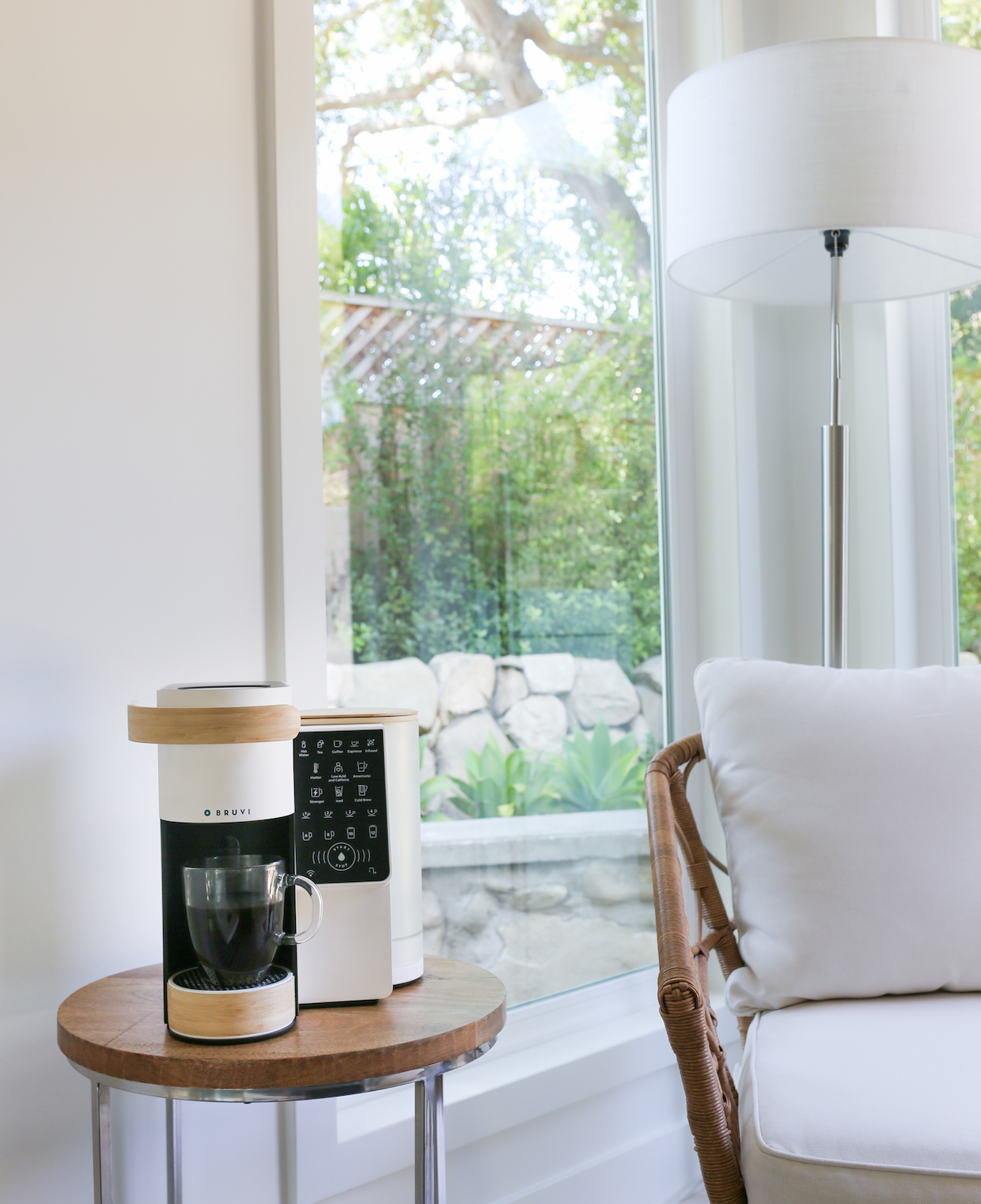 Q Grader David Pohl is helping to lead Bruvi's team of coffee professionals on a consulting basis, while John Carnahan, a former barista and educator at Atlanta's Docent Coffee, is Bruvi's coffee operations manager. Coffee scientist Joseph Rivera of Coffee Chemistry is also on Bruvi's board of advisors.
Elias said the company is planning accessory products such as a milk frother, while potentially expanding into the "functional" category of coffee, tea and other drinks for B-pod brews.
"The upside potential for single-serve coffee in the US is huge," said Elias. "It's already a $6+ billion industry with little innovation over the past 20 years. Consumers value the convenience but have had to compromise on taste and quality, as well as sustainability. Bruvi addresses those needs."
Howard Bryman
Howard Bryman is the associate editor of Daily Coffee News by Roast Magazine. He is based in Portland, Oregon.