Nine coffee roasting companies from throughout the Land of 10,000 Lakes have formed Minnesota Roasted, a collaborative fundraising effort to support the regional service industry.
Each of the nine companies is applying its own approach to a single green Colombian specialty coffee and then donating 100% of proceeds from that roast to The North Stands, a nonprofit that was created last March to deliver stipends for hospitality workers who have lost wages due to the COVID-19-pandemic.
The nine companies are Folly Coffee, Mill City Roasters, Misfit Coffee, Northern Coffeeworks, Spyhouse Coffee, Up Coffee Roasters, Wesley Andrews, and Wildflyer, all based in and around Minneapolis, plus Duluth's City Girl Coffee.
That coffee lot being roasted comprises a mixture of Castillo, Caturra and Colombia variety beans grown by smallholder farmers in Nariño, Colombia, and imported by Minneapolis' own Cafe Imports, which described the region-indicative blend as exhibiting "cocoa and coffee cherry flavors with winey fruit acidity and a heavy mouthfeel."
Folly Coffee Head Roaster Jeff Mooney conceived of the project, and selected the coffee. Each roaster is free to approach the bean however they see fit, and it will be priced at $15, with the same packaging across all roasters, with only a sticker or other addition to signify which company roasted it and on what date.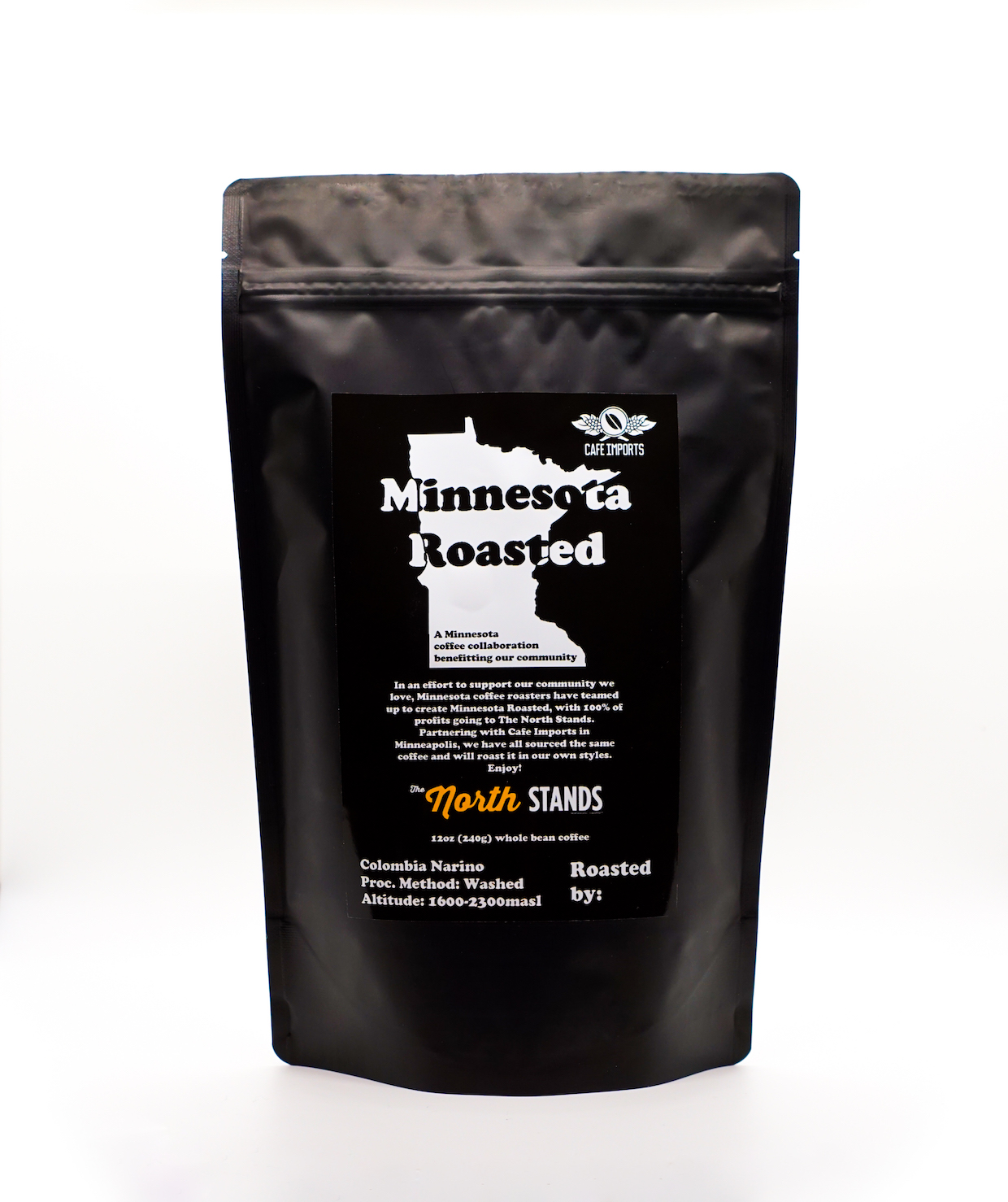 "It will be a fun opportunity for coffee drinkers to try different approaches to the exact same lot of coffee," Folly Coffee Founder Rob Bathe told Daily Coffee News. "This particular coffee was chosen because it has complexity and a bright acidity. Acidity is an interesting component of specialty coffee that different roasters approach very differently, making it a great coffee to showcase different roasting methodology between the nine roasters participating."
Bathe said that while the group considered also offering smaller bags to encourage comparisons between different roasters, ultimately it stuck with more standard 12-ounce bags to keep costs down and maximize the dollars per purchase to reach The North Stands, which was established last March as hospitality and restaurant workers began losing jobs and hours en masse throughout the area.
A total of eight 70-kilo bags of the green coffee — about 1,234 pounds unroasted — have been split between the nine companies. Pre-sales of 12-ounce whole bean bags began this on Monday, Jan. 25. Each company's output of Minnesota Roasted is sold either online or in their cafes, while supplies last.
Said Bathe on Monday, "We are thrilled with the launch today, and this will be a fantastic way to keep momentum going for a great cause."
Howard Bryman
Howard Bryman is the associate editor of Daily Coffee News by Roast Magazine. He is based in Portland, Oregon.