Two years after relocating its headquarters into a three-story, 11,000-square-foot former bank building on a busy corner in Oakland, California, Red Bay Coffee Roasters this month celebrated the opening of a spacious and sun-filled retail coffee bar and kitchen that greets the public on the ground floor.
Designed mostly by Red Bay Co-Founder and Chief of Brand Rachel Konte, the vast space features a long bar bathed in natural light from two-story-tall windows. The top surface of the vertical-wood-striped bar is deep burgundy linoleum, selected by Konte for its color, texture, durability and warmth, as opposed to a higher-maintenance wooden work surface or colder stone or metal.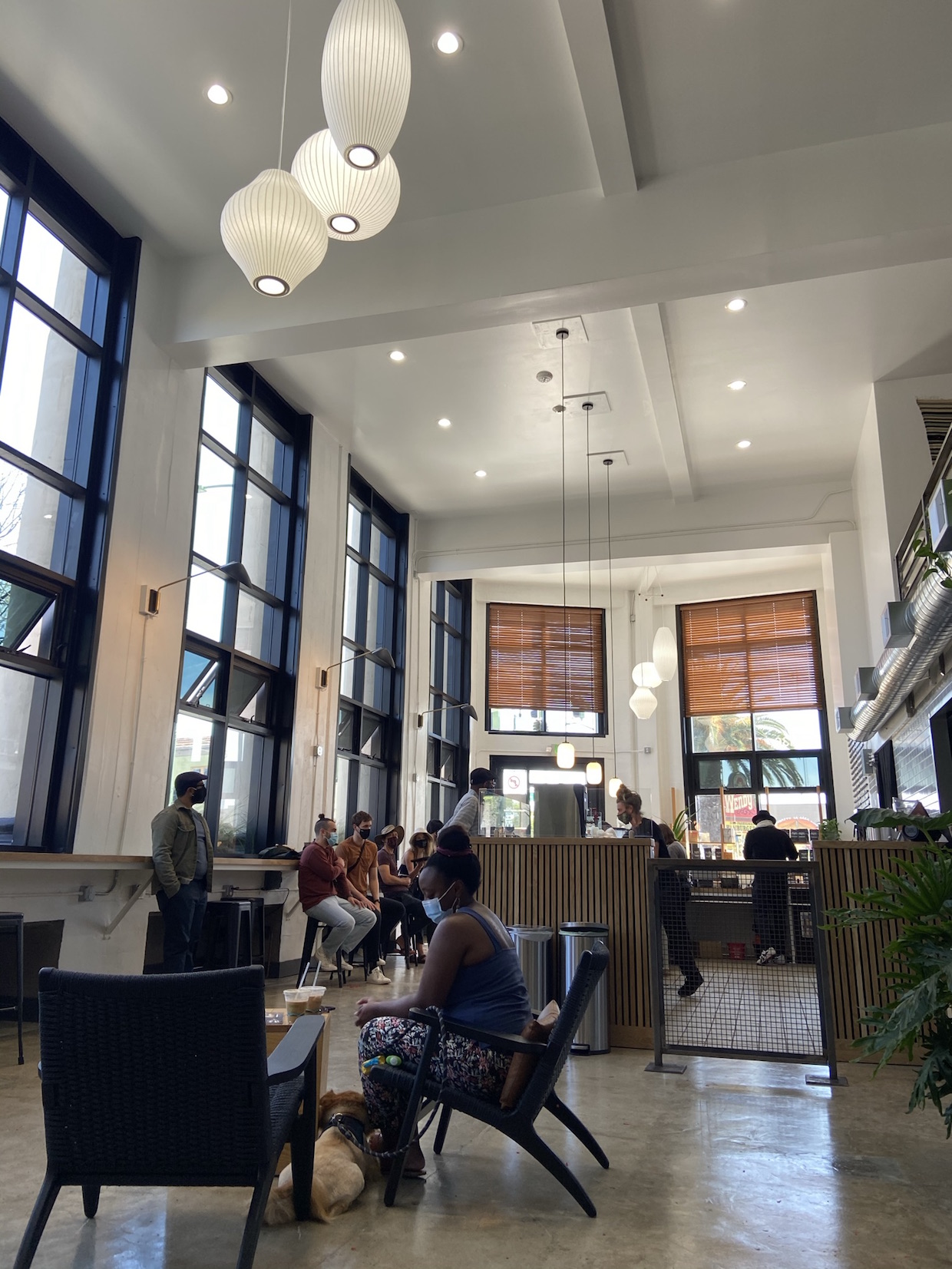 "This gives a familiar 1970's throwback feeling and warms up this awesome, big space," Rachel Konte recently told Daily Coffe News. "A lot of my inspiration is coming from my own childhood and background as a Black Afro-Danish born designer. I was intentional about mixing the grandeur of the building's super high ceilings and tall windows that reach all the way to our second-floor mezzanine by choosing the few statement pieces in our space carefully."
The statement pieces include a group of large George Nelson-style bubble lamps that provide soft, floating light enjoyable both the cafe as well as the second floor mezzanine. The spacious seating area includes lounge chairs from Danish furniture design icon Hans J. Wegner and locally handmade box tables.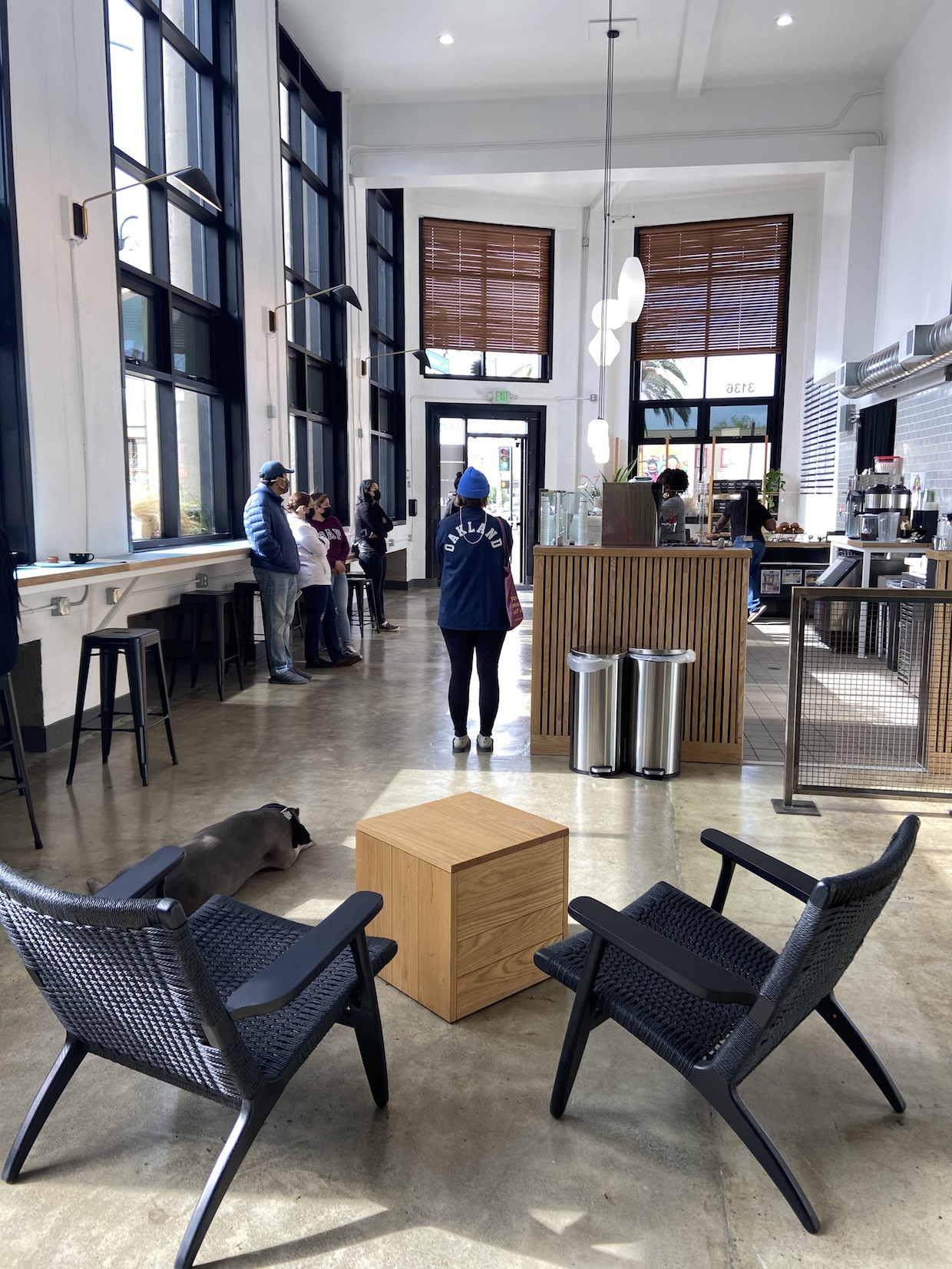 Said Konte, "I am trying to avoid the traditional cafe tables, and focusing mostly on having people relax and have conversations in our beautiful lounge chairs or sitting along the window bar area where they can work on their computers. "
Beneath leafy, dangling vines and by the broad fronds of potted ferns, a 2-group Sanremo Opera espresso machine has each group programmed for an individual espresso. A four-cone manual pourover station made of recycled wood and rebar was hand-built by Red Bay co-founder and Rachel's husband Keba Konte, and from the kitchen a variety of fresh savory vegetarian empanada-like African hand pies will soon be available.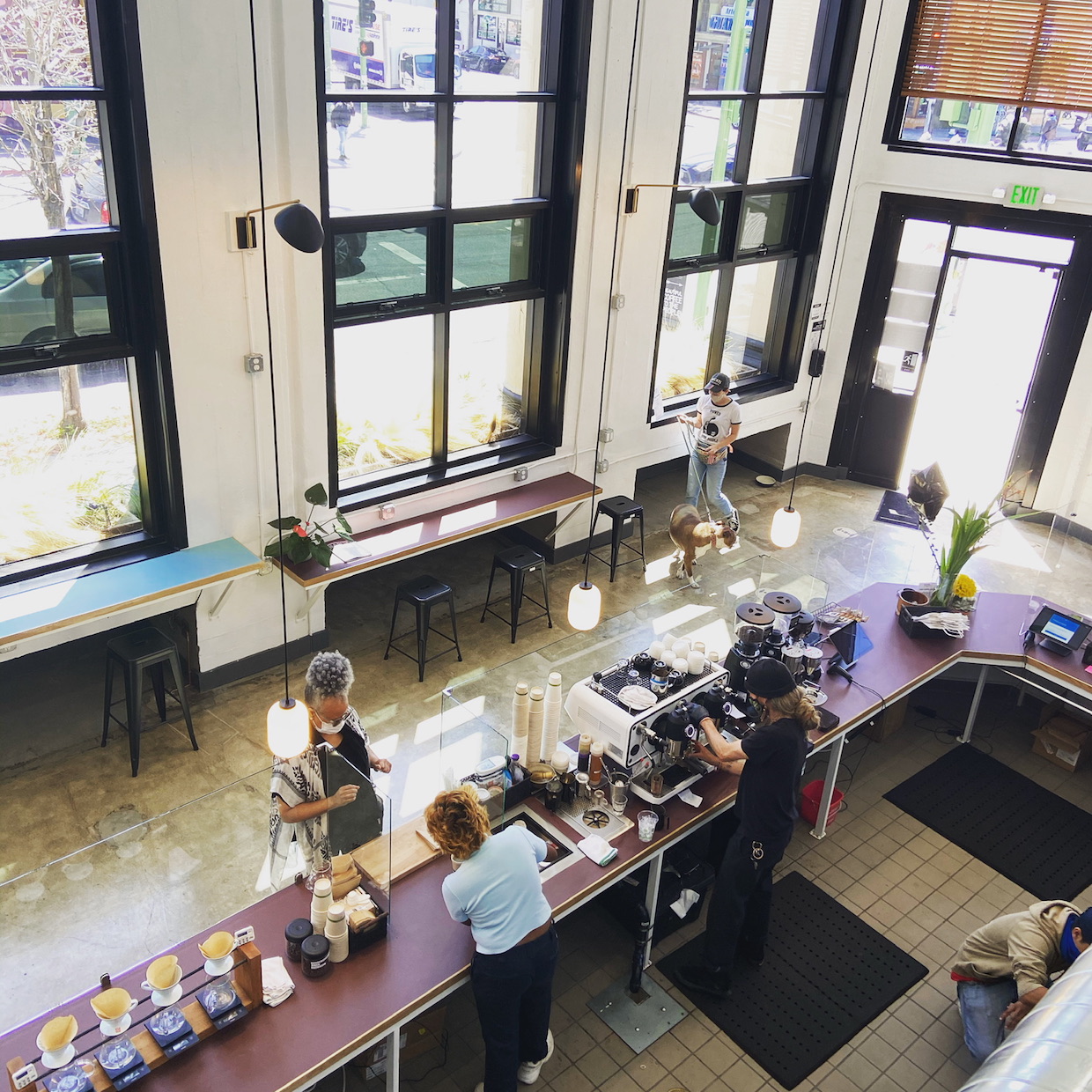 "We've had shipping containers converted, we've had vans, we've had coffee spaces and collaborations, but this is the first space where we could really build a proper coffee bar, with all the space that it deserves," Keba Konte told DCN. "It's modern, it's warm, it's absolutely beautiful and a pleasure to be in."
In-person events such as latte art throw-downs and other gatherings will be hosted when those become possible again in a post-pandemic world. Upstairs from the hustle and bustle, quieter business continues in offices dedicated to Red Bay operations and inside a studio space for shooting the company's online video content.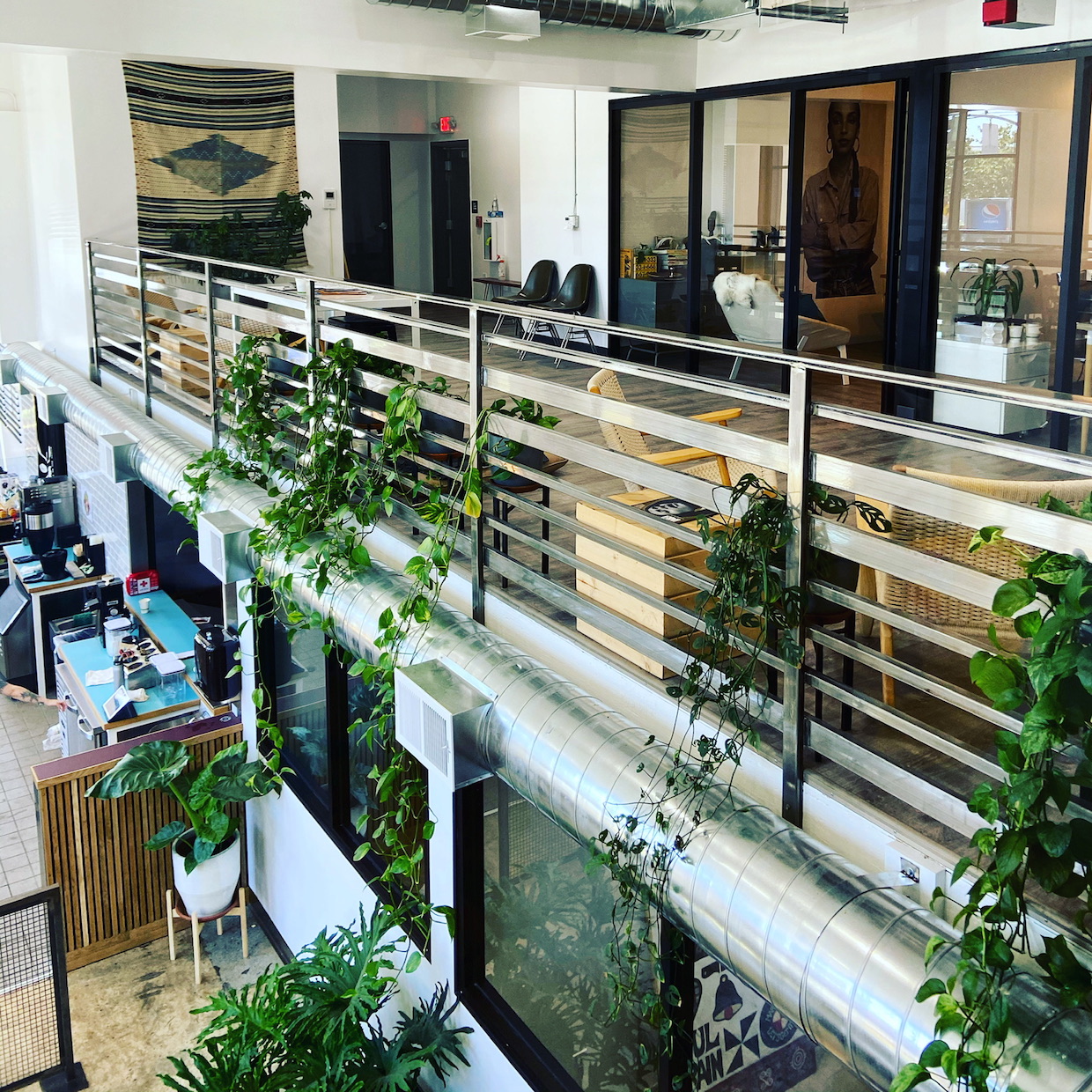 On the third floor is another 4,000-square-foot space, plans for which have not yet been announced, although Red Bay said it will involve community development partnerships.
For now, the business is celebrating its long-in-the-making flagship cafe opening, which has transformed for good the building that previously housed a predatory check cashing business and a 99-cent store.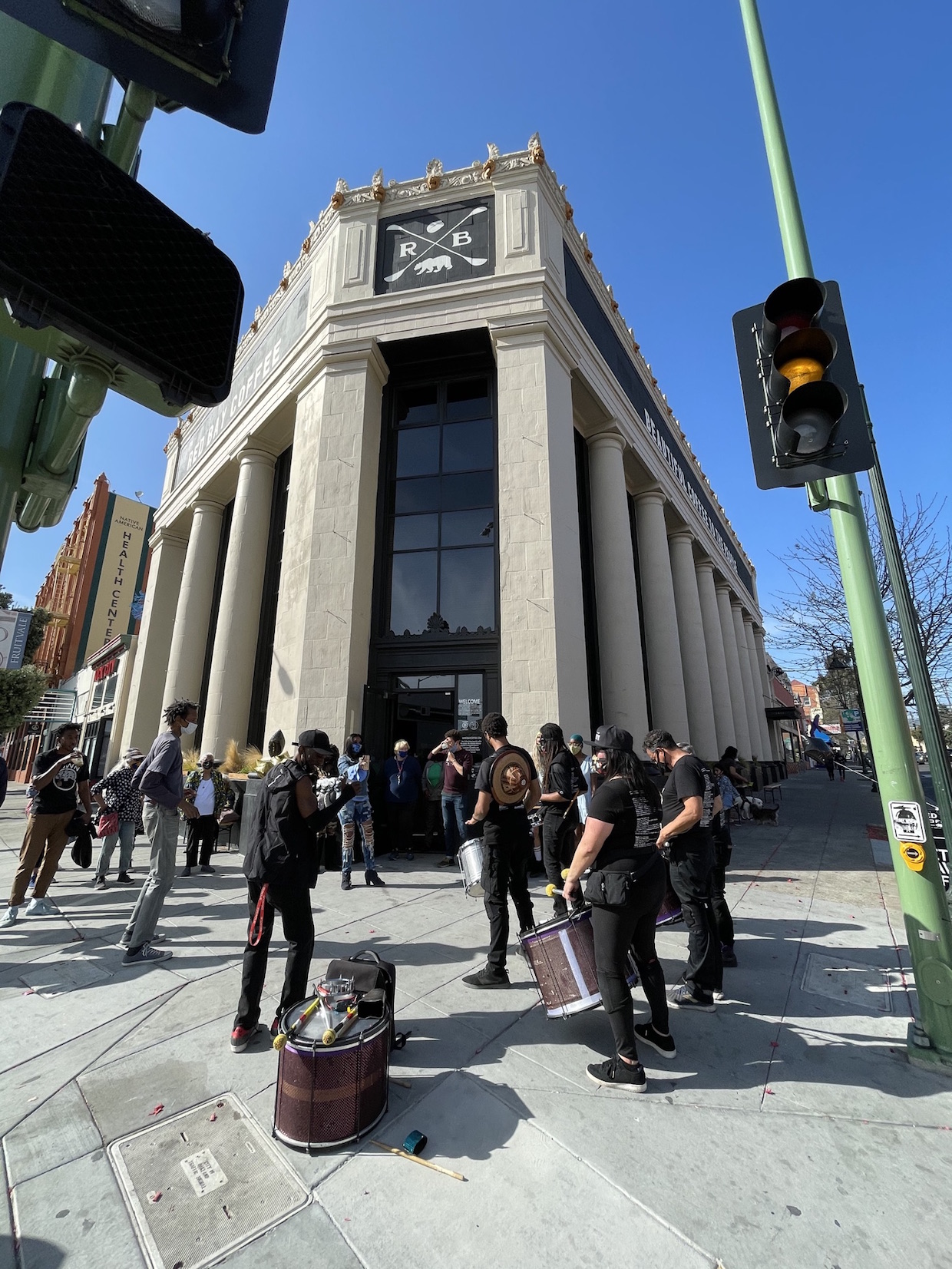 The community-driven company hosted a series of live music and dance performances for its grand opening celebration throughout last week that paid tribute to the cultural diversity of the neighborhood. Performances included Chinese lion dancers from the nearby Hung Sing Martial Arts Academy, the mariachi band Strella, and Afro-Brazilian drum troupe Samba Funk.
"It's definitely something to celebrate," Keba Konte said. "It gives what this very stately building deserves. It's such an iconic corner in East Oakland, and it just deserves this level of engagement and purpose."
The cafe is the company's sixth retail location to open to date, though two of its other shops remain closed due to COVID-19.
Meanwhile, expansion is underway at the Red Bay roasting facility, where the company is in the final stages of transitioning from its Probat UG-22 roaster into a vintage 1950s-era Probat G90.
That installation will more than quadruple the company's roasting capacity as it continues to grow its wholesale business. The roastery will also supply Red Bay's upcoming second cafe in San Francisco, in a high-traffic space inside the Ferry Building that was formerly occupied by Peet's Coffee. That shop is expected to open next month.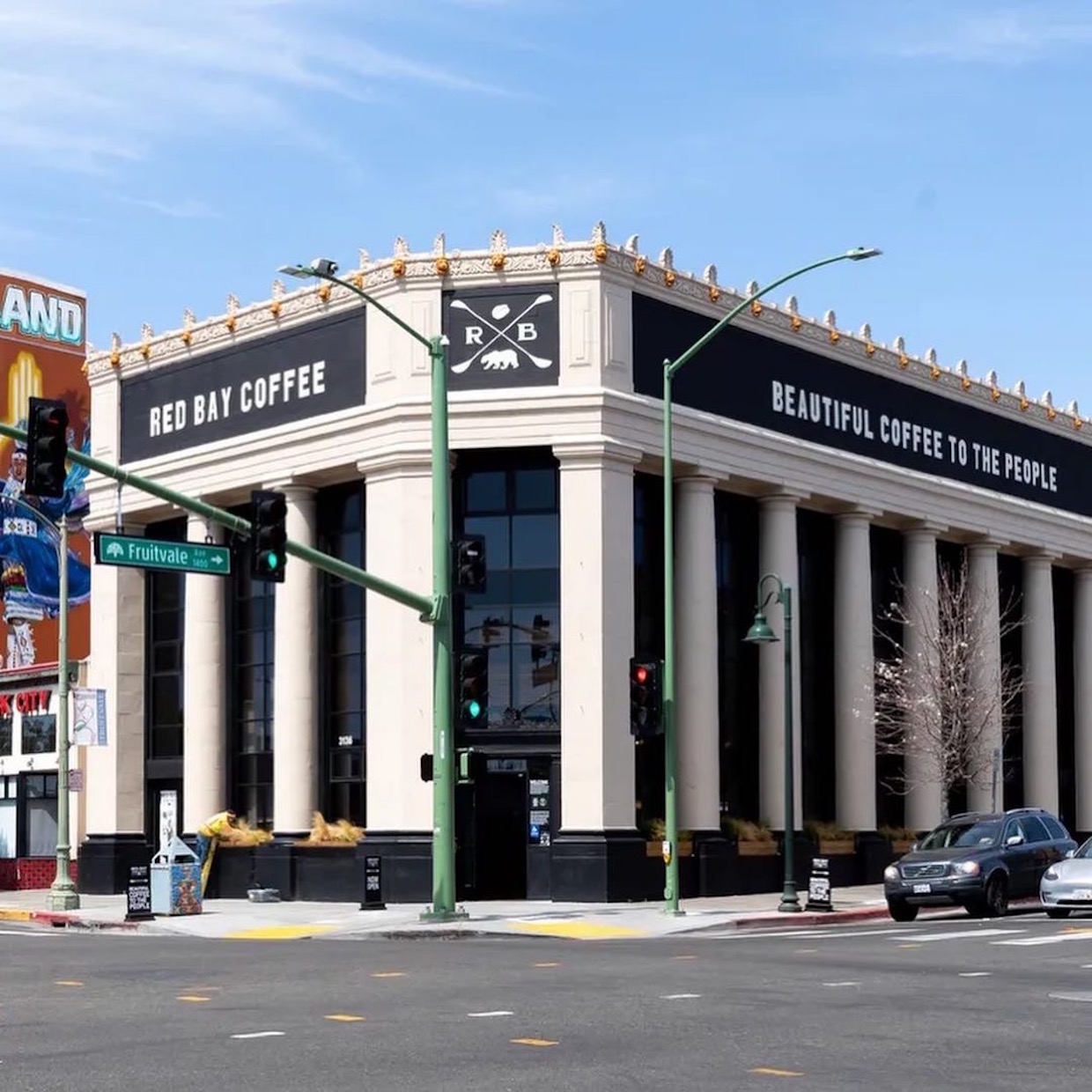 Red Bay Coffee Roasters Headquarters & Cafe is now open at 3136 International Blvd in Oakland. 
Howard Bryman
Howard Bryman is the associate editor of Daily Coffee News by Roast Magazine. He is based in Portland, Oregon.