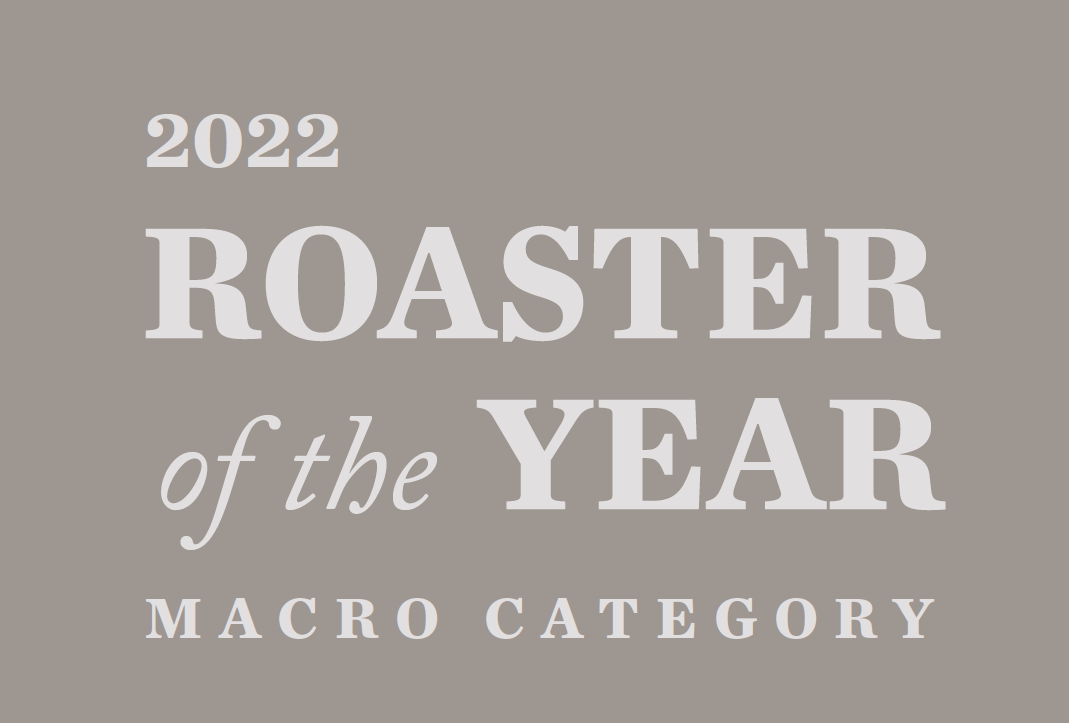 The three finalists for Roast magazine's 18th Annual Roaster of the Year awards have been announced in the Macro Roaster category. Winners for each category will be announced on Monday, Oct. 18.
Roast recognizes winners from two categories: Micro Roaster of the Year, for companies roasting fewer than 100,000 pounds of coffee each year; and Macro Roaster of the Year, for companies roasting more than 100,000 pounds annually.
The three finalists in the Macro Roaster category are listed below in no particular order, with information obtained from the company's award application. [Click here to view the 2022 Micro Roaster of the Year finalists.]
The Roaster of the Year awards recognize companies that roast coffees of superior quality, exemplify a dedication to sustainability, promote employee and community education, demonstrate strong involvement in the coffee industry, and a commitment to diversity, inclusion and equity, among other criteria. To view the application and criteria, click here.
Macro Roaster of the Year Finalists
Dean's Beans Organic Coffee
Founded in 1993 by Dean Cycon, Dean's Beans Organic Coffee is a certified B Corporation with a mission to use high-quality specialty coffee as a vehicle for positive change. With 16 employees, Dean's Beans operates a roasting facility in Orange, Massachusetts. The company roasted a total of 342,000 pounds over the past year, and is on track to roast 600,000 pounds this year.
The company's approach to change making, according to its Roaster of the Year application, focuses on the real needs of communities for the necessities of life—food, clean water, health care, education, income generation—by designing and funding grassroots development projects in coffee growing communities where it buys its beans. This "people-centered development" allows Dean's Beans to capitalize on its trade partnerships to directly address issues often disrupted by conventional development aid.
Huckleberry Roasters
Koan Goedman and Jason Farrar, co-owners of Huckleberry Roasters, lead a team of 39 full-time and part-time employees at the company's two retail locations and roasting headquarters in Denver, which has produced 240,000 pounds of roasted coffee over the past year. Huckleberry was established in 2011 with a foundational belief that business should build a local and global sense of collective culture and community.
The company seeks to "make coffee approachable, enjoyable and rewarding for everyone on its journey from farm to cup," according to its Roaster of the Year application. At the same time, Huckleberry recognizes that specialty coffee remains intimidating for many coffee drinkers, and thus seeks to demystify coffee and provide a welcoming space for all those who walk through the door at one of their retail locations.
Mr. Espresso
Oakland, California-based coffee roasting company Mr. Espresso, founded in 1978 by Carlo Di Ruocco, is a family-owned company run by Di Ruocco, his wife Marie Francoise and his children, with 28 employees. Mr. Espresso offers a unique approach to roasting, acting as a "guardian of the wisdom and the craftsmanship of wood roasting — with an open mind to discern and welcome innovations and discoveries that help us improve with integrity," according to the company's Roaster of the Year application.
Mr. Espresso, which has roasted over 400,000 pounds of coffee so far this year, has a mission is to keep Italy's espresso tradition relevant within America's evolving coffee culture, and to improve upon it through a focus on quality, sustainability, traceability and relationships.