The "ugly food" movement has come to coffee. A UK startup called Odd Coffee Company is commodifying roasted coffee that might otherwise be discarded or donated, repackaging it in pods and bags for sale direct to consumers.
Sourcing from numerous roasting companies, the London-based company is collecting coffee products that came from production overages or have packaging blemishes before repackaging them for sale in 100-packs of pre-ground Nespresso-compatible pods, or in bagged form.
"Thousands of tons of coffee pods are discarded each year, either because it is surplus or has minor imperfections that don't impact the quality or taste," Odd Coffee Co-Founders Laurence Stevens and Harrison Dark told Daily Coffee News via email. "Not only was this a gap in the market and an excellent business opportunity, but we could also help to make a change and improve the sustainability of the industry."
Childhood friends in South East London, Stevens and Dark are the entrepreneurs behind the local chain barbecue restaurant and cured beef specialist Salt Shed.
Odd Coffee, which was conceptualized and initiated during the pandemic, now claims to have achieved a six-figure income within its first eight months.
Stevens and Dark told DCN the brunt of their company's "raw material," as it were, comes from companies large and small faced with product unsellable due to aesthetic issues like dents or scratches on pods or boxes, or built-in production overages roasted as a contingency plan and then routinely laid to waste.
"The mission of the Odd Coffee Company is to purchase the surplus from the roaster for a fair price, repackage it, then sell it for a fraction of the normal price," the duo told DCN. "The coffee isn't off the roast long at all by the time it enters an Odd Coffee package. Any spare coffee for the Odd Coffee Company is bagged up at the same time as the coffee made for the retail store. It's delivered to us to [on] almost the same timescale as the roaster's end retail client, so the consumer isn't having coffee that's been in packaging longer."
---
Related Reading
---
The Odd Coffee model in many ways resembles the "ugly food" movement model used by subscription purveyors such as Misfit Markets, Imperfect Foods or London's own Oddbox.
All of those brands, which offer repackaged, often aesthetically imperfect food at a discount from normal prices, have been lauded for potentially reducing food waste. At the same time, the movement has been challenged on ethical terms for seeking profit through the very broken food systems that promote excessive waste, while still resulting in food access inequality.
While not putting forth a nutritional staple, per se, Odd Coffee is pitching the potential environmental benefits of salvaging coffee products. The company also encourages customers to recycle its 100% aluminum capsules; it only sources roasted coffee products that bear pro-environment certification marks; and it will not do business with any company that utilizes plastic pods.
"We do recognize that there are more sustainable ways to drink coffee than from a pod; however, the convenience of a coffee pod for consumers is a growing trend and is something that isn't going to disappear soon," Stevens and Dark said. "Therefore, we want to provide consumers with a more sustainable way of drinking pods and act as a tool for them to reduce their carbon footprint. Looking towards the future, our aim is to create our own home-recycler for the pods, which would store the aluminum pods at home and crush them, ready for recycling bags."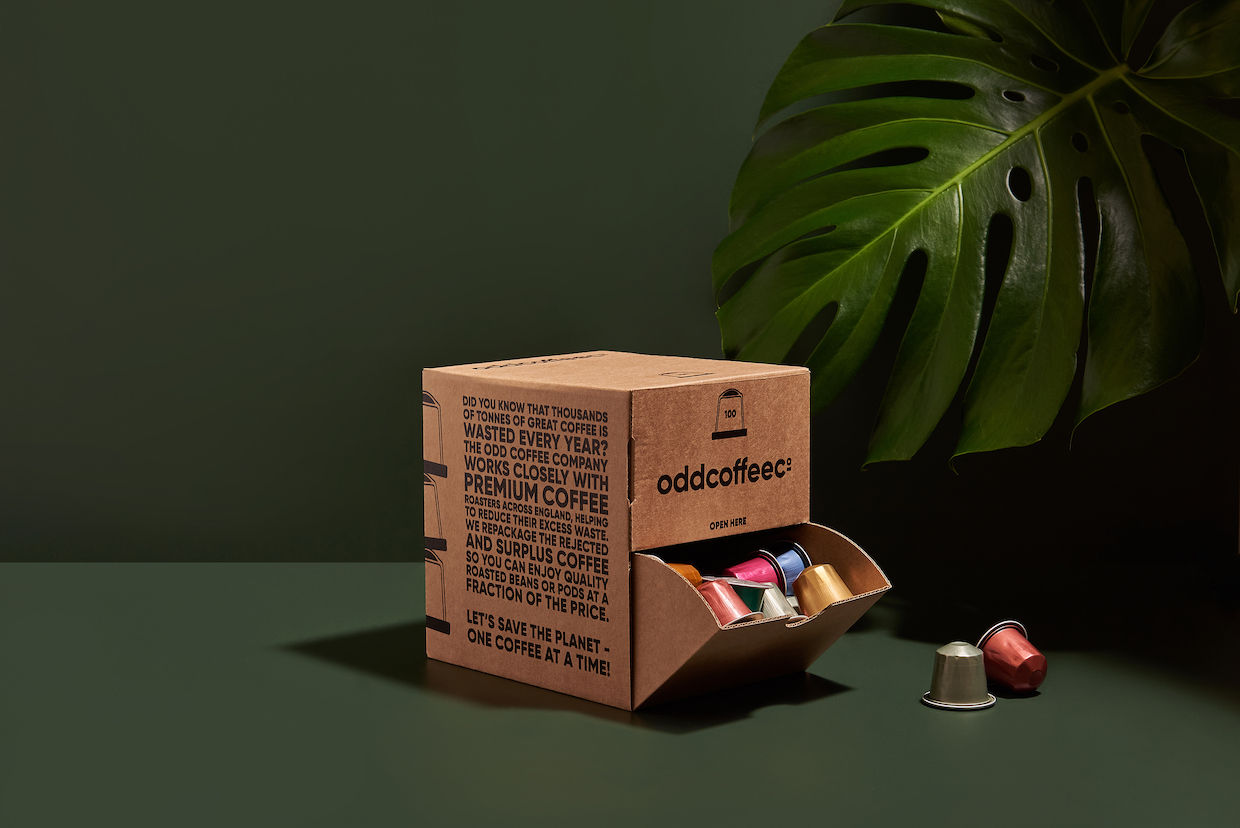 The owners said Odd Coffee may soon develop additional products using salvaged coffees, such as RTD coffee drinks and coffee-flavored ice cream. Operational expansion into additional regions in Europe and someday the United States is also part of the longer-term vision.
"There are so many avenues for us to explore, whether it's new product development, retail outlets or international expansion," said Stevens and Dark, "We're open to every single opportunity."
Howard Bryman
Howard Bryman is the associate editor of Daily Coffee News by Roast Magazine. He is based in Portland, Oregon.