While persimmons won't typically ripen on the tree until autumn or winter, Philadelphia's Persimmon Coffee is ready to serve this summer with the opening of its first brick and mortar cafe.
Continuing a coffee program that involves roasting and serving a single carefully selected, high-quality coffee each month, the company now serves its drinks in handle-free custom ceramics made by Domenic Frunzi Ceramics inside a bright, 350-square-foot space in Fishtown with bench seating for five.
Persimmon Coffee Co-Owner and Creative Director Chaereen Pak worked with Philly-based Leeward Furniture for construction of the cafe's solid white oak bench, shelving and bar, with the latter supporting a La Marzocco Linea Mini espresso machine paired with a Mahlkönig K30 grinder. A Mahlkönig Guatemala also grinds for batch brews made in a Curtis G4 ThermoPro brewer.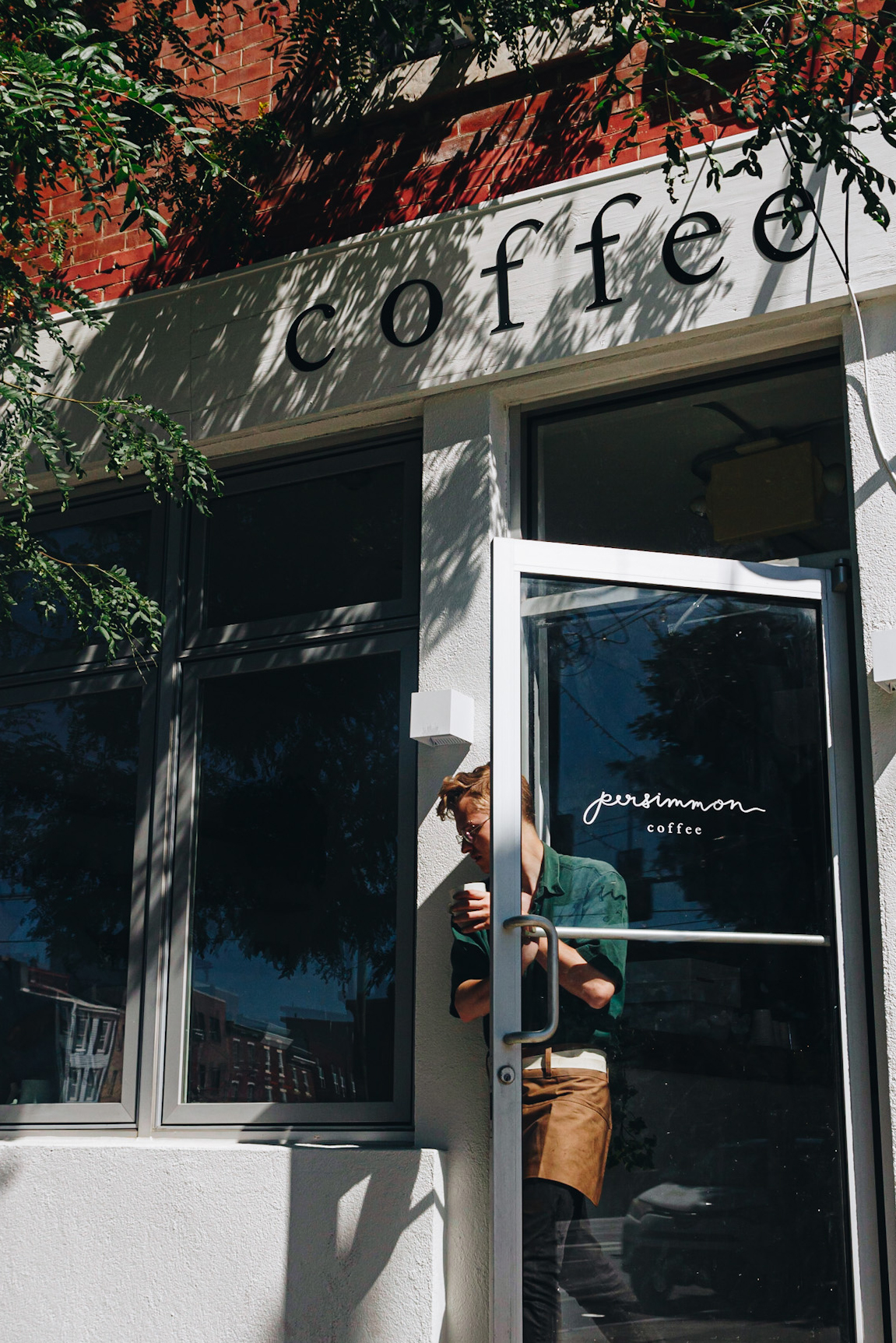 "From the beginning, it was important for us to work with local, Philly-based artisans," Co-Owner Kai Talim told DCN. "Both Chaereen and [Persimmon Coffee Director of Coffee Sawyer Beckley] loved the idea of handleless wares for our customers to drink out of. It reflects Persimmon's Asian heritage, harkening back to traditional handleless tea cups from those cultures while requiring a level of intentionality with every sip."
Persimmon is also serving tea by Hibiki-an and Rishi, laminated pastries by Bloomsday Cafe, and will soon introduce affogatos using Weckerly's Ice Cream made right next door.
---
Related Reading
---
Pak's approach to designing Persimmon's permanent home was inspired by coffee shops and stands in Seoul and Tokyo that utilize abundant natural light for simple beauty in compact spaces. Potted greenery from local plant shop Stump is used to enliven the environment.
The shop gives permanence to the experience the company has honed through collaborative retail pop-ups since early last year.
"What's so great about pop-ups is that it's really a win-win situation," Pak told DCN. "For us, it was a way to spread the word, get the chance to meet customers face to face and experiment with coffee service before truly solidifying our foundation. For the storefronts, it was a way to attract more foot traffic, foster new partnerships, and also experiment in ways that they might not have been able to by themselves with their own businesses."
Pak said Persimmon has found it especially rewarding to partner and build friendships within the community of Asian American-owned small businesses in Philly. Pop-ups will remain integral to Persimmon's brand and business model, as will its emphasis on inclusivity.
"The Asian American identity is a unique identity in which the idea of 'belonging' is often difficult to feel or even understand, where both in our home country and in the States, we are perceived as the other," said Pak. "That is why inclusivity is central to our brand. We want to welcome everyone — those who are coffee fanatics, those who don't know a thing about coffee, those who may smile and feel a sense of pride when they see the word persimmon, those who have absolutely no idea what a persimmon is."
---
Persimmon Coffee is located at 11 W Girard Ave in Philadelphia. Tell DCN's editors about your new coffee shop or roastery here.
Howard Bryman
Howard Bryman is the associate editor of Daily Coffee News by Roast Magazine. He is based in Portland, Oregon.