With an influx of capital, brand ambassadorship and an impressive roster of participating roasters, a new pod-based, bean-to-cup coffee brewing system called the xBloom is heading to the consumer market.
TBDx, the San Francisco Bay Area-based company behind the xBloom, raised $15 million in a seed funding from a group of Chinese investors last month. The xBloom has also launched on Kickstarter, raising more than $250,000 with over a month remaining in the campaign, as of this writing.
The innovative machine is composed of a grinder and a hot water spout along with cloud-connected self-adjustment sensors, motors and software. It touts an all-in-one, automated equipment experience, similar to the Gevi 4-in-1 Smart Pour-over Coffee Machine that launched last year, although with even fewer manual steps required.
In terms of user experience, the machine is more akin to existing single-serve, single-use pod machines, although it uses fresh whole bean coffee from specialty coffee roasters that is brewed in a 100% biodegradable single-use filter-lined pod called the xPod.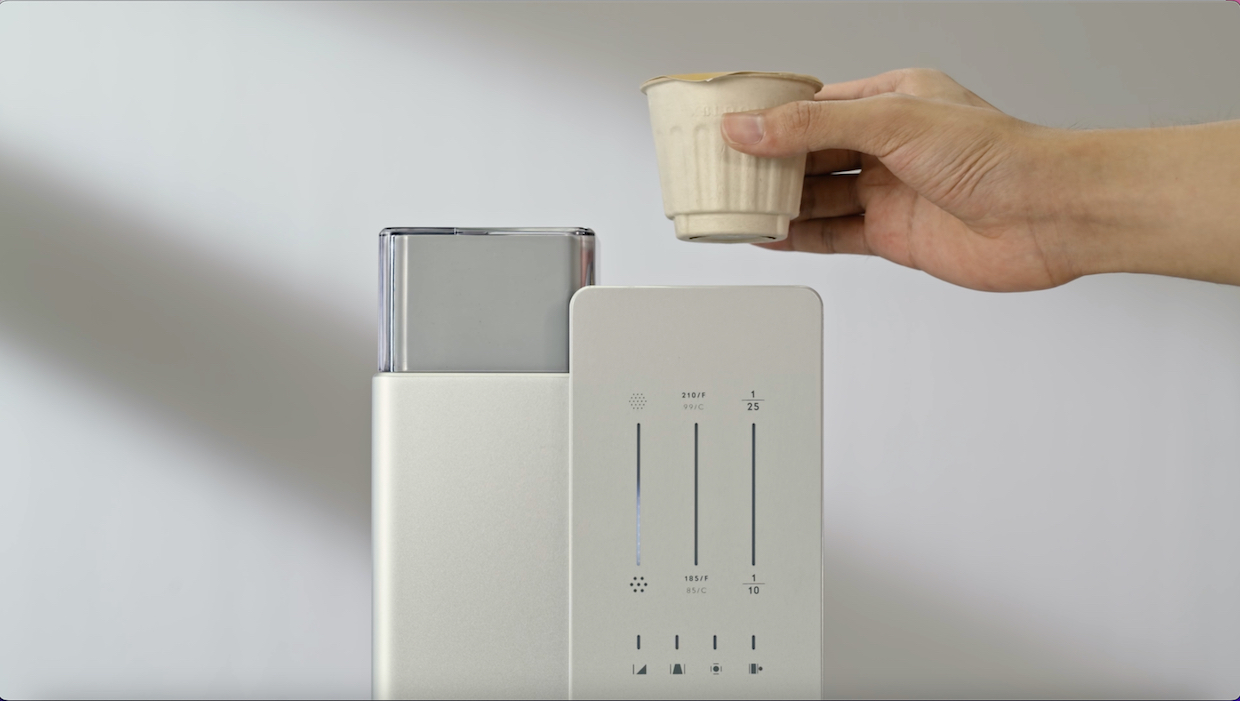 The xBloom Machine
The xBloom was invented by TBDx Co-founders Richard Xu and Rui Zhou. Xu holds a PhD in mechanical engineering from the University of California, Berkeley, and worked for seven years as a product designer for Apple; Zhou's mechanical engineering PhD came from Northwestern University prior to eight years in product design at Apple.
Standing just under 17 inches tall with a footprint of less than 8 square inches, the xBloom strikes a minimalist vertical profile on the counter.
Plastic and metal exterior surfaces are combined with robust materials at points of frequent physical interaction with the user, including a polished metal cup platform and the polished stainless steel "dock," where the user positions an emptied xPod for brewing.
Users first place an xPod on top of the machine where a sensor scans a RIFD tag on the pod, triggering the download of brewing parameters set specifically for that coffee by the roaster of the coffee.
The user then pours the whole beans down the xBloom's grinder chute before loading the empty filter-lined pod into the dock, which is connected to an internal scale. At the heart of the grinder is a pair of 48-millimeter titanium-nitride-coated stainless steel conical burrs. The built-in scale and the burrs were both designed by TBDx.
"Like Apple, TBDx designs the key modules, and partnered with a world-leading sensor manufacturer for [scale] production," an xBloom representative told Daily Coffee News via email. "As a key element of the grinder, we treat burrs seriously. We spent half a year designing, comparing, and down-selecting the final winner with a great balance of consistency and efficiency."
A step motor automatically adjusts the grinder in 18.75-micron increments based on the roaster's specifications, and a specially designed sweeper and chute work together inside the grinder to minimize retention and static.
The dock transports the filter to beneath the grounds chute, where an electric field causes static energy to capture the grounds directly down into the filter, preventing them from spraying out.
The dock then slides back beneath the water spout inside of which electrical forces also come into play through a mechanical innovation designed to eliminate excess moving parts or mechanical noise.
Water drawn from a 700-milliliter on-board reservoir is heated on demand, and then a patented spout system uses the physics of electrical charges to silently pull or push the stream into speed-adjustable spirals or allow it to flow straight down, again based on roaster specs.
From start to finish, the machine takes roughly four minutes to brew an 8-ounce cup of coffee.
The xPod
The xPod is a rigid single-use container with holes on the bottom derived from sugarcane and bamboo. The pod comes lined with a fluted-wall, flat-bottomed paper filter, similar to a Kalita Wave filter. Sealed into each pod is roughly 16 grams of whole bean roasted coffee.
While xBloom strives for push-button convenience, a forthcoming smartphone app will allow users to edit brewing profiles, specifically grounds-to-water ratios ranging from 1:10 to 1:25 for cup sizes between 5 to 12.5 ounces.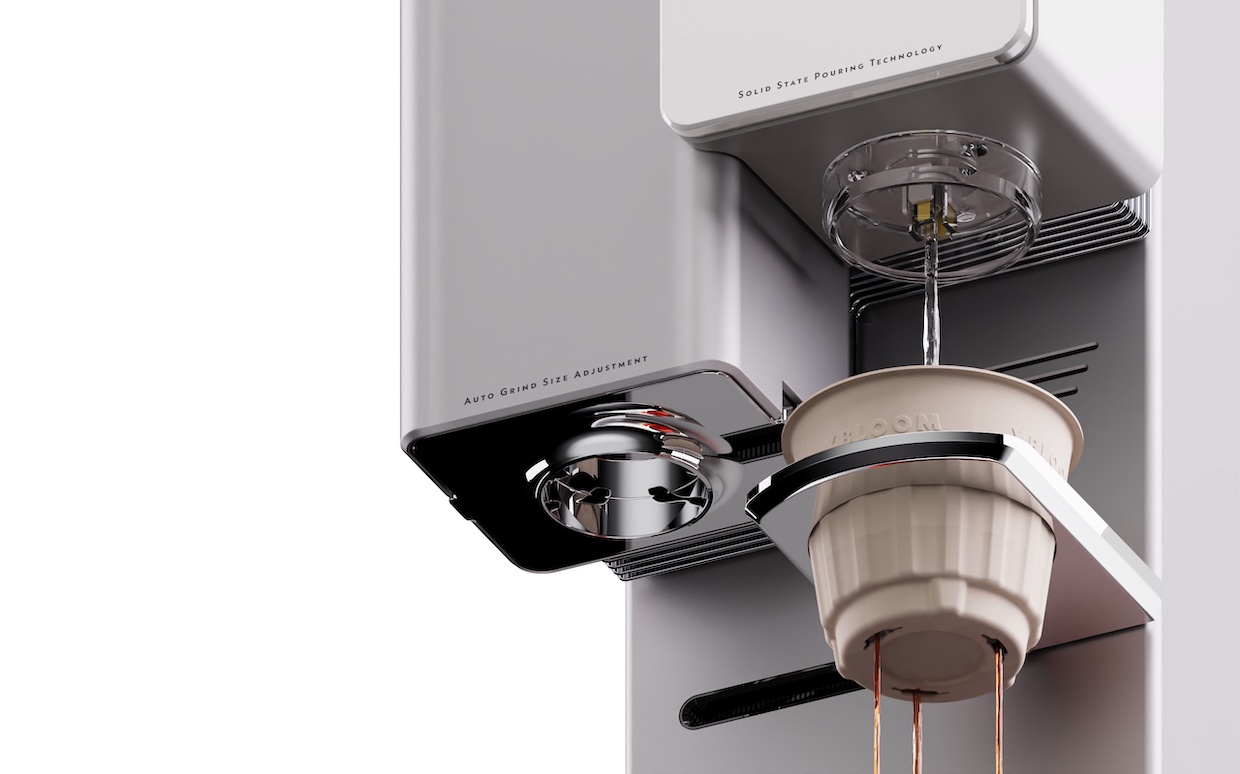 "We have received feedback about the need for a larger cup, especially in the United States," the company told DCN. "This could mean an 'xPod xL.' However, before making it official, xBloom is working on additional technical details to ensure the perfect experience."
Through perks in the Kickstarter campaign, the company is also testing the demand and performance of a reusable filter holder and other recipe customization features.
Coffees for xPods are currently being roasted, dialed in and packaged by 11 roasting companies, including 10 in the United States and one in China. That number is expected to grow as the company has brought on board well-known coffee experts Scott Rao, Lance Hedrick and Brian Quan to help oversee the coffee program.
"I would like to use the analogy, 'Curating the coffee experience as if we are building out a gallery,'" TBDx Co-Founder Richard Xu told Daily Coffee News. "xBloom aims to be the best coffee gallery, where we partner with professional coffee connoisseurs as curators to deliver the ultimate coffee experience/journey for our customers."
Machines will ship with a supply of 32 xPods. Customers will be able to buy additional xPods directly from xBloom for roughly $1 per pod.
The xBloom machine is slated for delivery to Kickstarter backers in January 2023, after which it will launch for retail sales at a price of $799.
---
Does your coffee business have news to share? Let DCN's editors know here.
Howard Bryman
Howard Bryman is the associate editor of Daily Coffee News by Roast Magazine. He is based in Portland, Oregon.