With coffee operations in Cameroon, a vertically integrated coffee company called Kribi Coffee has opened its second roastery and cafe, in Oak Park, Illinois.
The new 500-square-foot shop that opened earlier this month on Chicago's western outskirts follows an original location that opened in 2019 in neighboring Forest Park, with coffees roasted on-site at both spots. The 1,400-square-foot basement space of the Forest Park location was also recently renovated to add seating and a cocktail bar called the Ubuntu Lounge.
At both shops, Kribi's Mount Oku blend, featuring washed Cameroonian coffee, is the house option for drip coffee and cold brew. Single-origin coffees are available alongside a traditional selection of espresso drinks. Seasonal concoctions such as the Pumpkin Patch Latte or the Bride of Frankenstein (a white-chocolate matcha with a streak of dark chocolate) appeal to treat seekers.
Colorful design work found throughout both shops, online and on Kribi's packaging come by way of Kribi Coffee Creative Director Jeremiah Shalo, son of Kribi Coffee CEO Jacques Shalo.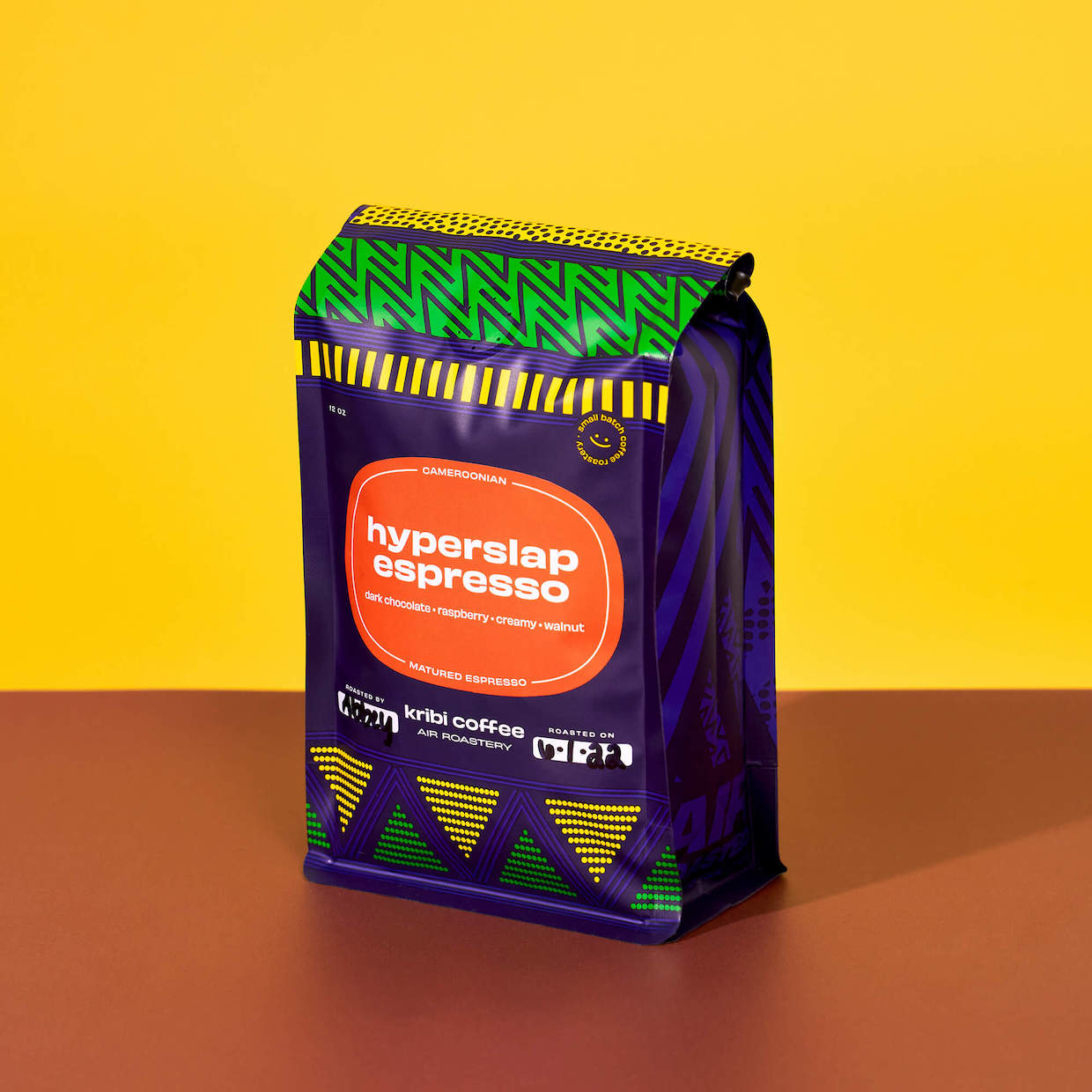 "The Shalo family's Cameroonian roots inspire each brand element," Jeremiah Shalo told Daily Coffee News. "The roasting coffee dancing around in the roast chamber inspired the bright and colorful designs while also nodding to the light-hearted Memphis design movement."
With a Java Master fluid-bed roaster in each Afrocentric-designed shop, Kribi Coffee adheres to freshness, which is one of the brand's four stated tenets alongside "method, sourcing and giving back."
A variety of fundraiser blends created by the company drive donations to various social justice causes while the company's sourcing operation involves direct connections with a network of more than 600 coffee farmers in Cameroon.
"We do not only buy coffee from the farmers, we also provide incentives to the farmers," Jacques Shalo, previously the CEO of Java Master International, told DCN. "Kribi Coffee works in collaboration with these farmers and ensures they get a fair share for their coffee and increase their standards of living."
In Cameroon, the Kribi Coffee Farm Collaborative is managed by Kribi Coffee Quality Assurance Manager Kyle Abongnwi, who trains farmers in commercial coffee production, from planting to equipment maintenance to compliance with government regulations.
"I also cultivate partnerships with distributors, ensuring to maintain and monitor the quality of the yield," Abongnwi told DCN. "Purchasing coffee from the farmers is just one of our objectives, our primary goal is to ensure sustainability and quality control."
Kribi directly imports coffees from Cameroon with no intermediaries. Coffees from other parts of the world are roasted at each cafe and also at a separate production roastery led by head roaster Amir Semsarieh that handles larger batches and wholesale roasting.
Jacques Shalo grew up in a robusta and cacao farming family before moving to the United States in 1977 for university studies and eventually securing executive roles at companies such as Salesforce.com, Oracle and IBM.
He acquired Java Masters International in 2016, where as president and CEO he also led the engineering and product development that resulted in the current patent for Java Masters fluid-bed roasters.
In 2020, Shalo left the company to focus fully on Kribi, which now counts numerous co-owners including Dr. David Hines, Jeremiah Shalo, Amir Semsarieh, Paul Beckwith and a handful of other minority stockholders. Starbucks founding partner Zev Siegl has served as an advisor for the company.
Under the management of Anne Shalo and Luca Monopoli, Kribi has also established a separate branch in London (UK) for green coffee trading. That company is expected to open its own roastery cafe within the year.
Meanwhile, the company has been re-cultivating coffee on Shalo's family's farm in the Mabonji area of Cameroon's southwest region. A Kribi franchise program is slated to launch in the U.S. next year, and a crowdfunding initiative to raise capital in support of these and other expansion efforts is scheduled to launch next month.
---
The new Kribi Coffee is located at 1033 South Blvd. in Oak Park. The original location is located at 7234 W. Madison in Forest Park. Does your coffee business have news to share? Let DCN's editors know here.
Howard Bryman
Howard Bryman is the associate editor of Daily Coffee News by Roast Magazine. He is based in Portland, Oregon.