The owners of Tulsa, Oklahoma-based coffee company DoubleShot Coffee have launched a new brand of brewing equipment and accessories called Native Design.
The freshly launched website for Native Design showcases the brand's original products alongside a selection equipment that it distributes. The company is currently the exclusive United States distributor of The Netherlands-born Superkop manual espresso machine.
Launchpad, Pro Tampers and Filter Crib
Original Native Design products that predate this week's web launch include the Launchpad countertop pourover brewing station.
Currently in use at the coffee bar at DoubleShot's big wood-filled shop in Tulsa, the Launchpad is a wooden stand for holding a brewer, receptacle and scale, with a ceramic drip tray included in the base. The Launchpad sells for $44 in black, white, walnut wood or cherry wood finishes.
The brand also offers a line of wood-handled tampers called Native Pro Tampers, as well as the Filter Crib, a laser-cut plywood holder for paper coffee filters available in cherry or walnut finishes to match the Launchpad.
Expedition Brewer
Launching in conjunction with the website is the Expedition Brewer, a new product that DoubleShot Coffee Company and Native Design Owner Brian Franklin has been tinkering with for approximately 12 years.
Designed for backpackers and other people seeking lightweight on-the-go solutions, the flat-packing Expedition Brewer involves a laminated copper foil cone supported by a wooden stay for holding a pourover filter. A duck canvas pouch with copper rivets and snaps contains the brewer for travel and is available in five colors. The system retails for $49.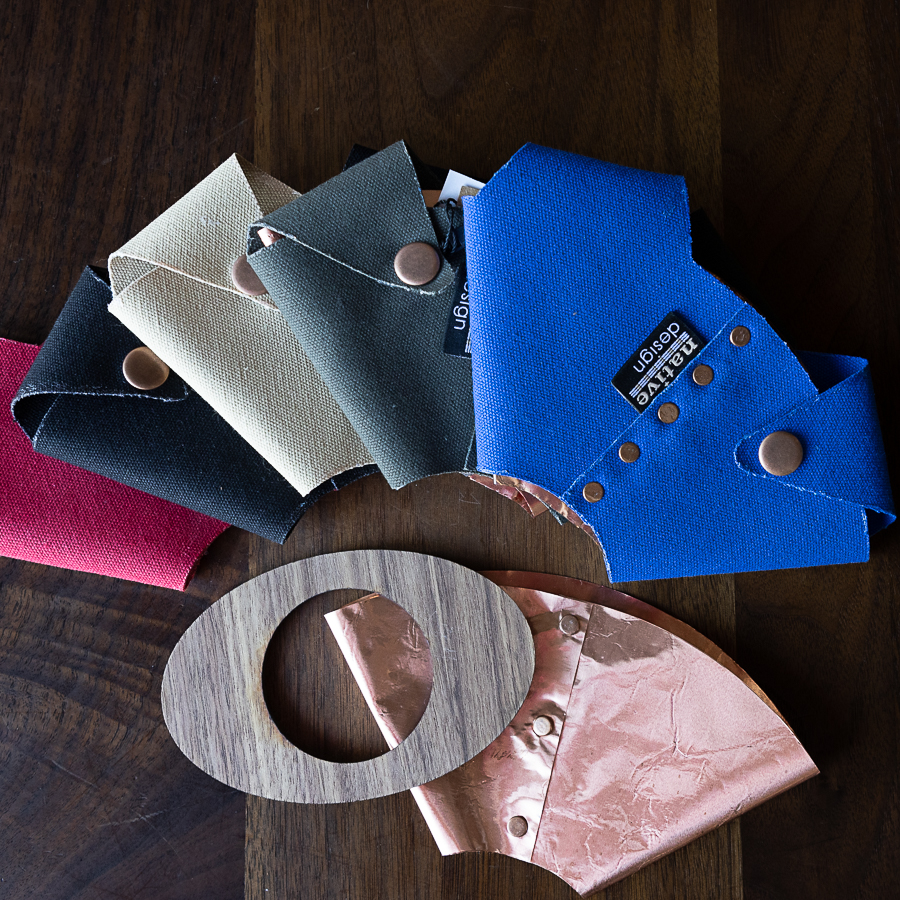 "I can't even tell you how many iterations this thing went through, but eventually it all started to make sense," Franklin told Daily Coffee News. "I've been using this final version for a couple years now and I love it. It packs down smaller than a pair of socks and weighs less than 50 grams."
Additional items in the pipeline for Native Design are original accessories for the Superkop, a kettle and a line of ceramic drippers. The company also remains on the lookout for additional products for potential U.S. distribution.
DoubleShot Doubles Down
A serial tinkerer, Franklin is no stranger to creative retail goods. To bolster revenue early in the COVID-19 pandemic, DoubleShot kept workers on the payroll through the labor of sewing Covie, a plush coronavirus molecule.
"I've been making things and selling them for a long time. I started making cinnamon toothpicks and selling them for 10 cents each in junior high school," said Franklin. "I've been steadily trying to figure out how to make everything I use, even if I don't intend to make it all the time. I just want to know how. I tinker around with ideas all the time. My goal is to have made all the furniture in my house at some point."
A new roof and windows have been installed on a century-old warehouse building in Tulsa that Franklin bought in December 2020 with plans for creating a new retail environment. Last October, Franklin also finalized the purchase of a coffee farm in Nicaragua called Dos Manzanas, where approximately 5,800 H3 variety coffee seedlings were planted in January.
Coffee producer Luis Miranda is the manager of the Dos Manzanas. Miranda is also the majority owner Finca Massif, a company that owns farms in Matagalpa and Nueva Segovia, where Gesha and Ethiopian varieties are growing. Franklin owns 18% of Finca Massif.
The farm investments suggest a vertically integrated future for the coffee company, which currently roasts on refurbished 30-kilogram W Roure roaster in Tulsa.
"As we enter our 20th year, I'm hoping to put some serious time into disseminating everything I've learned through my experiences in coffee," said Franklin. "Top of mind is a video series to teach people more about coffee so they can more fully appreciate and brew better coffee, and I'm hoping to put more time into a book I've been writing about my career. It's been a wild ride."
---
Does your coffee business have news to share? Let DCN's editors know here.
Howard Bryman
Howard Bryman is the associate editor of Daily Coffee News by Roast Magazine. He is based in Portland, Oregon.