A new electronics-free espresso maker called Superkop will soon be making its way into homes.
The clean, traditional appearance of the Superkop hides a novel approach to the manual lever system, which is designed for greater ease of use and potential wall mounting.
Whereas a traditional manual espresso machine lever drives a piston that forces a full portion of water through coffee grounds in a firm, single stroke, the Superkop features a 1:40 displacement mechanism that gradually applies increasing pressure through a series of five or six low-resistance strokes, according to The Netherlands-based designers.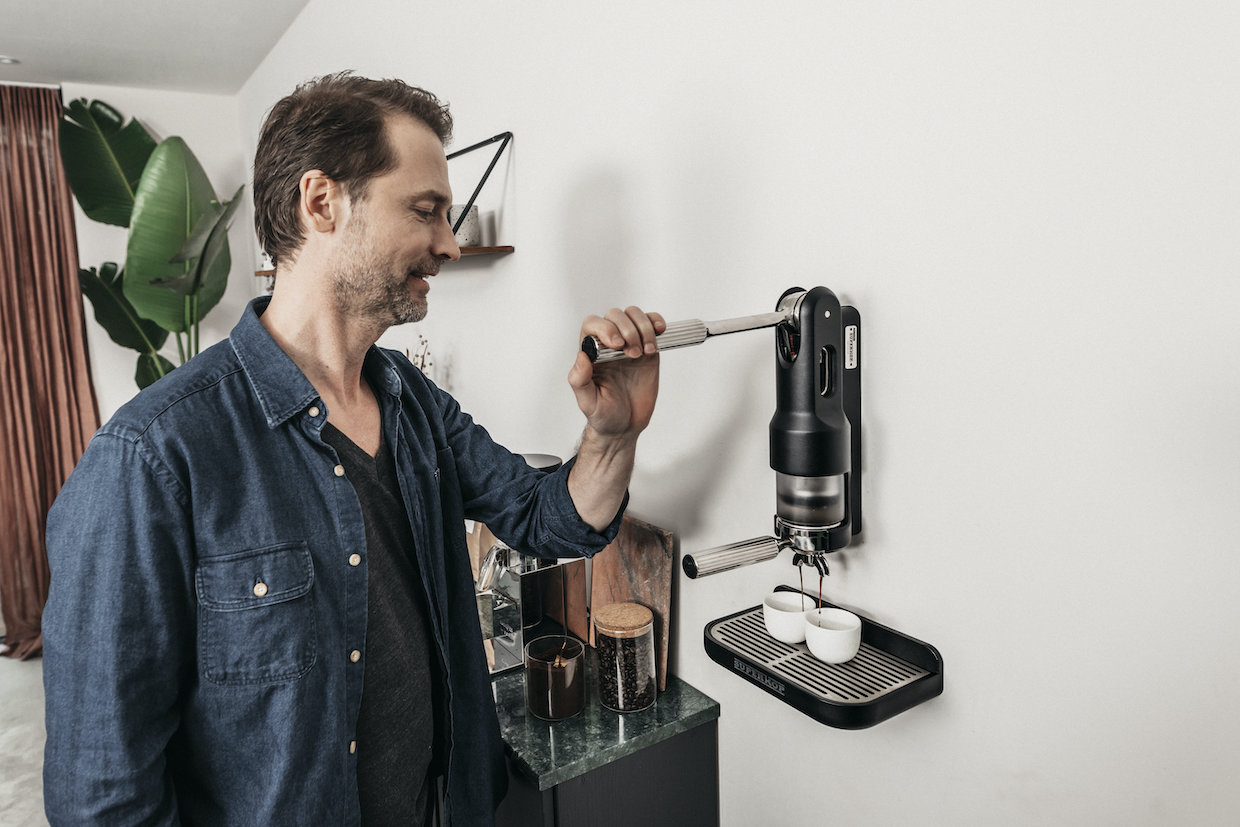 "The six pulls are not uncomfortable and allow you to apply the correct extraction time of around 25 seconds very naturally," Superkop Co-Founder Sabine Palinckx told Daily Coffee News. "The way to regulate the pressure is the speed of the pumps and thus the complete extraction process combined with the volume and grain [size] of the beans."
The machine carries an aluminum body with steel interior components. The user prepares a 58-millimeter espresso portafilter basket, then attaches a polycarbonate cup on top of the basket in the portafilter.
Boiling water is added to the cup, and then the cup/portafilter assembly is inserted into the body of the machine, at which time the user starts pumping the lever.
---
Related Reading
---
"Every part of the machine serves a function," Palinckx told DCN. "It is a no-nonsense machine meant for daily use."
Palinckx said the polycarbonate material was chosen specifically for its insulating and isolating properties, beneficial to keeping the water hot without pre-heating.
A one-way valve allows a pneumatic spring to return the lever gently back to upright while maintaining pressure between pumps. A button relieves pressure when extraction is complete. A safety valve is designed to relieve pressure at 20 bars.
While the filter basket is universal, the Superkop uses its original portafilter design that slides straight forward to lock into the machine. A bottomless Superkop portafilter is currently in development.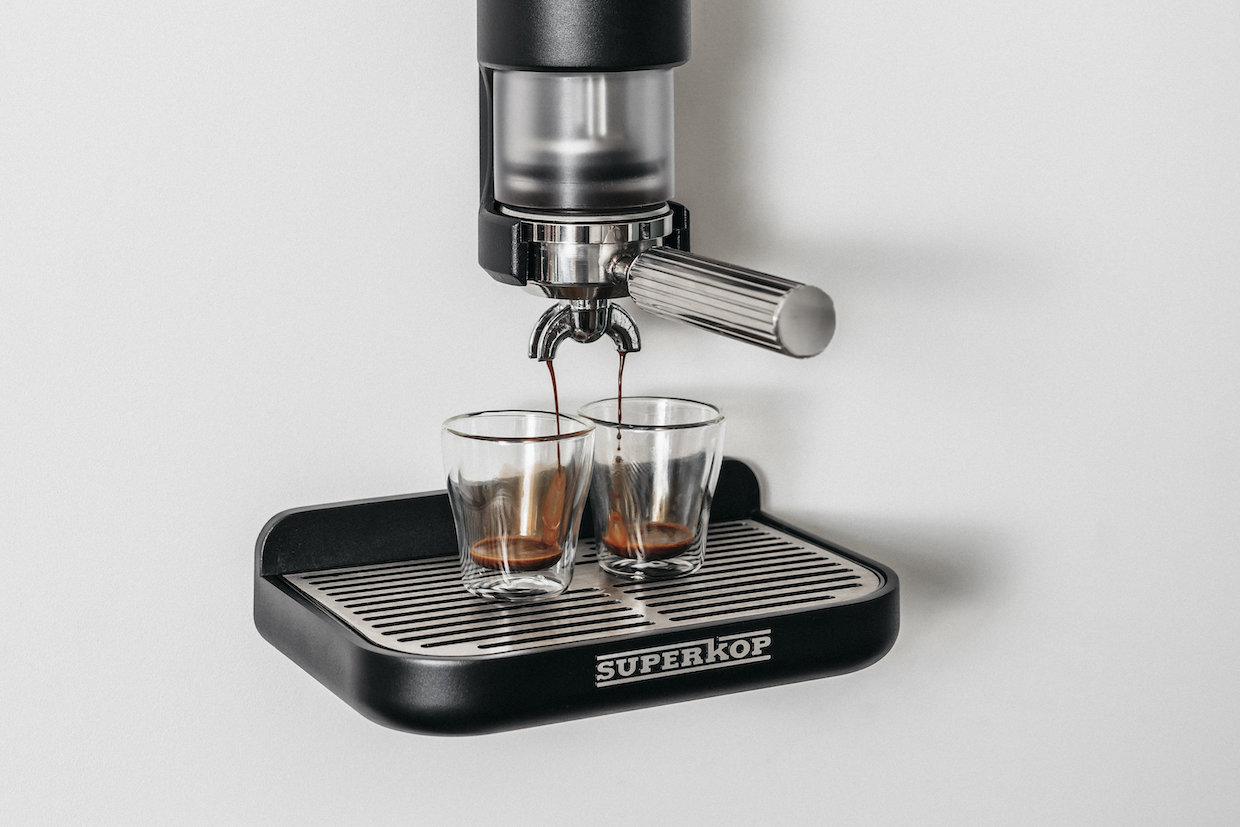 "The benefit from this whole system is that it behaves really like a tool," Palinckx said. "It is robust."
The Superkop design for optional wall mounting is an uncommon feature in manual espresso but one not without precedent. The Faema Veloxtermo is an example of wall-mounted spring-assisted lever espresso machine that dates back to the 1960s, while fellow Netherlander espresso machine company Strietman made the ES3, a wall-mounted model, from 2014-2017. New Zealand-based Newton Espresso's original machine, which debuted in 2017, was also designed for optional wall-mounting. However, none of these designs remain in production today.
The Superkop machine, which weighs about 8 kilograms (17.6 pounds), can also remain freestanding on a wooden base. It is expected to be available in a variety of colors.
Palinckx, an engineer with a background in technical business administration, co-founded the company with fellow developer Geert Kaal from their home base in Heusden.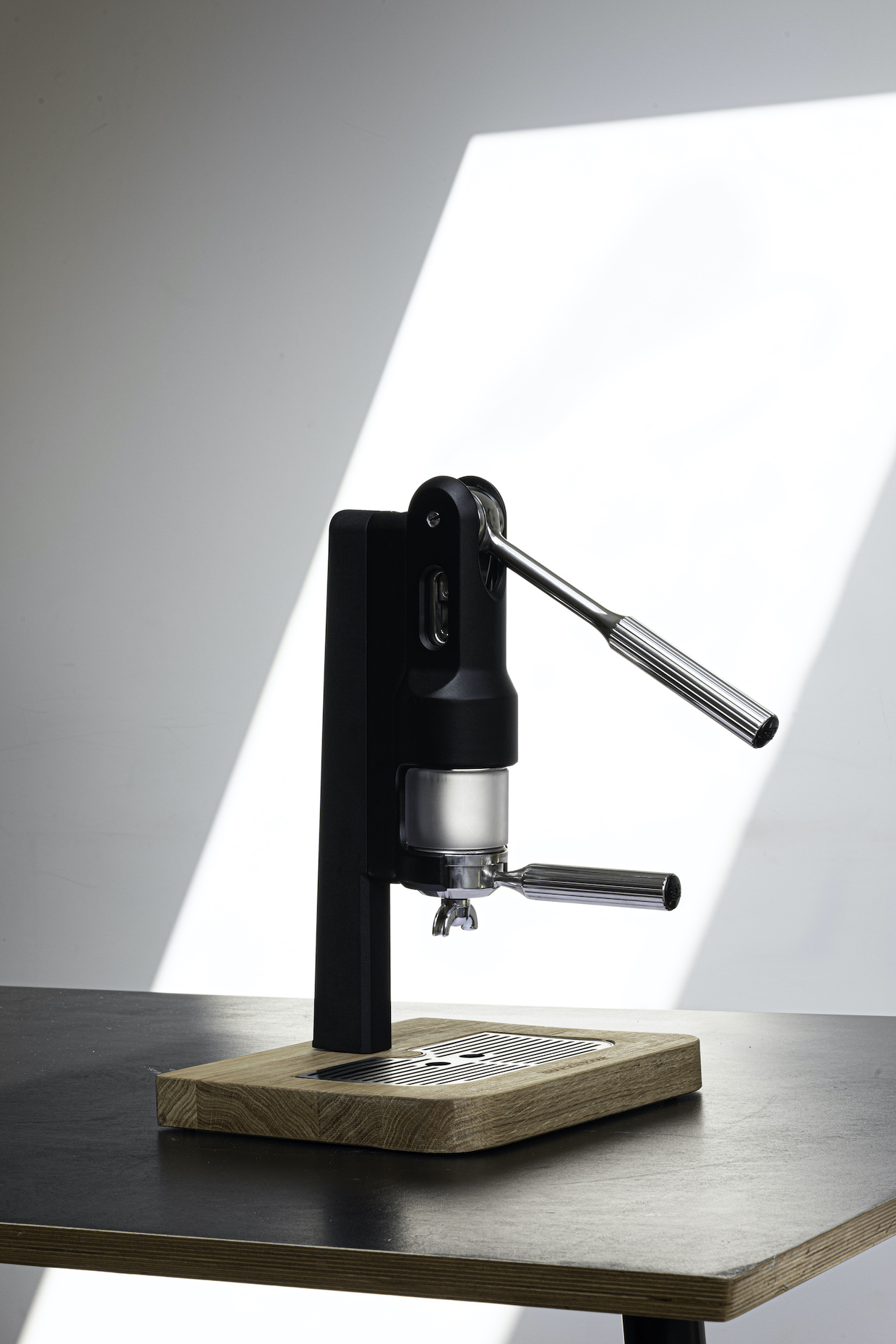 Kaal is a physiotherapist turned product developer whose previous products have included an ergonomic cushion and a knee protector for workers.
The two hatched the idea of the Superkop nine years ago, assembled a team of designers and engineers to assist in R&D and finally brought the design to Kickstarter, where it raised €40,239 (US$45,000+) in a campaign that ended six months ago.
Shipment of Superkop brewers to crowdfunding backers is expected to begin next month, with delivery of standard orders expected to start in February 2022 at a price of €799.00 ($902 as of this writing), VAT included.
[Editor's Note: this story has been updated to correct the spelling of company name Strietman.]
Howard Bryman
Howard Bryman is the associate editor of Daily Coffee News by Roast Magazine. He is based in Portland, Oregon.