On the ground floor of the historic Lottie Watkins Building in Atlanta's West End neighborhood sits the long-awaited retail cafe of Portrait Coffee.
Sunshine through the floor-to-ceiling windows sustains a tall potted tree and many smaller plants around the 35-seat shop, which lives upstairs from the company's roastery.
A 15-seat patio offers outdoor seating in the historically Black Southwest Atlanta community that several members of the Portrait staff call home. A cafe has been a large part of the Portrait vision since the company's launch in 2019.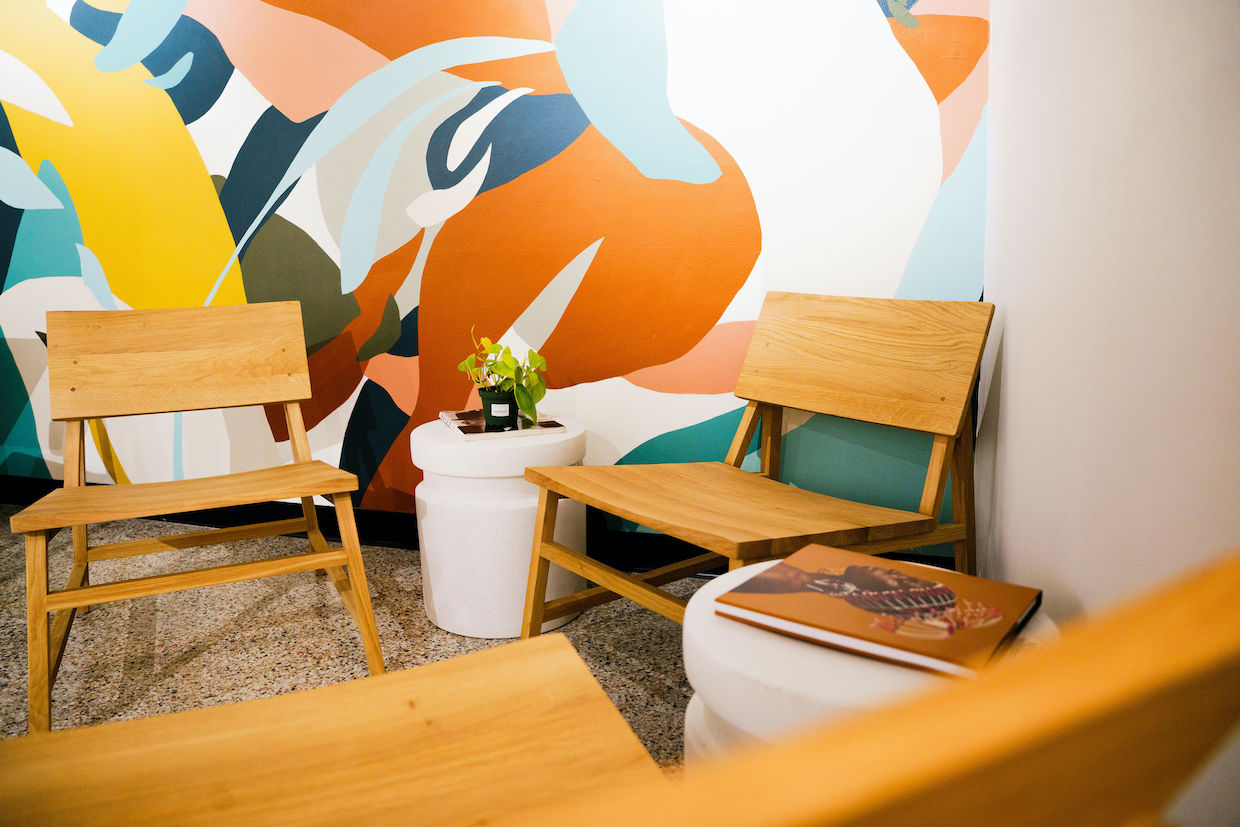 "The most energizing part is that it feels like we are delivering on the promise we made to our community here in the West End," Portrait Coffee Co-Owner Aaron Fender recently told Daily Coffee News. "I think that's the most rewarding part of finally being open."
Vertical rectangular tiles behind the bar harmonize with slim vertical wood panels on the front to enhance the atmosphere of a business on the rise. Color and character also radiate from murals, books and records on display, plus artwork by local artists hung gallery-style on the white walls.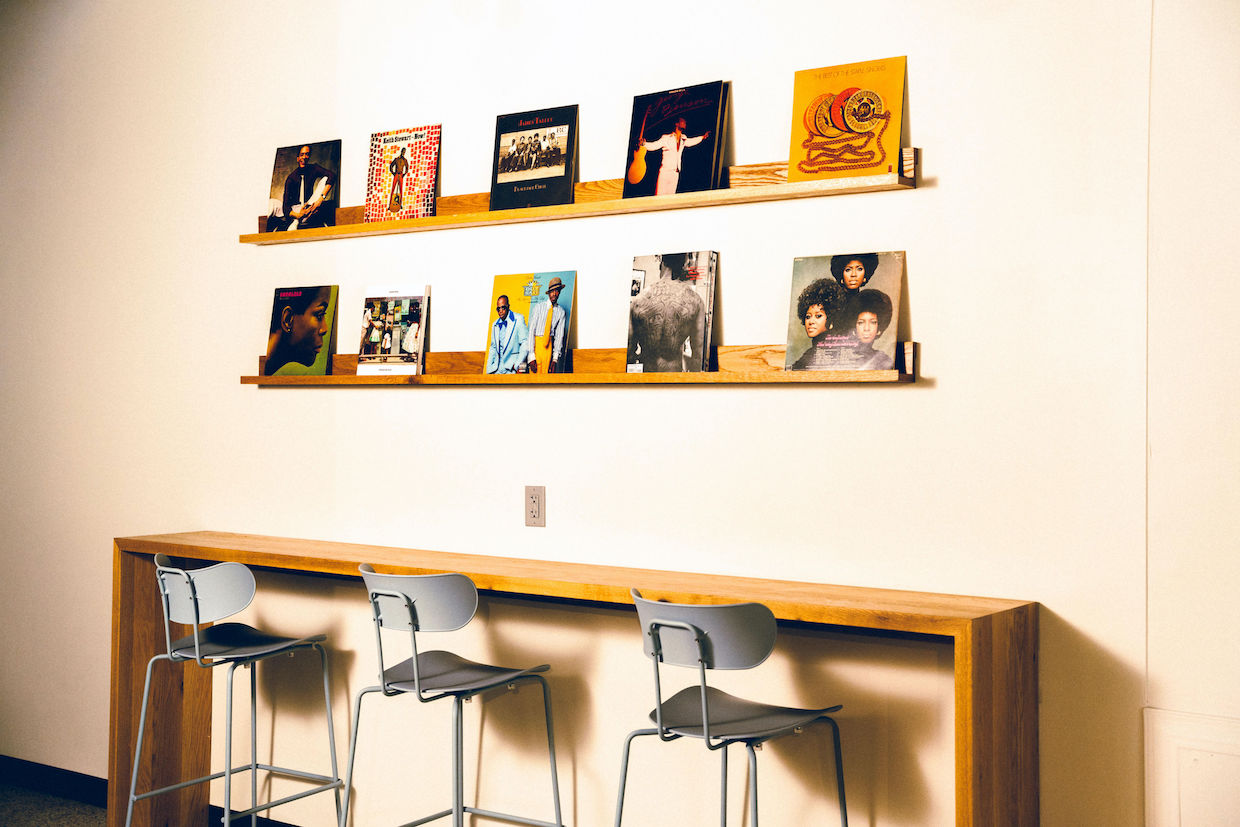 What was originally a rent collection booth remains built into the suite next door, and a plaque is being installed to honor the building's namesake, Lottie Watkins, the first Black real estate agent in Atlanta. Watkins, whose business occupied the building for decades, was also a prominent civil rights activist and served in the Georgia House of Representatives before her passing in 2017.
"The best part about opening Portrait is that we have an opportunity to continue the legacy of Black entrepreneurship that Lottie started," said Fender.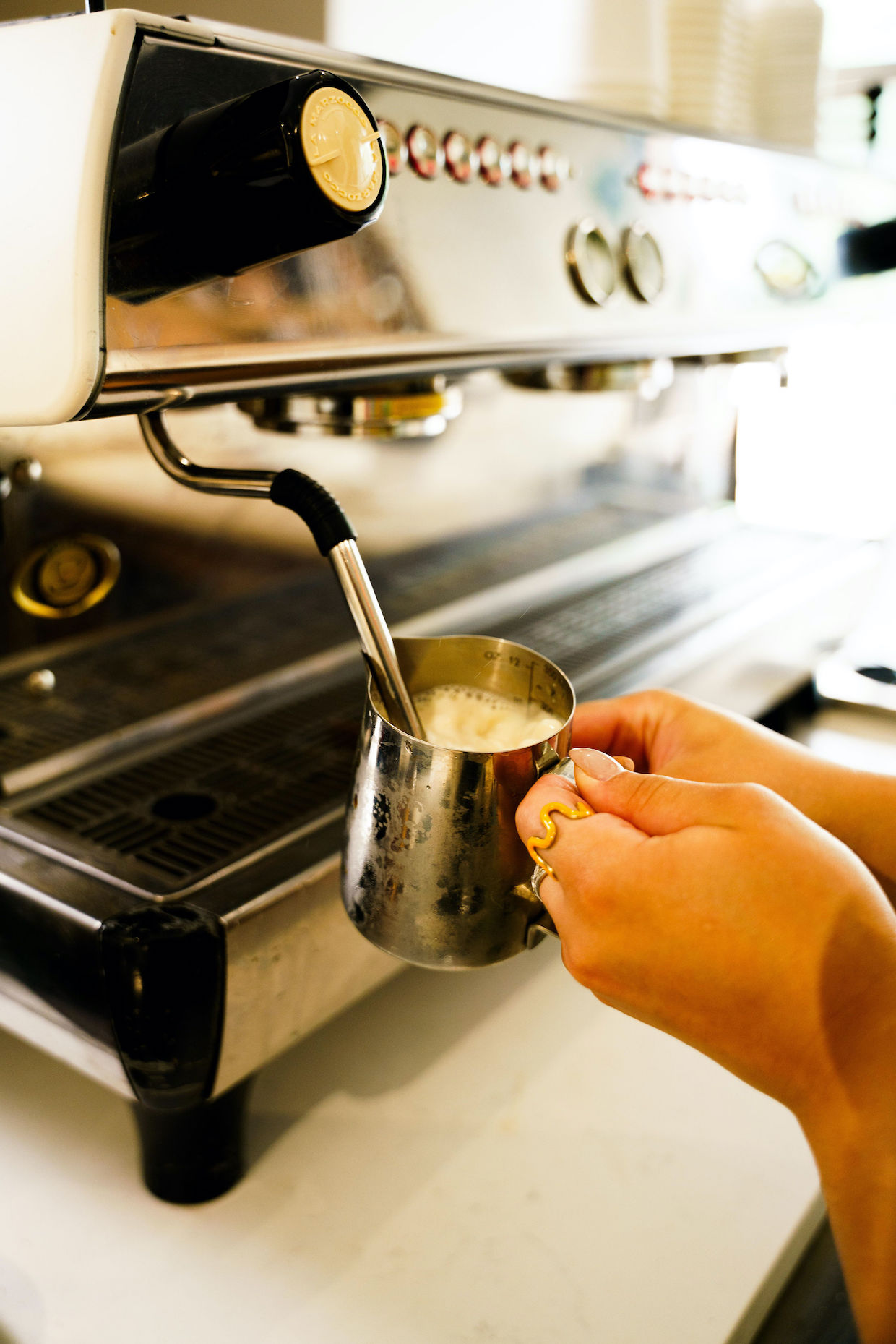 Portrait's cafe plans were originally put on hold by the COVID-19 pandemic, so the company leaned into its roasting business, while also serving as a social hub for other Black entrepreneurs, artists and coffee professionals through Instagram live sessions and other events.
Led by John Onwuchekwa and Aaron Fender, the company's roasting operation transitioned onto its own 15-kilo Mill City Roasters machine in 2021, then jumped into a 20-kilo Mill City machine the following year.
With a focus on single-origin coffees, the roasting program continues to feature signature roasts named after influential figures from American society, politics and the arts. A Colombian coffee called Stacey is named after Georgia political leader Stacey Abrams; while an "unapologetically chocolate" coffee from Brazil called Toni nods to iconic author Toni Morrison.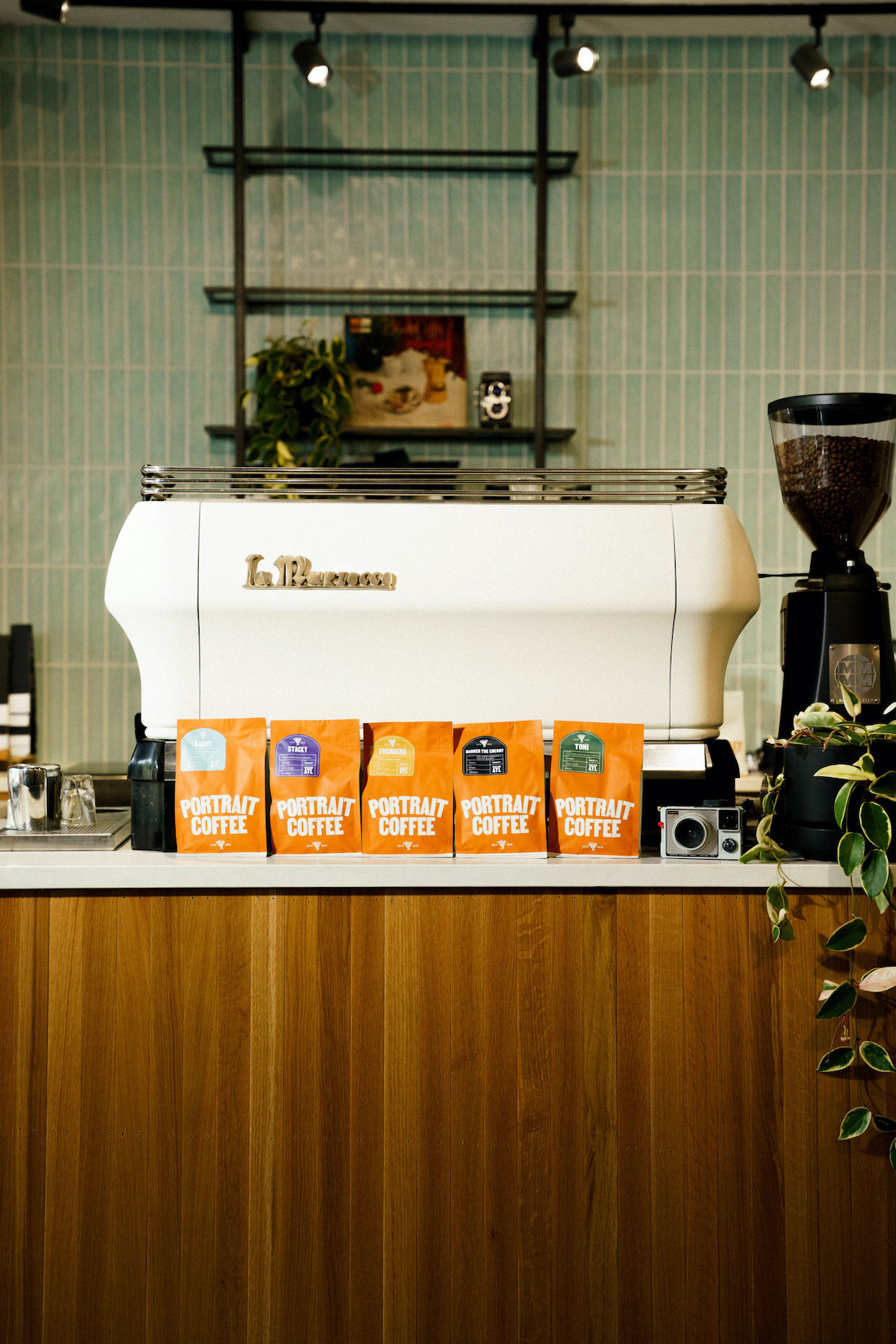 A recent seasonal drink at the cafe was designed to honor recent U.S. Open tennis champion Coco Gauff. "The Champ" features cold brew coffee with cereal milk made with Cocoa Puffs. The "Aunt Viv" is a flavored latte named after the character in "The Fresh Prince of Bel Air" that incorporates the shop's housemade brown sugar and cardamom syrup.
"A lot of our team are '80s and '90s kids, so we all were watching the same shows at the same time," said Fender. "So Aunt Viv is a very real person to us."
Sweet and savory pastries from Sarah Dodge of Atlanta's Colette Bread & Bakeshop are currently available, while a broader fresh food program is in development.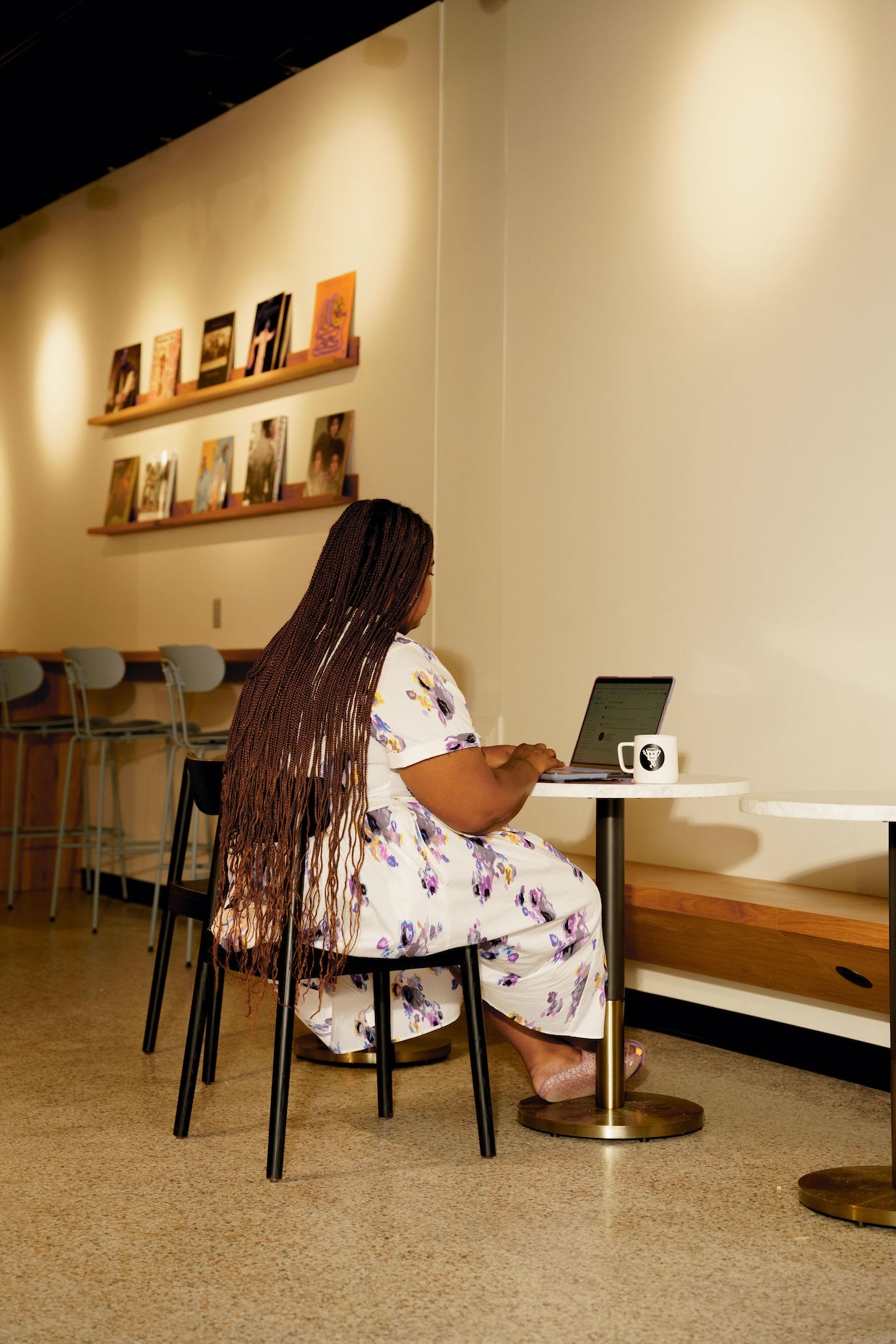 "We really want to dig in on the fact that we have officially opened the coffee shop and we have a gathering place for our neighborhood," said Fender. "In the next few months we already have like 10 to 12 events planned. We'll be doing a lot of coffee education, some music, some food popups. We're really just going to celebrate having a place to gather through to the end of the year, and figure out what's next from there."
---
Portrait Coffee is located at 1065 Ralph David Abernathy Blvd SW, unit A, in Atlanta. Tell DCN's editors about your new coffee shop or roastery here.
Howard Bryman
Howard Bryman is the associate editor of Daily Coffee News by Roast Magazine. He is based in Portland, Oregon.