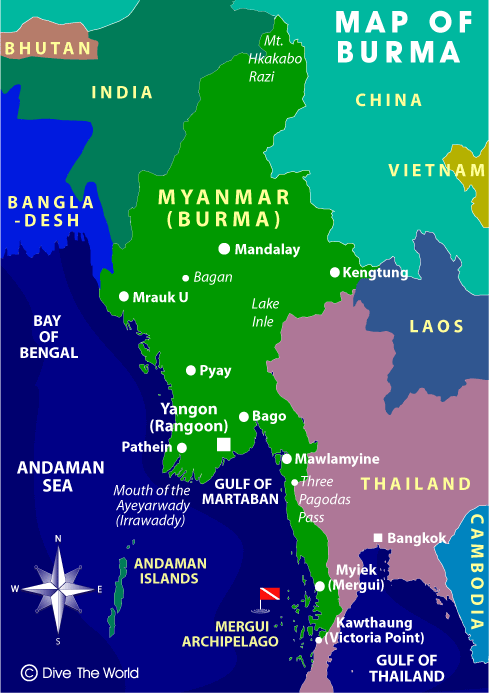 Hurt by a long history of civil and economic instability, and a reputation for "not-quite-specialty-grade," coffee exports from Burma (Myanmar) to North America and Europe have been sporadic to nonexistent for decades.
That may be changing, as the Southeast Asian country makes inroads toward democracy and agricultural revitalization. The USA Today has reported that Green Mountain Coffee Roasters (soon to be renamed Keurig Green Mountain Inc.) is likely to enter into negotiations to begin buying Burmese arabicas, a category that has only come back to life among Western coffee buyers in recent years.
Lindsey Bolger, Green Mountain Coffee Roasters' vice president of coffee sourcing, shared some of her perceptions of coffee recently brought over from the Southeast Asian country:
"In terms of selling something distinctive and unique we've never experienced before, I'm not tasting that, but in terms of coffee that can hold its own against other coffees from better known origins in South America, it's there," said Bolger. "Now it's a question of what is their cost of production, what price do they need to be able to profit."
Green Mountain's interest in buying from Burma stems from a trip taken by the company's director of social advocacy, Rick Peyser, who has been acting as a volunteer for the Winrock International, a nonprofit organization that helps create jobs and training opportunities for people in impoverished areas of the world. Winrock's tentative coffee revitalization program in Burma is part of the Farmer-to-Farmer program, funded by the U.S. Agency for International Development (USAID).
Here are Peyser's impressions from his coffee sourcing trip to Burma last November:
My time was spent on two large estates and with small-scale farmers. One of the estates was probably the most sustainable coffee farm I have been on. It is powered by its own small hydro-electric plant; it captures methane via bio-digesters and uses the gas to cook meals on the farm; it grows organic coffee under canopies of shade provided by silver oak, rubber, mango, and macadamia trees – all additional sources of income. It sun dries its coffee on screened beds that are placed on a well-marked patio. Workers return year after year because they are treated fairly, the yields are high, the quality appears to be good, and the soil was in great shape due to the beautiful "black gold" compost that the farm produces. Most of the coffee is either used domestically or exported to Chinese traders (the only option in this area). The traders offer one price regardless of quality, leaving farmers the choice to "take it or leave it," and no incentive to improve quality.

Most of the farmers I met and spoke with are interested in improving the quality of their coffee and in receiving a better price for it through more open markets. I incorporated their thinking into a plan for the sector that I left in the hands of Winrock, USAID, and the Myanmar Fruit, Flower and Vegetable Producer and Exporter Association – my in-country host. Before I left, the small-scale farmers I met with had already organized themselves into three groups to better negotiate prices, share technical information, and to enjoy economies of scale.

Based on what farmers and USAID told me, I was the first American who has ventured into Myanmar's coffeelands to offer assistance in well over 20 years. To be honest, I never thought that I would ever do anything quite like this, but am glad I made the trip. No other origin has grabbed me quite the way Myanmar has.
One of the results of Peyser's visit to Burma was some unexpected quality coffee finds. Cupping the coffees, Bolger told USA Today that all of the Burmese coffees Peyser returned to GMCR with managed to score 80 or above (with one coffee scoring an 83.5). Might that result in a larger deal between smallholders in Burma and the U.S. coffee giant? From USA Today:
"USAID is interested in Rick visiting these producers not so he can have an interesting full-expense-paid holiday in a beautiful exotic country," Bolger said. "There's the expectation that it's going to result in some sort of business opportunity between the growers of this coffee and potential buyers."
As an aside, my personal favorite review of a Burmese coffee comes from Tom Owen, founder of green buyer and home roasting supplier Sweet Marias. He gave a Burmese coffee from Thayetkone a 79.5:
You'll think you received a premium dry-processed Brazil when you see the Myanmar Arabica for the first time. It really looks like a dry-processed Cerrado. This is a new coffee on the market in the US, and a "borderline" specialty coffee in some respects. While the cup has tons of body, almost oily!, there's an aggressive tarry taste that seems laced with garlic. It's somewhat Indonesian in the body and earthiness, but mostly an herbaceous Brazil.
The best part of the review is when Owen suggests a roast parameter. After suggesting "an aggressive full city roast" or darker, he simply says: "It's weird."
Nick Brown
Nick Brown is the editor of Daily Coffee News by Roast Magazine.