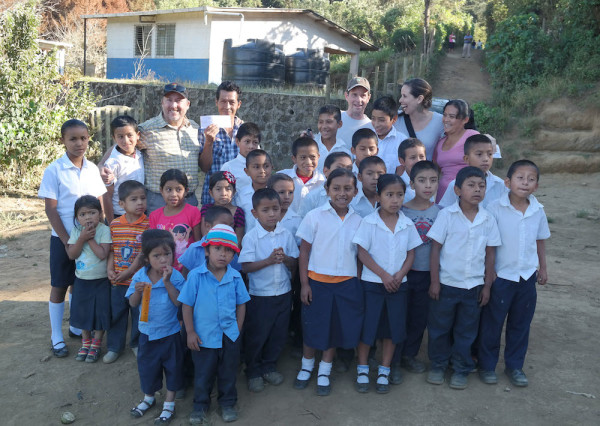 (press release from the Caffe Ladro. Claims not verified or endorsed by Daily Coffee News)
On their recent coffee buying trip, the owners of Caffe Ladro and Zoka Coffee Company delivered a check for $3,000 to the school in Canton Ojo de Agua, El Salvador to build a much-needed soccer field.  The idea originated when Jack Kelly and Jeff Babcock visited the region a year ago to taste coffees and trade directly with local farmers.  The donation solidified what will be a long association between these Seattle roasters and this community in one of El Salvador's best coffee growing regions.
Jack Kelly of Caffe Ladro and Jeff Babcock of Zoka Coffee feel responsible to support the communities that farm the coffees they buy.  "When we visit farms, and stay with the owners and workers, we develop lasting friendships with the people who grow our coffee.  The experience is powerful," explained Kelly.  Last spring, when they first sold the Natamaya coffee to Seattle customers, the owners agreed to donate a portion of the sales to aide a school associated with that farm.
Meeting the children, visiting their one-room schoolhouse and talking with their teacher deeply moved the owners.  "Our hearts are full," wrote Kelly.  "This is why Zoka and Caffe Ladro practice Family Direct Trade coffee buying—to help farmers improve their communities," said Babcock.  During the donation celebration, Kelly and Babcock discussed providing school security fencing or solar lanterns for the electricity-free village.  The community will make the final decision, and the people are grateful for ongoing support.
Coffee farmers in El Salvador face another hardship.  Coffee production fell 50% this year due to late rains and a damaging outbreak of Roya (a fungus that causes coffee rust, destroying the season's harvest on affected trees).  Caffe Ladro and Zoka bought coffee from Finca Talnamica that will help offset the effects the fungus had on El Salvador's harvest.  Because of the relationships Kelly and Babcock formed with the people of Finca Talnamica, life in one remote village is improving and Caffe Ladro's and Zoka Coffee's customers will enjoy the amazing Natamaya coffee again this spring.
Nick Brown
Nick Brown is the editor of Daily Coffee News by Roast Magazine.